Traumatic & deeply pained walled noise [2019-12-17]One of the more harrowing and terminal bleak walled noise acts to appear in recent years is Joli. The project is from Spokane, Washington and is all the work of one Jason Wolpert. The focus/ theme of Joli is suicide, self-harm, and self-doubt. It's been active since around 2013- putting out around thirty releases- taking in stand-alone tapes, split release, digital releases, a few single CDR releases, and compilation tracks. Jason also runs the largely walled noise label Lost Light Records, he started the label in 2015- and it's so far put around fifty releases- taking in both known and lesser-known names in the walled noise scene. Jason kindly agreed to give us an interview discussing both Joli, and the label.

M[m]: When was your first introduction to the walled noise genre, and is there any particular release that influenced you to create your own wall work?
JW In high school, I was turned on to Black Leather Jesus and Vomir. That's probably where most people start- but they're are masters of the craft and (among others) paved the way for the future of wall noise. There was not a particular release that influenced me to start. I loved the sound, and especially a lot of Sounding Session's output at the time.




M[m]: is Joli your first noise project? Tell us a little bit about how & when it first came about?
JW Joli is my first proper noise project. I was 18, and at the time feeling lost with my current bands (I play drums in punk bands) and decided to start playing noisecore. The first release was a 5" lathe cut that consisted of a wall of noise with drums and vocals over the top. Joli did not start as a wall noise project but over time developed into what it is today.




M[m]: You mention that you play drums in punk groups- do you think this influences/ informs your wall noise sound in any way?
JW Absolutely. My outlook on all of my projects has roots in my background coming from punk and hardcore. Everything from the way things are released and how I carry myself as an artist and a label are based on what I have learned being part of that community.

M[m]: What are the names of some of the punk bands you're involved with? And can we check out any samples of the band's work online?
JW Sure, here are a few
Déformer was an emotive hardcore band I played drums in for a few years. Unfortunately, we broke up before recording our LP. This was one of the funnest bands I was ever a part of. We sounded a lot like Daitro.
https://deformer509.bandcamp.com/

Bad Hex was my solo project for a long time. I played all the instruments on these records. I'd get a couple of people and tour as much as I could after every record. We made it around the country a few times before the end of 2016. Though we weren't a typical punk band, the mood came directly from the years I spent playing in skate punk bands. Musically I was heavily influenced by Giant's Chair, Boys Life, Ethel Meserve, Christie Front Drive, and Boilermaker.
https://badhex.bandcamp.com/album/old-heart

Lobster Jaw was a punk band I played in during high school. This band was incredibly formative for me in those years. Though we never toured and only played out of town a handful of times, we were at the right time and place. A punk venue had just opened up when we started and somehow gained a lot of traction locally. I'll never forget seeing blood on the floor after our shows and seeing a hundred kids get rowdy and stage dive on a Tuesday night. Even though we were just playing songs about skating and hating the cops, that band changed so much for me personally. I'm forever thankful for what we had, and especially now because I met my wife at one of our shows.
https://lobsterjaw.bandcamp.com/

GREYING is my current band. I play bass in this band. We sound like Helmet, Unsane, & other loud weirdo hardcore bands. We have a demo tape out and our first LP is coming out December of 2019. We have only played a few shows so far but I'm having a lot of fun with it. The other members were in a band called Behold, one of my favorite locals during their run. https://greying.bandcamp.com/

M[m]: How/ why did you select the Joli name, and were there any other names you considered using?
JW Joli was the only name. It comes from my childhood. Unfortunately, my safety and wellbeing were left in the wrong hands and I spent a lot my childhood living in constant fear. This was my outlet to try and work through a lot of trauma. Being physically and emotionally abused at a young age affects the rest of your life and in my adolescence, I had no idea of how to cope other than playing drums as hard as possible.

M[m]: Please discuss your present set-up? And has it altered/ changed since you've started?
JW My current set up is very simple. For inputs, I will use a contact mic that I've had for years, or white/pink noise generators, or recordings of storms. All of that goes through pedals that change over the years. Mostly I use a couple of klon clones, big muffs, proco rat, and of course the DOD death metal. I collect some of the old DOD pedals and try them out with noise from time to time, but it's hard to find a good fit because they're often just treble boxes. I just got a Rusty Box that I'm very excited to start recording with.
That's based on the head that Bob Weston uses in Shellac and David Sims used in Jesus Lizard.
My secret weapon is a DOD rack mount EQ I found at a thrift store for $7. Lucky find.
My set up for Joli changed over the years. At first, I was using things like drums and vocals, as well as delay pedals and other modulation when I got into power electronics briefly. These days it's mostly whatever distortion or overdrive I have laying around.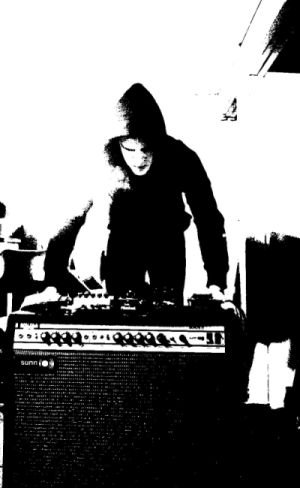 M[m]: you talk about a brief interest in doing PE- do you think this is something you can see yourself looking at again in the future?
JW Never say never. It's not something I've thought about in a long time, and honestly had a passing interest in doing. But who knows. Maybe one of these days I'll get into it again.

M[m]: What are some of your favorite pieces of kit, and what piece of kit or effect do you see as key to create Joli brutal/ hopeless sound?
JW That's hard to say. The recipe for walls are similar for many artists; we use white noise and DOD death metal pedals, in the same way a lot of guitarist's signature sounds all come from a Les Paul and a JCM 800. The difference for me is the voice of the artist. Using noise as an outlet for trauma, I inject all of that pain into my work and I think that inspiration and motivation is what makes my sound.

M[m]: Joli's key themes are seemingly suicide, self-harm, and self-doubt. What do you find fascinating about these themes, and have you ever thought of expanding beyond these themes?
JW Fascinating is not exactly the word I would use. It's my disposition to slip into depressive cycles, another use for noise. For a long time, I was lying to myself that wallowing in this feeling was okay because of the output I got from it in terms of noise and my other bands. Instead of taking responsibility for myself, I subjected myself to feeling that way for far too long. After taking steps in my personal life to work on my health and be more proactive about my mental state, I finally feel like I'm in a place that I can use noise and playing music to release all of that negative energy and turn it into something bigger than myself. Every wall I make is for a specific reason, and now my perspective is that while it's natural to feel that way, I can work through and past it. It always wants to come back, so I probably won't ever stop recording, but now I have real tools to cope and navigate my health.
M[m]: Over the last few years, you've released several tape or CD boxsets worth of 'walls'- what attracts you to doing larger releases?
JW Like I said, every wall is made for a reason. For example, Alone In This World is a 3 tape set because that was the amount of material I needed to make at that time. Some records take more time than others. Sometimes records are meant to be short. The Suffocating tape was a short record because it was meant to feel like dying in the tiny apartment I was living in at the time.
When I need to get something off my chest, I record until it's done.

M[m]: your other noise project is Impulse Kill- how does this differ from your work under the Joli banner, and do you have a different set-up for this?
JW Impulse Kill is entirely different than Joli. The project is dedicated to someone I am wildly in love with. Impulse Kill is meant to be filled with passion bursting at the seams. That feeling never goes away. That setup has been more experimental. For example, the first IK tape was recorded with a contact mic inside of a box of bullets. The main difference is the artwork and what it is meant to portray.

M[m]: Moving onto Lost Light Records- tell us a little bit about how & when you decided to create your own label?
JW Starting a label was something I wanted to do for a long time but didn't have the sand to do. In 2015 I got home from a long tour and decided it was time. I got tired of trying to finesse other people into releasing my records but also wanted a central name to release my records under along with others. I got to learn more about the wall noise scene, make some friends and immerse myself in their work through running a label. It's been very rewarding getting to work on so many sick records with different artists.

M[m]: So far you've put out over fifty releases on the label- please select ten of your favorite/ stand out releases? And explain a little bit about why you selected each.
JW 10. Cory Strand - Sometimes, Often
This came up after Cory had ordered a couple of tapes from me. I left a note in the package letting him know I would be happy to do a release for him. This Daria themed record is what came from that. Altar of Waste was a huge inspiration for me to start a label and working with him was a big win for me. I heard another label will be doing a reissue of this record soon.

9. Nascitari - Your Sewer/My Church
Nascitari was one of the first noise acts in general that I got into. I remember being really into that video of him performing live wearing that big sheet with a noose around his neck. If I remember right this release did not sell very well, which was surprising to me because it's a heavy record.

8. Foxhole - Stalingrad
Sisto has done a ton of cool work over the years, but I loved everything about this tape. The artwork came out looking really good on the paper I used, and it was a nice package overall.

7. Charles Razeur - S/T
Damien has been going hard the last few years, releasing a ton of digital and physical walls. I was happy to get him on the label. I love his hand-drawn artwork. It's so atypical for what you would expect on a wall noise record but fits perfectly. It made me feel like it was 1991 and someone had just traded me a death metal demo.

6. Black Matter Phantasm - Réticences
Another artist I was very excited to work with. BMP is underrated by a long shot. He really had some strong material on this record and great artwork. We also did a mini-poster that's one of my favorite pieces of art to come from the label. He has a sick new tape this year on Ominous Recordings as well.

5. See through Buildings - I'll Waive The Cover Charge
One of the few records that I've picked up via submission. How I had slept on Ben's work before this is beyond me, but this was an easy "yes" once I heard him. My favorite part about this release is that 3 years later he recorded a sequel album, and that time I got to ask him if I could release it. One day I'd like to do a reissue including both records and expanded artwork.

4. Servant Girl Annihilator - Soft White Damn
SGA is Tanner Garza's secret weapon. Along with being an elite ambient artist, he is incredibly skilled at creating walls in ways that no one else is doing. He makes his own tape loops. This release was a lot of fun to work on not only because of the excellent walls, but also the artwork provided by Quentin was amazing. We did a deluxe version of this release too, in a VHS box which included a mini-poster of extended artwork and a 3" mini cd with another recording that has never been released online officially.

3. Unusual Affairs - He Was Too Perfect, Too Good To Live On Land
Scott traded me a sick UA shirt several years ago and that was my introduction to this project. He and Quentin, along with Richard Ramirez and Sean Ramirez-Matzus created a masterpiece on this tape. Everyone on this record was a major influence on me getting deeper into wall noise and wanting to start a label.

2. Cursed Aether - At Selene's Behest
Straight from the cave of the grizzlor. Paul was another person I had really wanted to work with. Along with Griz+zlor and Blood Eagle, he is unstoppable. He sent me absolute monoliths of walls for this record, along with incredible artwork. I wish this had been 120 CD's instead of 2. Just to add to the depth of this release, it was recorded all live under a full red moon.

1. Naughty - Grateful
Charlotte's flagship project came and went all too quickly. As soon as the first Naughty record came out she had instantly won us all over. A lot of pure talent erupted with this project. When I had asked her about doing another record, she, unfortunately, told me it would be her last as Naughty. As bummed as I was to see it end, it was an honor to release the final Naughty record. The title and artwork were very fitting for the end of a solid run. I surely hope we have not heard the last from her.
M[m]: Tell us a little bit about how you select what to put out on the label?
JW Mostly I contact artists that are hard-working on their craft and aren't following the flavor of the week trends in noise. There are a few guiding principles for the label; everything is wall noise, except for a select few ambient and harsh noise records. I don't release gore or porn. Not that I think it's wrong but it doesn't fit with my label. I generally don't bother with net artists that put everything on Bandcamp without self-releasing records or at least working with other labels.

M[m]: do you personally do your artwork/ design for the label's releases or do you ask artists to create there own?
JW The art depends on the release. Sometimes the artists will ask me to do the artwork, but most of the time they will handle it themselves. For the multi-artist box sets, like Putrescence, I will do the art myself.

M[m]: you've now been involved in the wall noise scene for over six years plus- in this time how do you feel the scene has changed? And what do you see a positive/ less positive developments in the scene?
JW Wall noise is very niche, and like our sounds, the scene is very slowly changing if at all. Like any scene, people come and go, and some old heads stick around forever. I wish there were more newcomers excited to self release their own tapes and CDs. In this day and age, people are all too content to throw everything up digitally and never press a physical copy. I'd love to see kids getting stoked about dubbing noise tapes and trading, but that might be less popular now. If those kids are out there, I want to work with them.

M[m]: What's lined up next for your projects & the label?
JW There are a few tapes to come out before the end of the year on Lost Light, and shirts are coming soon for the first time too. Joli always has records to work on. I've also got a new project, SHARPS, straight edge-based wall noise. I've been straight edge for over a decade and that project speaks to that lifestyle. My first tape was a private release for members of the 2019 US wall noise tape trade. There will be more from that project in 2020.
M[m]: Can you give us an idea of what your new wall project SHARPS sounds like, and how does it vary from your other projects?
JW Anger. Betrayal. Despair. I cannot explain in words how it feels to be hopeless watching someone you love destroy themselves with drugs, so I will do it in noise. I just recorded tracks for a SHARPS record last week, so watch out for the first public release.

Thanks to Jason for his time and efforts with the interview-Joli bandcamp is here and Lost Lights bandcamp is here
Roger Batty