Of Eyeballs 'n' top hats, Hog cuts, & Quilt Making. [2019-12-07]Molly Harvey will be known to fans of Avant pop collective The Residents as one of the key vocal collaborators with the project in recent years- been a big part of the Icky Flix tours, Demons Dance Alone album & tour, and other releases/tours. Molly kindly agreed to do an email interview with m[m]- discussing not just her work with the Residents, but her personal art & sonic collaborations- all making for hopefully one of the more rounder & balanced interview conducted with Ms Harvey thus far.

M[m]: What are some of your earliest musical/ sonic memories, and at what point did you become more interested in more experimental sounds?
Molly My mother was a pianist, and as a small child, I would sit on the floor and listen to her play Chopin, Mozart, Brahms, and Beethoven and weep because it was so beautiful. My mother was also a victim of a lot of abuse throughout her life, so, unfortunately, some of my earliest memories also involve witnessing violence and living in chaos. Music, particularly my mother playing music, became a transcendental thing very early on.; a way to rise above or away from circumstance and into something beyond the realm of bullshit. Music, rather than being something in the background, had its own realm entirely.


M[m]: What are some of the early musical ventures you were involved with? And what part did you take in them? Molly I had never been in a band of any kind before The Residents.
My first time singing on stage was to a packed house at The Fillmore. So there was no path to this- it was more like.. dumb luck, a blessing, or fate.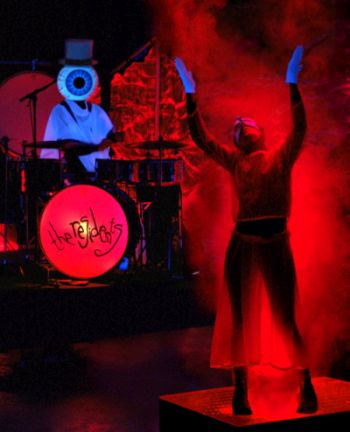 M[m]: We, of course, know you for singing, but are you able to play any instruments?
Molly No. I wish! I didn't have the patience or attention span as a kid to learn the rudiments of any instrument. Voice, it's just always in there and was something I had naturally as a kid.

M[m]: Could you tell us a little bit about how and when you first became aware of The Residents music?
Molly I knew that The Residents existed in high school but never listened to them. My involvement with them, and also working at Ralph America (formerly Ralph Records) was where I became familiar with their vast catalog.

M[m]: Moving on from the last question please discuss how you came to start work with The Residents in the mid-1990's- and what was your first work with the project?
Molly It was just dumb luck. I'd moved hastily to CA upon finding out my dad, who lived on the central coast, had terminal cancer. I met The Residents by working at a coffee shop (the first place that would hire me). Of course, I didn't know at the time that they were who they were. We became friends and one thing led to another and I ended up doing some voice work on their CD-Rom "Gingerbread Man". And things evolved from there.

M[m]: You are probably most known to Resident fan's for your fairly considerate contributions to both the Icky Flix album and tour, and The Demons Dance alone album and tour- how involved were you in the writing of both of these? And did you have any input on the often OTT costumes you wore on the Icky Flix tour?
Molly The Residents wrote and continue to write all of their own material, so I have never had any input as far as composition or lyrics. Once a band had been established, perhaps things were chosen or written that I could pull off, and there may be a song or two that mirror stories I'd shared about my life, but that could be coincidental.
Costume-wise, yes, I had input but again, it has always been about serving their vision. The pieces I wore in "Icky Felix" were courtesy of Carla Fabrizio, another musician/arranger/singer who I worked and toured within the band.
M[m]: As we all know sadly know Hardy Fox, one of the key songwriters/ minds behind the Residents sadly past last year- what are some of your favorite memories of working with Hardy?
Molly Oh man. Well, Hardy liked to be silly but could also be very contrary. He was a bit of a tough nut to crack for me (I was and remain very close with the singer, Randy). I was never sure he wanted me around because I was a 21-year-old dipshit when I met them and was almost never serious, always sarcastic or doing some accent or weird voice (I'm sure I was exhausting). I had never thought of myself as a singer, but little by little, Hardy entrusted me with more musical presence. We had a lot of great times on the road- but my most vivid memory is of Hardy telling me, "The Fillmore has asked us to do five shows culminating in a midnight show on Halloween. And, we're going to do it, and you're going to sing". That was the beginning, and I was absolutely terrified- but- I knew that if these guys believed in me, I could too.

M[m]: Could you please discuss some of your sonic and artwork away from The Residents? And what are some of your favorite non-Resident music or art you've created over the years?
Molly For sure, the bulk of what I've participated in musically is with The Residents- and most things I've done since has been directly linked to them, in that I've come to work with people who were fans from way back in the day who I'd talked to on the phone in the 90s before everything was online. I've worked sporadically over the past several years with my pal Ostrich Von Nipple, who was a Ralph customer and we have put out a 7" for Germany-based Psychofon Records (another Residents connection) in 2018, as well as collaborating on a cover for a Hardy Fox tribute, which Klang Records which was put out earlier this year. Our thing is called Harvey and Nipple and we just kind of do stuff when time permits and the mood strikes. I had a little combo here in Atlanta called Dirty Titty with my friend Michael Goldman, which was him on guitar and me just improvising song stories. That was a lot of fun and something we did regularly for about a year and a half, but for me, it was much more about the process than a show, so we only did one live show, and while it was fun, I just didn't feel the need to do it again. We may pick it up again at some point.

Molly I like to draw, make prints, paint badly, and for the past 15 years or so. my main focus has been on making quilts, which I find to be a very satisfying pastime and a bit of side biz. Musically, everything I've been a part of can be traced back to the Residents because it's the people I knew from back in the Ralph America (Ralph Records) days. I worked there for six years and spoke to fans every day on the phone to take orders- this was clearly pre-internet when we still mailed out a paper catalog. I became friends with many of the people who would order because Residents fans typically order one of everything, so between the band's prolific output and the beautiful loyalty of their fans, I became friends with quite a few folks. Over the years I have worked with Shawn Franklin of The Scallions, and for the past several years I have worked semi-regularly with my good buddy Ostrich Von Nipple, who I was also friends with back in the '90s. We have worked live together and have also put out a 7" on Psychofon Records. We also recently contributed a song for the Hardy Fox tribute that Klang put out. I also had a little combo called Dirty Titty with my good friend Michael Goldman, who is a multi-instrumentalist about town. We met pretty faithfully for about two years and he'd make up melodies on the guitar and I'd make up songs. The process was super satisfying and I had really no desire to play out. He kind of had to lead me to that. We played out once, and it was fun, but then we casually abandoned the project. We may pick it up again someday. Hard to say. Otherwise, I occasionally will do shows locally with my friend Jeffrey Butzer and various people for tribute shows when someone dies. Daniel Johnston is up next. RIP Daniel!
M[m]: In 2001 you released your first book He Cuts Hog- which featured a collection of your writings and art- tell us a little bit about how this came about? And for those who haven't seen the book could describe its contents and themes?
Molly The book is a collection of drawings and stories that were culled from a bunch of stuff I had done over the previous nine years that were just sitting around. I began drawing in earnest at 21 when I moved to San Francisco immediately following my dad's death. Even if you think you can't draw, sitting down and letting a pen go on paper is a very meditative and cathartic thing to do. Aside from a high school drawing and painting class, I have no formal artistic training and definitely at that time did not think of myself as an artist. So I was making these drawings really just for myself, as a way to process everything and as a way to pass the time in a new city where I knew few people. Because I had a lot of time on my hands/thinking to do, the drawings came out very detailed. They had sentimental value, but I didn't necessarily think that they were anything anyone else would want to see or pay for. The book only exists thanks to James Decker, who had and I believe still has a small publishing company called Dessa Press. He saw that I had all of this artwork and knew that I wrote, so he suggested the book. He really helped me put it together, and he learned graphic design and did all the things I would probably never do, like properly scanning and re-sizing the drawings. He helped to edit my writing and he helped me decide how to pair the artwork with the stories. They are all character sketches- little looks into the micro-dramas of faulted people. James used the term "grotesques" to define the type of character I am drawn to, and I guess that's fair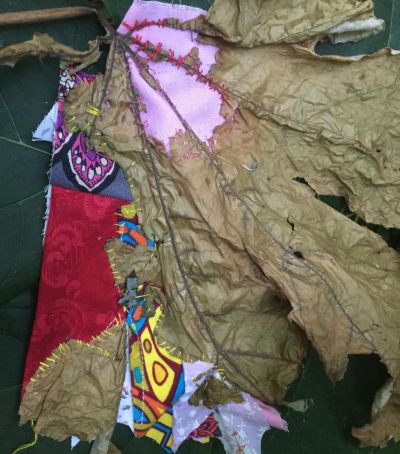 M[m]: I see you've recently done a 7inc single with Ostrich Von Nipple- tell us a little bit how/why this happened? And do you plan anymore work with the project?
Molly Ostrich and I go back to like 1995 in San Francisco when I was working for Ralph America (The Residents now-defunct mail-order company) and Ostrich was a Residents fan who was studying Indian music at the Ali Akbar Khan College of Music. Back in those days, if you wanted to place an order, you either had to fill out a piece of paper from our mail order catalog, or you had to call us and talk to us directly. So Ostrich was one of those, and we would talk about all kinds of stuff, but eventually, we lost touch. Twenty or so years later, we see one another at a Residents show in Atlanta, where we had both relocated to. He hooked me up with his group of friends/artistic collaborators, and together we participated in a musical called "Oh! Fearsome Head!" which was written and directed by a great Atlanta artist who goes by the name Shitty Bedford. Ostrich had a band called The Goons of Waxing Gibbous and they scored the show and played live and I acted in the show, where I played The Letter R. It was a lot of fun.

Molly The 7" came about very organically. A few years ago, Ostrich had been telling me how much fun he thought I'd have playing around with a vocal effects box, and so I came over one Saturday and he'd prepared the simplest little sequence from a garage band, and we just sat around and had fun for a couple of hours. I improvised a song sort of based on the character that came to my mind from the effect I'd chosen. It ended up being a song about a young teenage girl who is dying to be older and is starting to make some bad choices. We did think to record it because you never know what will come out and you can always erase it if nothing does. We listened back and laughed and really didn't think about it for another year and a half when Ostrich happened to pull it back out and listen again. He was like, "this is kinda actually good!" and because we both have a relationship with Andy from Psychofon Records, there was the potential of an outlet to put something out. So we met up again and once again I improvised some lyrics to a tune that Ostrich had prepared with some bass tracks. This song is darker and basically catches up with this girl when she is 41 and a total mess. The third track is a happy, bouncy mostly instrumental song with me just doing some la la-ing and little bits of words here and there. It's kind of a palate cleanser, I guess.
We also collaborated on a cover of "Teddy" by The Residents, and combined it with some lines from one of Hardy's solo songs. This piece was part of the compilation tribute to Hardy that Klang Galerie put out earlier this year. As far as future work, it remains to be seen. No plans, but who knows?
M[m]: what have you got in the works at present- be it sonically, art-wise, or word-wise?
Molly Right now I am working-slowly!- on putting together a new book that I am hoping to put out by the grace of Secret Records in Madison. They are a talented duo and Lacey is a really great graphic designer, so I think that with her eye and expertise, we could make something nice. So I'm writing and once again pulling stuff out of drawers.
Molly I have been way more focused on visual art for the past 15 years or so than on music or performance, and I try to make that a daily part of my life. I like making quilts, I like printmaking, I love to draw and paint, and I like to experiment working outside with nature. It's more immediately accessible and independent than being in a band, and the hours are better. That being said, I do perform sometimes, maybe once or twice every year or two. I have done a little bit of solo work as a writer/actor and for a couple of years, I had a little combo called Dirty Titty, which was more about getting together and improvising than it was about making a show. But we did manage to have one show. Lots of fun. Oh, Dirty Titty.
Molly I haven't performed in about a year and a half but will be doing a few songs at a Daniel Johnston tribute show with Jeffrey in early November, and we are talking about putting a little something together in the future. I still like to perform in costume or in character, which is definitely something I picked up by working with The Residents: there's so much freedom in singing as someone else.
Thanks to Molly for her time & effort with the interview.

All pictures but the second by M Harvey, Residents and Molly pic Henrik Kam
Roger Batty