Death-Tripping [2019-10-29]

Here at M[m] we cover a fair bit of extreme fair- be it sonically, visually, or thematically. And one of the most used themes to shock has always been death-related matter- be it serial killers & their MO, dead body & autopsy photos, or the processing of the dead though morticians & funeral directors. One of the few places in the world where people can literally face death, it's impact, and those who use it as an addiction is the Museums Of Death in the USA- at present, the museum has two locations- one in LA, and one in New Orleans. Early this year on a trip to LA I was lucky enough to visit the Museum- and I must say it was one of the highlights of my trip to the City. After coming back home I decided to contact the LA Museum manager Erek Michael for an email interview- below we discuss how he first came to work at the museum, key artifacts the museum holds such as John Wayne Gacy clown shoes & GG Allin's stage ware, and general Museum related chat.

M[m]: First off Erek thanks for agreeing to an interview with us- you're the Manager at the Museum of Death- tells us a little bit about how you first became aware of the museum, and how you landed up becoming the manager?
Erek I had just moved to San Diego in 1997 and discovered the Museum- at the time a hidden treasure- which was located in the Historic Gaslamp District of Downtown SD. Despite having just a small wooden sign announcing it's presence I was immediately drawn in, and after spending quite a bit of time absorbing all of the amazing artifacts I had the additional pleasure of speaking with the owners JD Healy & Cathee Shultz at length, who immediately impressed me with their knowledge, wit, and enthusiasm regarding a topic that most people considered "taboo". Through my repeated visits, questions, and enthusiasm we forged a friendship that has lasted to the present, and not a day goes by where I don't appreciate the opportunity that they have provided- entrusting me with helping them with all aspects of the collection and making the Museum a truly unique destination for those seeking something a little different.


M[m]: I know the museum moved from its original location in San Diego in 1995- due in part to the controversy regarding the museum trying to buy & display materials from the Heavens Gate cult. Have you had any issues with exhibits since moving?
Erek ??? There was never any controversy regarding the Heaven's Gate acquisitions. Most items were obtained from the auction that the County of San Diego itself had- which was attended by a few hundred people, JD & Cathee included.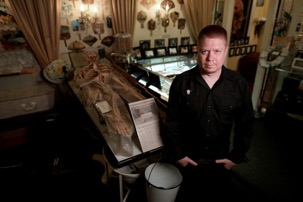 M[m]: Sorry I got the information regarding the Heavens Gate controversy from Wikipedia- so this didn't happen?
Erek No- there was never a controversy regarding the Museum acquiring, or displaying any of the Heaven's Gate materials. And what with the 20 year anniversary passion recently there is definitely a renewed interest in all aspects of the case, so most visitors are quite impressed with our display which includes an actual and complete outfit worn by one of the members in the suicide as well as a set of the bunk beds which had been seen across the world on news stations, newspapers, and books and magazines that covered the event


M[m]: Please tell us a little bit about how you acquire things for the museum, and how often do you go about changing what your displays?
Erek New acquisitions can come to the Museum's attention just about any way that you can think of, from auction houses, estate sales, private collectors both professional and novice, retired police/prison workers, families that may have run funeral homes or mortuaries… the list goes on and on. As the saying goes "Everybody has a skeleton or two in their closet" - well, that can literally be true in some cases! We do not have a set rotation schedule for displays but like to think that we are constantly adding new items, documents, and artifacts as they come to us.



M[m]: One of the first impactful items to me was John Wayne Gacy clown shoes- tell us a little bit about how you acquired these?
Erek One of Gacy's lawyers was entrusted with some personal effects from the house that were not considered evidence. When he (lawyer- not Gacy) passed the new lawyer that absorbed his business inherited some storage units chock full of boxes- a few of which were labeled "J.W. Gacy". He was not seeking attention or to make a profit from finding the items, and honestly did not want them in his possession so the Museum was contacted about a "private and anonymous donation" - which we were ecstatic to receive and display!

@
M[m]: Another decidedly shocking & unsettling exhibit in the museum was the video footage of the autopsy of an elderly lady- what are the origins of this?
Erek That particular video was commercially available, and can probably still be purchased online if you were to look for it. It's one part of a series entitled "Autopsy: Voices Of Death". Dr. Thomas Noguchi, retired Chief Medical Examiner for the Los Angeles County Coroner's Office, performs an entire autopsy for the camera and uses the "voice of the dead" to determine the decedent's cause of death. What may be considered shocking to some is just another day's work for the men and women who work at the Coroner's office!



M[m]: It was great to see very local crime-related pictures relating to crime scene of one of the Sunset Strip Killers victims- who had her head decapitated, then this was dumped in an arty looking box down an alleyway in Sunset strip. Do you have plans to expand on more local crimes, and if they ever came up would you considered purchasing for an exhibition item relating to said crimes- for example, the box the head was found in?
ErekWe will always consider picking up new items / artifacts- luckily there is no shortage of said material that pertains to Los Angeles!


M[m]: It was cool to the GG Allin exhibit- featuring his stage get-up, and pictures of his open cask funeral- any plans to have any future musician focused exhibit in the Museum?
Erek The GG Allin exhibit is gearing up to be one of our most infamous displays (for the time being), as we have in our possession his headstone that the cemetery where he is buried had removed, and eventually we will be entrusted to display his remains!


M[m]: When do you hope to put the GG Allin gravestone on display?
Erek We have no definite timetable per se, but there are a few very interesting things that we have planned for the future. Don't want to say too much at this point, however, it will be worth the wait we promise!


M[m]: Any plans to have any future musician focused exhibit in the Museum?
Erek There's no telling what the future may hold- we could receive a call, or email from a former band member, roadie, friend, or partner who may have some cherished items that they have been holding onto for years, but now may be willing to part with. And as always the best part is that the Museum of Death wants to share it's collection with the world, so nothing is privatized to the point where it would never be on display at some point at one of our locations. We always look forward to meeting new folks who want to share their artifacts or stories with others.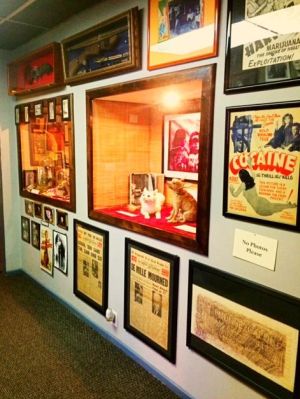 M[m]: I notice the rather tongue in cheek you warning you give visitors on the ticket, that people with medical conditions should not to go into the museum. Have you ever had anyone have health issues in the museum, or suddenly run-out, or throw up?
Erek Sometimes visitors can be overwhelmed when going through the Museum- as we do have a good number of folks that have given us a "falling ovation" (passing out). We are also extremely upfront about the graphic content contained within and always make sure that people acknowledge, and are OK with that before entering. The vast majority of people do just fine, and as we like to point out nobody has ever lost their life while here- unlike Disneyland!

M[m]: I picked up one of your serial killer tarot card design- can you tell us a little bit about how these came about? The artist? And do you have any more planned?
Erek Artists approach us quite often about lending their work to shirts however we take everything on a case by case scenario. We do have some great designs and ideas planned for future merchandise!

M[m]: I see your going to be opening/ or have recently opened a new Museum of Death In New Orleans. Do you have any plans/ ideas about opening in other US Locations? And what about in other countries?
Erek Yes- both Museum locations are such very special and unique destinations housing such an assortment of original, one of a kind memorabilia and artifacts that there is a definite interest from the public- now seemingly more than ever. Their fascination can be fueled by such timely things as podcasts, true crime documentaries, TV shows, even good ole fashioned books, and we want to provide an extension for any curiosity or interest there may be. Like any destination, we definitely see an increase in visitors during times such as summer, spring breaks, National Holidays where other Museums or attractions might be closed, but we definitely stay busy year-round.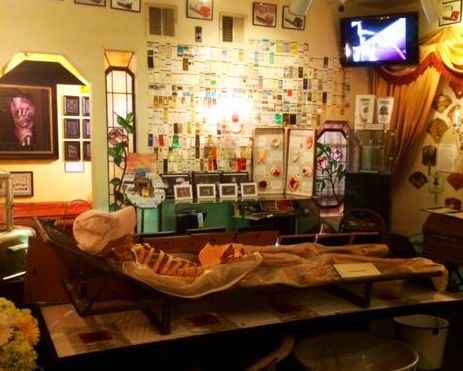 M[m]: Does the museum get busier on certain days, or certain times of year- or is its trade fairly even?
Erek The Museum Of Death (both locations) does tend to get quite busy on weekends, but it's safe to say that we always have a good flow of visitors on any given day of the week at this point as the collection's reputation through word of mouth, social media, podcasts, etc is quite established. As far as the time of year, we do see a big spike during the Summertime due to people being out of school and able to travel- and both Hollywood and New Orleans being major tourism destinations for people all around the world ensure that there's no shortage of bodies to come to pay us a visit!


Thanks to Erek for taking the time out of his busy schedule to do the interview. To find out more about both branches of the Museum, and buy merch direct head here http://www.museumofdeath.net/
Photo credits: Picture of Erek © Gary Coronado / LA Times, other pictures © Museum Of Death

Roger Batty