The Sonic Disturber [2019-02-18]Since the 1980's Austrian sound artist Rudolf Eb.er has been trying to disturb, challenge & unbalance listeners with his sonic creations that bring together strange body-sound collaring, psycho ambience, weird field recordings, and brain altering electro-acoustics. Over the last few months Rudolf has released the three volumes of Om Kult: Ritual Practice Of Conscious Dying- which really stand as some of his most unsettling & overtly troubling work thus far- the three CD series focuses in on 'the occult knowledge and techniques for the transition from life to death, on the ejecting mind as well as on the decomposing human body'. Rudolf kindly agreed to give M[m] an interview- where we discuss his work in general, and of course the three CD Om Kult Series.

M[m]: Can you pinpoint when your love of strange & unsettling sound first began? Rudolf My parents had a black phone. With the dial disc. And two bells in the back. When I, as little boy, was alone at night and that thing ringed... that was freaking scary. And my grandmas voice out that black handle - very spooky. Whatever scared and spooked me got my attention.

M[m]: When did you start to create your own material? And did you start off in the more experimental side of things, or was it a progression into it?

Rudolf When I took that phone apart. I took the membrane as microphone for my shoebox cassette recorder. Which I also took apart. I came from the other side; I started with the experiment and things like music eventually happened.




M[m]: What do you see as your most important piece of kit? And are you still using anything that you started out with? Rudolf The tape recorder. I started work with cassettes, then reel to reel. Moving to Asia left me without reel to reel because the machinery was too heavy. A while later digital techniques came in. Nowadays I work on a computer - and again with my old shoebox cassette recorder.

M[m]: You've recently started releasing Om Kult: Ritual Practice Of Conscious Dying- with two volumes released to date thus far, & more in the works. Tell us a little bit about the concept behind these releases? Rudolf In 2014 I released the "Brainnectar" 2CD where I collected my works with tones and natural noises stimulating a direct neural reaction. I build psycho- dynamic audio environments and put them in contrast with other extreme acoustics. From here I took my studies further - and probably into more sinister realms. While "Brainnectar" deals with rising psychic energies, the "Om Kult" CD triptych focuses more on the occult practice of conscious dying, particularly with the ejecting of these psychic energies during the process of dying. But also the decomposing physical body is of special interest.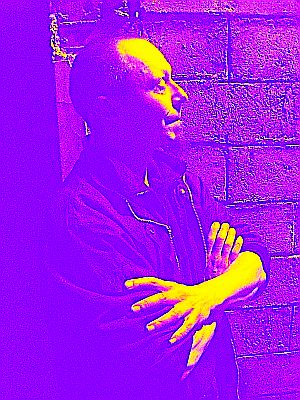 M[m]: You mention that the decomposing physical body is of special interest in the Om Kult trilogy- can you please expand on this? Rudolf Occult writings inspired the work, also the Tibetan book of death with a detailed description of the dying process from the dyings view. On the other hand, I studied the biological process of the human body decomposition. As a painter this gives me a very interesting fundament, but also the acoustic work has roots on this studies - not alone by field recordings, but through the sound itself, the sound colour, the sound temperature and even the sound smell - in means of some sort of synesthesia phenomenon I perceive
M[m]: I believe all the volumes of Ritual Practice Of Conscious Dying featuring field recording of ' Japanese forests, creeks and waterfalls, haystacks and dirt piles, maggots and flies feeding on carcasses'- tell us a little bit about how/ when you captured these? And are you constantly carrying around some form of recording set-up, just in case you come across sounds you want to capture?
Rudolf When walking in a Japanese town I listen to sine waves or pink noise. But I record when walking in the mountains, forests and fields nearby my house. There are many spots of extraordinary ambience and acoustics.
M[m]: Over what period of time to you capture the field recording elements of Om Kult trilogy? And do you think you'd ever be interested in recording a pure field recording based release?
Rudolf They were recorded between 2016 and 2018, most around here in middle Japan. A pure field recording release is not yet planed. My interests are now on other releases that are in work, one thereof together with the amazing percussionist Will Guthrie. We got truly evil recordings already!
M[m]: The two Volumes released so far have quite an active use of tape hiss & subtle noise textured/ un-nerving sound texturing- is this something you like to develop further in the future release? And do you enjoy any of the HNW( ambient wall noise)/ textured noise scene? Rudolf Many of my newer works are based on studies of sounds triggering auditory hallucinations. Such sounds relate often to hiss-like noises. The sounds of fridges or vacuum cleaners can become very interesting once you listen consciously to them. Rivers are especially interesting. You can hear many rivers and waterfalls on my recordings without noticing.
I never heard that term "Ambient Noise Wall". Ambient wall? Harsh Noise Wall makes sense though.
M[m]: much of your work focuses on unbalancing/ altering the human mind- what are some of the more bizarre feedback/ effects you've heard from people who have listened to your work? Rudolf I agree with mind-altering, but not with unbalancing. Walk down the street and from 100 people, you see 100 unbalanced people. A balanced person sticks out the crowd like a lily from the cow dung. A balanced person is full and complete and doesn't have a smartphone glued to the hand. Being unbalanced is today's norm - and makes a balanced person look like a freak. I see my work as healthy and health increasing. But yes, I'm aware my work sounds like the diametrical opposite of healthy. That's maybe like medicine - medicine tastes bad too. Many people told me they experienced waves of heat the spine up, some had weird hallucinations. Just recently one told me he listened "Brainnectar" and got so energised, he kept awake all night. My older works were unbalancing and extreme unhealthy indeed. I believe strongly one must conquer the deepest regions of the psyche before a true growing can set in.
M[m]: You've now been working in sound since the late 1980's- please select five releases you are most proud of & please explain why you are?
Rudolf The "KSK Dokumentation No. 1" and likewise "Die Läuse zerfressen mich... Die Säue erbrechen sich" tape box and "Psycho-Hygiene" vinyl mark the lowest point. Disturbing stuff.
So is the "Asshole/Snail Dilemma" LP or CD with the recording of the legendary Tokyo performance "For Asstrumpet and String Quintett" on it. According to the Wire that's the Himalaya of Misery.
The Wellenfeld CD is very different: A live Quartett playing Brainwaves only. Picked up by EEG headsets, our brainwaves were transformed into sound signals and distributed onto eight surrounding speakers at the Schimpfluch festival "Extreme Rituals" in Bristol 2012.
The "Runzelstock & Gurgelstirn" LP or the download-only "Hum-Pa" album are good samples of the actionist/cut-up work I did under the now defunkt moniker Runzelstirn & Gurgelstøck.
And I can recommend "T. H. I. E. R." being more accessible than "Brainnectar".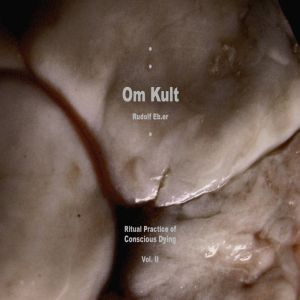 M[m]: You & the Schimpfluch collective are known for your disturbing & extreme live performers- have any of these ever been stopped by venues & are there some places that won't let you play? Rudolf Sure. We had power cuts, police rides including teargas and the like. There were filthy beer-soaked live venues that wouldn't let us in anymore - and at the same time, we played at art museums, big concert halls and the like. It got pretty absurd at times, but we always had a very supportive crowd.
M[m]: What's the origin of the Schimpfluch name? and who is actively part of the collective at present?
Rudolf Originally the name was Imvluss. Coming from "Im Fluss", means In the river or flow - or In flux. It just happened to remind to Fluxus, but the meaning was rather spiritual. Then the name Schimpfluch was used, which combines the words rant and curse. All in German that is. It was mostly me, Marc Zeier aka G*Park, Joke Lanz and Dave Phillips. Also, Daniel Löwenbück and others took part. The collective comes together in various combinations when it happens to happen
M[m]: What's lined up next for your self & the Schimpfluch collective?
Rudolf I'm looking forward to performing at the "Musica Sanae" Festival - a research-based project dedicated to intersections of sound and medicine - and on several other occasions in Europe and Asia during this year. And of course, the 3rd and final CD of the "Om Kult" triptych will be released very soon!
M[m]: When is the Musica Sanae fest- and what can we expect from your performance?
Rudolf It is a three-legged fest. Me taking part in May in Naples and in August in Sokolowsko. I will present "studies on psycho-active acoustics and noise-induced hallucinating". New works based on Om Kult, transformed into powerful sessions for the live audience.

Thanks to Rudolf for his time & efforts with the interview. To hear samples from the Om Kult series, and find out more about his work head over to his Bandcamp here
Roger Batty