Noise Bound Birds of a Feather [2018-08-31]Richard & Sean Ramirez-Matzus are of two of the noise genres most known, influential & respected figures- both within the HNW, and the wider American noise scene. With their discographies going back to the late 80's/ early 90's- jointly they've released a huge amount of work, which must add up into the hundreds. For many years the pair lived in Houston Texas, but a few years back they decided to move to rural Pennsylvania- I caught up with the pair for an email interview- discussing how the move has impacted their work, their influence on HNW/ noise, and recent sonic developments from the pair.

M[m]: It's now a few years or so since you both left Houston, and move into the countryside of Pennsylvania. Do you think this move has affected your sonic work in any way?
RR: I don't think so. At least not for me.
I do feel more relaxed where we are. Also, the freedom of not having roommates is nice. It's not easy living with others who expect you to pick up after them because they can't act like adults. That's beside the point though.
We haven't done much live around Pittsburgh. In Houston, I set up the majority of experimental/noise shows there. It's not something I want to do here too often. My fashion work takes up a lot of my time too.
I love the weather in Pennsylvania. The winters are wonderful. I love the snow. I feel more creative here too.

S The roots of my sonic work were always here. I feel like coming back home, to this place where I first thought of the sounds that would eventually go in to inform so much of my work, has refocused my efforts even if the non-musical projects we have taken on in the past two years has taken up an exponentially greater amount of my time. I feel like when I do set out to record new material it is with a clarity and ferocity that produces a great deal of pride in the end product.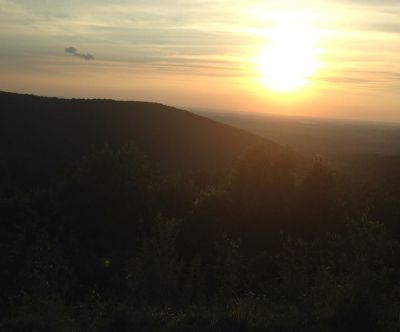 M[m]: Richard You mention your fashion work- has this changed since you relocation, for example, do you think the more rural setting has influenced the use of different fabrics?
RR: I think being surrounded by nature more than living in a city has helped with wanting to do more 'textures' in my fashion work than before. I also feel more creative here. It's very relaxing as well. The winters here are so relaxing and I do love working with heavier fabrics always. They're great for molding into a shape that I like.
M[m]: Please tell us a little bit about your recording set-up in your new place- I take you have a bit more room than when you where in Texas?
RR: Our recording space is upstairs. We live in a four bedroom Stonehouse. The fourth is upstairs. We owned our home in Texas, but still had roommates. Here we don't and it's great.

S I have a dedicated area for working, away from the main part of the living space, where there is always at least a minimal set up of equipment that is ready to go whenever the spirit moves me. This is something we sadly lacked in our Houston house, and it is a very nice thing to have here. Granted, We still work in pretty much exactly the same way We did there.


M[m]: Richard, Could you go onto detail your present set-up? And do you have any new addition to your kit?
RR: My set up is still the same. I use two distortions and either "holy grail" pedal or "french toast" pedal with them. Sometimes it's the source that can change things. Not always a piece of sheet metal. Sometimes the wooden floor is a great source. A fan. An air vent. A textured wall. Sean is more about different equipment than I am.
M[m]: Sean, In his answer regarding both of your set-ups, Richard mentions you have a lot more kit than him- please could you discuss this & how has it changed over the years?
S We have quite a bit of equipment, that I use when a project calls for it.Everything from a couple of analog synthesizers to noise generators to radios, field recording equipment, and quite a few pedals. However, I've learned over the years to be judicious in what I use. Most of the projects I do involve a minimum of gear used—hopefully—to maximum effect. Mostly I use a synth, my handheld recorder and a couple of fuzzes or distortions. Sometimes some reverb. On rare occasions a little delay. That is about all at this point.
I have to add that at a lot of shows, especially on tour, Richard and I interchange equipment. As an example, on the tour we did with The Rita—where I was doing A Week of Kindness and Richard was working under his name—we used virtually the same gear but to very different ends.
M[m]: Since you moved you set-up a new label Next Halloween- releasing so far around ten releases. Please discuss some of the releases that stand out to you so far?
RR: We wanted to do more vinyl releases for the label. Our first two main releases (vinyl wise) are Last Rape "Total Terror!" LP and the Black Leather Jesus/Andrew Liles 7inch. We sent Andrew Liles material of our work and he "remixed" them. It was a pleasure working with him. We wanted to do a full-length Last Rape release for years, but we're sure how the reaction would be. Some people still don't like the name even though we've explained the name. It's ok. It's not for everyone and we're fine with that. I'd like to do more with Last Rape live, but it's not easy finding people willing to set up shows with a name like that sadly.

M[m]: Richard, what attracts you to do more work under the Last Rape project name? And do you have any favorite releases from this project?
RR: It's a project that I've always enjoyed, but since it became a project that I do with my husband, it means even more to me. I love the giallo/slasher themes of it as well. It's just the two of us. I know some have issues with the name, but that doesn't bother us. We know what the name represents to us and that's all that matters. People sometimes just see the word and immediately dismiss it as simply offensive or a shock tactic which it isn't. I love how our vinyl, "Total Terror" came out. I also really like our split with Rough Sex Quartet. Also "Sweets from a Stranger" 7inch, "99 Women", & "Montecassino" tape set.

M[m]: You're the most famous/ infamous project Black Leather Jesus is still active- who is part of the line-up now? And how do you feel the projects sound has changed since leaving Texas?
RR: BLJ is mainly us two. Others have sent us source material. We'd love to tour with the others one day again. If anything has changed soundwise then it's because it's mainly a two-piece right now. The others (Kevin, Carol, Tanner, Austin, Nathan, Randa, Domokos) are welcomed to participate when they are able to.
S The sound remains very similar to me. One would think it would be a bit more pared down with the fact that it is mainly just Richard and me at this point, but you have to remember that very few of the actual BLJ releases featured more than four or five members in individual recording sessions. The place where the difference is acutely felt is live, but even that is simply a matter of requiring us to think in creative ways about how the two of us fill the sonic space and distinguish the BLJ approach from other projects we do together.
M[m]: You're still both very much connected & respected by the HNW scene- what are your feelings on how the scene in the last few years? And are there any more recent projects you enjoy?
RR: We enjoy the wall noise scene and love being a part of it. Lately, I've been in the dark about a lot of new/newer projects. I am a big fan of Rien. I am a huge fan (not that they're new artists) of Big Hole, RRR, Condo Horro, Eugene Critchley, Anonymous Masturbaudioum, Female Pedophile, Painful Vigil, Servant Girl Annihilator, Train Cemetery, Clive Henry, Sacro E Profano, Phantom Cadaver, The Ebony Tower, and so many others (of course I love my husband's work). I think E.E.E. is way overlooked for her wall noise from the 80s well before the HNW tag. She's a big influence on my work as well as G.X. Jupitter-Larsen. Some of his Haters releases are very wall noise.
S HNW is still my primary focus as a solo artist, even though I obviously have a number of other styles I work in. I love the wide range of expression that can be achieved through a simple wall. I can't say I feel a big connection to some of what happens, especially in the social media side of the world. But that's to be expected when you have a niche, sub-genre of a sub-genre with that kind of group presence. There are going to be a core group who get it and a bunch of people who wander in, try to exert their own influence on an established idea and storm away angry when the idea doesn't bend to them.
That said, I love a lot of the artists I've crossed paths within the groups. Some people really have the right idea. I love Cory Strand and his work, especially Eugene Critchley. James Sherman and Yume do great, unique work. Ben's See Through Buildings stuff is great. Ditto Nemanja's Dosis Letalis. Rein is exquisite and Johan is a great guy (who we really enjoyed getting to know in Paris and hope to see again soon). Naughty always does great work. And then there is my brother-in-arms Scott (Kindberg) and She Walks Crooked, who I have some things in the pipeline with. Some great older wallers I'd love to see get some more stuff out are Wet Dream Asphyxiation, Willowbrook and Servant Girl Annihilator. It's been a while. And of course, our dear friends Purity Ball, Big Hole and Painful Vigil.
I feel so bad. There are a bunch of great artists and projects I'm forgetting here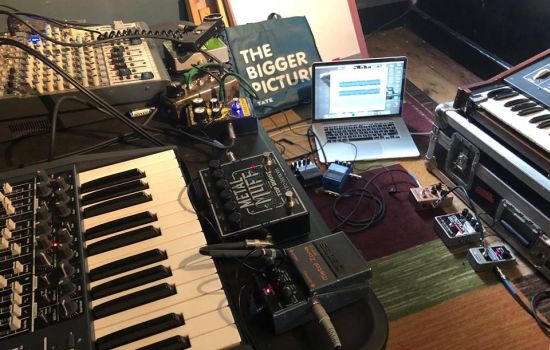 M[m]: Richard which of your many projects are currently active? And are there any lesser active projects you'd like to bring back?
RR: So many are still active or can be when I get in touch with the collaborator of that particular project. I want to do more with Gourmet Shit Scene, Are the Volcanoes Still Active?, Whitenoise Death, [Untitled], Slashed Pretty Girls, Frustrated Dissector, Priest in Shit, Vice Wears Black Hose. As for lesser active projects: Adipocere, Bog Queen, Erzulie Scorpione, Oasis of Fear, Nurse Unit.
M[m]: You recently both did a show in Paris under the BLJ banner- tell us a little bit about how this came about? And can we expect a release of the recording at any point?
RR: Sean and I had planned a trip to Paris to see two exhibitions of the avant-garde fashion designer, Martin Margiela. That was our main reason for the trip. We didn't want to do a tour of any kind this time around. We wanted to visit the city. Then, we had thought about just doing one show there. I was nervous about the show, but it turned out great. A great turn out. Vomir and Rien were amazing! As far as any recordings of it. Not sure. I don't have a recording of our set unless someone else does.

S The BLJ Paris show was put together by Romain(Vomir). Paris was actually mostly a vacation for us. We haven't really had much in the way of non-working vacations since we have been together, and there were a couple of fashion-related things we wanted to see. When Romain approached us about the idea of a show we thought it would be a fun, one-off thing to do. Sadly, I'm not aware of any recording of the set. It was an in-the-moment, had-to-be-there kind of thing

M[m]: Richard for many years you arranged the Eyes behind the Wall fest in Houston- which showcased a host HNW from the USA, and arid around the world. have you thought of doing similar in your new area?
RR: I did enjoy doing the fests in Houston, but lately, my fashion work has taken more of my time. I also enjoy doing fewer shows that others set up vs. me being the one to set it up. It's a lot of work to promote and organize them. I am more interested in doing tours. We hope to get one set up next with The Rita and JSH for the U.S. Northeast. Fingers crossed
M[m]: Your both big horror/ cult fans- any recent films that have made any impact on you? RR: A few back there was a film called "From the Dark" (2014) that I thought was great but seem to have gotten overlooked. We were fans of A Quiet Place and Hereditary. Films from a while back that we liked were "Ritual" (After Dark one) and "The Void".

S Recent things I have loved—some of which are a few years old now—have been The Witch, Green Room, The Hallow, The Monster, Personal Shopper, The Invitation, Annihilation, and Hereditary. I am definitely forgetting something there too.

M[m]: Richard, I know you're a huge fan of Giallo- what are your thoughts on the more recent arty/ neo- Giallo like Amer or The Strange Color of Your Body's Tears? RR: Love them!! They take so many elements of different directors and you see it in the films. You can see what films/directors influenced various scenes in the films. I love that about them especially The Strange Colors of Your Body's Tears". They are definitely more of an arthouse film. I am loving so far the neo-giallo films. "Sonno Profondo" and "Francesca" are also another of my favorites.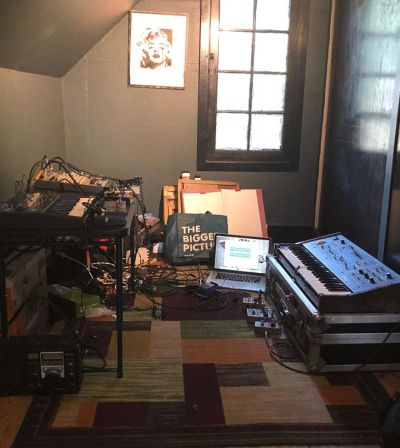 M[m]: What's lined up next for Next Halloween, and other releases?
RR:We are working on a collaboration with Edward Ka-Spel (Legendary Pink Dots) with our project Nuits Rouges. It's a vinyl release on Next Halloween. I'd like to do another Last Rape vinyl too. I'd like to do more with our project rather than just BLJ.
S I will be focusing on some small run releases of my own work with my personal label The White Visitation in the upcoming months. It also is well past time for some more Pink Triangle Series releases, considering the political climate…
M[m]: Sean, Can you let us know what you've got planned for The White Visitation label?
S I don't have particularly established plans with The White Visitation at this time. It is a label strictly dealing with my own recordings. If I'm being honest, I view it as a necessary evil more than anything else. As such, it's really something I'll use when the spirit moves me. I know that is not the best way to run a label or establish a base of support, but it's the most honest way I can answer the question.

Thanks to both Richard & Sean for their time with the interview. Links- https://nexthalloweenrecords.com/, https://richardramirez.bandcamp.com/,https://seanematzus.bandcamp.com/
https://pinktriangleseries.bandcamp.com/

Photo credits: Main front page pic & menu pic Carol Sandin Cooley, other photos by Richard & Sean

Roger Batty