Nylon Walled-Noise [2016-04-29]Signora Ward Records is an Italian tape label that focus in on very specific types of noise & themes, and those are HNW & Feet and Legs/ Nylon Stockings fetish. The label was stared in 2014, and has quickly become a very popular name with-in the 'wall' & extreme sonic scenes, with releases selling out with-in days of release. I tracked down the man behind the label, Dwight Holly for an email interview.

M[m]:Tell us a little but about how & why the label came about?
DH I opened the label in 2014, when I did a record with my main band Mobile mobile di mezzanotte. This release was dedicated to the Italian power electronics project of the 90s and the release was entitled Nylon Crimes. This was my tribute to noise scene- this band now plays Doom Jazz, but in the past we were power electronics project.

DH The label came about because I loved the idea of Nylon combined with the noise. I was also listening to a lot of The Rita work- which led me to decide to create a label devoted at the 'harsh noise and HNW in particular, but with a specific theme: fetishism related to nylon stocking. So I wanted to create products that satisfied my innate fetish for both.

M[m]:You mention The Rita has a big influence on forming of the label-what was your first introduction to this project? And what are some of your favorite releases from the project?
DH The Rita is vital to my label; it's the perfect combination of HNW and fetishism. The themes of Nylon are those I love the most and that I collect. Even the projects latest obsession of ballet I like very much too. I'm exciting by The Rita the sexual point of view, and the part I love the most is definitely of the dedicated to Laura Antonelli.
M[m]:Most of signora ward release are based around two key obsession- harsh wall noise & Feet and Legs/ Nylon Stockings fetish. Which obsession first came into your life?
DH Fetish for nylon is fundamental for me, at mental level more than the physical. And 'the idea of playing in various ways with Nylon and Nylon submission to a woman who interests me. I considered the HNW of many artists that I love and that I produced as a sort of soundtrack for these games or sessions as I like to call them.
I always listen to my tapes with nylon in hand and almost always put the nylon around my tapes, so that my clients can also experience the same feelings. I offer an a soundtrack for the HNW Nylon games.
M[m]:What's the origin of the labels name?
DH The label is named after an Italian cult movie, a Giallo of the 60's "Lo strano vizio della Signora Wardh" with Edwich Fenech sexy icon for me.
M[m]:In all the label has put out coming up for over thirty release- please select ten of you're favourites & explain why they are?
DH This question is particularly difficult, because every single tape that I ve put out- I have listen to many times. I am very proud to have produced many female projects that have made an a great job for me too image-level, using their own nylon.
I want Respond to your question, in no particular order, I think my best release are these:
Monster Power - Single White Female
Tissa Mawartyassari - Black Fishnet Asphyxiation
Masturbatory Dysfunction - Session One: Prelude to the Heel
NYLON HNW sampler
Vomir - Black Bag
AnonymousMasturbaudioum / Wehrmacht Lombardo - NYLON FEET CUMCOCK
Chier - Intemperance
Naughty - Nylon Insomnia
Spiteful Womb - Veiling
THE RITA / Power Monster - Basque Into Tights [Odile]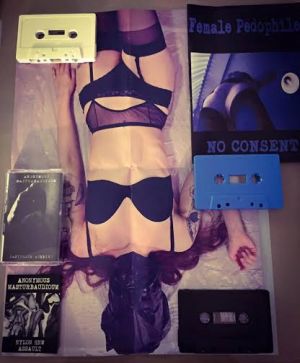 M[m]: Do you design the artwork and layout for each release yourself, or do you have some one who does it for you?
DH I plan the design of layout, but usually use original photos that are provided to me by a number of my collaborators as Sara De Oliaveira, Nora Egloff (Spiteful Womb) Abril Delgado. The images are the most important part of my release. I am the NYLON!
M[m]:one of the most prolific artists on your label is Anonymous Masturbaudioum, as they have so far released three releases. How did you first come across this artist & how did you start release their stuff?
DH I met Antonino on soundcloud soon after I started to produce stuff with WARD. His appearance on the label is pefect suited to the themes of the label , and also his walls are among the best I've heard. Anonymouse Mastorbaudioum has something much more than other active projects and is 100% NYLON HNW as I like to call the sound that Antonino and me tried to put out.
M[m]:Since signora ward started in 2014 in slowly but surely it's become a cult label with releases selling out often fast, so I was surprised to read you've decided to end the label. Tell us a little bit about why you've decided to do this?
DH I really loved my label and I still love it. I have always tried to combine the quality of the productions to aesthetics quality of packaging. I noticed that most HNW editions are too amateur, personally I happened to buy tapes very beautiful from the sound point of view but very poor from the point of view of the package. With WARD this does not exist, I product tape for fetishist and deserve the best.
Just because I put a lot of effort in Ward now that I don't have more time I decided to close.
Recently I have had a child, I working over 10 hours in my day job, and also there's the doom jazz band I play. So I had to close something to go, and with Ward I think I did well and I will not spoil the label for lack of time.
It 'a difficult choice and I miss it very much. This is for now, but This label its more important for me....I hope one day we will start be able to very slowly with the label again, & produce some NYLON HNW albums again.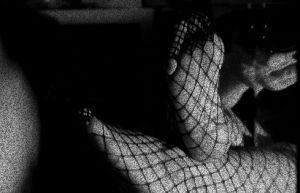 M[m]:The label purely focused on cassette release- why did you select this format? And if the label had any carried on where there any plans for vinyl or CDR / cd releases?
DH I will only ever cassette, found that they are much more professional CD-r and I think that is the most suitable support for HNW
M[m]: Do you create any noise walled yourself?
DH I have a project with which so far have only made one release of it's own with SAM THE RITA. That project is Nylon Crush Cock. Up-coming there is a split with Anonymouse mastorbaudioum & Chier
M[m]:What will be the last few releases on the label?
DH The label ends with the catalog number 037,
printing tape of the first worship album of my project Depressive Drone Ambient Zoloft EVRA in limited collector's edition of 99 copies and numbered, containing adhesives and razors. A Cult release.
Thanks to Dwight for his time & efforts with the interview. The labels bandcamp site can be found here
Roger Batty