Australian HNW Nightmare [2016-01-26]Australian based Shaun Mack is the only noise-maker I'm aware of making walled noise down-under. He's behind such projects as Morte Cammina, Girl On The Bridge, Widow Park and Bleak August. And he also set-up a great wall noise only label Needle & Knife. Shaun kindly agreed to give M[m] an email interview

M[m]:What was your first introduction to walled noise? And is there anyone release that made you want to start making your own work?
Shaun: My first introduction to walled noise was through The Rita and various Richard Ramirez recordings. I wanted to see if I could create sounds like this. I had previously dabbled in harsh noise, but walls seemed to be a different realm altogether. They required patience, and I was pleased to know that I had some!

M[m]:Could you tell us a little bit about your past harsh noise work, and what was it like sound wise?
Shaun:My harsh noise work is Grief Worship. It's very chaotic with lots of sounds and movement. I recorded a track yesterday actually, it's going towards a tribute compilation for The New Blockaders.


M[m]:tell us a little bit about how you decided on the Morte Cammina name for the project?
Shaun:Morte Cammina is lifted from the Luciano Ercoli giallo film La Morte Cammina Con I Tacchi Alti, translated to Death Walks on High Heels. Although, I wouldn't claim Morte Cammina to be a totally giallo themed project, as I'm interested in lots of horror. Richard Ramirez's giallo walls really have inspired me, as well as the fear that horror films can evoke.

M[m]:You mention horror films as an influence- please mention a few of your favourite films in this or the giallo genre?
Shaun:'Suspiria' is a favourite of mine, Argento's older films are awesome. A movie I saw recently that really impressed me was 'It Follows'. I think Cory Strand has since done a collection dedicated to it. I do enjoy a lot of Giallo films, but I like a lot of horror in general, just not the torture-gore subgenre.

M[m]:What in particular attached you to Mr Ramirez giallo themed walls?
Shaun: I liked the idea of harsh noise walls being based around fear and horror.

M[m]:Could you tell a little bit about your set-up for Morte Cammina?, and has it changed/developed since you started the project?
Shaun: I don't have a lot of equipment to be honest. I've got a couple of fuzz pedals, a few different distortion pedals, overdrive, contact mics, nothing that costs over $100!
M[m]:How often do you create wall- work for Morte Cammina?. And how much do you release of what you create?
Shaun: Not often enough!! I've released about 50% of what I've created. It helps to have numerous HNW projects under your sleeve, because sometimes I've starting making something for Morte Cammina and I've gone on to think it works better for another project.
M[m]:You've recently started up another two HNW project in the form of Widow Park & the Girl On The Bridge- what do you see as the themes for these projects? And how does the sound differ from Morte Cammina?
Shaun: Morte Cammina is fear and terror inspired, very much based in horror. The Girl on the Bridge is based around the film Lilya 4-Ever; the cruel child sex trade, lost hope, and those of the edge of despair contemplating suicide. It's far more emotionally driven than Morte Cammina. Widow Park and Bleak August both don't have a constant theme, but if I had to pick a theme I'd say they revolve around human nature.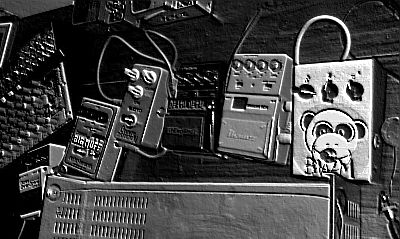 M[m]:How do you think the sound of each of your projects vary & do you use a different set-up for each?
Shaun:I don't have a huge amount of equipment so the set-ups don't change too much. As far as the sounds for each project, I feel as though they vary the most in their pitch and speed.
M[m]:What kind of thing do you use as source material for creating your walls?
Shaun:Most of the time I have a contact mic/s and the removed bottom from a VCR player. Metal objects, carpet, fabric, fan, machines... A recent recording I did had the source sound of scissors snipping. Other source material can come from distorted field recordings.
M[m]:Tell us a little bit about your work methods when creating a 'wall'? and is it set from the start which project you'll release it under? Or do you wait & see how the sound develops?
Shaun: I don't start a wall with a project in mind. I normally decide during or after the recording what act it best works for. I definitely wait to see how the sound develops
M[m]:Have you ever considered playing live with any of your 'wall' projects?
Shaun:No I haven't considered it. I've played about five gigs as Grief Worship though. Sometimes I've begun the set with a short wall, but the majority of people want to see some variation in the performance.
M[m]:2015 saw you start your HNW only label Needle and Knife- which has seen you releases with edition of 8 to 14 copies. Tell us a little bit about how this came about & what's the origin of the labels name?
Shaun: I started my first label with Palinopsia Recordings late in 2014. That label had a few HNW releases on it, but I thought it would be good to have a HNW-only based label. Releasing very limited editions is great because I like the idea of having just a few copies of a tape sprinkled around the world. The label is also a non-digital label, making the recordings even more in demand from collectors. I like the idea of the old days where you heard the music for the first time when you got the package in the mail. It keeps the noise more personal.
The origin of the name... well, I got it from a song I was listening to a lot at the time. I suppose some would think it had links to surgery... having a needle, going under the knife... and I suppose in a way that's how some people would regard the HNW experience, it can help people calm down as if it were a drug and they can escape their problems for a while.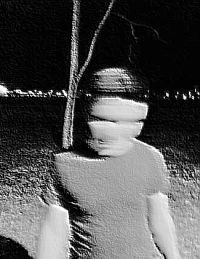 M[m]: many of Needle and Knife release feature pro & classy look artwork, which really is a step up compared with most small run labels. Do you have an art/ design back ground?
Shaun: I do actually have a degree in graphic design. However, I can't take all of the credit. Many of the covers are already designed and I receive them when I recieve the sound files. When designing a cover I don't think about how many copies are being printed. If it's 5 copies or 100 copies they still deserve to be treated the same way.
M[m]:Needle and Knife releases will shortly going into double numbers- what have been some of your favourites & why so far?
Shaun:I really enjoyed the Nightmare Castle CDr, it's atmospheric and addictive.
M[m]: How do you go about selecting what to release on the label?
Shaun:To be honest, I don't get sent that much. Needle and Knife, is strictly HNW. Whereas Palinopsia mostly has harsh noise. I've been sent a few things which would never go on the label, like drone or grindcore things (not that I have anything against them) but they just don't fit the mould of the label. Some things I don't release because I might already have enough on my plate and can't find the time to release any more things. I can appreciate the acts that send these albums to me though. I know how difficult it can be to get noticed and get someone to release your album
M[m]:What's the wall noise/ harsh noise/ experimental scene like in your area of Australia?
Shaun: I don't know of any HNW in Australia other than myself. Some people make noise. A couple of acts that come to mind when talking about local projects are Deafault, Rope Society and Military Position. The recent Ladyz In Noyz tour showcased many great artists. Overall, there's a lot of really good experimental artists in Australia.
M[m]:what lined up next for both your HNW projects & the Needle and Knife label?
Shaun:Needle and Knife will soon release tapes from The Killer Came From The Bronx, Servant Girl Annihilator, Big Hole / D.S.W.A.C.V., and a brilliant 4-disc set from Inanition.
Required Rate of Return Records will soon be releasing Morte Cammina's 'Tales of The Scissor Killer'.

Thanks to Shaun for his time & effort with the interview. Needle and Knife's web page can be found here/.
Roger Batty