Horror & Sleaze Fed Cinematic Passions [2015-08-24]

Stephen Thrower first became known & respected for his work within the British post-Industrial experimental music scene; working with Coil between 1984 and 1993, then Cyclobe from the late 1990ís to the present day. But in more recent years he has become more recognized for his writing & commentary on the cult horror & exploitation film genres. His written work has seen him pen lengthy tomes on infamous Italian gory maestro Lucio Fulci (1999ís Beyond Terror: The Films of Lucio Fulci). American Independent horror films from between the 1970ís & mid 1980ís (2007ís Nightmare USA: The Untold Story of the Exploitation Independents), and most recently highly prolific euro sleaze/ horror director Jess Franco( 2015ís Murderous Passions: The Delirious Cinema of Jesus Franco vol. one). He has also appeared on a whole host of cult horror/exploitation documentaries & DVD extraís- such as Video Nasties: The Definitive Guide parts 1 & 2- where he gave informative and often amusing commentary/ critique on a whole host of cult films. Stephen kindly agreed to give M[m] an email interview discussing his written work - this is the second time weíve interviewed Stephen, and his first interview (where the focus was more on his sonic endeavors) can be found here.

M[m]:What are some of your earliest cinematic memories? And is there any one particular film that made you want to start writing about cult cinmare?

ST My earliest recollections of a trip to the cinema involve fairly dull stuff like the Carry On films and various TV film spin-offs, Steptoe and Son or On the Buses, which is all my parents really wanted to see at the pictures. Things changed for me when I found David Pirieís book The Vampire Cinema in my local library. It had stills from movies by Jean Rollin (Requiem for a Vampire), Josť Larraz (Vampyres) and Jorge Grau (The Living Dead at Manchester Morgue) and these images really made a big impression on me. As soon as I could, I tracked down those films and they did not disappoint! Another book that made a huge impact on me was a Ďphoto-novelí of the script for Last Year at Marienbad, which I found mesmerising and mysterious and confusing - just like the film in fact! When I could pay for my own cinema tickets and go alone, I was lucky enough to catch the early Cronenberg films and the early Romeros - this was around 1979-1980. In 1981 and 1982 a deluge of Lucio Fulci horror films arrived at my local cinema (Zombie Flesh Eaters, City of the Living Dead, The Beyond, House by the Cemetery), and that was when I began to feel the urge to write about what I was seeing. These were films that few critics had a good word to say about - Alan Jones in Starburst was one of the few writers to see their potency. When I looked around and saw that my favourite films were so often slagged off, misrepresented, or worse still ignored, it sparked in me the desire to get involved myself.

M[m]:What was your first published piece on cinema?. And do you think your writing style has changed since you started?

ST My first published review was in Shock Xpress, I wrote about the Jim Bidgood film Pink Narcissus. I loved Shock and I admired what Stefan Jaworzyn was doing with it. This was in the late 1980s when free expression was under attack politically and you could be carted off to prison for selling unlicensed horror films. At the time, the horror films you saw in first run cinemas were becoming really weak and pallid and silly and tedious, so a mag like Shock Xpress was a vital means of spreading the word about films that were off the mainstream radar, and much more interesting.

I suppose my writing style has changed and developed - at least I hope so! I think itís a bit more fluid and relaxed now. As you write more you hone your grasp of the inner rhythms and shapes of words, itís not unlike composing music in that sense. Also, your breadth of reference increases as you get older. Probably the biggest change is that I do a lot more research now.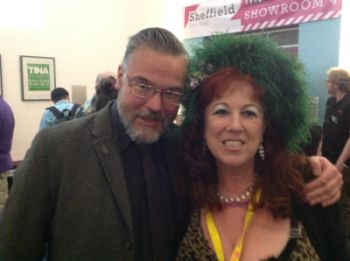 M[m]: Youíve gone on to become more known for your written work than your sonic work now- how do you feel about this?
ST I donít mind which of my activities people feel drawn to the most. Iím just pleased to have some kind of role in peopleís lives, one way or the other.
M[m]:Your first major work came in the form of 1999ís Beyond Terror: The Films of Lucio Fulci- tell us a little bit about how this book came about? And how long did it take for you to write?
ST I changed my life around quite a bit in the mid-1990s and curtailed some of my more dangerous habits. Having done that I decided I wanted a big writing project to focus my mind. I pitched two book ideas to Redemptionís Nigel Wingrove, who was thinking of going into publishing at the time. I suggested a book about either Lucio Fulci or Jess Franco. Thank goodness Nigel said yes to Fulci! Looking back at it, I was not really equipped to write about Franco back then. By the time Iíd written the Fulci book (Beyond Terror) Redemption were not in a position to publish it, and after the initial contract lapsed I took it to Harvey Fenton at FAB Press, where it found the ideal home. From start to finish it took took four, maybe five years, although in terms of solid writing more like three, with additional material added while I was waiting for the design and the contractual aspects to come together.
M[m]:I believe Beyond Terror is due to be reissued in the near future, as a expanded edition. Can you tell us any more about what to expect from the new edition?
ST Iíve added a lot of new material about Fulciís early films. When I wrote Beyond Terror in the 1990s very few of these films were available - they appeared on Italian TV from time to time but only a handful were out on video. Now of course we live in a very different media environment and itís possible to see them all. Iíve also written a detailed chapter about Fulciís soundtracks - Fabio Frizzi, Ennio Morricone, Riz Ortolani, Walter Rizzati - people whose scores add so much to the films. Of course I concentrate on Frizzi in particular, as heís Fulciís most vital musical collaborator; Iíve interviewed him and discovered some fascinating new information about his work for Lucio.
M[m]:your next major written work was 2008ís Nightmare USA: The Untold Story of the Exploitation Independents- which was a truly huge 500 plus page work on low- budget horror films from the US. Tell us a little bit about where the idea for this book came from? ST I was sick for several months in 2001 with a stomach ailment. I couldnít sleep, the painkillers werenít helping, so I needed something to distract me. I had a pile of videotapes of obscure films Iíd never got around to watching and I found that the ones I was enjoying the most were rural or small town American films - low budget, unknown casts, unknown directors mostly. Gradually it started to dawn on me that there was a new project here - a lot of these films had never been written about in any detail, usually just brief thumbnail reviews here and there. There was almost nothing of a biographical nature to be found. I decided to write the book to answer the questions I had about these obscure, ignored or disparaged films.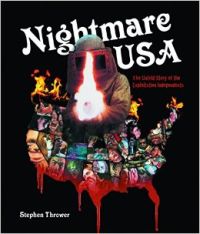 M[m]:Nightmare USA of course covers just US films/ film-makers, but have you considered doing a more general book on low- budget horror films/ filmmakers? ST I like to have some kind of focus, either a single person or some kind of unexplored/neglected area. Doing something more general would involve going over material thatís already been well covered, and doing a book with a worldwide scope would feel too diffuse. Iím not sure how it would work without constraints of some kind. Knowing the way I write, thereís a danger it would end up 2000 pages long and take fifteen years!
M[m]:Your most recent book is Murderous Passions : The Delirious Cinema of Jesus Franco- vol one -which appeared just a few weeks back. Tell us a little bit about what attracted you to write about Mr Francoís work?
ST It began quite some time ago. Actually, I think the first Franco film I really liked, which most people looked down upon, was Bloody Moon. I saw that in the mid-1980s. I almost forgot it was a Franco film until a few years later when I saw a couple of not-so-good ones; The Cannibals and Oasis of the Living Dead. Adding these together gave me a very odd picture of Jess Franco! Then everything changed, because I saw Venus in Furs and The Erotic Rites of Frankenstein, and Virgin Among the Living Dead. These three were really good, and I became more and more fascinated from there on. As you start to piece together what youíve seen you realise thereís this current of deep strangeness in his work, a very mysterious aura of timelessness and suspension. That, plus his commitment to the sexually perverse, and his passion for artistic freedom, make him endlessly fascinating for me.
M[m]:Murderous Passions has been in the works for more than a few years now, and was originally going to be just a single volume. Tell us a bit about the issues youíve had trying to complete the work, and at what point did you decide to split it into two volumes?
ST The scope of Francoís work means that itís very difficult to compress all the available information into a single book. I did set out to write a rather less complex book initially, but the pull of the research and my gradual immersion in multiple versions of the same films began to pull too strongly to resist. I split the book into two about two years ago, when it dawned on me that Iíd already written enough to fill approximately 800 pages! Thatís too big for a single book, I think, it makes everything too problematic, from the publisherís point of view and the readerís. Something like 80% of Volume 2 is already written but it needs about another nine months of care and attention to bring it up to the standard of the first volume, plus Iíll be including new supplementary interview material covering the entire span of Jessís career.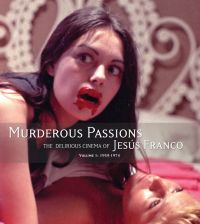 M[m]:The two volumes see you fully review & asses all 173 of Mr Francoís films- as many of his films are difficult to get hold of and also have different versions( i.e. a horror version, soft-core, and hardcore versions).What was the most difficult films to source/ see?
ST There are some stubborn gaps, which have proved impossible to fill as yet. Just one film was missing in action in Volume 1 - Sex Charade (1969). It was made under the same ultra-low budget arrangement as Nightmares Come at Night and remains unavailable anywhere in the world. If and when a print surfaces, Franco fans everywhere will spontaneously combust! Itís very important for this film to be found as it stars one of Francoís most iconic and talented actresses, Soledad Miranda. For Volume 2, the most frustrating missing title is the original 1975 French cut of Juliette 69, which we only have available in a very distorted and partial form, as Justine, a 1979 Italian variant edited by Joe DíAmato, which uses about forty minutes of Francoís original plus forty minutes of material from two other Franco films, Midnight Party and Shining Sex. When you reach the 1980s there are many missing titles, because Jess was finishing films which never actually saw release - the company who bankrolled them went bust, took off with the materials, and theyíve never turned up.
M[m]:As part of your research for the book you were luck enough to spend time with and interview both Jess & his partner/ acting muse Lina Romay. Tell us a little bit about what they were like in person, and were they easy subjects to interview? ST In terms of their temperament, yes, they were very easy to interview. Very friendly. Actually we spent a lot of time just laughing and joking and listening to music. The sad thing was that Jess was very frail, physically, at the time. He really struggled to move even from his armchair to the dining table, a distance of a few feet. He grew tired easily, but his reasoning and mental faculties were fine, just his energy levels and physical support were failing. Lina too was a delightful person to interview, very light-hearted and fun to be around. I was totally shocked when she died, I had absolutely no inkling that she was ill. The decline in her health must have happened very suddenly because she seemed perfectly fit and well when I met her.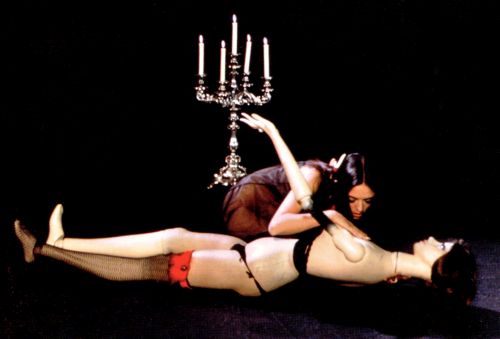 M[m]:I believe you are presently working on the next vol of Nightmare USA- can you tell us who is going to covered in this next vol, what to expect, and when you hope to get it out? ST Iíve already written chapters on S.F. Brownrigg, Simon Nuchtern, Richard Blackburnís Lemora, many other titles which were listed in the back of Volume 1. The approach is going to be similar although the opening introduction, which as in the first volume will be a big overview before the biographical chapters, will probably focus more on the business end of the process, studying the production companies and financial arrangements and the way the exhibition circuit operated. I am hoping to see this done the year after Murderous Passions Vol.2, so 2017 perhaps.
M[m]:over the years youíve been involved with scoring a few horror films, such as the early unused score for the first Hell risers film & the re-scoring of lost weird cult classic Death Bed. Would you like to do more scoring work in the future? And are there any films youíd like to re-score? ST I love working along to images and would jump at the chance to write music for an interesting film, as long as itís unusual and has some emotional impact. I canít say rescoring old films is something I think about very much; I only did title music for Death Bed, I didnít replace anyoneís elseís work apart from that one cue, which George Barry was never happy with. It strikes me that in nearly all cases where I love a film, I love the music too - I canít recall any movie that I feel passionately about which has music I donít like, so I guess I wouldnít want to rescore any of them!
Thanks to Stephen for all his time & efforts with the interview- Murderous Passions: The Delirious Cinema of Jesus Franco is now available on Strange Attractor Press- head here to buy a copy direct, and Nightmare USA: The Untold Story of the Exploitation Independents is available on Fab Press- head here to buy a copy direct.
Photo credits: main front page of ST in San Pedro taken by Frederick Friedel, menu picture taken by Ossian Brown, ST with the infamous Annie Sprinkle, Cover artwork from Nightmare USA, cover artwork from Murderous Passions, still from Francoís Vampyros Lesbos from ST personal collection.
Roger Batty