Fest Report [2014-04-14]On April 29th, 2014, 7 artists got together to present an evening of focused wall noise. The venue of choice was the Suncoast's go to anti-art establishment the Venture Compound. The event was the brainchild of HNW enthusiast Sisto Rossi. Transplants from Germany, Sisto and his wife Mariela made home in Florida, then Portland and back to Florida again. Since his return, he talked about organizing a HNW only fest. Unfortunately, it was only after word that the Rossis' were departing back to Deutschland that the Wall Fest became reality. According to Sisto:

I actually had the idea last year around the same time. I thought it would be nice to put up a slasher based HNW Fest since it is spring break and ST Pete seems to attract a lot of partying jocks. At least in my head. If i remember correctly it was supposed to be called "ST Pete HNW Fest , Slash'em While They're Here." Now it sounds kind of stupid I guess. Anyway, I kind of got caught up in work and life and the idea slowly disappeared into the back of my head. By the end of 2013 I already knew that I was moving back to Germany and I wanted to play one last show before leaving. Sort of like a goodbye show. So I asked Todd (Novasak, Ozone Leash) if it would be possible to put something up. He asked Jesse (Venture Compound) and immediately the date was set. Funny enough it fell into the middle of spring break anyway. I wanted this to be a HNW only show.


Florida has a very well-established noise community, with active pockets to be found all around the state. However, finding those artists who dabble in wall noise was a bit more challenging:


I didn't really know where to start to find HNW artists to participate in the fest. I was aware that there were a lot people doing noise and experimental music, but no one really doing HNW around here. So when you ask someone to do a wall noise set they all think about a wall of harsh noise. So anyway, I just made a post on facebook asking for people to participate and that the only criteria to play would be HNW ONLY and please no WALL OF HARSH NOISE. Luckily, a few people were interested enough and a line up of a couple of acts was set up really fast. I thought it was also kind of interesting since most of the acts playing usually don't do HNW, so I was excited to see their take on creating a wall.


On to the event. First off I have to say the sound was phenomenal for the evening. I've referenced Todd's sound system in several articles at this point. It's one of the best sound system's I've ever experienced for noise. To hear an evening of HNW through said system, raised the bar even further. Everything freaking rumbled and rattled through each set. It felt like there were low level earthquakes happening during every performance. It truly was an immersive experience.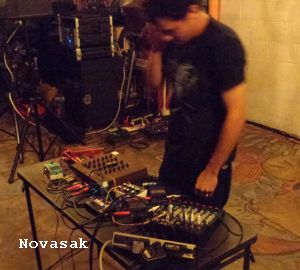 I kicked things off with my HNW project, The Man With Icy Eyes. I was quite excited for this set since it was my first time performing wall noise live. My set up included a 5 output crackle/white noise generator built by Sisto Rossi, a Sirkut WNG 2, and variety of effects pedals (fuzz, distortion, sub-harmonic, etc.). My wall was built on layers of minimal crackle, atmospheric white noise, and low end static rumble. I'm not sure how long I played, but I could've gone on for a half hour just meditating on the static waves of sound.

Novasak performed next. Despite not being exclusively a HNW artist, Novasak is no stranger to static sound. I've seen him perform a number of heavy drone sets live and was happy to release a HNW split tape between him and Vomir last year. So a live Novasak wall set is certainly within his comfort zone. Gearwise, he had one of the more elaborate setups of the evening: a handbuilt dual noise swash, a wah pedal, a line selector, and some Audible Disease builds made up the bulk of his arsenal. His set was punctuated by subtly shifting waves of bassy rumble. The low end noise was peppered with perceptible cracks and pops that sounded like sparks escaping a live wire. Minor tweaking throughout his set created some subtle nuances perceptible to the discerning listener.

Oblongata (The solo project of Mike Berchou from the Uh… ) performed next. I walked in as he started performing, so I didn't get a good look at his gear. From what I could see, he performed with a few pedals, a handheld noise maker and a contact mic, all placed on top a small mic'ed amp. The set started off with some slow moving static pops before being joined by a meatier line of low end rumble. As I stood sandwiched by the subwoofers, the sound was so intense I "felt" like I was getting a full body massage. There were a lot of shifts and ebbs and flows. The set ended with some higher end feedback screeching provided by a contact mic.

Central Florida shit noise artist Hell Garbage (aka Dylan Hauser) performed a wall set outside in the drizzling rain. Performing with his signature surgical mask, Hell Garbage utilized a very minimal setup of a 2-3 pedals and a miniature battery-powered amp. It was really dark so I couldn't discern what he was using as a sound source. For 10 to 15 minutes, Hauser stood near motionless peering into the crowd. The small amp cranked out a continuous stream of lo-fi static crunch. Due to the limitations of the set up, the volume was a little on the quiet side, but it actually made for a more focused experience. When his set ended, he was surprised to see the dedication of the crowd to make it through his set in spite of the rain.

Mariela Rossi followed up indoors. For her set up, she utilized some hand-crafted white noise generators and effects pedals. It was minimalistic, yet meticulously laid out. Her set started off with some low end thudding that sounded like a bunch of fists rapidly banging a "wall" (no pun intended). This degraded into extended static washes and ramped up exhaust gas plumes. It was loud and atmospheric. I imagined the speakers were spewing vaporous clouds of loud airy static. Despite being a thoroughly pummeling experience, the wall had an almost ambient quality to it.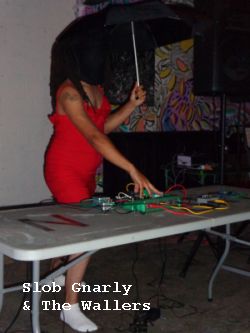 Perhaps the oddest set of the night was by Slob Gnarly and the Wallers. Slob...is the moniker of Nick Boutwell, who's most notably known as his noise-making alter ego Whitey Alabastard. Boutwell admittedly hadn't had much experience with the HNW genre so I was curious to see what he'd come up with. For his set he chained a bunch of pedals into one another creating a vigorously churning stream of atmospheric hiss. With a flair of the theatrical, Boutwell performed in a red dress and black mask, all the while holding an umbrella. Certainly a worthy effort by someone not known for wall making.

The final set of the evening was the return of Sisto Rossi's HNW project Wallkeeper. As of late, Rossi has been doing most of his wall releases under the Forecast moniker and playing out live under his name. When I interviewed him last year I was happy to hear that he was resurrecting the Wallkeeper project. Over 15 minutes, Rossi crafted 4 walls all separated by extended samples. Gearwise he utilized a large hand built noise generator, a cassette deck for samples, and some equalizers. His set started off with a sample of echoing church bells that were really haunting. After a couple minutes the sample was abruptly cut off by his first wall, which sounded like glass being run through a grinder. It was jagged and aggressive with a buzzier undercurrent creeping through. Another sample of atmospheric echoes set up his next short wall. This wall had a sound that was reminiscent of two cymbals being rubbed together in rapid motion with volume ebbs and flows throughout. As that wall ended another sample, that sounded much like the previous one, set up his next wall. This one sounded like a torrential downpour of metal fragments hitting the ground. A final sample again, sounding like a variation of the previous two samples, set up his final wall. This last piece reminded me a dying engine, all muffled and amplified. At a little past midnight, the set abruptly came to a close. It was a great set to wrap up the Wall Fest.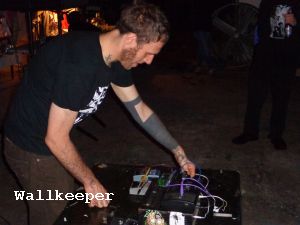 When everything was said and done, I asked Sisto what he thought about the event in retrospect:

All in all I thought it was a pretty interesting HNW mini fest. It was interesting to see that some people connect HNW with dressing up or putting a mask on. I also found it interesting to see people use the same gear they usually play noise with, but get a completely different sound out of it. I noticed that for some people it was hard to focus on not fiddling around with their gear too much...to cut it short, however all of the sets were interesting and there wasn't a set I didn't like. There could have been some more people, but to be honest i was kind of expecting it not to be crowded. I sure hope there will be more HNW shows/Fests in ST Pete/FL to follow.

I suppose HNW will always be a genre made up of a small cadre of enthusiasts. However, it was great to see so many artists come together for one evening to celebrate static sounds. I wish Sisto and Mariela all the best as they make their way back to Germany and hope to hear about future adventures as the melt minds across Europe.
Pictures through-out by Hal Harmon
Hal Harmon