And The Beat Goes On [2013-10-17]Valerie Martino (aka Unicorn Hard-On) has been melding techno and noise for the better part of a decade now. Considered by many as a pioneer in synthesizing beats with electronica and noise, it's hard not to succumb to dance floor gyrations when UHO takes stage. When she's not inducing ass-shaking, she is bloodying audiences in her noise band with Rat Bastard, The Laundry Room Squelchers. Despite years of toiling in the noise underground, she just dropped her first proper full-length Weird Universe on the Spectrum Spools label. Ms.Martino kindly took time to answer some questions regarding her projects and the new album.

m[m]: What was your entrance way into noise/experimental music?
VM In the early 2000's I met Mat Rademan (performance name Newton / founder of Breathmint Records) through a mutual friend. He was heavily involved in the noise scene. He put out my first cdr "demo". After I graduated from college, I wound up crashing on his couch for a few months while I waited for another friend to move up to Philly. He took me to a bunch of shows and introduced me to people. Totally blew my mind.

m[m]: When did you start creating your own music? Was Unicorn Hard-On your first project?
VM While I was in school, I started making music for myself, mostly to purge all the noise in my head. It was mostly toy keyboard beats layered in different variations with melodies and vocals or found sounds. I used to go to parties and record the room, picking up different drunk conversations. Then I would go home and manipulate it. I was terrified to let anyone hear it because the creative process was a very personal experience for me. And I didn't even know if it was music, it was more like an art form to me. UHO was my first real project that felt like the key to something bigger.

m[m]: Unicorn Hard-on has been largely credited with bridging the gap between noise and dance music. On the surface, they almost seems like opposing forces, yet you manage to synthesize the genres. What influenced the direction of your sound?
VM I fucking love rhythm. It does something to my soul. The structure keeps me aligned and in tune. That's basically it. It was never an option for me to not use a drum machine in my set up. Beats fit into what I wanted to create. Using beats that were reminiscent of dance or techno and manipulating them with all the rhythm and repetition you can get in oscillating pulses, tones, and circular circuits evolved into what I'm doing now.
m[m]: Weird Universe is your first proper full-length, yet you've been performing and recording for a decade now. Why did you decide to wait so long to present a full-length?
VM I never had the money to put out my own record. And I wasn't going to write to people I didn't know and beg them to put something out by me.
m[m]: How did you hook up with Spectrum Spools and what was the process for creating this album?
VM John Elliott asked me a few years ago for a record. He had a bunch of records to put out before mine so there was no rush. I had a hard time writing at first. This was in the midst of the noise underground scene evolving into a more structured and electronic sound. I knew I could make a record that was clearly a specific genre and more straight-forward musically. But it bored me. Unicorn Hard-On isn't my "techno project". It's mine for me to create what I want. I wanted it to be recognizable to the people who have been following my progression through the years. But also as a foundation for the people who will only know me so far by this record. I wanted to keep the door open to future creativity.
m[m]: Many people's first taste of the new album was from the provocative video "Wet Pet." How did that video come about?
VM Chrissy Jones sent me a message months ago saying she just bought a vanity table and a mannequin and was looking for an upbeat song to do a music video for. I gave her Houndstooth. She says, yeah, that's great, give me a few weeks and I will have a video for you. I had also sent Noah (Profligate, her boyfriend) some tracks to get some feedback cos we like to share what we have been working on. A few weeks pass and Chrissy writes to me again saying she just recorded all this new footage and she thinks that Wet Pet would be perfect. I say sure, go for it, and a few days later she sends me that video.
VM Yeah there is nudity, but it's not necessarily a sexual video. It's shocking because there is male genitalia. And if anything, objectifying a male which is so rare it's practically unheard of. The video is borderline on a few levels, and yeah, I guess it reminds me of how UHO has always been in the middle somewhere between noise and dance music. Is this too much or not enough? I realized the worst thing that could happen would be what? Someone wouldn't listen to my music? Not book me on a show? I decided to go with it and let other people decide for themselves. I'm happy with the video.
VM I didn't know until I read the Impose Magazine article Jane Chardiet wrote that it was filmed in a haunted funeral home and weird creepy shit was happening around them while they filmed.
m[m]: Let's switch gears a bit and talk about your noise band The Laundry Room Squelchers. How did you get involved with Rat Bastard the Squelchers?
VM I just saw Rat and we debated about when we actually met. I'm pretty sure it was 2003, but he thinks it may have been a year before that. I met him through Mat Rademan, and started going to his INC fests in Miami. I've been to every one since 2005. In 2006 he had a full US tour booked and had a girl drop out. I got asked.
m[m]: A Squelchers performance seems to be a punishing affair, for both artists and the audience. My first experience seeing Squelchers live was this past INC and I must admit I ran for cover. How did you survive a whole tour doing performances like that and does it take it's toll?
VM You can only survive if you believe in what you are creating. Over the years I've squelched with plenty of girls who thought it would be so cool until they were in the middle of it. It can be an incredibly scary experience. I always give new squelchers advice to minimize injuries. It's all advice I've gotten from Rat over the years. He tells you what to do so you don't get hurt. It can be difficult to always follow the advice, but it works. Keep your hands in front of your face. Look at what's going on around you. Instigate but don't let yourself wind up at the bottom of the dog pile. Keep moving. If you fall down, get up immediately. Before a full US tour, I would train for it. Running, sit ups, push ups. I'd start the tour 10 lbs lighter. It's how you survive. You have to be ready for it. You will get hurt. Bruises all over. For me it's always been worth it. I love that controlled chaos. I love the feeling I get from manipulating a room to create an experience.
m[m]: Speaking of INC, I believe you've performed at everyone since 2006. What keeps you coming back to Miami?
VM My first INC was in 2005. I go every year because it is a chance to see and perform for and with friends. It's like a family reunion. They also get bigger and crazier every year. And winter in Miami isn't too bad either.

m[m]:Beyond Unicorn Hard-On and Squelchers, you also occasionally perform as Salt Swan. What's the history behind that project?
VM Salt Swan is Kevin Cunningham from the band Lazer Slut, and myself. We started the band while I was living in Nashville after we were asked to play together for a show. We liked our creative connection and made it official by putting a name on it. Our latest performance was at INC 2013.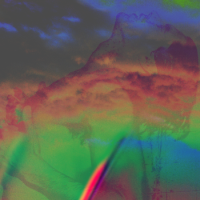 m[m]: In addition to your artistic endeavors, you've published music on your Tangled Hares label. Was this initially started to produce your own work? Is the label still active?
VM Yeah, it was so that I could put a name on my own releases. I haven't put out anything under it in a while, though the website is still active. I use it to display upcoming gigs, merch, and anything else I want to share.

m[m]: I recently re- watched the documentary Gutter: Girls of Noise, which featured you and other female noise artists. I believe much of the footage from the documentary was taken during the LRS tour in 2006. Do you think much has changed since then in terms of women participating in noise?
VM It's from the 2008 tour. I'm pretty sure because I had that black eye and my face is swollen up.
VM I think there are more women actively contributing to the underground scene. That's probably the biggest difference. And the more women who play out means more people are exposed to female performers. It's not such a weird concept anymore.
m[m]: What's next on the horizon for you? Releases? Shows? Touring?
VM I am working on a possible tour in the states with Samantha Vacation (L.I.E.S. Records) in December, and maybe an exciting international excursion, though I am awaiting details so I'm hesitant to divulge too much information yet. Also, looking to do more US touring early next year.
Thanks again to Ms. Martino for taking part in this interview. Weird Universe is now available from Spectrum Spools, in either digital download or Vinyl formats
For all things Unicorn Hard-On: http://www.tangledhares.com/
Hal Harmon