Odd Sonic Brewing [2013-07-02]French based performer/ producer Igorrr is one of the more creative, bizarre & deranged figures to come out of the Breakcore and Drill 'n' bass scenes in recent years. His sound mixers together Breakcore/ Drill 'n' bass with baroque & classic music, chugging & black metal riffing, and operatic and choral vocals, classic piano playing & emotional operatic vocals, flamenco guitar flourishers, eastern European string waltz, Persian jazz-iness and beyond.

m[m]:Tell us a bit about your earliest musical memories & how do you think these effected you wanting to start making music yourself?
Igorrr My first musical memories are of rather old school acts such as Nirvana or Korn. These were the first bands whose music or message I was interested in. I don't think they have anything to do with the fact that I became a musician, though I guess they must have had an influence
somehow. One's first involvement in music has to leave its mark somewhere.
m[m]:Tell us a little bit about how the Igorr project came about & what's the origin of it's name?
Igorrr Igorrr was born a long time ago. It must have been around 2005. I was then part of several bands, playing different styles and instruments (the drums, the guitar or the piano, among others). I really needed my own thing, a project in which I wouldn't have to ask for anybody else's
opinion.
I started Igorrr to be able to express myself without any boundary, with all the genres I liked and how I liked. I actually have a very precise idea of what I want to listen to, and there was nowhere where I could find it back then. I just decided to write the music I wanted to hear, to create my own musical ideal.
I used to have a gerbil called Igor, & was very sad when it died and called my new project after her. I don't remember why I added the extra "r", probably just to make everything more harder to pronounce.
m[m]:Was Igorr your first project or where they any projects before this?
Igorrr Yes, Igorrr is my first "real" project. My previous bands were just there to experiment, try different genres and find my way.
These acts have all disbanded and we never released any albums, just a few badly recorded EPs.
m[m]:What made you decide to mix Breakcore and Drill 'n' bass, with other often unlikely/ unusual genres?
Igorrr I didn't intend at first to mix breakcore with something else, but rather to combine all the genres I liked: metal, baroque classical music, electronica and so on. I just noticed at one point that breakcore was an adequate way of bringing them all together. This style came that
way to my music.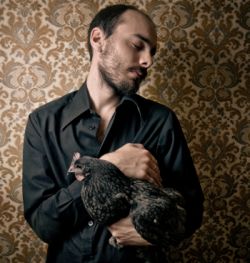 m[m]:Last year saw you put out your most recent release "Hallelujah", which saw you go even further with your bizarre genre mixing- do you want to take this even further on upcoming releases, and what you mix in next to
your strange/ heady sonic brew?
Igorrr I don't have any idea for the moment, though I might be getting there. It's too early to tell, though. I'm not even sure there will be another album. If I can't do anything better than "Hallelujah", I won't release
anything.
At the moment I am working on collaborations, for example with Ruby My Dear and Bong-Ra, and I am working with a singer called Laure Le Prunenec, with whom I have a new project called Copro-Mente. You can
listen to one of its tracks here:
http://www.youtube.com/watch?v=SEbOFVvB_6Y
m[m]:Tell us a little bit about how you arrange/ compose tracks? And do the Breakcore/ Drill 'n' bass elements come first?
Igorrr It varies. I sometimes start with the breakcore elements, and I sometimes add them only once the core of the track is finished. It depends on the track and the mood I want to give to it. In such a tune as "Grosse Barbe", the breakcore part came in only after the main composition, it is not its foundation. On the other hand, the breakcore parts were the basis on which such a track as "Tendon"( from Igorrr's 2nd album 2010's Nostril) was built upon.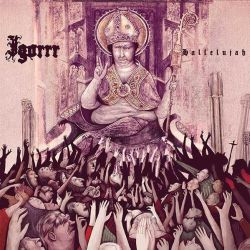 m[m]:All of your releases feature suitable surreal & macabre artwork- How involved are you in the design & set up of these?
Igorrr I work with a French artist called Mioahe for all my cover artworks.
He's a long-time friend and one of the only people able to draw what I have in mind.
You can see more from him here:
http://www.mioshe.fr/
I tell him about my ideas and what I want to achieve with the album, and he makes it possible
Thanks to Igorr for his time & effort with the interview. "Hallelujah" is now available on Ad Noiseam records.
Roger Batty