Fest report [2013-06-28]On Saturday the 22nd of June 2013 The Windmill Brixton saw host to a festival of nine HNW & Harsh noise acts. Below you'll find a rather HNW biased account of said event.

Each act on the fests bill played for around thirty minutes, and the nine acts offered up a mix of HNW, noise drone, Harsh noise texturing, ambience meet HNW, and harsh noise with some wall-ish dwells….so really the HNW festival title was a little miss-leading, as only five of the nine acts were pure wall noise.
So first up we had Unearthed- which is the grim & horror fed wall noise project of American living in London Robert Meldrum(also of horror Harsh noise/ drone project Corpse Candle). Robert offered up a single track of dark & dense HNW that was built around a low crusty rumble, which was wrapped in cluttering static undertones. The track seemed to grow in depth & brutal sinister air the longer it went on, creating a rewarding & enclosing feeling. At times you could make out bucking, spluttering or sub aquatic sub-tones; but the 'wall' remain firm & fixed through-out it's full runtime. A great start to the fest
Next up we had Scottish project Genetic Noose who offered up what could best be described as one track of noise licked drone matter. The track seemed to be built around a prime evil guitar loop texture that was layered with searing & bobbing harsh noise sub-tones. The guitar loop had a sort of doom meets shoe-gaze vibe about it, and to start with this was fairly appealing, but sadly it lost it's appeal with-in the first five minutes or so. On the whole I found the set rather un-imaginative, dull & predictable- as I said it started off ok, but nothing particular interesting or rewarding was done with either the loop, or it's surrounding harsh noise matter- instead of been entrancing I was just bored.

Third up we have the only female act on the fest Marlo Eggplant, who was a tattooed young lady of Asian origin from Leeds Uk. Marlo offered up a set of looped based harsh noise/ experimental texturing- the loose jam like set mixed together loops of banging chains & strutting texturing, with latter slight galloping textures, microphone dragging and what sounded like a click track. For me the set seemed rather muddled & lacking focus, with Marlo at times just seemingly pressing random buttons & twisting knobs as she fancies.
Next we had Small Hours (aka James Killick also of Love Katy, Fan Service, The Monochrome Man, and Blank Depths) from near Milton Keynes. Mr Killick offered up a single track of dense yet subtle morphing walled noise that was themed around the Siege of Jerusalem in 1099. The track started off with a mix of rumbling & spluttering noise that rapidly built in density. You could make out slight cluttering & jittering sub-tones with in the 'wall', along with this great spluttering & bubbling feel. At around the 8.33 mark a layer of textural grain is added to the now great bubbling & rushing vibe of the 'wall. As the track progresses Killick really unbalanced me with the shifting layers of detailed noise- at it's height the track conjured up images of half drowning in crashing 'n' cold sea as a mass of horses gallop round & round your disorientated & half dying body. When the set finished I staggered out side, and felt very unsteady on my feet- as if Killick's subtle & cleverly shifting noise textures had somehow unbalanced my own gravity. . with out doubt this is one of the highlights of tonight's fest.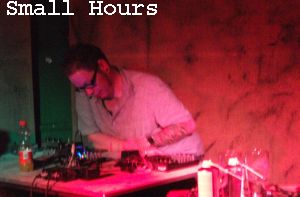 5th in the line-up we have Canadian now living in Cole Peters( of Gomeisa & Museums of Sleep). Peters offered up a morph set that mixers together field recording elements, shifting ambient noise texturing, and latter on more intense active wall like washers of churning womb like textures. To me it sounded like the type of psychedelic ambient sound-scaping Future sounds of London used to do, mixed with more ambient noise texturing, and later shifting walled noise. All told a well put together set that was cleverly constructed & unfolding in a most rewarding manner.
Next is BWT which is one of the more recent names for American noise arists Bryan W. Tholl work. Tholl has been releasing work since around 2005 under the name of Is- that project offered up a rewarding mix of HNW/ Harsh Noise/ drone matter that utilized often interesting sound source elements & sound manipulation. I guess you could say BWT is a continuation of what he's done in the past, but to me tonight's set seemed to more about gimmicky sound source manipulation, than rewarding & enjoyable noise. The set saw Tholl first manipulated, melt & warp his voice in to chugging violent noise textures, then latter sample the sound of bubbling water via pint of water & a can of pressurized air, which he then built into a mix of HNW & Harsh noise.

Up 6th we have a set from London based Harsh noise project Cementimental. On offer here was a single track, which started off quite promising with a 'wall' construction from galloping low-to-mid range noise tones. Sadly with-in a few minutes more rather predictable shifts are added to the track, and we move from interesting HNW to clichéd harsh noise. We have forking high tones meeting a range of low-to-mid noise tones, as Cementimental fiddles with his noise comb like sound tool. On the whole the set felt like a re-hash of the last time I saw this project back in 2011, when he was playing along side Vomir in London.

Next we're back in proper (if bizarrely theatrical tipped) HNW territory with Clive Henry from the Southampton area of UK. After some lengthy sound checking & level balancing by Clive & the venues sound man, Clive set his equipment under the table ever other act had played on, put a mirror in front of the table facing out into the audience. He then laid down various black sheets behind his set-up, and donned a hooded top which he zip up to the top. To start with he stood in the connor of the stage doing some odd vocalising elements into venues wall along with a series of weird scratching like textures. Then all of a sudden he turned around & violently collapsed on his equipment as a huge mass of 'walled noise' enraptured . As the set progressed Clive mixed up a 'wall' rumble & crackly, that was heady with splintering sub-tones, which created this building & highly hypnotic maelstrom of texture.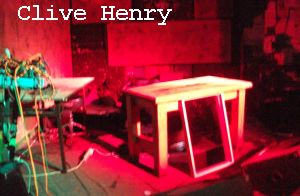 After a little while the 'wall' was reduced down to a thinner & more grainy mix of hissing 'n' scuttling textures, but over time both these textures became once more thicker & scalding in their feel. As the set neared it's end Clive picked up a large Perspex box filled with either nails or drawing pins- he covered the box with one of the black sheets, then started madly shaking it. At first he stayed on the stage, then pretty soon he was walking through the audience violently shaking the box, then he threw it down in the centre of the audience & shouted the word 'blood'. I can safely say this is one of the most intense live sets I've ever seen . And at time's I was almost terrified of Clive, and what he could/would do…so it shows he really managed to brew-up a truly tense & unsettling atmosphere. With out doubt another highlight of the night.
Last-up we have A View From Nihil, which is all the work of Irish man living in Scotland Andrew McQuaid. The project started back in 2007, so it's the longest running HNW project playing tonight. The single track set begins with a galloping mix of crackle & rumble, as the minutes tick by McQuaid nicely builds up weight & depth of the 'wall' with a brew of sub-tones that take in: cluttering, bubbling, low-end brewing & splintering clutter. Around the mid-way point the pace starts to slow & thin back again, with a mixture of throbbing & textural splutter- this part of the track rather brought to mind a slow 'n' spluttering river of lava that fizzers & roars with fire as it makes it's way past wooden houses & buildings. Sadly in the last five to ten minutes so the track seems to loose it focus & hypnotic air- which is a really pity as most of the set was very rewarding.
On the whole this was a enjoyble fest, it was just a pity it could'nt have been a more pure HNW event. Anyway 'hats-off' to Robert Meldrum for putting on the fest, and lets hope there are more UK based events like this soon.
Pictures though-out the report were badly taken by Roger Batty.
Roger Batty