Decidedly Unwell & Deranged [2013-06-03]Romain 'Roro' Perrot is known to most of the experimental world as Vomir- the unstoppable, extreme and black bag wearing French HNW project. But he also has another project that's recently started to become fairly prolific in releasing work: Roro Perrot, which finds the Frenchman trying his hand at a mixture of wonky/ deranged folk, harsh noise core & beyond. Romain kindly agreed to give M[m] an email interview.

m[m]:Tell us a bit about how the Roro Perrot project first came about?
Romain This project came as something without any real start. I just needed to be back on guitar, to express something with voice, as I have already done in the past with the project Romprai Etron. So I started again.
But this time, I realized I needed/wanted something very simple, no electricity, no microphone. So I quickly shift to just an acoustic guitar and I just let everything out.


m[m]:The project first started off as harsh-noise-core with 2011's Scum Impro Core on Twilight Luggage, but later release have seen you move more into demented & wonky folk scrubbing's. Do you see this project as shifting in it's sound or do you hope to focus on one type of sound?
Romain I guess I can let myself do whatever I want, under this moniker, but the basics will be acoustic guitar and grumbled voice. On the latest CD, there is analog synth sound, a very very slow drum machine, some electric guitar, just like a 'band' with the acoutsic parts on top of it...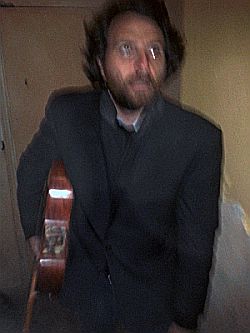 m[m]:How do you go about composing your work with the Roro Perrot project & is it all improvised?
Romain Everything's improvised, or maybe more 'instantly composed'. But I also let a lot of chance and hazard in the process to finalize a track. Here is how I record: I do record acoustic guitar and voice live, with the inside microphones of my digital recorder. For electric gtr, synth and drum machine, I record those three together, out from a mixer.
So I have on one side the acoustic tracks, on another side the 'band' tracks.
I then pick an acoustic track, that I will just paste on a band track – for this I just use the free software 'audacity'. I just adjust dB level. When pasting is done, the track is done.
Synth track is played / 'improvised', and sometimes recorded on a loop pedal, so then I can just play the long loop, and take care of the guitar if needed.
Drum machine track is picked randomly, and I just set the tempo to minimum, 40 bpm.
m[m]:What type of equipment/ instruments have you used in the project thus far, and is there anything you'd like to use in the future?
Romain I use different acoustic guitars, all second-hand and cheap. Nylon string now most of the times. Synth is a modified Jen sx-2000 (in fact, there is two sx-2000 modulation rack on one keyboard). Drum machine is the basic Zoom MRT-3. Electric guitar is my old cherished jag-stang Fender (designed by Kurt Cobain, yes sir !).
I happened to buy for almost nothing during a sale some pedal effects, so I plugged everything:
synth: Hughes and kettner Tube Rotosphere / Electro_Harmonix the Worm / Korg AX3G / DIgitech Jam-Man solo
gtr: Boss acoustic simulator / Akai shred-o-matic / Boss GP-20 amp factory
and then everything can be put through a Roland Space Echo and a Boss RGE10 eq
m[m]:Most of the vocal elements of the project seem to be random rants & vocal noises- is this correct or do you actually have some sort of lyrics?
Romain No lyrics at all. but that may change. Random rants it is.
m[m]:What do you see as your primal sonic influences behind the project?
Romain Difficult to say. Probably a mix between Gerogerigegegege, Anal Cunt, Half Japanese, Derek Bailey... But I see those influences afterwards. When I started doing my thing, I wasn't thinking about what I could do with those influences etc... as for Vomir, it's a need to express something out of me, and it goes out very bluntly. There is no intellectual process to define my sound.
m[m]:How often do you record Roro Perrot stuff, and do you release ever thing you record?
Romain I record almost once a week. There is a lot of stuff that I throw away. Sometimes I 'force' myself to play, to record, and then it's bad. Because I think about it, about playing. It's when everything comes out of me by NEED that it's good.
m[m]:I believe you've played a few live shows with the Roro Perrot project- what were these like & how long did they last?
Romain I've just played once, at the Sonic Protest fest in Paris, in 2012. Just some very short acoustic bursts for about 5 minutes.
m[m]:On a few of your tracks you can make out a child ranting & screaming along with you- who is this?
Romain This is my boy (the older one). Sometimes all the family shouts at me to stop playing and sometimes it gets recorded. But nowadays, he starts to enjoy making some racket, so I really hope to 'play' with him.
m[m]:Would you like to involve you family further with the project?....maybe even in a family band setting?
Romain I don't want to think about it. When kids play along with me, this is great. So if it's happening when I record, that's great, but I will never say: "come here, we will record..."
m[m]:With Vomir your work is themed around isolation & nihilism … what do you see as your themes for Roro Perrot?
Romain I don't know, something like "A.H.A.B" all human are bastards...

m[m]:One of the projects more recent work Roro Perrot & son héroroïne
"ta bouche de fraise me rend si sauvage" features almost comedic pictures of yourself bear chested or dressed-up. Why have you decided to add this edge to your work? and will you bring the more comedic elements into your music too?
Romain The artwork is definitely a parody, a stupidity, but also a view of pop culture taken on a sub-level degree... bear-chest, teen girls, attitude, looks... we tried to almost fit like a band photoshoot but of course with a lot of distance... and most of all to tie such 'commercial' (!) artwork to the actual music on the CD
I don't want to bring comedy in my music, there is no joke for laughing, but of course a smile is welcomed. All the things I do are very serious for me, but a distance, a second degree is of course part of this work, but less and less.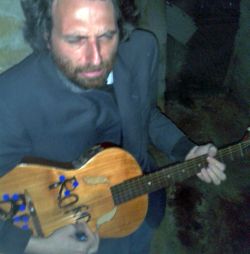 m[m]:With seemingly more & more Roro Perrot releases coming out will still carry on release Vomir releases at the same rate?
Romain There will always be new Vomir releases, along Roro Perrot. You know, I try to never turn down a release opportunity.... a new 7" split (Vomir / Hogra) is out now
and more DIY limited releases on their way. I nevertheless plan a new VOMIR CD on 'decimation sociale' probably in September, and hopefully also another Roro Perrot CD.
m[m]:Whats next for the project?
Romain Anything, everything !

m[m]:Would like to play live again with the project?
Romain well, yes, I guess so. I only played once, last year at Sonic Protest fest in Paris (some videos on youtube). Next show is near Nancy, July 27, on a one day fest "Bruitisme" organized by Gregory Angstrom, AnarchoFreaks Productions
Thanks to Romain for his time/efforts with the interview. For info about Roro Perrot & Vomir pop along here
Roger Batty