Scala, Kings Cross, London [02 December 2010 ATP] [2010-12-07]The Scala stage was well prepared for Washington's black metallers, Wolves in the Throne Room (WITTR), with an altar built in the centre of the stage carrying candles and a metallic bowl from which incense burned while surrounded by branches of what appeared to be a Christmas tree. This seasonal offering helped prepare the room as the three band members positioned themselves in front of their respective illustrated drape – stage left saw guitarist Nathan Weaver poised in front of an owl, his brother Aaron sat behind his drumkit centre stage in front of, appropriately enough, a wolf, while bassist Ross Sewage had his back to what looked like a squirrel - hopefully this allocation of forest critters didn't cause any arguments ("I don't want to be the squirrel, I was the squirrel last time!").

Any such comedic potential was immediately cut as the set started, though, with minimal lighting and dry ice pumping from the wings, the trio whipped up a whirlwind far more powerful than anything they've recorded. On disk their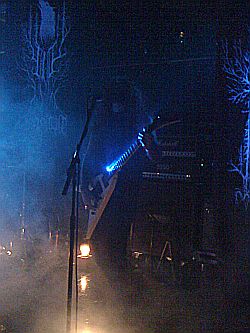 sound can seem like one of Godspeed You Black Emperor's crescendos extended and shorn of build up or fade out, but when performed live its constant punch is much more forceful. Like their records, however, the six tracks of their set were almost indistinguishable from each other, maintaining a purist approach to their sound that relies heavily on Nathan's drumming – so much so that instead of air guitarists more than a few air drummers could be spotted throughout the audience flailing their limbs uninhibitedly to the deft contrast of frenetically splashing blast beats and slower, muscular tribal rhythms. The almost constant hammering of the kick drum was the most salient feature throughout relegating the rumbling bass, buzzing guitar and anguished screaming vocals to the background. And just when you think that this mesh of heaviness couldn't get any more intense, slight changes to the dynamics bring an unexpected fresh layer of ferocity before dropping back to a steady head-nodding pace. Despite the heavy snowfall outside, after 40 minutes they had succeeded in thawing the Scala's now full auditorium with a singular vision of precise, powerful, pummelling anthems.

Following the eerie shudder of the extended drone played over the PA between sets, the individual members of Shrinebuilder, each better known for their work in other key post-hardcore/doom/metal acts, gradually breeze onto the stage. Theirs is a confident but nonchalant attitude that extends across the entire set whose almost complete lack of speaking, to the audience or each other, could suggest a fatigue at the end of a blighted tour that afforded just two days' off out of its 22 dates and was much delayed due to the volcanic cloud earlier in the year. But any audience member who has been waiting since then to see the supergroup's first ever performance in England need not have worried, for this collection of seasoned musicians effortlessly fire up the slow, brooding 'Pyramid of the Moon' with a level of interplay that borders on the telepathic. Like WITTR before them, the difference with their one album, recorded early last year, and its live incarnation is palpable – while the LP boasted dark and opulent psychedelic doom, the gig has a stripped back, raw hardcore sound providing a meaty, thousand-yard stare of unfaltering, no-frills, mesmeric heaviness.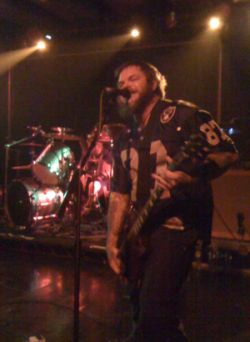 Not for the last time tonight, bass dominates the second song, 'The Architect', enjoying an extended solo at the end that verges on jazz territory, before segueing into the slow groove of 'Blind For All To See' followed by the turbo-powered chugger, 'Science of Anger'. Cisneros' basslines are arguably the strongest recognisable element in Shrinebuilder's sound, such is the uniqueness of his ritualistic lo-end incantations, providing an inversion of WITTR's drum-centric show.
The vocals are shared relatively evenly, often contrasting Cisneros' and Wino's more melodious tones with Scott Kelly's gravel-throated catharsis, but they often feel least important, usually concluding before each song's midway point providing plenty of room for the instrumentation to explore and develop its intoxicating yet liturgical charm. But no vocals are deployed on the first new song in tonight's set, firmly based around a kind of Eastern mystical bass that plays a swimming, druggy dirge to a grindingly slow rhythm as the others gradually join in becoming more animated in a subtle, self-assured spacey form of doom representing their most experimental composition yet. In complete contrast, 'We Let The Hell Come', a track first aired by Kelly on a solo tour and now destined for Shrinebuilder's second album, is a straight-forward blues rock number that, in its power balladry, feels a bit incongruous with the rest of the set. But this did create a welcome reprieve, making space to ensure the full impact of finale 'Solar Benediction', the final track to be played from their debut album, that starts at full aggressive speed but soon settles into a seductive interplay between riffing guitars and winding bass that restores the hallucinatory heaviness before it's all over with a brief thank you from a drenched Dale Crover – the first and last words directed at the audience all night.
Merging the talents behind Om, Saint Vitus, Neurosis and Melvins, is both Shrinebuilder's strength and weakness. While it ensures that fans of each constituent will form a ready-made following for the band (that has more t-shirts than recordings available for them to buy) it also creates an unmatchable expectancy-level that means Shrinebuilder will always be compared and may be expected to surpass the best work from each member's back catalogue – a tall order indeed. But tonight's show highlights the raw talent, power and fluency with which this new band enchants its audience with a raw yet progressive potency that's rare regardless of individual résumés.

Russell Cuzner