The Dapper Bandits [2002-01-09]One of the greatest bands to emerge from the USA lately is Estradasphere. All the records have been reviewed on our site so one can read about those in our reviews section. I had the opportunity to set up an e-mail conversation with Tim Smolens, bass-player, composer and producer of Estradasphere. Here are the results:m[m]: Can you tell me about the musical backgrounds of the members of Estradasphere? TS: Jason and I grew up together in Los Angeles on 80's metal. We both played guitar. We got into Mr. Bungle in High School and that changed us forever. We moved up to Santa Cruz together, he went to school and I bought a bunch of studio equipment with money that was supposed to be for school. Jason, John and Timb are were all music majors at UCSC. Timb's more from the classical background and John has a jazz background. Dave graduated from UCSC as a philosophy major and he loves metal.m[m]: What does the bandname stand for?TS: It is named after Eric Estrada from the 80's copshow Chips. Our friend Richard came up with it and for some reason it stuck.m[m]: Are there any bands or composers who you can point out as musical influences?TS: My biggest hero in this world is Brian Wilson of the Beach Boys. I could go on about him literally for hours. A lot of people don't know about the Beach Boys psychedelic period, they just remember the 'fun in the sun' years. The Smile album (never released) is the most spiritual record I have ever heard in my life. I believe it would have started a music revolution in 1967. I spent a large amount of my time learning Beach Boys songs in 12 keys, singing them at a piano, or compiling new versions of Smile. Basically I'm trying to start the revolution that should have happened in 1967. You need to hear this record. A lot of people think I'm crazy for being this obsessed with Brian Wilson but I tell them that I have learned more about compostion, production and arranging in the last 5 months of listening to Beach Boys than in 10 years of other training. The Buck Fever album was heavily influenced by Brain Wilson's production style. I also have a side project: ISS, a 60's boy band. We are almost done with a record.On the other hand there are lots of other influences in the band: jazz, classical, metal (death, black and glam), Romanian gypsy, Indian and Middle Eastern music, too much to mention, really.m[m]: You use all these different musical styles, is this because all the members are musical omnivores or do you combine all different personal influences?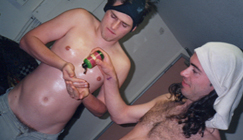 TS: Both, a lot more these days we are listening to one style of music at a time. I'm not into most bands that do tons of styles. It's a really hard genre to pull off without sounding pretentious or something.m[m]: What do the Estradasphere band members listen to?TS: All I listen to is the Beach Boys and occasionally Phil Spector, honest! Jason Schimmel (guitar) enjoys The Beatles, Radiohead, Mr. Bungle, jazz, all great pop of the 60's and 70's, flamenco and world music. Saxophone-player John Whooley listens to John Coltrane, bluegrass, Irish music, Michael Jackson, gypsymusic and more. I'm not sure about Timb Harris (violin)... I know he likes almost everything we do and more. Drummer Dave Murray likes metal: he likes it hard, loud and fast. Besides that he likes new age!m[m]: How did you get signed (if you are) to Trey Spruance's Mimicry Recordings?TS: I basically stalked Trey for years at Mr. Bungle concerts and gave him tapes of our band Don Salsa. At some point I began e-mail correspondence with him and told him about the incredible keyboard I owned. He said Mr. Bungle really needed something like that. So I brought it up to his place in San Francisco and he was blown away by the thing and my programming capabilities on it. So Mr. Bungle got one and I programmed the thing for their California tour. It took almost 2 weeks of hard work. At this time Estradasphere was just working on our debut-album It's Understood. Trey was really into it and told us of his new label. That's about it.m[m]: How do you compose? Do you plan to compose a certain type of song or do you start from melodic ideas and does the arrangement define the style in the end?TS: I don't know how I compose. I use a sequencer and just play the notes that come to me and print it out for the guys. These days I'm writing more pop songs and vocal harmonies at the piano.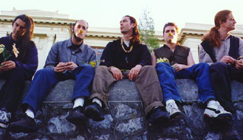 Jason is a composing machine, he is a riff-master and comes with a lot of our songs. And we usually arrange it with him. And John writes a lot too. John uses ideas he may have had of a melody and then comes up with the chords etcetera. Lots of great writing talent in this band. Dave also writes music, I think we will see more 'Dave-music' in the future of Estradasphere.m[m]: Although I like them a lot, I can imagine the more extreme metalsongs limit the amount of potential listeners. Does the diversity of your material give any trouble with 'selling' your music?TS: Probably. But these days it seems at our shows that the metal is the most popular. People are pissed off these days and with good reason. They need metal. But world music lovers might be turned off by it. I don't know. There are a lot of fans that wouldn't normally listen to metal but love it when we do it. I like to think that we make metal more accessible to non-metalfans.m[m]: Are there any musical styles you refuse to play?TS: No, we love smooth jazz, hardly a show goes by without us playing some.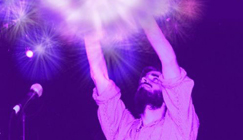 m[m]: How did you come in contact with the (East)European and Oriental music? Is it difficult to find this kind of music (and the instruments) in the States?TS: Taraf De Haïdouks are quite simply the greatest musicians on the planet, that's how we got into East-European music. We don't have sheetmusic of the stuff or instruments for that matter.m[m]: What is the Buck Fever concept about?TS: America. A lot of people from other countries may think of America as this great advanced place. In California, where we are, some townslive up to that reputation. When we drove around the country on our first tour with the Secret Chiefs 3 we saw America. A large majority of the country has this 'ass-backwards - white supremacy - deerhunting-for-fun'-vibe going on. It's just plain sickening. When Monoman (member of the Estradasphere-Circus) emerged from a Wyoming truckstop with a hat that read Buck Fever we soon knew this would be our next album.m[m]: Does the Estradasphere-circus comprise of friends of the band or do you hire people? How did this whole 'circus' idea come into being?TS: No comment, we love our reader George.m[m]: Although in Estradasphere almost anything is possible, there are lot of side-projects (ISS, Whoolicious, Don Salsa), why is there still need for those?TS: I need a 60's boy band to keep me sane. I need a way to infiltrate the norm. A Trojan Horse kind of thing. We just all have so much music that needs to be put out. Don Salsa was the first record I ever recorded, and in a lot of ways the most advanced one I'll ever do. I love side projects.m[m]: How much parody is in your music? Or to quote a great composer: 'does humour belong in music'?TS: Yes, humour belongs. Entertainment is the goal. I love to laugh, above everything else laughing is good and fun. The innocence of a child can be a great teacher. I will always have humor in my music, But it is simultaneously serious. Most prog-bands have no sense of humor and that's why a lot of non-prog-fans can relate to our music.m[m]: Is there something specific in the band's history what you are particularly proud of?TS: We bought a van. The phattest van you'll ever see.m[m]: Are there things you haven't done but what you'd like to do in the future of Estradasphere?TS: Yeah more pop songs. More metal and we need to record with an orchestra at some point.




The Dapper Bandits
One of the greatest bands to emerge from the USA lately is Estradasphere. All the records have been reviewed on our site so one can read about those in our r...






Ingar Zach - Musica Liquida
Musica Liquida is an album that sits somewhere between aquatic-focused drone scaping, taut-at-times dramatic improv, and atmospherically detailed percussive ...