Mentally Murdered [2008-10-27]Gnaw Their Tongues depraved, gruelling and often terrifying sound is a mixture of doom, murderous Avant-garde, black Metal, drone and noise. Having vomited it's self on to the underground only a few years ago the project has built impressive near on 20 releasers thus far. The project music and disturbing imagery is all made by Nethlands based Maurice De Jong aka Mories who kindly agreed to give me an email interview.

m[m] When & how did Gnaw Their tongues project start? were does the name come from? And is this your first musically project?
Mories The name comes from the bible book revelations: "The fifth angel, who "poured out his vial upon the seat of the beast; and his kingdom was full of darkness; and they gnawed their tongues for pain, and blasphemed the God of heaven because of their pains and their sores, and repented not of their deeds". For a while I was really obsessive with this book. I liked the imagery of people gnawing their own tongue because of intense pain.

Mories I've been playing in bands since 1988. I've played in several shitty black/death/doom bands. The only worth mentioning are Cauteror and Soulwound. Around '93/'94 I was becoming more and more bored with the whole metal thing. Black Metal became a trend and all the bands sounded the same. For years I did not listen to metal. I listen(ed) to all kinds of music. For years I made all kinds of music; a lot of breakcore/drum and bass, but still with a very dark touch. Around 2002 I started messing about on the computer. It all evolved from there. In 2006 I put some stuff on the internet and that was that.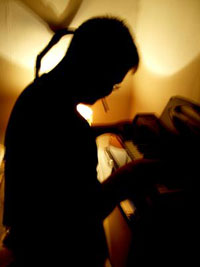 m[m]There's so many grim layers and textures to your work, how do you go about planning a track? And what will trigger the idea for a track?
Mories I first try to write/play with my subconscious; not to think just do. Later I organize all the riffs sounds/samples until it sounds right in my ear. Sometimes 'magic' happens. Often not and I throw away the whole piece. Sometimes I go back to stuff I've done two years ago and change it within 5 minutes. Sometimes an idea springs in my mind, it can be a riff/melody/structure or a sentence whatever and I'll go from there. Track idea can be triggered by numerous things; a phrase, a news item, so crap I read on the internet, a 3 sec. sound sample.
m[m]You use some very disturbing dialogue samples- were do these come from? for example the home invasion/ serial killer on Teeth That Leer Like Open Graves off An Epiphanic Vomiting?
Mories That's a well known one from the states: BTK. There is this little program called audio hijack that let you record anything on your computer. Great stuff. Although a little tricky with copyright laws (sssst). You just have to know where to surf to find samples. I also have tapes full of recorded/sampled stuff from when I was a teenager. I used to sit in front off the TV recording movies/programs. Although I'm laying off the heavy sampling thing a little, sometimes it overshadows the music a little.

m[m]On the subject of An Epiphanic Vomiting of Blood this is your first more widely available album on Crucial Blast, how did this come about- did you approach them or did they approach you?
Mories Epiphanic was intended for another label. That label did want to go through with it. So I contacted Crucial if they where interested and they were. I like the label. Great label, great music.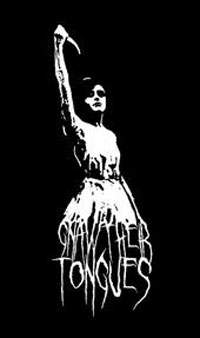 m[m]Your clearly your a huge horror fan – name a few of your favourite horror films or books and why?
Mories I watched a lot of horror stuff in the 80's & early 90's. Some stuff I like; The Beyond, Videodrome, lot's of Dracula stuff, Hellraiser, Cannibal Holocaust thousands of crappy b-movie stuff I can't remember. I'm really bad with titles. Usually I'm more into the suspense/psychological kind of horrors than the slasher stuff. I like the orchestrated horror soundtracks from the fifties/sixties/seventies a lot!

m[m]All your albums have a very distinctive and disturbing artwork which you do your self. Would you like to do some video or film work in the future for your music? and what about soundtrack work is this something you'd like to do?
Mories Yes I .d like to score movies that would be great. I'm not sure if I'd like to make a movie. That is a different skill.

m[m] Is there anything that particular thing that scares you? This could be either a situation, art or a movie?
Mories There is very little that scares me, although the whole Islamic thing is a little scary. Their laws and ways belong more to the middle ages. People who bury pregnant women alive, because they won't marry scare me (that stuff happened in Pakistan recently). Besides that I don't know. Movies and art can horrify me but not scare me.

m[m] Have you every tried playing a live show with Gnaw Their Tongues project & if not is this something you'd like to do in the future if possible?
Mories Never with Gnaw; that would be impossible. That would involve 10 or more people. And I don't like people, so that would be a problem :) I'm planning a live/laptop thing; Aderlating (bloodletting). That will be horror soundtracks/drone/noise.

m[m] what are you working on at present and what's due out next?
Mories I'm busy with the next full length out in Jan 2009 (probably). Also working on two vinyl release, out in March 2009 (probably). Busy rehearsing with Aderlating. Also coming u a re-release of 'die mutter...' ep
Thanks to Mories for all his time and effort with interview. For more info and to hear some of Gnaw Their Tongues sonic depravity go to their my space here
Roger Batty