Rising to the occasion [2008-06-14]Italian based sonic pervert Fecalove(aka Nicola Vinciguerra) has been making sexualized noise and sonic mayhem since 2001. He first came to my attention with the excellent 2007 release erection which consisted of a cut up, sound collage and noise, more recently his sound has moved more towards Power electronics, but his sound is still distinctive, fresh and depraved- Nicola kindly gave me an email.

m[m] What first got you interested in noise? And how/ why did you decide to start doing the Fecalove project? Is Fecalove your first foray into sound/ noise?
Nicola I think I read an article about Release/Relapse records in some Italian metal magazine, found some Merzbow cds and bang I had an instant hard-on . I immediately knew that it was made for me , that it was my thing. Doing a project of my own was pretty natural; I think harsh noise is too exciting, pure, violent and free to be just a passive listener. It's more rock and roll than rock and roll. It just drags you in .It difficult to resist, you have at least to try and play it. Fecalove is my first noise project, it started in 2001/2002 ..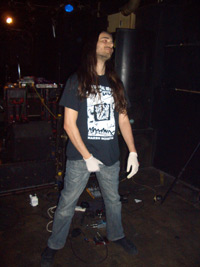 m[m] Most of your work has very sexual learning's Ė why do you decide to focus in on this in your work?
Nicola I don't fucking decide anything; my life goes where my cock leads. I see throbbing cocks in skyscrapers, dripping cunts in the mouths of passers by. Sex is everything and everywhere. My work is not music, its masturbation and release.
m[m] How is your work accepted in Italy and is it difficult to get bookings due to the often shocking and sexual tone of your work?
Nicola In Italy nobody cares about anything so it doesn't make much difference if I masturbate on stage or if I sing opera tunes .. they just won't notice . I played only twice as Fecalove in Italy in many years . I don't care much about playing here; audience and organization are very boring. I just do it when friends organize something.
m[m] Have you ever had any hate mail or confrontation due to the shocking and sexual tone of your work?
Nicola I'd love to get hate mail ! Unfortunately , everybody loves me
m[m] Is there any subject you wouldnít cover and what shocks you?
Nicola Nothing shocks me or thrills me, at most it arouses me. I'm a very simple man , I think I can't cover any subject other than my cock and what it makes me do

m[m] Your recent release Animal is going more towards power electronics and away from your more cut-up and crazy stuff- will you return to the more cut-up stuff in future?
Nicola Yeah Iím doing lots of power electronics oriented works recently. It's a really good way to convey filth and obsession, and it feels very natural for me. I even started a pe-only solo project called Taeter.
In the future I will definitely do more cut-up tracks... during my latest trip to Asia I collected some field recordings precisely for this purpose.
m[m] Can you tell us what your stage show consists of and do you ever play with visual in a live format?
Nicola My live is usually very short, around 10/15 minutes at max. Lately I wear white latex gloves, I masturbate while caressing audience on face and head, and then I play some brutal harsh noise / power electronics. Reactions can be pretty funny: last time in Guangzhou ( China ) a girl was very scared and started to cry . One of the highlights of my live career so far! I never play with visuals, there's more than enough for people to see already.

m[m] have you have been approached to do any soundtrack art or film work? And what if any film or artwork would you like to soundtrack if you could?
Nicola Yes, kind of . Not as Fecalove though. My other project Splinter Vs Stalin is featured on the soundtrack of "Otto; or, up with dead people" by Bruce LaBruce . Gay zombie porn fun . We will work on another soundtrack soon, always in the same field. The cock-field, that is .I'd love to make soundtracks for shopping malls, and obviously for more porn movies.
m[m] How did you get contacted with regards using your work in the Gay zombie porn movie? And whatís the other soundtrack work you have lined up?
Nicola Well the director just contacted me on myspace ! Easy as that . He wanted some noise for his movie and he got it. He just picked a track from some cdrs I sent him . Several other "myspace bands" were involved , as well as major names like Throbbing Gristle and Anthony & The Johnsons .
I don't know details about the new project yet, I only know its gay porn ..Canít wait to do this !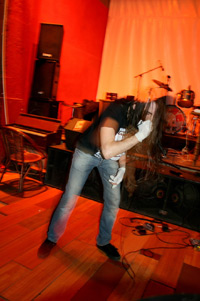 m[m] Youíve formed the turgid animal label Ė how did this come about?
Nicola I traded some tapes with George/Mutant Ape from UK, we kept in touch and after some months we decided to have a label of our own. That's it. It's already been three years and we won't stop easily.

m[m] Has the way you create your sound changed over the years? And what new elements would you like to weave in to new works?
Nicola Yes of course. My first efforts were mainly digital , then I gradually abandoned computers to use analogue tools . Now Iím at a point where I found my ideal balance. I didn't change my set-up in the last two years. For live or recording it's always Dod Death Metal + Digitech Death Metal + a broken Ibanez delay + mixer + contact microphone + condenser microphone + tapes . Simple, raw and filthy.
I don't feel the need to find or research for anything new beyond this set-up. Until it gives me erections and pleasure, this is what I will use.

m[m] Name your top ten favourite noise releasers and why?
Nicola All these records make my cock hard.
The Gerogerigegege - Mother Fellatio 7"
Government Alpha - Alphaville
Hanatarash - Total Retardation 7"
Dave Phillips & Randy Yau - Illusion Is A Natural Condition
Torturing Nurse - In Ruins
Whitehouse - Great White Death
Hijokaidan - Zouroku No Kibyou
Vomir - Claustration
Deathpile - G.R.
Prurient - And Still , Wanting

m[m] Whats coming up/ out next for Fecalove, Turgid animal?
Nicola Fecalove will have lots of interesting tapes on Turgid Animal , a series of splits/collaborations with other Italian obscure artists called Pizza Of Death ..From harsh noise to more "academical" approaches. First tape is already out , it's a conceptual split with my friend Abisso (myspace.com/gospelforironyouth) called "Puttane" ( which is Italian for "whores") . Next one will be a collaboration with Il Mestruo Delle Puttane (long running italian harsh noise project) called "Cazzo e Merda" ( cock and shit ) . There is a 7" + cdr collaboration with my master Toby Dammit in the works, true Italian crime electronics...
Turgid Animal will release a 12" Lp of Fecalove/Messiah Complex/Seppuku/Mutant Ape live gig in Glasgow. Also a full length cdr called "Filth" should be released by L.White records in the next months , on the power electronics side . This was actually my first serious penetration in this field, and Iím quite happy with the result .
Thanks to Nicola for take time out to answer my questions and supplying the pictures for the interview. To find out more about both Fealove and Turgid animal lable check out Nicola's myspace page here.
Roger Batty