Forensics For Guitar [2001-09-14]Guitarists explored the possibilities of the guitar in many ways. Many people, from Derek Bailey to Robert Fripp, from Fred Frith to Keiji Haino used playing-techniques and electronic processing to expand the possibilities of the guitar. James Plotkin is eager to find new sounds and defy the conventions of music.A beginning
"At age 12 I had become bored of collecting weapons like knives and crossbows and I was really into Rush at the time. I wanted to be Alex Lifeson." Says James Plotkin, the innovative American guitarist who explores the world of sound, both live and on many records.In the late eighties he entered the extreme thrash and grindcore community with his band Regurgitation with which he released two demo-tapes and eventually got a recorddeal with British fresh metal-lable Earache. The bandname was changed to O.L.D. (Old Lady Drivers). The self-titled debut-album contains a sort of geriatric grindcore with humoristic lyrics and a unique sound. The album generated a cultstatus in the scene.When the time came to make a follow-up James' interests had changed: "I guess the fascination with effect pedals led to a better understanding of what was possible through electronic treatments. Eventually it dwarfed any interest I had in playing technique itself, and the guitar became a source of sound more than anything else. Since then I've learned to use any instrument in any way that will get you the results you're after, even if you are using it conventionally." The result, 'Lo Flux Tube', showcases the use of different guitartechniques and inventive drumcomputer programming but the general effect was no less extreme than their debut. The following album, 'Musical Dimensions of Sleastak' delved deeper into the direction of multilayered guitartreatments and scorching processed vocals.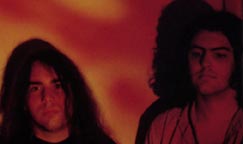 The larval stage
OLD started to gain some interest outside the metal scene with their unique sound. James' ever expanding interests lead him to working with Japanese experimental artist K.K. Null and the chance to make soloalbums. The new direction is more in the field of drones and ambient. This sounds like a radical change from the rather noisy output of OLD. "I couldn't pinpoint such a broad, gradual shift. Sometimes you find yourself being pulled in many different directions at once. It's not the case that I switched per se, but more the case that I was expanding my interests just the same as any other person in need of stimuli would. These shifts were probably more inspired by life experiences in general, as opposed to exposure to different music and art. Everything from deaths in the family and lost relationships to various personal and musical triumphs. Basically the experiences of the more extreme ends on the emotional spectrum".Freak now
These various projects make it very hard to pigeonhole his music in a certain scene. "I really don't feel much affinity with any scene at all, though these elitist groups definitely serve a good purpose by being a kind of forum to learn about the music and where to find it. I enjoy the kind of free exchange of ideas that you can only be capable of by existing outside any scene or clique. I don't want to be influenced by particular things happening inside these social bubbles. Any kind of scene means there is a social awareness with elitism and rank. The only way I'd want social activity to enter my music is if I'm spending quality time recording with my friends or seeing live music". The extensive use of processed sounds and effects leads to thinking how much of the music is 'directed' by the technical possibilities, something a lot of people might consider an illegitimate way of conceiving art. This doesn't worry James: "They can be as important as the music or sound itself. I don't really understand the purist idea that certain processes should be ignored. I've done recordings with no use of technical alchemy and I've done recordings that were 90% sound processing, so I can only say that each project had it's own technical direction". Every working method is used as a means to an end: "Some things are planned, some are merely happenings of a specific moment. Sometimes a composition will be completely pre-planned, yet the results are entirely different than what was speculated".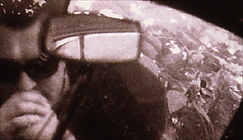 Outlive
Halfway the nineties OLD released their last album 'Formula', a rather melodic and maybe almost poppy album on which the ambient experiments also left their mark. Original vocalist Alan Dubin decided to leave the music scene: "He wasn't interested in music as a career anymore at that point. We were both struggling to support ourselves through music and it just wasn't working. It still isn't". Although Alan recently reunited with James in the band Khanate, a reunion of OLD is out of the question: "OLD existed at a point in time that is over, there is no need to explore those avenues any further".Released from the Earache contract James started to expand his horizons in various groups and projects: Flux, Joy Of Disease, Romance, Solarus and Body Lovers to name a few. He also collaborated with people like Mick Harris, Mark Spybey, Fenech and K.K. Null. All this material has been released through many different labels. Although he had his share of bad experiences he doesn't like the idea of his own label: "It's not feasible at this point - I don't want to worry about sales, distribution, all the dead-beats that don't pay up, etc. For the most part I dislike the entire process of releasing and marketing records - I find it tedious and frustrating and it takes the attention away from the most important factor: the music. If anything, I'd like to do more production work for a living, working with artists on their creations and then going on to the next. A constant flow of different ideas and processes like that would keep me interested for quite a long time". To make a living of his music was a rather shortlived privilege which he hasn't tasted for a while. It's rather hard to get by financially if you choose your own path: "I've worked at record shops, at a publishing company where I've helped coordinate the reprints of school books (mathematics, science, literature, etc.) and I've collected benefits from state unemployment funds. Basically whatever I can do at the moment to make ends meet. Life is too short to work the same job forever. Everybody should take as much time to themselves as possible. At the end of your life will you be happier that you stayed late at work for a year straight, or if you took off early and spent that time with a lover or family or friends? Working at a job I hate is not my priority". James' extensive use of electronics makes one think he must spend excessive amounts of money on equipment. This is not the case: "I haven't spent money on equipment in over 5 years, except for the addition of computer-based recording tools. It's not really necessary for me to constantly buy new equipment just to make new sounds, but it would be nice if I didn't have to struggle to afford these things or even just to pay rent".With the many labels that have released James' material it's hard to keep track of his projects and releases. These days a website would be a great medium to keep enthusiasts informed: "Of course, I think it's a great idea. Unfortunately I have no resources for this kind of exposure. I don't know web design or anyone who does, and if I did, I'd have no way of paying them. Many labels will release my music but none are willing to give the support I actually need". The last is a recurring event and besides the financial problems there are also artistic consequences: "About 5 years ago I was given the opportunity to make a record with Christoph Heemann (Mirror, Mimir, HNAS) but the record label (Relapse/Release) refused to put any effort into funding it, even though the only expenses were airfare (1 ticket) and a small piece of gear for Christoph. I never got over that one, he's been one of my sonic-heroes for over 10 years".The return of the deadly mantis
After making a lot of ambient drone albums in the second half of the nineties James is returning to a noisier brand of music with his new projects Khanate and Atomsmasher. Khanate is, in his own words, "violent, brooding, tektonic DOOM with glass-shattering vocal constructs". The band consists of guitarist Stephen O'Malley (Thorr's Hammer, Sun O)))), Burning Witch), drummer Tim Wyskida (Manbyrd, Blind Idiot God) and vocalist Alan Dubin (OLD) This project is a band in the traditional sense with input from all members. "Absolutely. It's been one of the only real band situations I've been in since the early days of OLD. Stephen writes most of the music. Alan writes the lyrics and I contribute, produce and arrange the tracks and the vocal constructs. It's taking awhile to get used to working so constantly with others, but it is incredibly rewarding when things come together. You can hear the chemistry of Khanate in the sound itself". Although the debut album will be released on the doomlabel Southern Lord doom/sludge would be too narrow a term given his obsession with electronics: "For me personally, Khanate is just slightly beyond doom. There are electronics at work in Khanate already. Voice processing, depth-charge bass-surges, glitch electronics, etc. You just have to listen intentively and you'll hear it. I use a powerbook for live performances as well".
The other project, Atomsmasher, is rather a soloproject although the band is a threepiece. Again, just like in Khanate, there's a drummer in the band, Dave Witte. James hasn't worked with drummers since the first OLD album; what happened? "It works with certain types of people. Not just certain types of drummers, but certain types of attitudes, really. I think it's a personality thing: some people are just open to trying different things even though it may be foreign to them at first". The working method still isn't really conventional: "Drum files were recorded initially and edited with PC applications (waveform editing programs like Wavelab and Soundforge)".James describes the music like: "ultra-high velocity hardcore-computer-grind with electronica sensibilities". It makes you wonder if this was preconceived or something that happened along the way: "At first we had only an idea of the general sound, as a whole. Once I received his drum recordings I just let the process run wild along with my imagination. I tried things that worked and also things that didn't. The direction became more apparent to me as I experimented".The other member, DJ Speedranch, does 'audiomulch vocals' and they sound rather funny a lot of times. Humour is nothing to be afraid of according to James: "I try not to take anything too seriously, serious enough that it becomes a valid piece of work but not so serious that you can't have a good laugh at yourself or have a lot of fun doing it. People can tell when you're having a great time doing what you do and I think they really respond to that. It may be better not having to worry about making a living from music if you want to enjoy it to the fullest extent". The same thing goes for Khanate: "Even though Khanate is something we all take seriously, trying to make a living from it would be disasterous. It just wouldn't happen. The music market is so flooded at this point that you have to do things for the right reason".Besides these two projects James also participates in The Binge And Purge, "a slo-core indie group along the lines of Codeine, Low, Hood, etc".The direction taken with these recent projects might imply that James is finished with drones and ambient. This is not the case: "I don't ever think I'm finished with a genre or type of music, the fact that these recent recordings seem louder should exemplify that. The life of a music career is too short for someone like myself to put any restrictions on what I may do or want to do in the future. Everything I learn is incorporated into the subsequent projects I create: there are elements of dronage and soundscape in these recent recordings as well as elements of sludge, hardcore and even pop music. The mental library continues to expand and it reflects in whatever I'll do tomorrow".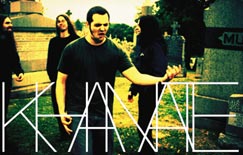 Endless romance
From his enormous output James has his favourites: "Favourite records would be Plotkin/Gutzeit "Mosquito Dream" on Kranky, "Atomsmasher" on Hydrahead, and the Khanate debut on Southern Lord. I also still love the split 12" with Pimmon on Fatcat". The most impressive musical moments are nevertheless live-experiences: "A live improvisational duet in Lyon, France with a wonderful Russian violinist, Tamara Goukassova. The performances I did with Josef Linschinger and Fadi Dorninger (Aural Screenshots) at the ARS Electronica festivals in Linz, Austria. And I was particularly amazed with the early experiments that led to the Atomsmasher recordings. I have a soft spot in my heart for that one". Although he has no musical regrets he sure has some: "The only regrets are on the business-side of things, especially signing deals with certain labels that would constantly sell my music short or back out of their promises and refuse to pay what they owe me".With both Khanate and Atomsmasher he will hit the road (he just did a supportslot for Fantômas in the States): "My live performances have been quite varied over the last decade. Usually I'll perform with friends and fellow musicians that are gigging through NYC and want additional sounds. Khanate has 4-6 shows booked for the second half of this year, beginning in October at CBGB's with Warhorse and Old Man Gloom. Check www.southernlord.com for Khanate dates and info, and www.hydrahead.com and www.ipecac.com for Atomsmasher info".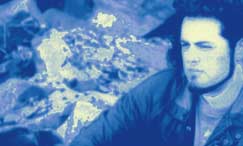 Forensics For Guitar
Guitarists explored the possibilities of the guitar in many ways. Many people, from Derek Bailey to Robert Fripp, from Fred Frith to Keiji Haino used playing...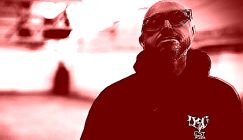 Colossloth - Promethean Meat
Returning to Cold Spring with their latest album, UK's Colossloth continue to plumb the depths of industrial with the rough and crushing Promethean Meat...