The Marhaug way [2007-07-23]Lasse Marhaug is one of the most recognised and respected names in the Noise genre, having released a massive amount of varied work since the 1990's. Going from; noise, to guitar scapes, to ambience- Released under his own name, as his collaboration with John Hegre as Jazkamer, and numerous other collaborations. He has recently formed his own label Pica disk, who's first release is the four cd box set Lasse Marhaug Tapes 1990- 1999 (reviewed here). Lasse Kindly took time out from his busy schedule to give MM an email interview:

m[m]What first spurred your interest in noise and were you involved in the past in more traditional forms of sound? Is there a particular track or album that spurred the interest?
Lasse I grew up in a remote part of Northern-Norway. I was not part of any kind of scene or group of people. There were no concerts anywhere near where I lived, but by pure luck I discovered and connected to underground extreme metal and experimental music through music magazines. For a number of years I operated putting out zines and releasing tapes without having met anybody related to the music I was involved with it. Nor had I been to any concerts of this music. Probably the first noise concert I experienced was the first one I did myself. I never learnt how to play conventional instruments; I started out messing around with my home-stereo tape recorder and turntable. It even took years before I got hold of pedals (to this day I don't have much interest in gear).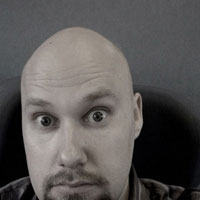 m[m]When did you first meet you partner in sound, in Jazkamer John Hegre? And what made you decide to form the project?
Lasse I met John in 1997 when he came to a show I did in Bergen. The show I did was rather intense, with screaming and throwing scrap metal around. John was one of the few who would talk to us afterwards. Although he had a long interest in experimental and improvised music, he was just discovering noise. So he was thrilled to find that there were people in Norway doing this kind of music.
He gave me a tape of his music and we started corresponding and discovered that we had similar taste, interests and attitudes in music and art. I'd been working mostly solo my whole life so I was keen to work with a more permanent constellation and along came John. Together with Tore Bøe, John has been the most important ally since I started making music.
m[m]How did the Jazkamer name come about?
Lasse Jazzkammer came from Tore Bøe. It's wordplay on jazz and gas-chambers. Jazkamer came about when we decided we hated jazz.
m[m]With Jazkamer you really seem to investigate different genres and sounds, is there anything you'd like to try next? And is there anything you defiantly can't see yourself doing?
Lasse We don't specifically set out to work our way through different genres. It's simply that we have a broad field of interest, and like to try different things. It's not an exercise in style; it's merely our sound obsessions. We never cared to even tried to carry out a singular style or aesthetic. We figure if we like it others might find it interesting too. For people who listen closely to our records they aren't that different from each other - take "Metal Music Machine", it's much like our previous albums, the difference is in the instrumentation.
m[m]Who does and what in Jazkammer? Is it fairly open on what instruments/sound you used to create an album or track? Lasse It's very open and random who does what. Some recordings can be just one of us. The "Panic" album is basically only John playing guitar. I just put the pieces in a coherent running order and added some near-silent textures in-between. Ditto "Metal Music Machine" - I perform on just two tracks, my role was in the mixing and production. What matters is what sounds good, not who performs what.
m[m]How do you go about writing/composing?, certainly with a lot of your Jazkamer albums they have a soundtrack vibe, do you ever storyboard an album?
Lasse Most of the Jazkamer albums goes through long rounds of discussions about what we want (or don't want) to do. Probably we spend more time talking than we do recording. We are both fans of cinema so I guess that influence seeps into the works.
m[m]Has the way you create sound changed over the years?
Lasse When putting together the TAPES box-set I found that my preferences and approach in sound hasn't really changed that much over the years. I find pleasure in the same sounds now that I did when I was 15. I've gotten better on a technical level, but the song remains the same. I don't loose sleep worrying about artistic growth.
m[m]How do you go about composing/building a track? Will you begin with a feeling or vibe you want to create, or will a certain sound trigger the start of the track?
Lasse A bit of both. I have an idea for a piece and I'll start collecting and recording sounds that might fit for that idea. But then the sounds start to dictate the idea and everything changes. I often get lost. Describing the process of making music is hard without sounding like a moron.
m[m]You've just launched your own label Pica Disk- with Lasse Marhaug: Tapes 1990-1999 been the first release, what made you decided to form the label and what made you decided to make Tapes 1990-1999 it's first release?
Lasse I've been thinking about starting a new label for quite some time, and I wanted to start it in a grand way; a box-set with a selection of my cassette works seemed like a good way to do that. Most of those recordings have been unavailable for a long time, and many of them were extremely limited in the first place (even for noise music). I figured that out of the 60-70 cassettes I did in the 90-ies there had to be enough good material for 4 CDs. I spent three weeks in September 2006 transferring all the cassettes to digital format, and then I made a selection that felt representative and worthwhile. I'm extremely pleased with the results, both the music and the packaging. Tommi Keränen did a remarkable job mastering it. He really made it shine and fit together.
m[m]Your early tape work on the boxset went under the name of Herbert Mullin - where does this name come from?
Lasse Herbert Mullin (or Herb Mullin to friends) was a serial killer I read about in a book. Being a teenager reading about serial killers was of course very exciting. Herb Mullin wasn't one of the most notorious or macabre, but his story was rather bizarre as he claimed to be killing people to stop earthquakes. I only used the name because it sounded weird, never made any references the Mullin or his acts in the works released under that moniker.
m[m] And when & why did you decide to release stuff under your own name?
Lasse After numerous project-names during the first half of the 90-ies, all of which I got tired of at some point, I figured I might as well just use my own name.
m[m]What future releases have you got lined up for the label?
Lasse Later this year I got CDs of Hild Sofie Tafjord (from Fe-Mail), Hijokaidan and Birchville Cat Motel coming up. There's also a collaborative 7" of me and Oren Ambarchi in the works. I don't have very high ambitions for the label; it's a labour of love and I'll dedicate time to it in between my touring schedule.
m[m]What are your thoughts about the worldwide media attention towards Norwegian Black metal scene in the mid 90's? Do you think it help grow general interest in experimental and extreme music in Norway?
Lasse Contrary to what people might believe I'm not a big fan of Norwegian black metal. There is a handful of talented people who have done some good recordings; Thorns, Enslaved, Mayhem, the early Emperor, Darkthrone, Aura Noir, the Mortem 7" and a few other things. The rest is overrated, and I find interesting black metal comes from outside of Norway. Because I was in touch with the scene when those events went down in the early 90ies I'm not impressed with the whole 'cult' and myth that's grown out of the church burnings, murders, suicides and the elitist posing. It's easy to think its cool now, but when it was going on it felt rather dumb. I can appreciate the energy of the music and its quest for breaking down taboos and attacking the Church, but the Norwegian black metal scene of the early 90-ies were a group of teenagers who started believing their own hype and let things get out of hand. Anybody who lets the media affect their ways like they did doesn't deserve the kind of respect they've gained. And Norway is an incredibly safe environment to 'rebel' against the Church in. Jail sentences are short and jails are safe. In many other countries you will dealt with in a harsh way for destroying places of worship and religious symbols. When I visited Bangkok a year ago, the week before we visited a man had destroyed a public Buddha figure. He was killed right on the spot by an angry mob. Norwegian black metallers never faced dangers like that.
Lasse No doubt Norwegian black metal has helped put Norwegian music on the map abroad, and for sure it helped when we released our "Metal Music Machine" album because every journalist outside of Norway made the lazy assumption that we were going black metal. But in general the commercial success of black metal has made little or no contribution to the noise and experimental music scene here. The people from Enslaved and Thorns have made connections to experimental music and noise, but they remain exceptions of the rule.
m[m]Your recent collaboration with Niels Henrik Asheim Grand Mutation was recorded in Oslo cathedral, how did you go about getting permission to do this? And were there any problems during the recording with the noise?
Lasse Nils Henrik has access to the Oslo Dome Church since he is one of the best organ players in Norway and has done several performances and projects in that church, so getting permission to record in there was not a problem. We were asked to do an improvised concert in the church in 2004, which went so well that we decided to make a record together. The only problem was finding the time, as we're both busy with other projects, plus that Nils Henrik doesn't live in Oslo but Stavanger, which is on the west coast. When it was announced that the church were to be closed for renovations for several years we were forced to make a priority of getting the recording done. We worked at night so that outside noises (traffic) were kept to a minimum.
m[m]The Sonics of the cathedral really add to the albums effect- does recording in different places interest you?
Lasse Yes of course. Especially for the Maja Ratkje album "Voice" we experimented a lot with different recording spaces. The info on the record sleeve is minimal, but there are quite interesting stories about where and how that album was recorded. Also for the project Two Limited exploring recording spaces has been significant. With my solo and Jazkamer works I mostly stay in the safe surroundings of the studio.
m[m]How did the recent collaboration with Smegma come about?
Lasse We were on tour on the US west-coast last year and had a day off in Portland, home of the mighty Smegma, which we spent with them in their studio. It was quite a pleasure to be recording with such a legendary band; Smegma were formed before I was born, they have been making noise for ages, oblivious to current musical trends. It's good to see them getting recognition by the current crop of American noise artists. Together with The Nihilist Spasm Band they are the grandfathers of noise music.
m[m]You've been involved in numerous collaboration now- who would you like to collaborate with next? Be them living or dead?
Lasse Napoleon or Klaus Kinski.
m[m]You mentioned Klaus Kinski, are there any of his films he did with Herzog you would have liked to have sound tracked?
Lasse No, the Popol Vuh soundtracks for the Herzog films are about as perfect soundtracks as I've ever heard. I couldn't in a million years come anywhere close to their brilliance. Herzog understands the connection between images and sound better than most directors; he is one of the few geniuses of cinema still doing strong work.
m[m]Talking of soundtracks, is this something you'd be interested in been involved in the future?
Lasse Yes of course, would love to be involved in creating music and/or sound-design for films. I'm not a fan of abstract video-art, I'd prefer to work on something that has a narrative.

m[m]What have you got lined up next?
Lasse Not that much really. Smalltown Supernoise is doing a new Jazkamer album this autumn and No Fun Productions is doing an LP of me and Dror Feiler. Jazkamer will be touring the UK in September. Plus there are single shows (festivals often) around Europe and in Japan. After that I will dedicate my life to Hare Krishna and spiritual awareness.
Jazkamer, UK September 2007 dates:
7th - Brighton, Colour Out of Space Festival
9th - Newcastle, Star & Shadow, Stepney Bank.
10th - Edinburgh, Henry's Cellar Bar, Morrison Street.
11th - Glasgow, Nice 'n' Sleazys, Sauciehall Street.
12th - Leeds, The Fenton, Woodhouse Lane.
13th - Sheffield, Red House, Solly Street.
14th - Bristol, The Cooler, Park Street.
15th - London, no.signal @ S51 Factory.
Thanks to Lasse for all his time and effort with the interview. To find out more about The tapes Box set, Jazkamer, etc go to Lasse very informative Website here
Roger Batty