Temples to Strange Gods [2007-07-17]Hoor Paar Kraat appeared on the experimental scene about a year ago making strange and surreal ambient/ sound puzzle/ bizarre ritual music- that sounded unlike anyone else. They've released most of their work in very small, but arty and bizarre pressings designed and made by main participant Anthony Mangicapra. Anthony kindly agreed to give me an interview; at the end of the piece you'll find a look back at some of the projects out-of-print work with comments by Antony and reviews of the works by my self.

m[m] How did you first become interested in making sound art/ music? Was Hoor paar Kraat your first project?
Anthony Art has always been a large part of my life, for as long as I can remember; music has too. In fact, most things that have been good in my life have been a direct result of either or both.
I used to write hardcore songs with a few friends when we were very young. The band was called Seeing Red. That was my first "project". We were dreadful. I played in quite a few bands, mostly death metal garage outfits where everything was on 10. I never took it very seriously. Painting has always been my main priority. Working at a used book and record store with 27 years worth of gadgets and junk afforded me the opportunity to work with some pretty threadbare equipment. I would take things home, pair them together and see what happened. I made recordings but I hardly have any of them left. Usually, I'd just make a CD of old records played at the wrong speed, pots and pans, kitchen clatter and then package it up and give it to someone as a gift. I really didn't think about it much more than that until I realized that I'd been doing it for a few years when I wasn't painting.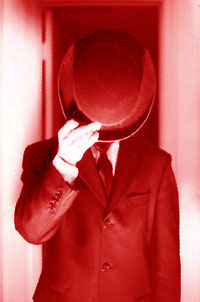 m[m] What are some of your earliest musically memories & what's the first piece of music or sound art that really made an impression on you?
Anthony I have no idea what my first record was but the first record I remember being obsessed with was the Star Wars soundtrack, the nice double-gatefold LP set. I played it every day until I dropped it on the floor. It broke and I sobbed wildly. It's something that my mother won't ever let me forget. I like everything really. From Prince to Dieselhed, Ray Charles to S.O.D. , Masonna to Ouincy Jones, there's really not much that I don't like. If by sound art, you mean more challenging music I'm not sure where to begin. I was very metal for a long time, probably longer than necessary. I eventually fell in love with Earache records and would buy anything they put out. I was the geek who wanted the Earache NOT the Combat/Earache releases. Eventually a guy working at the local record store handed me Painkiller's Gut's of a Virgin, Naked City's Torture Garden and Streetcleaner by Godflesh. I was awe struck to say the least and now nobody wanted to be in a band with me.
m[m] what made you decided to make sound art/ ambience/ surrealist sound worlds? Was there a particular thing that made you decided to take this path ?
Anthony I suppose you could say that my aural work was spawned mainly from my desire to create sound in much the same way I create my visual works. I look at making music in the same vein as painting. Often times the images are already there, you just need to loosen your grip a bit and the painting will show you exactly what it wants to be. Music works the same way, as well. A different combination of players, equipment, timing, etc… will, no doubt, bear strikingly different results.

m[m] What's the origin of your name Hoor paar Kraat?Anthony Hoor-paar-Kraat is the night side of Horus, the blind Horus or Child Horus. He is known as "The Silent God". Many will be familiar with Hoor-paar-Kraat as this was the entity, which contacted Aleister Crowley, through the guise of Aiwass, in an attempt to deliver to Crowley "Liber Al vel Legis" or "The Book of the Law". Others will be familiar with Hoor-paar-Kraat as the Greeks had referred to him as Harpocrates. I could go on but I feel that many my find it a bit boring. Originally, I liked the idea of associating myself with the Lord of Silence when my work was anything but silent. As time goes on, and my work progresses, I'm shown, through a string of undeniable signs that I was meant to take this moniker.
m[m] Most of your work has been very ltd and in art format package- why did you decide to do this? And can you see you making availed once more items that have long gone out of print? Anthony I didn't think of making larger runs because I simply didn't think that there would be a demand for them. I've always focused most of my energies on my visual work. As a painter and a draughtsman, I am happiest, and it only seemed logical that if I was going to make copies of my aural work I wanted them to be as unique as my paintings and drawings are. I like to know that someone is holding in his or her hands, something that has passed through mine. Each piece is handled several times, from cutting and folding paper to silk-screening or stamping discs and packaging to signing and numbering each individual piece. By the end of the process, I like to believe that each one has been consecrated and imbued with a little bit of myself.
I've thought about reissuing past releases but I'm always more preoccupied with working on new material. The same goes for my visual work. I never make prints. This is probably because I feel like looking back is a waste of my time. I'm sure I'll get around to it at one point or another but the act of reissuing a piece becomes more of a manufacturing process. At that point the magick is gone, so I find it less interesting.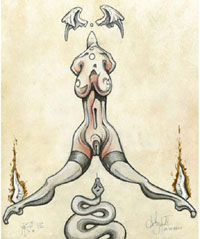 m[m] You've recently released non Hoor paar Kraat items on your label Goat Eater records- how did these come about? And have you any more non Hoor paar Kraat releasers coming up? Anthony I had recently released two other artist's works; Fecalove "Erection" and Drowning the Virgin Silence "Tone". Fecalove was someone I'd stumbled upon via the internet. I'd enjoyed his work very much since first hearing it. I don't listen to much along the lines of harsh noise anymore but there's something about his work that makes me smile. It's controlled but free-form and always fun. We're working on a collaboration between Fecalove and Hoor-paar-Kraat but who knows when that will ever happen.
Anthony Drowning the Virgin Silence is the solo project of Richard Vergez, who I've been working with recently. His work is mainly tape oriented but saying that doesn't do justice to the diversity of his works.
Hand Carved Gentleman is, more than likely, next on the list. Hand Carved Gentleman is the brand new baby boy of Duane Hosein; the other half of Hoor-paar-Kraat and my almost constant creative companion for the past 5 years. It's quite a stretch from what most folks familiar with Duane's past work will expect, but I assure you that it is spectacular. Brandon Samdahl, Richard Verges and I will appear on his first release, but it is mainly a creation of Duane's, and as always, I'm very proud to have been afforded the privilege to know and work alongside him.
m[m] Tell us a bit more about your live performances? Do you recreate already released work or is it all new sound work?
Anthony Very seldom do I enjoy performing. I feel that rather than take the time to drag our equipment out to a club and wait around to play, our time is better spent in the studio. There have been a number of Hoor-paar-Kraat performances, but both Duane and I feel most comfortable when we've coupled exhibitions of our visual work with performances. Generally, galleries and such settings provide a more controlled environment.
m[m] Your last few releasers have been weaving in more extreme guitar elements in- is this something you hope to continue? And are you an extreme guitar music fan be it metal or otherwise?
Anthony As I'd said before, I grew up very metal. The Southern Death Metal Axis Power: Tampa, Florida, was not far. Shows of a death metal variety were to be had at least 3 nights a week. So, I guess I'm geographically predisposed to liking guitar oriented work. What I love about the guitar has little to do with the actual guitar and more to do with the principals of amplification and resulting feedback than anything else. The guitar is the perfect implement for this type of work. When working with amplification, feedback and the surrounding area, it's less about what you're playing and more about what you're feeling while you're playing.
m[m] With Hoor paar Kraat you seem to utilizes a few different people in the creation of your work- Can you tell us a bit more about some of your more key collaborators?
Anthony Of course there's Duane Hosein. He is, for all intents and purposes, my right hand man. Believe it or not, Duane was the original vocalist for Poison the Well. He was on their first album. Don't ask me the name. That type of music isn't my cup of tea. When I met him he was singing for A Jealousy Issue. He's a constant fountain of creativity, a tireless worker and bakes the best damn cheesecakes you've ever had. We began exhibiting art together some years ago and have since gone on to work side by side on many different projects. Having Duane as an integral part of Goat Eater Arts is one of the best things that could have happened.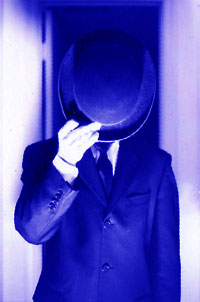 Brandon Samdhal is one of those guys who can play anything and everything and sometimes I feel as though I'm diminishing his technical abilities when I have him involved in something so non linear. We like to refer to him as our Phil Spector. He makes sure everything is where it needs to be. Brandon has got to be one of the most literarily astute individuals I've ever met. Brandon has played in so many bands that I can't even begin to name them all.
Anthony Richard Vergez is the man behind the tapes for us and just the man for his own project, Drowning the Virgin Silence. He's another very innovative gent with a true penchant for the fluxust, surrealist and futurist movements. To look at him you'd think Tim Burton had a bastard son wandering around Florida.
I've worked with many other people. As of now, these are the key collaborators. I have no idea what the future will bring.
m[m] Can you see Hoor paar Kraat playing out side the US? And have you been approached to do this?
Anthony If you're asking whether or not I've been asked to play or exhibit outside of the US, then the answer is no. I'm not one for performing but I will be focusing my efforts on exhibiting in some European galleries.
m[m] what's next in the pipeline?
Anthony Well, Small-Doses is releasing a two track, 3" Cdr called "The Huntington Chapters". That should be out soon. I believe there will be 151 of them but don't quote me on that. They're also responsible for issuing some new works by Aiden Baker, Culver, Fences, Half Makeshift, etc… Keep your eye on this label, as there are good things to come.
My own Goat Eater Arts is releasing a two track LP called "An Anagram Hypnotic". The A side is a reissue of "The Nagaraja Movements" and the B-side is a track called Sundownings which was previously released on a Cdr called "A Tale for Babes and Sucklings". There will be around 300 on black wax. We're fleshing out the packaging as we speak.
I've been working on the first Hand Carved Gentleman release with Duane and Brandon. I don't have a release date yet, but I'm pretty sure I'll be releasing it myself.
Anthony Fecalove and I have been planning collaboration for a long while now. We've even exchanged quite a bit of source material but neither of us has completed our half of the work. Not to worry. It'll happen.
KNVBIRecords will be releasing "In Eros Veritas" on LP. It's a five-track work based upon personal experiences. This should be out in the fall. Recording is done and I have to complete the paintings for the accompanying cover art. They're a fantastic label run by an extremely friendly guy. I suggest checking out a band they've just pressed called Vanessa Van Bastian. House of Alchemy has me appearing on a compilation CD first and later a split with another artist. Aside from all this, I'm painting and drawing in attempts to score an exhibition or two on the west coast, which is where I'll be residing for at least the next year.

A look back- Hoor-paar-Kraat selected discography, reviews and comments by Anthony
An Etymological Study of Tahuti CD-R (75 copies) **out of print**
Anthony says: "This came came out in 2003, I believe. It was my first time recording in a proper studio. It's a bit primitive and there are two other Hoor-paar-Kraat releases before that but I feel "An Etymological Study..." is the first proper Hoor-paar-Kraat album. Aside from myself, the album features Jasper Delani and Peter Giorgio both of whom are from The Second Hand Outfit and Audio Thrift Shop Records"
Review: This consist of four tracks- starting with Some of these Represent Whole Groups, which mixes together a bizarre slightly sped up dialogue detailing being part of a ritual and a political speech. That's mixed with eastern instrumental sound textures, bent and altered easy listerning elements along and other voices and sound layers. The other tracks seems less hectic and chaotic, still using sampled and bent elements, but less dialogue and in a more slurred out of sink manner, mixing together strange ambient and drone textures. Giving a great feeling of a strange reality.
Kuklos Angles CD-R (22 copies) **out of print**
Anthony says: "This was nothing more than a recording of hurricane Frances, some years back. I was trapped inside, waiting for the storm to blow over and decided to snake multiple microphones outside, placed in PVC tubing, to collect the sounds of the storm. While I recorded the hurricane, I decided to play a little piano, not thinking that the microphones would pick me up. If I recall correctly, I was toying around with some Keith Jarrett. I was a bit upset the microphones had picked me up but I seem to enjoy it now."
Review: This consist of one 32 minute track that sticks mainly to bellowing and effective drone textures, with strange out of focus piano tones weaving sliding and melting and out, like an eerier super-eight film of long lost family- strange touching having an almost haphazard William Basinski feel about it.
Romantic Agony in the Arena of Anon CD-R (22 copies) **out of print**
Anthony says: "This was made especially for The Dirty Show, an erotic/pornographic art and performance exhibit. The exhibit is based in Detroit but this was the first time it had been displayed in Miami. Much of the material was based around various pieces of pornography, recordings of groupies and prostitutes."
Review: Consist of five tracks starting with again a eastern feel guitar like drone to start with of Don't Monkey With the buzzsaw, that adds on dialogue of a call girls, going on to talk about self sufcation, weird 50's tv jingles. Where as the next track Ova, has quite a droning dry and noise feel to it. The rest of the disk alternates between more noisy drones and hectic and disorientating sound collages, using a lot of sexual based doilgoue and moans and eerier expanses of modified moans.
Thohu Bohu Double 3" CD-R (23 copies) **out of print** Anthony says: "This was made especially to accompany my first solo exhibition of paintings and drawings. The recordings were meant to accompany an installation piece comprised of scrying mirrors placed throughout a recreated temple complete with an altar and various ritual impliments. These recordings marked the beginning of my work with Duane Hosein (Hand Carved Gentleman, ex-A Jealousy Issue, ex-Poison the Well). Also featured on these recordings were Peter Giorgio and Frank Banici (ex-A Jealousy Issue)"
Review:This consists of three tracks in all from strange stereo panning ambience/drone ghostliness of the first track Loka Ophis Christo that almost has a more ambient coil vibe in places. The uneasy guitar feedback and bizarre dialogue sample of In a Pleasingly Irregular Way, that slides into gone wrong & slowed swamp metal discharge. And lastly Magna Mater with it's strange cutlery movement and placing and slowly growing bell drone like pitch and feedback throb- very uneasy in an early mourning finding the whole camps dead vibe via twists of surrealism.
Asha-Dasha CD-R (42 copies) **out of print** Anthony says: "This was more an experiment in alternate surface and field recordings. Duane Hosein and I are the only players on this piece .It was the first piece picked up by aQuarius recOrds and was very nicely reviewed by them. It marked a large jump from my previous works."
Review: six more tracks that go from odd ritual picking and twanging, echoed unsettling tunnel like drones, muffled guitar chug and traffic noise uneasy, strange almost aquatic voice like sighs, mumbles and odd chatters- very creepy and uneasy collection.
A Tale for Babes and Sucklings CD-R (20 copies) **out of print** Anthony says "This was supposed to be a pre-release for what was to be pressed as an LP. The LP never happened for a multitude of reasons. The first two tracks were previously released as a 3" CD entitled Lemurian Hymns. There were only 8 copies made of that release. The final track on "A Tale for Babes...", Sundownings was made, solo, while my father lay dying in a hospital bed, after a 3 year battle with cancer. An odd feeling came over me during the recording proccess. Later I had found out that at the exact moment I was recording this track my father had gotten out of his hospital bed and began wandering about the hospital, speaking nonsense and being generally discombobulated. I was told that this is quite common amongst terminal patients who have experienced extended stays in hospitals and that the name for such happenings is Sundownings. This track will now be featured as the B side for an upcoming LP entitled "An Anagram Hypnotic". The Nagaraja Movements being the A side"
Review: The first track Chinti Chiti follows on from the strange muffled and eerier not-quite-sure–what- it-is ? sound puzzles and drone dwells of Asha Dasha, but making them stranger and more surreal. The next track Bastet Slumber Drone (waltz) links odd and slowed piano waltz to feedback or cricket sound, before going in to strange low chants and more messed with piano music and cluttering elements. Lastly we have Sundownings (a wake-a-day wavelength) which is built around strange malevolent and disturbing clanking wonky and sinister cinematic/harmonics- feel's like the soundtrack to some multi eyed entity coming through from another dimension.

Mercurial Little Jitterbug (93 copies)
Anthony says: "This was my attempt to strip down what I had been doing and remove almost all effects. I had come to the idea that I would like to work with more natural sounds. So, I'd taken to collecting field recordings and arranging natural sounds. Again, this seemed to be a jumping off point for me into new territory."
Review:
You'll find my review here
Thanks to Anthony for all his time effort and considerable help with the interview/piece. To find out more about Hoor Paar Kraat go here. All the art and pictures are kindly used by permission and are strictly © Anthony Mangicapra.
Roger Batty