Into The Red [2007-03-17]Carlos Giffoni is one of the key figures in the growing US noise underground. he's the organizer and originator of the No Fun Noise Festive in New York city , He's been releasing noise craft under his own name since the late 1990's, He started the No Fun label in 2005 which has just released was his new excellent full length Arrogance (reviewed here). With more releasers from other artist to follow. Carlos was kind enough to agree to give me an email interview.

m[m] How did you first become interested in making sound/ noise? Has it always been in a noise/sound manipulation way? What are some of your earliest musically memories?
Carlos My grandparents gave me a portable tape recorder when I was like 5 or 6 and I used to record fake radio shows with my sister, which included things like monster attacking us in the middle of the broadcast and such things. My grandparents owned an electronics store where I used to hang out after school early on, so I think being surrounded by machines and having several of them running at the same time, being used to being surrounded by inhuman sound early on might have helped.
Also as soon as windows os for pc came out and they had shitty recording device included in the applications out of the box I was really into experimenting with it, you could only reverse, add echo and change the speed, but you could do any of those an unlimited amount of times.

Later on my early teenage years I got invited to be part of a punk/grungy band (this was in Barquisimeto, Venezuela where I am from) and I was always pushing so we would not do traditional structure, which seemed boring to me. but we were doing songs not improvised music or noise; I guess my official beginnings into music were with this band.

m[m] Where did the idea come from to just use purely analogue synths for Arrogance? And can you see yourself just using one instrument or form of sound in the future?
Carlos Recently I just got into analog synths a lot, the intricacies and possibilities of modular patching, the warm sound of analog gear when compared to digital. The possibility of generating precise frequencies well above anything that can be accomplished with digital gear (due to limitations of sample rate and aliasing, not that humans hear can notice but dog ear terrorizing is a nice hobby)

Carlos The funny thing is that I got into it because I studied a lot of synthesis concepts to become better with what I was doing with the computer, I wanted to understand synthesis from the most basic, most lower level possible. And that brought me to an overtaking fascination with analog synthesis.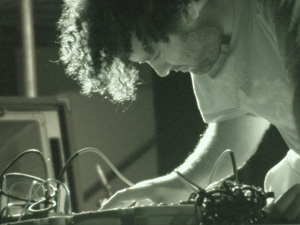 Who knows what will happen in the future? my approach and equipment has always been constantly changing trough the years, so I expect that I will continue to change both equipment and approach with the passing of the years.
m[m] Tell us where the albums title came from? Is it a dig at the more arrogant side of the noise scene?
Carlos I don't particularly think of arrogance being a negative emotion so for me there is nothing to dig at, when you think about it where would humanity be without arrogance? Probably still hanging out in caves, is an essential force for the civilization we as humans have built, the feeling that you have something that makes you distinctive from others and that you can accomplish something more than what someone else ever did and the balls to show it.
Carlos When I started listening to all the collected raw recordings (20 hours or so of material) I was very satisfied with the results, and how it was shaping to be the kind of record that I had envisioned when I started it, heavy in sound, obsessed, slowly shifting. At the same time I felt other people would not enjoy it. Is very different from
what I had done before, and its not and easy record to listen to. Knowing this, I felt very happy to release it on my own label and on my own terms, out of that feeling came the title.
The way the CD is divided and the titles for tracks feel more like a book, chapters of sound. It is not only a CD: it is sound, artwork, and a concept that all work together as a complete package. I feel indeed a little arrogant about the final result.
m[m]How did your improvised noise rock project Death unit come about? And are there any thoughts to tour more world wide with this project?
Carlos It was initially put together for no fun fest 2005, I wanted to have something that was like a cross between heavy free jazz improvisation and the heavy hitting noise of hijokaidan, Incapacitants, Merzbow, totally tight and relentless but at the same time mostly improvised. I also wanted it to be 100% American, made up of really heavy young players of the recent generation that represent the new underground in the US. I also wanted to put a band together that would put all other improvisational units to shame, just kill them right there. And at the same time I had several ideas that I wanted to try out with two drummers and electronics. Adding Brian was the final element for getting the sound even heavier. We were all so psyched on the final result from the no fun gig we decided to do some recordings and more shows, and now this is an ongoing band and we are planning another US tour and hopefully more recordings. Is hard to get everyone's schedule together as we are all really busy with multiple projects but I think well worth it. If the right opportunity came along with invitations for a fest or other means of paying for transportation I think we would do shows overseas as well.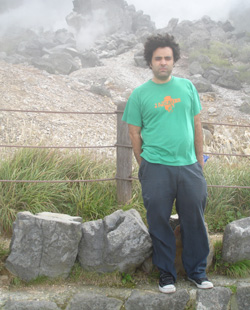 m[m] Other than Death Unit – have you got any other projects lined up?
Carlos There is 2 collaborations with Merzbow about to come out, one of them also with Jim O'Rourke. I hope to do more with Masami and with Jim in the near future; they are on my top list of musicians and are both great people all around.
Also working on collaboration with Marcia Bassett that just needs to be mixed, recordings have been really intense.
There is also Jackal Blade which is a project with M.V. Carbon(of Metalux) recorded two years ago that might be finally coming out soon. really dark electronic music. it's not really noise.
Carlos Next will be a really intense project I am going to be working with Prurient that I can't talk about yet but that is going to be a major focus for both of us this summer and that is going to make everyone cry blood without them even knowing what's going on.
As far as TBA tours I am doing a Europe tour in late April/early may with Hivemind. I might also be doing some more shows in the US in August on a small tour that I cant talk about yet. _ I might be playing a few things in Scandinavia again in the fall. And I usually get a few invitations to festivals over seas every year that I enjoy doing very much, we'll see if more come this year.
Other than that my main focus this year will be more on recording new Material and working on the label. There are a few records that have been brewing in my mind for a while now that I want to get to.
I've toured a lot in the last 4 years and done a lot of many different things, and now I finally feel very focused, I feel like I know almost exactly what I want to do from this point on at least in the near future....
m[m] How did you first come up with the idea to do the no Fun Festive?. And are you surprised how much it's taken off?
Carlos The Idea of having a festival of the music I liked was always in my mind. It was very calculated when I put it together the first year. I knew it was going to be successful, I knew everyone was going to kick ass live and I knew it was going to sell out if I had the right combination in the line-up. It wasn't like I came out of nowhere and put the fest together, I spent a few years booking shows and learning what worked and who I could trust for advice and for putting their 100% effort into it. It seemed obvious to me that the next step to kick things into shape was a festival where we could all present and interchange ideas, and show the rest of the world what this was all about. Welcome to the new era of absolute heavy music!
m[m] what have been some of your favourite memories performances from past no fun fests?
Carlos Man there is too many to even start recounting them; I really have enjoyed every single performance I've seen at no fun. And every night is like the party of the decade for me.
m[m] who's on the line up for this year festive? And how is it going to be different from past festivals?
Carlos Is a very large line-up just check the site here
for the full line-up.
It's going to be 4 days instead of 3 and everyone will be playing out of the main sound system in the main stage. Also is probably the biggest line-up as far as a combination of higher profile names, bands that will be first time ever playing in the US, and totally new and exciting projects.
m[m] where did the idea come about to form the no fun label? And what can we expect from the label this year?
Carlos Actually from the first No Fun seeing all the killer merchandise people had put together in one place, and thinking that I also had something to say on that area. That there was something really cool I could put together, I know a great number of amazing musicians, artist, designers and I have a very definite aesthetic about how I
like things to look and sound.
The bands/artist on the label have full freedom to do whatever they want for the releases, but I try to shape the direction of the sound/artwork/ format so that as a whole you can tell./feel that is a no fun productions release. I get everything mastered and produced top quality style. It has to be perfect or is not worth doing.
m[m] Do you think your way of making sound and compositions changed over the years? And how do you going about writing tracks? Will it be a sound texture, that influences you first ?
Carlos Yes sure. It has changed a lot, instrumentation, equipment is very different, my ways of communicating with and understanding sounds have changed to, evolved and tuned into something more complete and precise.
Writing tracks for me is like this:
I start from a concept / structure / idea in my head and then work my way around it with different sound combinations on my equipment until I have a combination of things/sections that I feel satisfied with and that I feel work together as a full structure. Then I hit record and try to put my best possible live performance into it using those parts. Then I edit out the parts that I think didn't work well when listening a few times on playback. There is no overdubs, studio tricks or layering of any kind, is all done live.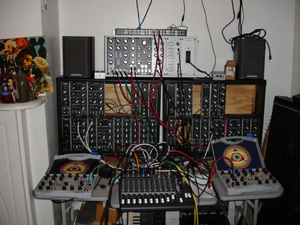 Like right now the next thing I am putting together is a tape for the Heavy Tapes label, and I know the title and loosely what it will sound like before I have done any specific sounds. I just don't go in there and record whatever noodle around, everything comes from an initial idea, a sound in my head, an interesting structure.
m[m] Gives us your list of the most important USA noise records And why?
Carlos I am having a really hard time putting a list that is all inclusive and doesn't take me 800 hours of work to put together. there are many records of American noise old and new that I consider essential and there is much I would like to say about them, and there are many that I am sure I missed because I am young compared to the whole scene. Would be easier to make book about it instead of trying to put an Incomplete list together!

m[m] How do you feel about noise becoming more of a mainstream form? And if one was to compare it to punk whom do you think will be remember in years to come as innovators or noise most prominent figures?
Carlos I am not sure it can be called mainstream form, I think right now is the true underground, a completely parallel and thriving culture that is far more interesting and complex than what's going on in the mainstream.
I am not sure if anyone will be remembered in that way, But people like Merzbow, Whitehouse, that have been around for a while already have somewhat of that cult status that will not go away. In the US only band that might be getting to that level is Wolf Eyes. But we'll see what happens, there is a lot of really great talent and people working very hard and with great concepts and amazing personal investment into this that could all very well be remembered in that way. That's the most exciting about all this, is all very alive, changing, evolving, becoming the new now every second.

m[m] what's coming out on the No Fun label this year? And are you working on any more solo stuff either for no- fun or other labels?
Carlos Outside of what is already released:
Merzbow/Carlos Giffoni/Jim O'Rourke- Electric Dress CD
Consumer Electronics -Nobody is Ugly LP
Deathroes LP
Mesntruation Sisters -MA LP
Smegma/Jazkamer CD
C.C.C.C. -4xcd boxset of unreleased live and studio material.
Lasse Marhaug LP
Crumbling (Oscillating Innards+Pedestrian Deposit) LP
Leslie Keffer/Rodger Stella LP
Mouthus 2xLP
Demons CD
Nels Cline CD
Lambsbread 3x7" box
Thurston Moore -Sensitive CD
Hivemind LP
Tovah Olson LP
Zaimph LP
Sickness -A Savage Man Ruin's LP
Besides these, there is 2 vinyl box sets and a multiple cd set that are going to be specially great and blow minds that I am not ready to announce yet but are basically confirmed. + a few more killer things currently being worked out. I am always thinking / looking for things that would work on the label, so I am sure more will come out this year that I don't even know about yet.
Thanks to Carlos for the interview & supplying the Photographs for the interview. To find out more about Carlos work go here. To find out this years No Fun Festive here. To order direct No fun Label titles here.

Roger Batty