Sátántangó DVD [2007-01-18]What you may ask has a piece on a seven hour plus arthouse film have to do with a site that is predominately music based?. Well it's the almost grim ambient way that the film unfolds it's self,and the clever and mimlist use of sound design and minimal musical invention, that I felt would fit right in with our sites interest in sound and the way it's purveyed.

Bela Tarr's breathtaking seven half & hour celebration of grimness & beauty of life Sátántangó is Originally from 1994, But Was issued for the first time in Europe on DVD towards the tail end of last year in by Artificial eye. Coming in a rather nice card box slipcase, with the film split in three over the three DVD's.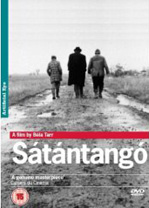 The film tells of a struggling Hungarian rural collective and the hope a prophet like stranger brings. To tell anymore would rather ruin the effect and surprise of the film, I guess story wise in a traditional sense little happens, but in the long lingering shots, the characters actions and faces this tells many stories, as someone once said a picture is worth a thousand words & it certainly is here. It's shot completely in black & white, which really seems to enhance the long panning shots of landscape making them almost become like the films characters life worn faces. Also the way Barr films you feel like it's literal all going on in front of your eyes, as he films from the back of characters or long shots that travel along the whole length of time worn buildings, or his truly inspired shots of characters disappearing off into the distance, which I know doesn't sound very captivating, but trust me it is.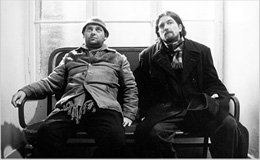 As mentioned at the start the musically intervention is kept minimal – it comprises of gloomy tolling like ambience, various low down ambient hums and a recurring rich bleakly hopeful low grade synth/ accordion theme that will sudden appear in it's world weary wonder. But it's never over done & for large parts of the film there's no musical backing at tall. Just maybe the sound of wind or rain which is beautiful recorded and aptly balanced, making the sound design here like all great cinematic art a big part of depth of atmosphere and I guess here even more so a unremoveble part of the artform it's self, I would venture to say with out it the films impact and depth would not be the same. The music for what there is, is supplied by Mihály vig, who also plays the community charismatic saviour Irimiás.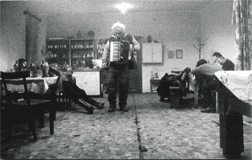 Really this goes beyond cinema and film in the conventional sense, as the white on black credits pass by seven hours later, you feel like you know the characters on a very intimate level and ultimately it alters the way you see mankind and the world around you, which is very deep praise for any kind of art. Don't be put off by its length or arthouse label, this really says something to everyone about the human state and ultimate life it's self. Truly spellbinding visual and audio art.
Roger Batty