Joyful Sounds [2006-08-08]Matinee orchestra self title album was one of the really surprise records of the year, seemly coming out of nowhere and bowling me over with itís patchwork of sounds, a mix varied instrumentation, to make an charming and quirky album that straddles genreís. Youíll find my review of it here. Andrew Hodson is the main man/ conductor behind the project, he kindly agreed to give me an interview, via cdr:

m[m] How did you first become interested in making music?
Andrew I started playing the drums when I was 9 or 10, partly As I was quite Badly Dyslexic, I wasnít really good at anything and so my parents wanted to encourage me to do anything Iíd be interested in. Because I thought Iíd be good at it, My parents brought me a second hand drum kit, I stated playing the drums, and it went on from there, I think really liked that, as I made lost of friends, I played in pretty much bands every night or every day, I played in jazz bands to Wind bands, brass bands etc.

Andrew In secondary School I started playing Guitar, We started quite a few different guitar bands, I moved away from jazz and school Classical music. I moved in to punk rock and stuff like that, so I was into Sonic Youth, and Nirvana was happing at that time. That just carried on, I started playing music everyday from such an early age, and it feels odd now if I donít make music or sound art every day.

m[m] You call your album a ďlaptopĒ album, but it has Such a organic feel to it, how did you managed to get this sounding so un laptop like?
Andrew I suppose I did describe it as a laptop album. But maybe I should have called it a minidisk album, as the first few three songs were started on a mini disk. The idea was I couldnít afford to go into the studio, Iíd been in a band before called Jumbo, where weíd bankrupted are self by trying to record an album in a posh studio.
Andrew I got a mini disk, and realized it had reasonable good sound quality to it, much better than the four tracks Iíd used in the past. So what I did instead using four track is use two mini disk players, Iíd go to a friends house and recorded something with them, then I listening to the other mini disk and play over it, recording it with the other mini disk. Basically thatís how we started to make the music; weíd all be listening to a recording with one ear to the headphones. Then weíd try and play along to it. Next Iíd put the entire mini disk on to a really old computer; edit it using an old programme called Acid. As time went on I got a laptop, it took four years to make the album, which is a long time. When I got a laptop it became a lot easier, because I got a soundcard were you could listen to yourself, then play along side it. So I called it a laptop album as the last few songs where recorded on a laptop.
Andrew The reason I called It a laptop album is basically not because I constructed it in a manipulative way, although I do manipulative a lot using the computer, mainly because Iíd go to different peoples house with the laptop and a small sound card and a c1000 microphone, and basically It would just record the muilt track round other peoples houses. Iím really into collaboration, I donít partially like working on my own so much. I called it a laptop album because it wasnít recorded in a studio it was on a laptop around peoples house, the records that I make Iím interesting in recording outside, the sound of the places I recorder are interesting to me, Studio recorded albums just sound of the boring studio. As Iíve done a lot of sound art/field recordings of trains etc, I became quite quick at recording, at grabbing my laptop and get performances from people, and as there in their own surrounds, the performances are more natural, relaxed- thatís really what I meant by A laptop album.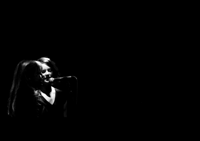 m[m] Are any of the instruments played in real time?
Andrew I think I answered that in the last question, Most of the instrument where played in real time, but due to other technical issues I had to cut and splice, chop and change, because the mini disk way of recording. The tuning problems we had with the first album, were because it was on mini disk itís difficult if a musician is playing along to mini disk to get the right intonation and tuning, so as a result you get the sound like a school orchestra at times, but I really like that sound when itís done well.
m[m] How was the album recorded, I believe you recorded it all over the world? Was this by choice or necessity?
Andrew As you know Iím very much into collaboration and the nature of the recordings been quite portable, so it was by necessity really- first a lot of the recordings are co written, I create everything on the computer, and I have the last say. When I started the record I wanted to set up a record label, I had a list of people and one of the people on the list was Grace or Tin -yin as she credited on the record, but she wasnít interested in releasing records, she wanted to be write and have me finishing it off. Also I looked into the cost of setting up a record label and it was going to be too expensive, Iíd love to release field recordings of records of people sing Spanish folk song, but I just canít afford it.
So I thought Iíd start a band and release them as this synthetic band, with me as the main player, Iíll move around with the record and record people. Tin Ė yin is from Taiwan, but half through are recording, her visa run out so you had to return to Taiwan, she did recordings of stuff on mini disk and field recordings from over there, so thatís how the Taiwanese connection came in. As for the Spanish connection, my girlfriend is Spanish- so we go over there quite a lot for family events. So I take my laptop and recorded stuff over there. My girlfriends part of the band so she introduced me to people out there, were I was able to record a pianist and other musicians, along with field recordings. I also have recorded stuff in Scotland in a similar way, I take my laptop with me when ever I travel , and I have a friend who lives in Scotland who plays flute, so Iíd recorded him.
m[m] The album has such an English feel to much of it, was this active decision on your part?
Andrew Well thatís quite strange- since I was talking about the collaborations with Taiwanese, Spanish and Scotish. When I was making it I thought it was a real mix of cultures, but when I was giving out the music, a lot of friends comment on how English it sounded. I guess it does, when we were linking Taiwanese folk songs and music boxes, this is more eastern ideas, I guess it wasnít it just, landed up sounding English. So it wasnít an active decision, the active decision was trying to make a culture diverse album. On the track ďIíll never be afraid againĒ we use just mainly burzoky which is an eastern European internment . Apparently other people think itís got a very English tea drinking sound, which Iím happy about; I always think itís nice that people see it in a different light.
m[m]what are you working on at Present?
Andrew Iím doing three things at the moment: the new matinee orchestra record, after the first record got some released and it had some interest, I thought Iíd look Iíd go through my six hard drives of music, to find stuff that could be matinee orchestra, I turned up 26- recordings that could be of interest. Some of them where songs some of them were things Iíd done with Tin- Yin, and people. So I mixed it down and put it on my mp3 player. Walked around a listen to them, Iím Still listening to them now, Iíve already got the new album, but it very rough some of the tracks are just guitar and a bits of vocals. Thatís the way grace works -with twenty seconds ideas, that are just little hooks that need to make into to song, so thereís a lot of work to be done there, I hope to get the new album done for next year.

Andrew Iím also working on a sixty screen video installation called Timepiece, which is basically a sixty screen that stream this footage of old clocks for one hour that I built this program that turns on and off all these screen in real time, itís a bit like Steve Reichís Clapping music, so you get this kind of percussive music, but it's also avisual thing with all the screens turning on a off, so you almost like been in a musically clock shop.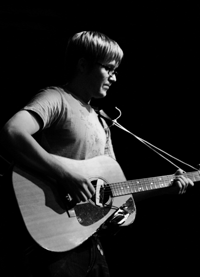 Andrew The last thing Iím doing is setting up a charity- Which is work Iíve been doing for a long time with people with mental health problems, itís basically a community recording studio in Manchester, I do a lot a lot of recording of community groups, but mainly focusing on people who are social inclusion of people with mental health problems, thatís been going since the being of the year, weíve done loads and loads of recording work.
m[m] What are your top 10 favourite albums?
Andrew Thatís an almost impossible to do, as Iím huge fan of music and sound art. Iíve scribbled down some ideas here, Iím just going to blurt them out, if I donít Iíll just change them, as Iíve gone over ten already.
The first album is wizard of a true star by Todd Rundgren, which I think is a brilliant record I donít really like his new stuff or early stuff, but I think at this period was very interesting sound composer/ music composer. The way he structured the album is amazing, the first eight songs just link together so well, I heard it for the first time when I was eighteen, Iíve not heard it for a while, but it still stands as one of my favourites.
Number two is fasutr bunnys another diamond day, It was the classic lost album- which I got before is re released, I got a really scratched tape I think from a friend, but I loved that record ever since.
Next is Steve Reich Ė electronic counterpart- really I could pick any of his work from 1970ís to 1980ís, but I think electronic counterparts is an amazing piece of music, even though itís a fifteen minute piece, and of course the orb sampled it- I think itís just an amazing piece of music.
Forth is Delia Derbyshire compilation- itís not an official one, but Iíve gone through the radiophonoic workshop and made my own compilation, I think all the stuff she did like the Dr who theme is amazing, to think she was working on her own with such a passion for sound.
Next is Miles Davis, I think Iíll have to say on the Connor but all of his all the electronic period, when he became electronic, Iím really into his drum sound, I listen to a lot of that at the moment, he released a box set of outtakes from those session, itís amazing and brilliant music.
Next is the American folk anthology- Iíll pick social music from the boxset, but the whole boxset just blew me away- you put it on to you mp player on random, and learn it slowly, ever time it comes on.
Next is Basil Krichin Quantum- I think itís a brilliant record heís into social records, field recordings, and free jazz, Iíve just discovered him, itís on trunk records, some time itís scary with the free jazz elements and the drone stuffs just brilliant.
Next is Nina Simone in general- I had a compilation that I put on to mini disk- cant remembering the name of the album, so unknown compilation.
Andrew Next is my last I think is, I couldnít decide thereís the velvet underground, Asa Chang and Junray, Iíve also got this weird compilation of scared heart music, oh also the books Ė lemon is pink. Have to say the Asa Chang and Junray and the books were been compared to me, so I tried to change tack, I was a bit bitter since people were working at similar time, but anyway I like both of those records. But I think Iím going to say Jim OíRourkeís Eureka ,Which I think is amazing ,I think John OíRourke is pretty brilliant the way he records everything.
Andrew Oh Iíve missed Brian Eno Another Green world, Which is a record Iíve rediscovered after a while, I like music for airports and Apollo music, but I think another green world is were is he managed to mix Avant gard and pop music perfectly.
Thanks to Andrew for the interview, Thanks to Sonia from Baked Goods for arranging the interview, you can check out some samples of matinee orchestra at their myspace site here.
Roger Batty