Nightmares from within mothers cradle [2006-06-04]Andrew Liles is a Brighton UK based electronic musician whoís wide range of work has included an album dedicated to surrealist Hans Bellmer, collaborations with Nurse with wound, Darren Tate and eccentric English aristocrats. All wrapped up in his own disturbing world of half heard voices and child like nightmares. As he enters into a feverish period of activity that includes new albums on Beta Lactam Records and shows in America with Nurse with wound I caught up with him by e-mail.

m[m] Your recent album Mother Gooses Melody Or Sonnets for the Cradle features Alexander Thynn the 7th Marquess of Bath narrating nursery rhymes. How did he come be involved in the project?

AL Mother Goose came about in some respect through my friends Beequeen/Wander - Freek and Frans. We were going to do a recording based on something English and eccentric. I said that I would approach Lord Bath, they hadn't heard of him and wanted to do something about Vivian Stanshall, but I had already approached Alexander and he agreed to do it. I went down to his estate and recorded him. He recorded everything in one take, It was all very brief and I haven't heard a word from him since.

m[m] For people who donít know, could you tell us who Vivian Stanshall was and why you were attracted to producing music about this surreal character.

AL Vivian Stanshall was the front man for the Bonzo Dog Doo Dah Band, 60's Monty Pythonesque band. I prefer his solo work as Sir Henry at Rawlinson End, a fictitious English upper crust idiot savant - amazing stuff, lyrical and hilarious, with an amazing use of language. Viv was an alcoholic and died one night falling asleep with a lighted cigarette - if you want to know all about him read his biography 'Ginger Geezer' a fascinating intelligent and witty man, who like so many drowned himself in a bottle. He has all the raw materials for a homage - a lifestyle that was fantastic and tragic - film fodder.


m[m] This use of nursery rhymes and nightmarish childlike imagery is a theme throughout much of your work, both sonically and visually. I have heard some people say childhood has many aspects of the perverse within it, could you tell us a bit about what these images mean to you and your work?
AL Childhood for me in many respects represents magic and charm and fear. It is a time when things that go BUMP or BANG in the night seem very very real. As we become older and more homogenised the world looses its monsters in the cupboard and people under the stairs. As an adult our fears are bills and responsibilities, being mugged and aging. Its very sad that we lose all our wonderment and our anxieties and seek rational answers for everything.
I think the childhood theme inherent in my work is partly because I don't really feel I had much of a childhood, in a lot of ways and for a lot of reasons I became an adult from a very early age. So maybe I have a very 'dark' view of the world I am living in and the fears and hopelessness of the modern are transposed into childhood themes. I guess its from listening to Black Sabbath from the age of 11...'All you Children of today are Children of the Grave' hahahahahahah

m[m] You have released a large volume of material over the last ten years or so, how did you get started recording and who were your main influences.
AL I started recording from about the age of 12 - on tapes - the main influence on me was Black Sabbath, UFO, Scorpions and Judas Priest. I went to see Michael Schenker when I was 12, so I guess I wanted to be a rock star. By 14 I had more eclectic tastes and discovered I was far better at creating and manipulating sounds than playing guitar.
My main influence after that was Jim Thirlwell who proved you don't need a band. So I began to write, record, play and produce everything on my own. I was never really very good at the band thing and the other members of the band wanted to sound like other bands and not make weird sounds half way through a song.
m[m] You did an album based on the works of erotic surrealist Hans Bellmer called Aural Anagram. What was it about his work that appealed to you?
AL I love anagrams and Bellmers art is basically anagrams of body parts. I love fine details and eloquent line drawings. I think if I had the talent to draw what I visualised in my mind it would be like the art of Hans Bellmer. He touches on so many of my interests the taboo, medical anatomy and of course sex. I really think Bellmer is very marginalized and not credited with the kudos lesser surrealists artists have attained.
m[m] You have recently done some shows with Nurse with wound most notably in Vienna and I believe you are going to be playing at the much anticipated San Francisco NWW shows. You have also recently done a remix of a Nurse with Wound track for the Absinthe Duplais Blanche Box Set. How did you get involved with Steven Stapleton, and do you have any further collaborations planned.
AL I met Steve through Colin Potter. We plan to make an album together at some point - its meant to be a jazz, lounge album and we have done a bit of work on it already. We both love vibraphone and Big Band music, how the album will evolve and when it will be made is any-ones guess. We are both really busy on different projects and coping with varying lifestyles so time is short at the moment but we will get there in the end.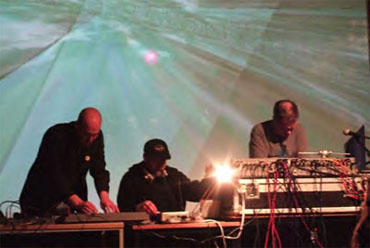 m[m] In my interview with Matt Waldron last year he questioned the wisdom of producing expensive and highly limited art or special edition versions of releases that are snapped up in days only to reappear on Ebay for even more inflated prices. His exact word were:
"I think such collectable editions are only as valuable as people can be tricked into believing they are. A society that perpetually compels its populace to fleece their neighbours in order to keep up with the cost of living is ultimately doomed"
So far you would seem to have kept your work readily available and affordable so where do you stand on this issue?
AL If people want a unique and 'special' item that's great - I am a record collector as well and I really like that touch. I think some things can get out of hand and there are issues why people resent it. But at the end of the day it is a question of choice - if you want it - buy it. Matt is right collectable editions are only worth what the purchaser believes them to be. If given the option I would love to see my music in Tesco's, it is what it is when you play it not what packaging or edition it comes in. Some of the best music ever made can be found in supermarkets the world over for £2.99 or the rarest most obscure unusual lathe cuts in charity shops for 10p. In Vienna I found a 1950's lathe cut of American Gospel music for 2 Euros, I have no idea who its by, it has no artwork but its one of my favourite records I wouldn't sell it for less than a thousand pounds! Also in my opinion some of the so called rare and obscure collectable records that everyone clambers after are more often than not, the worse thing you have ever heard.
m[m] You have a new album thatís just come out on Beta Lactam Ring records called The Dying Submariner. The subtitle describes it as a work for piano and reverberation. Is this a purely solo piano record? Does this mark a shift in your composition to a more straight forward classical or instrumental approach?
AL This is purely a solo Piano recording with reverberation - it does what it says on the tin - nothing but Piano. This is a one off - its nice to have labels that support me in pretty much anything that I do. I donít have any set parameters in what style or feel or theme or fashion - if I want to make a jazz funk album I will. I think its boring to keep on churning out the same thing, I need diversity in what I do. It becomes staid and predictable if you cant break out now and then. If you stick with what you know you are not learning anything new. I also know my audience like different styles of music, they are a very broad minded lot. Some albums work out better than others and people are going to like some recordings more than others, but to stand still is to become dull. In general I am making music for me, music that catalogues my life and my experiences - a musical diary if you will. I am not creating a piece of entertainment for 'fans', what I do is for me and it marvels me that anyone is interested but I highly appreciate and value the people who love what I create.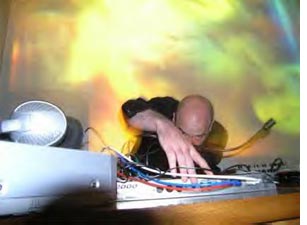 m[m] Sadly Iíve never attended one of your live performances, but I know you have performed all over Europe and the US. What is your approach to performing your music live, and do you feel the audiences differ across Europe and the US. Iím particularly interested in your experiences in Poland last year.
AL Live music is a very much a place where I play different music, I use a lot of random elements to entertain myself as much as the audience. Its a totally different animal to the studio and I feel that the music should sound totally different live to what it does on record, after all you can listen to the record at home. You want it to be different if you are paying to see it performed.
Poland last year was odd really, we had some rowdy guests who didnít like me in Warsaw and they waited for me after the show to do who knows what. We escaped in a taxi post-haste, it was a great experience none-the-less, Krakow was great. Poland is a great place with some really nice people.
m[m] You have a new album due for release in September called Ouarda - (The Subtle Art Of Phyllorhodomancy) which features many avant-garde stalwarts like Danielle Dax, Karl Blake and Edward Ka-Spel can you tell us what to expect from this new album and what exactly is Phyllorhodomancy?
AL Ourada has taken close to 3 years to make and is really the only recording I have made where I think every track is a winner. I think I have evolved and matured as an artist and with the help of everyone on this recording it really is a unique album which would really be nothing with out the people who dedicated so much time and talent to the album.
Phyllorhodomancy is divination by rose leaves. It was practiced by the ancient Greeks, the art was to clap a rose leaf on the hand and by the sound created one could judge the success or failure of certain desires. The thing that interests me most about this 'art' of divination is what kind of sound ordained what, I really donít imagine there to be a huge array of varying sounds to predict anything. How can one clapping sound denote DOOM and the other LOVE?, its an interesting concept. I thought it was quite a romantic notion anyway and I adopted it for the album title

m[m] Bit of a lazy question but anyways, if you could record an album with any musician living or dead who would it be and why?
AL I have recorded with pretty much everyone I want to work with - but on the dead front I would of liked to worked with Ivor Cutler, Vivian Stanshall, Ronnie Barker, Bob Monkhouse and Dick Emery and on the live front um, tough one but in another world maybe Alison Goldfrapp, Bjork, Girls Aloud, Missy Elliot and Kylie Minogue, in short dead comedians or live women.
Andrew Liles The Dying Submariner is out now on Beta Lactam Ring records, he will be playing solo and as a member of Nurse with wound on the 16 and 17th of June at the Great American Music Hall in San Francisco. http://www.andrewliles.com/
Duncan Simpson