About airwave excursions and other popular adventures [2006-05-08]Last year I discovered Sublime Frequencies, a label dedicated to release popular music and field recordings from around the world, and the following months I have been ordering small batches of their releases every month. What follows will be a mixture of an 18 CD review (with the omission of the DVD's and the editions Leaf Music, Drunks, Distant Drums, Brokenhearted Dragonflies: Insect Electronica from Southeast and Bush Taxi Mali: Field Recordings From Mali, a choice being dictated by personal finances and preferences) and an interview with one of the label's founders: Alan Bishop.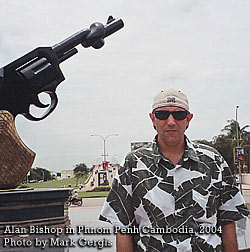 A different approach
"The idea has probably been unknowingly and indirectly manifesting for a long time. Many of our releases were already finished or in progress for more than a decade or longer. The actual breakthrough to start the label came in 2003 when Hisham Mayet, Richard Bishop and I decided to give it a shot", says Alan Bishop (also a member of Sun City Girls with his brother Richard). The label focuses on the popular musics that are neglected by the regular world music scene, who either has a museum function of preserving ethnic and art music, fixed in the status which is deemed 'pure' and free of Western influences. On the other hand you would find the more modern approach of fusing contemporary Western pop and jazz styles with the traditional musics, which to me is the only real 'world music', because it's the direct consequence of globalisation. Then again, you could argue the endresult is somewhat alienated from that same world, because it can work out rather contrived for it doesn't have the firm ground of a living tradition. Sublime Frequencies reports directly from that. Sometimes of a while back, like 10 or 20 years ago, but it's the real popular music, the stuff that's really part of the lives of the people in these countries. Did you feel there was a gap that needed to be filled, was there some goal, something you wanted to acclomplish? "There is no actual plan and there never has been. We will continue to release as much great music from the areas of our personal interest as long as we can stomach the continual torture of dealing with all facets of the music business." What particular problems does the label stumble upon? "The usual", says Alan: "like radiostations and magazines/press all asking for free copies everyday to play on the air or review. The countless e-mails from all over asking us stupid questions and the continual grind of manufacturing procedures and damage control which always seems to occur frequently in production. The barrage of solicitations by advertisers, the tasks of processing and shipping orders and many other details we do ourselves and all because I will never trust an intern or hire employees because I don't want them around. The music industry is a pain in the ass. Of course a necessary pain, but a piece of shit regardless!" Speaking of manufacturing procedures, maybe it's because my dayjob is in the graphic business, but the looks of the CD's seem to me a bit messy. On one hand I can understand how it connects to graphics in these countries, but on the other hand some pictures seem rather pixelated and taken from the internet. "Yes thats the byproduct of inferior scanners and office equipment. None of our images, as far as I know, are snaked from the internet. Many are our own personal photos and assorted images found along the road. We take great pride at pissing off people who are working in press graphic departments. They are the same people who wait until the last minute before sunday deadline to ask us for a high res image on a friday afternoon three timezones away expecting us to jump up and start praising the lord that we'll be covered in their precious magazine. By sheer disdain for the media, I usually return those e-mails a week or two later, explaining that I was either in a whorehouse or a prison on an extended eco-tour of Babylon."The CD releases of Sublime Frequencies roughly fall into three categories: song collections of pop and folk music, radio collages and field recordings. Two releases that don't completely fit in would be I Remember Syria, a double CD which features recordings from the radio, interviews and music, as well as recordings from the streets of Damascus like the chaotic Duelling Cassette Kiosks. In 'Greater Syria' we'd find an interview with a homesexual from Aleppo, rock and pop from the 1970's and 80's as well as the 'Norias Of Hama' which are huge irrigation mills. Personally I found this one of the tougher listens. I had to get used to the chaotic collage style of the Radio editions, where you'd find great tunes suddenly being cut off and I'm quite new to fieldrecordings as well. The other one that doesn't fit in the categories would be Streets Of Lhasa, on which you'll find recordings from street musicians, playing music in a secular tradition with as a highlight a three-year-old singing amazingly well, despite sometimes having the lyrics whispered in his ear by his dad, but with an endearing enthusiasm. Again a musical tradition not well documented as the focus generally is on Tibettan monks. You'll find monks here too, but these are engaged in a fiery discussion where they'd stress their arguments with the clapping of their hands. Not at all as 'zen' as one would expect. I wonder if there are criteria as to what an SF release is: "Yes and no. Often we do not know the criteria until we hear the music or find what we never realized we were seeking. At times we have very specific aims and if those aims can be achieved, we have a release. My personal interests are in Southeast Asia, South and west Asia, North Africa, and the Mideast. With the inclusion of the DVD's there have been four models, but there will be other forms added soon". Like the release of full albums of the artists that pop up on these compilations? "Yes, we are currently working on three projects which will feature one artist only from their country. Unfortunately I will not be able to tell you anything more about these releases until they get finalized. For now the planned releases for June 20th 2006 would be a DVD: Phi Ta Khon: Ghosts of Isan (Thailand's Ghost Festival) (a film by Robert Mills), and the CD's Ethnic Minority Music of NE Cambodia (Recorded/Compiled by Laurent Jenneau), Radio Algeria (Recorded/Compiled by Alan Bishop) and the double CD Radio Thailand: Transmissions from the Tropical Kingdom (Recorded/Compiled by Alan Bishop and Mark Gergis)"

Pop and folk sounds
The easiest format to digest for me are the pop and folk collections. The popindustry in these areas works differently from ours, with apparently less concern about copyrights and intellectual property, with a diffuse market of legal and illegal copies sold in kiosks. In the case of Cambodia chances are that under the murderous regime of Pol Pot, under whom a large amount of upper and middle class citizens were killed, included the musicians and composers of this music. Also in Cambodia cassettes are regarded as old fashioned and CD's are the main format. In a library in Oakland, California the source material for Cambodian Cassette Archives, Volume 1 was found. Gems of popsongs in the somewhat funny sounding Cambodian language have strange synth sounds, electric guitars alongside the traditional instruments. The strangest music from the entire SF catalogue is the unidentified nineteenth track (some tracks have been impossible to find all the info and leave you with questionmarks), which must sound weird anybody, Cambodian or Dutch. Some music seems funny sounding at first, is it okay to laugh at some of this stuff, as a Westerner, I ask Alan: "Absolutely! Why not? Don't people laugh everywhere? How many Cambodians or Indonesians or Morocccans do you think laugh hysterically at Americans and Europeans for their ridiculous belief that they live in a Democracy?" In some cases it took some effort, to get myself acquainted with the idiom, as much of these sounds were indeed very new to me. But it pays off: I've found that there's plenty of irresistible popsongs with lots of real drama and emotion. Some of my favourite SF releases are among the pop and folk collections. Breathtaking 'orkes gambus' from Sumatra, Arabic sounding because of the input of the Jemenite population there. Hallucinatory flute and reed melodies in the tunes by Samsimar on the first volume of Sumatran pop and folk, as well as a strange take at gypsymusic in Sri Mersi by Pimp Rubiah. Genres you never know existed like 'pop minang talempong', which is the incredibly catchy Pariaman by Fetty, which can be described as 'Abba goes gamelan'. The following spinechilling drama of the following song by H.J. Zamara almost brings tears to my eyes. The two volumes for Burma are equally intrigueing and also very varied. The first is a diverse mix, where Sein Sah Thin's Really Strange And Weird Thing, arranged for a rock band, would put progmetallers like Dream Theater to shame. The second CD is focusing on rock and surf-like guitars, which is definitely of interest if you liked the collection Steam Kodok: 26 A Go-Go Ultrarities from the Sixties Singapore and South-East Asia Underground on the Grey Past imprint. Guitars Of The Golden Triangle might even be the easiest accessible of the entire SF collection, so recommended as a starter. The style called Molam, coming from the northeastern region of Thailand which known as Isan. A unique feat of this music the use of the 'khaen', a free-reed bamboo mouthorgan. The music is often in a fast, rhythmic pace which seems to be designed around the language, although there are also more gentle sad songs lamenting lost loves. Other songs have interesting titles like Husband Drunk, Wife Drunk and Don't Want, Don't Want - Marriage? No way! Another personal favourite would be Choubi Choubi!, the Iraqi collection. From socialist folkrock by Ja'afar Hassan to the almost scary sounding drums which are typical for Irak. It stems from the nomadic tradition of 'Khishba', a.k.a. the 'Zanbour' (which means 'wasp'). These drums indeed sting like a wasp, and sometimes are even electronic making it even more a thing more typical for an artist like Muslimgauze, than poptunes from the middle east. With all this diversity, is there any intention in giving an idea about the 'scene', as some sort of sociological thing, or is the aesthetic the only objective? "The bigger picture regarding variety only applies in the Radio discs because of the anomalies available for transition collage and potential transitions, the difference in sound quality (utilizing FM material) and the true kaleidoscope of ideas available in general across the radio spectrum. We are not pretending to be "objective" because objectivity is an illusion. Everything is subjective. No individual or organization in the history of mankind has ever been able to achieve what a dictionary would define as objectivity"
Radio collages
Like I said earlier, the radio collages may seem somewhat frustrating at first, once you're get yourself accustomed their fragmentary nature you could see it as an exciting trip where you can find yourself, in the case of Radio Morocco, jumping from French chanson into Berber folkmusic. Or on Radio Palestine from Jewish chant, to Arab folk into Greek rembetika. All interspersed with radio announcements, jingles, snippets of newsreports and a generous dash of radio static and 'Mexican dogs' on the outer fringes of the ether. Something you wouldn't find as much on Radio Sumatra: The Indonesian FM Experience, which features, in comparison with the other Radio editions, more Western influences. Strange anomalies like Sumatran rock/rap in Dangdut Is The Music, jingles completely modeled to American examples but also Islamic chants. The album in total sounds more modern and features more curiosities. I can imagine the circumstances to record this aren't always ideal, as in: 'plug and record'. Alan confirms: "Yes, the way I do radio discs is not as simple as some people may think. Many areas are not great for radio reception so I have to move around alot and spend prime hours of the day and night finding what sounds good. And of course, there's the question of aesthetic. Others may not agree with my choices in content yet thats not a problem for me because I insist that everyone will be hearing my personal mix of material. I'm not concerned with how any Sublime Frequencies material will translate to the public. I record dozens of hours of radio from a certain region and spend weeks transferring the music to disc then listening for grade A material to isolate before the final cuts. The final editing process follows with transitions between cuts getting established and in the end, some of our final products have up to 175 edits not including the ones made in real time as I originally recorded them from radio." My personal favourites in this section would be Radio Java for its amount of delicious gamelan pop and Radio Morocco, for having the best flow of events. Cambodian edition Radio Phnom Penh is also very nice, most music there is old songs, remixed with newly done drums for instance. Actually, most of the tracks on Cambodian radio are remixes from before the Khmer Rouge regime, while the original masters (which date from the late 1960's to early 1970's which was a creative highlight in Cambodian music) got lost. The version of The Beatles' Hard Day's Night is also noteworthy, and almost as curious the Indian version Europe's The Final Countdown (which is cut rather short, sadly) found on Radio India: The Eternal Dream Of Sound, which is definitely a highlight, but because I'm rather wellversed in the area of Bollywood a little less surprising to me than the other issues. The most curious one, with a distance would be Radio Pyongyang: Commie Funk and Agit Pop from the Hermit Kingdom. The soundquality generally is as good as Radio Sumatra, but the music is the strangest in the whole series. Most is in honour of their leader Kim Jong Il, and they honour him with heroic orchestral songs, arranged with synthesizers. Maybe not as good as the others, but intrigueing indeed.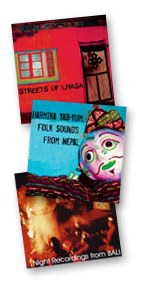 Field recordings
Leaves us the fieldrecordings. I must say I'm a newby to this and I found these so far the least interesting. One issue, which is not stricly field recording because there's some radio recordings to found there also, is already reviewed at our site: Harmika Yab-Yum. Thanks to those radio pieces I found it easier to digest than the Night Recordings From Bali, which I feel I need to play some more to get a grasp on it. Fierce gamelan playing, barking dogs and mysterious nights serves as a memory of a place you might've never been to. Again the 'fieldrecording' isn't completely adhered to with for instance an awkward radiorecording of gamelan sounds mauled by the airwaves. Streets Of Lhasa is also graced by the more ethnic recordings which keep me interested enough. The field recordings are the most pure, ethnic even, approach. All the other music features plenty of exciting mixtures of Eastern and Western music. The label seems to thrive on this clash of cultures, which can easily be seen as a serious threat to the exact diversity that the label celebrates: "Yes, the Western influences can be a terminal cancer especially the modern technology of workstation keyboards and samplers replacing actual musicians and the tones of instruments used in songs. How any guitarist could settle for the U2's The Edge or Andy Summers' guitar sound instead of a Hendrix or Dick Dale sound is beyond me... the synthesizer bullshit tones and novelty effects are employed now instead of the Hammond B3 organ or Farfisa? It's like absorbing diet soda or diluted coffee intravenously these days when listening to music. The styles of hip hop and adult contemporary music are storming the globe like a locust swarm and there is no end in sight to the carnage created and the rotting corpses of the past are mostly what we are attempting to resurrect. Its the same in any medium, industry, market and product, as the old saying goes: 'They don't make them like they used to'." So far the label has been exploring your personal interests in foreign countries, but can you imagine including the West, as predatory as its influence may seem to be, there's still some 'out there' traditions found the more rural areas of Europe and the U.S.? "Yes these possibilities are rather intrigueing and I would not rule out the potential of future endeavors in this realm. We would probably have to depend on others to compile such a release and submit it to the label. We have many other interests ourselves and dozens of projects already in the works.Start mining
Indeed, with the four releases for June in mind we shouldn't have to worry. The vast amount of available music in these areas wouldn't dry out very fast so the adventures don't have to stop anytime soon. Sublime Frequencies is a great addition to 'world music' and a great documentation of music almost forgotten. You can start digging at the official site, allthough their titles are also distributed by independent shops around the world.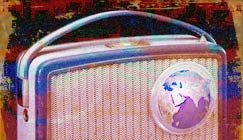 About airwave excursions and othe...
Last year I discovered Sublime Frequencies, a label dedicated to release popular music and field recordings from around the world, and the following months I...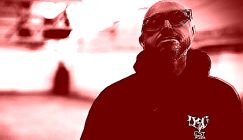 Colossloth - Promethean Meat
Returning to Cold Spring with their latest album, UK's Colossloth continue to plumb the depths of industrial with the rough and crushing Promethean Meat...