Soothed by the Detail [2006-04-24]Brian McBride's is best known as one half of the ambient project Stars of the Lid. He released his first solo album late last year; When The Detail Lost Its Freedom, which was one of my favorite albums of last year. A beautiful, haunting collection of songs. An ambient classic, I reviewed it here. Brian was kind enough to give me a e-mail interview; were he talks about When The Detail Lost Its Freedom and his work with Adam Wiltzie on the new Stars of the Lid album.m[m] How did you first get into music making? Was it always in an ambient vein?
Brian From 1989 to 1994, I had this radio show at the University of Texas's station called The Dick Fudge Show. I didn't really know much about radio or spinning records or experimental music when I started. I quickly discovered that I was more interested in making music out of music and found sounds than just lining up song after song. I had various friends who would work the turntables with me. We'd typically put ourselves in the mood before and during the show ingesting things we weren't allowed to on the UT campus. The show was basically a place where I could try my hand at mixing every sound I could find. At times the show was incredibly chaotic but eventually as I became more familiar with what I was doing and what I wanted, it settled down. I loved making the familiar unfamiliar, using deception to highlight certain aspects of songs. Layers were a way for me to push melodies and textures back into the distance and then bring them out again trying to reemphasize something about some Chopin or Beethoven or some Can-record that I thought was great. It wasn't long before I figured out that I bring my own sounds and melodies no matter how slight. I'd hunt weekly in thriftstores for environments records, something reminiscent to sounds from the womb, records about hypnotism, really anything I could get my hands on. I used to walk around with this hand-held tape recorder, recording everything from Taco Cabana drive-throughs, car alarms, TV channels, taxi-cabs, and elevators. I'd bring it all home and try to make sense of it on my TASCAM four track recorder (maybe it was a MK2). In due course, I found a guitar in my hand and started using it to generate tones. I wouldn't say my music making has always been in an ambient vein. I've made music with various friends which rocked just as much as it restrained itself. But it's fair to say that I got my start composing with little pieces of abstraction.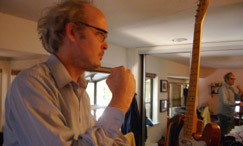 m[m] How do you go about constructing a track?
Brian No different than anyone else really. Start with a sound, a melody, sit down on the piano and map something out and then try to fill the map with different instruments. Often times I will play along to some loops, record it all and just pick through the recordings to give the performance some more ballast. Take 30 seconds out of 30 minutes sorta-thing.m[m] Do you, find your surroundings influence your music?
Brian How can they not? But how they influence is an open question. You may live in a loud environment where you must compete against traffic or the sounds of your heater, inspiring you to overcompensate or just rise above everything you already hear. You may live around distant sounds that you try to emulate. I'm not sure how my surroundings actually influence me but I know they do.
m[m]How did your solo albun When the detail lost its freedom come about?
Brian The record came about by itself. Since I record everything at home, I get the luxury of doing things according to my own haphazard schedule. I get to make music when I need to. The record was just a collection of some 'need-to' times, something that I'd like to think we all probably share. I call them weak moments: you see through everything but still nothing looses your attention, like everything that you see and you do see, you notice too much, it all seems to confirm just how wrong world seems to be. The record was just a reflection of some real black and white times in my life. Times from my vantage point that are still very much a reality for a good deal of America. America is a very dark place at the moment. Sure it's entertained to no end but politically and culturally, it's a place that's lost any in-between. You are truly either with us or against us in a lot of ways. We live with a government that doesn't seem to believe in detail, it has no need for it. Everything just is the way it is.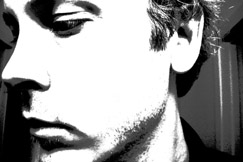 m[m] Over what period of time was it recorded?
Brian The record was recorded from 2000 to 2004 roughly.
m[m] How did the writing and construction of When the detail lost its freedom; differ from your work with Adam Wiltzie as Stars of the Lid?
Brian The Lid is very much side-determined: everything works around that 20 minutes. I knew my record was going to be more of a collection of individual pieces. I wanted to retain what I had originally heard in each of the pieces without the need to worry so much about seamlessness. I wasn't living a seamless life at the time and the record was hopefully going to reflect some of my discontinuity. So, like most records I've ever been a part of, typically when you first record something, in that first 30 seconds where you're listening back, you know whether or not you have something. For me, I was super stressed out at the time and there was obviously a chance that I could have been deluding myself. What I thought was there – what I thought was something worthy of being musical – could have been total crap. So I go on to try to resuscitate or reappropriate or re-something this music and inevitably you're gonna listen to what you did way too much. You're probably gonna listen to it until you hate it. In the end, the goal was to stay true to what I had thought was musical at a point in my life where I would not describe my mental faculties as trustworthy. So I guess the record is one part a scrap-book and another part trying to do something positive with lousiness.
m[m] Is there any kind of concept behind the album?
Brian If you play the record at the same time you play The Wizard of Oz you'll notice that you'll fall asleep before Dorothy gets out of Kansas.
m[m] The track Our Last M oment In Song, has almost traditional song structure to it, is this path you like to go down more in the future? To my ears that track also has a feel of Roger Waters period of Pink Floyd, are you influence by Pink Floyd?
Brian Not really. There are some great Pink Floyd songs out there but I listen to maybe three or four. I think you think that Our Last Moment in Song has a traditional song structure because it has vocals. The song has an A B A structure which, as far as the record goes, isn't unique to that particular track.
m[m] How did you and Adam Wiltzie start working together as Stars of the lid?
Brian He wandered into the radio station I was working at drunk proclaiming that his car was out of gas and he hit a deer. It turned out that he was definitely drunk and although there was blood on his car, I saw no deer.
m[m] How have you managed to record the Stars of the Lid album since Adam now lives in Belgium? And has this presented any problems?
Brian Adam and myself manage to record our records by trading ideas – sending phrases, tones and sounds through the mail and over the Internet. Eventually we get together in the same room and try to make sense of it all. The only potential problems our distance presents is to the listeners. If we lived in the same area, arguably we'd be more present in each other's lives and maybe we'd put out more records as a result. Although I doubt it. For us, the distance works except when one of us is getting on a plane to visit the other. The distance gives us time to mull over the other's contributions. We're not forced to react too quickly to what the other has done because of a studio deadline or some need to record the overdub on the spot. I think it breeds restraint.
m[m] have you or have you every thought of collaborating with anyone else?
Brian Yes. Ken Gibson, Michael Linnen and Harold Budd. Ken's a friend of mine here in LA; he's a mad genius sort of musician with a completely different aesthetic. Michael is someone who I constantly harass about sending me some things to work on. He's just someone who I see as on the same page with me primarily because I adore so much of the scores he's for a bunch of David Gordon Green films. And Harold, well, that would just be the bee's knees, wouldn't it.
m[m] I see all of your work in a very visual way; do you see it in that way? If so have you every thought of doing any visual for your music?
Brian Depends on what you mean.Anyone who'se seen a Lid show knows that Luke Savisky's 16mm film loops are a necessary and intimate part of our performances. It goes without saying that I'd love to score a film, but it would have to be the right film.
m[m] is there any film you would have liked to compose the score to?
Brian I'd like to be a fly on the wall for Delerue's Le Mepris or Badalamenti's Twin Peaks but beyond that I'd love to take a crack at Chris Marker's La Jetée. La Jetée has this built in sense of breathing space partly because its single stills. I don't know I just feel like it would be a good match. That my talents wouldn't do the movie an injustice.
m[m] what kind of movies do you enjoy?
Brian I enjoy the sort of human/realist films that don't feel the need to wrap up neatly. I enjoy films that don't subtract the human from the story. Films that demonstrate deliberation or indecision, the ones that remind us of everything that happens in the in-between time even though it's not plot clue. I've noticed that a good series has more time to let characters breathe. Maybe that's why the Twin Peaks series is so dear to my heart. But I love me some soap opera-Sopranos or Six Feet Under-style or the Krzysztof Kieslowski's Dekalog series, Terrance Malick and Kubrick's work.
m[m] Is there any news on new Stars Of The Lid material?
Brian The news is that our latest is almost done. Hopefully, we'll wrap it up by May and it should be out in the fall.

m[m] Any idea what's it going to sound like? A progression from Tired Sounds Of The Lid, or are you going trying a different tact?
Brian The music is always progressing in some way or another even if we're not entirely conscious of what's occurring. But to really answer your question, there are many elements that seemed apparent when recording Tired Sounds that have stuck with us: more emphasis on melody and less reliance on ambience for its own sake. We don't want to make records that just drift along.Just because we make music that is quiet doesn't mean that we're making ambient music. If ambient music is to be understood as easily ignored or actively listened to, what music isn't somehow ambient? We are making music that does draw attention to itself. It may be quiet but that doesn't mean it shouldn't be paid attention to.We're not at the point in our musical minds where we're trying to focus on experimentation or process over result.Don't get me wrong there are things about our process that I enjoy.As an idea is nice to take what would be the equivalent of musical scraps – or throwaway sounds, like the sound of a piece decaying to its conclusion – and turn that into a song. I enjoy turning what's seen as sound and giving it a more overt musical expression but I'm not a fanatic about it. We have a process for sure. Neither of us have ever used a keyboard or a synthesizer in recording one of our records – I don't know why really, but that's how we've been doing it.
It goes without saying that we do have a process, but we have the benefit of having some records under our belts, so we need not over-think the way we do things. We are still trying our hand at what we've been trying to do for along time: making classical music with guitars but now we are also incorporating more traditional classical instrumentation. So in a nutshell, the new record is gonna sound like the sound waves emerging from a telekinetic battle between penguins and monkeys.
m[m] What are your top ten favorite records?
Brian Top ten favorite records. Jeezz, that's never an easy one.
Angelo Badalamenti - Twin Peaks Soundtrack
Harold Budd and Brian Eno - The Pearl
Bill Doggett - As You Desire Me
Gavin Bryars - Sinking Of The Titanic
Brian Eno - Discrete Music
Ennio Morricone - Sepolta Viva or L'assoluto Naturale
Harold Budd - The White Arcades or The Serpent (In Quicksilver)
Michael Nyman - Drowning By Numbers Soundtrack
Francis Lai - Un Homme Et Une Femme
George Delerue - score to Le Mepris
m[m] what are you working on at present? Any thoughts of doing a tour?
Brian No 'Brian tour' at the moment. I play my first LA concert on April 9th at this club called Spaceland. For the most part, I'm working on finishing this Stars of theLid beeswacks. It's a real barnburner. No it's a tearjerker. No it's a barnjerker, I can't remember what we agreed on. Tearburner maybe?
Thanks to Brian for the interview and Mat Dryhurst from Southern Records for organizing it. Go to here for samples of both Brian's solo work and Stars of the Lid, and of course to buy direct. Stars of the lids website is here.Roger Batty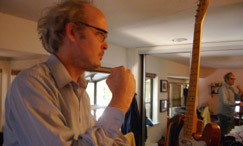 Soothed by the Detail
Brian McBride's is best known as one half of the ambient project Stars of the Lid. He released his first solo album late last year; When The Detail Lost Its ...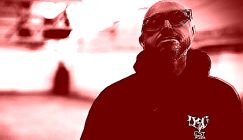 Colossloth - Promethean Meat
Returning to Cold Spring with their latest album, UK's Colossloth continue to plumb the depths of industrial with the rough and crushing Promethean Meat...