Listen to the drums, how they complain of separation [2005-04-10]A while ago a young band released their debut After Dark. With influences from drum 'n' bass, Björk and Billy Holiday and inspired by poets like Rûmi, Hafez as well as the Chinese Tao Te Ching, branding Prana Trio's style 'jazz' would be too limiting. Bandleader and drummer Brian Adler tells us more about his band.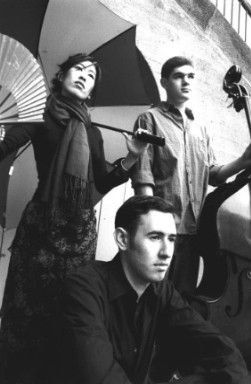 m[m] Where did you meet the other members of Prana Trio and what's their background?
Brian The three of us met at NEC a few years ago. Sunny Kim grew up in Korea and then moved to the US to study after high school. Before that she played classical piano, but once she was over here, she became more interested in jazz, electronics, hip-hop, and improvised music and these styles now seem so natural to her. Evan Halloin is a classical bass player. He is a member of the Boston Philharmonic and many other classical ensembles. I don't think he has ever had a "jazz" lesson, and yet he is an unbelievable improviser. I prefer playing with him to playing with almost any other jazz bass player that I can think of!
m[m] What is your musical background/schooling?
Brian The first instrument that I picked up was a pakhawaj, a North Indian barrel drum similar to tablas. I began playing it at the age of 5 to accompany Indian devotional chants in a small ashram in upstate New York. Then, when I was eleven my mother bought me a drum set, which I have clung to ever since. At that time I was just playing around for fun with several garage jam bands. I became more and more serious about the drums when I began listening to and studying jazz. Drummers like Jack Dejohnette, Jim Black, Nasheet Waits, Paul Motian, and Elvin Jones made strong impressions on me. I was fortunate to be living in NY and I was in close proximity to many amazing musicians with whom I was able to go and listen, study and even play. In 2001, I furthered my study of music by attending New England Conservatory (NEC) in Boston. There, I studied with Billy Hart, Bob Moses, Cecil McBee, Jerry Bergonzi and Joe Morris among others. NEC opened my mind to a whole spectrum of music that I never could have imagined. I was able to study European classical music, gamelan music, North Indian classical music, avantgarde, electronic Music, etc. The students at this school were so talented and forward thinking; we were able to really try anything when we played together. It was very liberating.
m[m] You're the band leader, does that mean you hand out sheetmusic to everyone?
Brian Yes and no. I do write most of the material for the group, but I still encourage them to bring in original compositions, or poetry as well as anything else that they feel might be relevant. However, when I bring in compositions, they are not complete. I like to introduce material in a raw state and then work on the composition as a group so that we each have the opportunity to offer something unique to the music. I try and write the music with them in mind, but there is nothing like Sunny and Evan actually making changes or additions themselves. Plus there are so many improvisatory departure points within the music which shift around with every performance that the songs are never actually finished. If a song ever gets to the point where it is to predictable for us, then we change something. I was talking about this topic with John Hollenbeck and he said: "Compositions must remain in a liquid form."
m[m] Can you see yourself joining a band as a performer with someone else leading?
Brian Absolutely. I love being a side man just as much, if not more than leading a band. I really enjoy the process of trying to get inside another leader's head to come as close as I can to recreating the sounds that they hear while still making my own contribution. There is this absurd growing trend among side men where they rely heavily on their skills to carry them through the project. Many of them don't really practice the music or give it any thought outside of playing the gig. This does not make any sense to me. I always make sure to ask for copies or a recording of the music ahead of time and I like to discuss the musical vision with the leader even before the first rehearsal.
m[m] Do you feel that, particularly but not exclusively that the New York improv scene, is sort of running past themselves? Playing too many gigs for whatever reason without giving the music the time to breathe and grow?
Brian No, the more that is going on the better. Man, I wish I lived in the "loft" scene of the 1960's and 70's where musicians would just be playing publicly or privately all of the time, literally for over ten hours straight! That kind of complete emersion is a key element in making the music grow. And the general shape of the music scene is going to breathe naturally. It is so vast and so much bigger than any one person or group that it will always have an ebb and flow to it as long as people continue to play.m[m] Do you think true greatness can be achieved in a democratic band structure?
Brian Of course! Look at Medeski, Martin & Wood or The Bad Plus. It is difficult to have a group of people who all want the music to go in the same direction or who at least are flexible to alternative ideas about where it should go. But hell, if a group has that, then that's great.
m[m] What defines jazz in your vision?
Brian Several musicians playing for little or no money in a bar for their girlfriends. No, I'm joking. I prefer not to define terms like jazz or swing, I would rather leave that up to listeners and critics. I just try to play music and I hope that I succeed.
m[m] Do you consider yourself a jazz musician?
Brian I am not sure. I was a jazz performance major in school, but I don't think that I really consider myself a jazz musician, just a musician.
m[m] You use mystic texts like Sufi poems and Tao Te Ching. Why and what do they mean to you?
Brian First of all it is great stuff and I recommend that everyone check some of it out. But the reason that I use it is because at this particular point in my life, I am mostly interested in playing music that has a strong meaning behind it. I do think almost all music has a meaning to it. But I think a lot of the times that the meaning does not always come across to the listener. So part of it is that I don't want to lose the listener with some kind of self-gratifying show, but at the same time I don't want to dumb it down. I think it is good to push the limits of what people are expecting to hear. With this type of poetry, I believe that I am able to achieve that balance. But compositionally, it is easier for me to create a piece when I have one of these poems in front of me. I find that the song flows out of me in a much more organic way than when I sit down to a blank sheet of paper. And since there aren't a whole lot of people composing improvised music to these poems, I feel like I have some room to explore new realms and do what I want to do.
m[m] Wouldn't it be logical to include Persian/Turkish influences, regarding the origins of the poetry?
Brian I would like to, I just haven't found the time to study it as of yet. But it's on the to-do list.
m[m] Do you meditate or have rituals for composing, to get in touch with these poems and/or their subject matter?
Brian I do meditate and I do have certain ideal conditions that I like to set up for composing. I like to find a poem and just read it a bunch of times. Then I will usually write some notes, ideas, or feelings, really anything that pops into my head. After that, I try to link some of those abstract thoughts to concrete musical concepts, still without even touching a piano. For the next few days I will just let the poem and my thoughts run their course. This is the time when I get more and more anxious to finally sit down and write the song. This initial process usually culminates in a sleepless night, where I have so many ideas bouncing through my head, that I have no choice but to go to a piano and begin to write and shape the song.
m[m] Do you think that there are contemporary poets/writers in whom you find the depth of these Sufi poets, and would you like to work with such people?
Brian Possibly. I haven't found too many that I like as much as the more ancient poets. There is something about words that have been around for hundreds and hundreds of years that have more a powerful, almost primordial, quality to them.
m[m] You're also a teacher, who do you teach and what would you like them to learn from you?
Brian I have taught at a few high schools and camps, but I prefer to teach privately. I like to focus on many things, but one major thing is to not be afraid of the drum set. Drums are very intimidating and it takes a long time before you can begin to take control of them and the sound that they produce. This is a life long lesson. I also like to focus on the improvisatory aspects of the drum set such as the tone color that is produced, tension and release in phrasing, using motives to develop ideas, listening, and playing within the spaces of the other musicians. As Bob Brookmeyer once told me: "where they ain't, you are." I think that that statement holds a lot of truth in terms of timbre of the instrument(s) and phrasing.
m[m] Pessimists think kids of today aren't interested in 'real' instruments anymore, do you see any proof of that in your teaching practice?
Brian What instrument is not real? Is a newspaper a real instrument? Because I have heard recordings of Philly Joe Jones playing his ass off on the NY Times with some brushes. I also heard a recording recently of someone rubbing, or more literally squeaking, their fingers on a balloon. It was fascinating! And I have heard African field recordings of several postal workers putting stamps on mail; those guys grooved just as hard as James Brown's band! As far as I am concerned, everything can and should be an instrument. I would encourage any student to play anything and take it as seriously as if they were playing the violin.
m[m] You are also on an undergraduate degree yourself. What do you still want to learn?
Brian By the time this article is published I expect to have graduated with a Bachelor's of Music from NEC, but by no means at all is this the end of my time learning. If anything, the purpose of school is just to wet my appetite for further self study, which will last the rest of my life, if not longer. But, to answer your question, one thing that I am always trying to perfect is how to play with high energy and intensity, but as quietly and as controlled as possible. In addition, I am always working on deepening my sense of groove and pocket even if I don't always play it.
m[m] What other projects are you working on? What can we expect from them?
Brian I have a lot of stuff brewing, but at the moment I am pushing Prana Trio as hard as I can. The best way to find out about what we are doing in that group or other projects of mine would be to check out my site.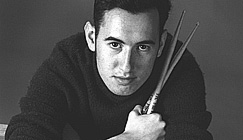 Listen to the drums, how they com...
A while ago a young band released their debut After Dark. With influences from drum 'n' bass, Björk and Billy Holiday and inspired by poets like Rûmi, Hafez ...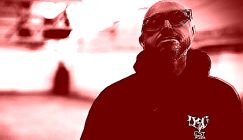 Colossloth - Promethean Meat
Returning to Cold Spring with their latest album, UK's Colossloth continue to plumb the depths of industrial with the rough and crushing Promethean Meat...