Back To The Dark Madness Of The Past [2022-04-26]

Existing since the late 1980's Schloss Tegal is an incredibly important and influential project, within both the dark ambient and industrial scenes. It takes its unusual name from a hospital castle near Berlin, which served as a psychiatric clinic treating soldiers with art and music therapy during WWII. So far they have released sixteen releases, taking in nine full-lengths, and a selection of splits & EPs. Schloss Tegal sound is a mix of cold & brooding industrial structuring, dark ambience, and an often fairly heavy use of samples and field recording elements. Eight Tower Records have recently reissued the project's 1991 debut Musick From Madness on CD, so it seemed like a prime time to interview the project's one and only member Richard Schneider- with the email interview focusing on the project's early days, and of course their debut album.


M[m]: What are some of your earliest sonic/ musical memories, and do you feel any of these went on to influence your work with Schloss Tegal?
Richard: I think the first track on Jimi Hendrix's album Electric Ladyland was my earliest experience with experimental acid trip music. In high school, I remember listening to it while taking acid and watching other crazy friends shoot up speed and acid cocktails. I would say most of my earlier experience with LSD has influenced me and the hallucinatory psychogenic sound of today. It made me experience things in detail and it's still happening today in my sound and visual artworks.

M[m]: When was your first encounter with more industrial/ noise sound- and do you see any one track or album being impactful in your true love for the genre?
Richard: I had a college radio program called "Tesco Disco|" which is where I met the other original member of Schloss Tegal MW Burch. I would visit the local record store every week to buy records. I only bought import records and I kept seeing this group Throbbing Gristle as I would browse through the stacks. I picked it up and it said, "20 Jazz Funk Greats" Hmm I said "I'm not into jazz" and put it back. Then another time I saw Throbbing Gristle "DOA Music from the Death Factory" on Industrial records. Then I saw on the back cover guitar, violin, tapes, drum machine. Drum Machine! WTF is a drum machine! I must have this record. I took it home and got high ready to listen to it, put on the phonograph and read the back notes about the Hamburger Lady. Then I put on the first track, Hamburger Lady. I was completely blown away by this band and this record. Then soon after TG came to Lawrence Kansas to record "Nothing Here but the Recordings'' by William Burroughs. They spent some time in Lawrence Kansas recording and I was privileged to socialize with them for some time. They brought a cassette with a band they said they are releasing by a registered mental nurse called Surgical Penis Klinic. Then I went to San Francisco to see their final show in the USA before the band broke up. On the long drive back to Kansas from San Francisco, I stopped at Wax Trax Records shop in Boulder Colorado to shop for records. I was chatting with the guy in the shop, and he was playing records for me. I said I had just stopped through town after seeing the TG show in San Francisco. Then he said, "OH! in that case let me put this record on for you to try then". He put the Whitehouse "Erector" on red vinyl with a handmade penis cover. It was just feedback noise and horrific scary vocals. I was blown away again! I walked back to the record bin and bought every Whitehouse record they had which I still own today. Then later the next year I was in my favourite record store in Kansas City browsing through the 7-inch singles when I saw the Surgical Penis Klinic 7 inch on Industrial Records. Here it is! I must have it! It's on Industrial Records. I brought it home. I anxiously and nervously put it on and the retard screaming chaos started. I took the needle off and said WTF! Then I finally built up the courage to listen to the whole track. Later I was in Kansas City at another record store and came across a black album with an autopsy on the cover. I thought this must be the same band SPK. I must have it. It was the first release of Information Overload Unit. Later that summer SPK came to Lawrence Kansas and played their best set of the tour which totally flatten the audience and blew me away totally. That was the point I realized how powerful sound and music was so immediate and a mind-changing experience. Whitehouse played at the VFW Hall in Kansas City soon after. No one really knew what they were like. Mostly punks attended the show. I was anxious to see the reaction of the crowd and wondered what they would do live after hearing the albums. The whole venue went into chaos as Bennett walked around brushing against punks and calling them whores, sluts and other vulgarities. He threw a drink on one punk girl trying to leave. There was a man of colour sitting on a chair and Bennett says something derogative, and the whole crowd got violent, and one guy ran up and pulled the table out from Peter Sotos' wasp synth and the show ended with Sotos standing there holding a synth in his hands. A piece of the stage came off and was being swung around the room by the audience. All of these experiences really influenced me at the time I was in art school. It was the birth of the industrial music noise scene in the USA. I thought I wanted my sound and live show to challenge people and their belief systems like these groups did for me.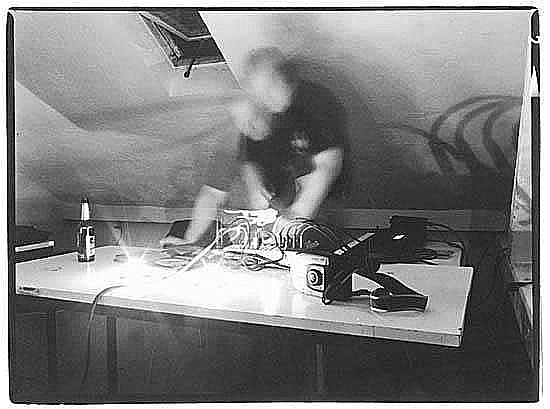 M[m]: What was your impression of Throbbing Gristle when you met them back in the day?
Richard: When I first discovered them, I was fascinated by their subject matter which was a mixture of science and death, as it had never been done before. Especially tracks like "E Coli" and "Hamburger Lady". So, I was very excited to meet them at the radio station at KJHK radio in Lawrence, Kansas. I had lots of questions for them, and we spent about 4 hours interviewing them and playing their music on the airwaves. That is where we first heard SPK. They brought a demo cassette of the 7 inch on Industrial records. Genesis said they were quite crazy people. Peter Christopherson was there and spoke about the new Apple computer. That was the first time I had ever heard of a personal computer. I later went to see them in San Francisco and met the whole group there and Monte Cazzaza and V Vale of Research Magazine. Flipper opened for TG and they were the loudest band I have ever heard. Meeting Throbbing Gristle was a dream of mine that came true after meeting Genesis and Peter. They were an inspiration to me to self-release my own work. A few years later Schloss Tegal opened for Chris and Cosey in Missouri. Lustmord was driving the RV and doing the visuals.
M[m]: Please discuss how and when Schloss Tegal first came about? And what made you select the project's name, and were there any other names you considered?
Richard: The first-ever incarnation was called Louis Lingg after a poem by Aleister Crowley. In fact, Louis Lingg opened for Whitehouse at the VFW Hall show. The name came from a clinic outside of Berlin that was once a mental asylum. It was a pastoral setting for patients, and they were treated with art and music therapy. It seemed like the perfect name for what we were doing. We found the name in the Menninger Journal of Psychology at a printing house where we both worked. We found out that the Menninger Psychiatric Clinic in Topeka Kansas was founded and based on Schloss Tegal in Berlin by Doctor Ernst Simmel. I think the name is still relevant to what I'm doing today.
M[m]: How different was Louis Lingg sound from Schloss Tegal's? And what memories of supporting Whitehouse, and how did you find the project in person?
Richard: Louis Lingg was very different and really just a one-off thing. It was our first attempt at power electronics and noise. I did visuals on VHS tape, projections of images and other things that night and MWBurch was performing and another member. It was an assortment of Synths and processing. As I recall now it was Louis Lingg, Hunting Lodge and Whitehouse that night. I already had the only Whitehouse albums in the USA so I was really curious what they would do live. At the soundcheck, I chatted with them about the tour. They were doing it hardcore on a public bus from city to city. I was surprised all they had were two wasp synths and a flanger for the mike. It was like performance art no one called it power electronics until later. A completely avant-garde ground-breaking experience I will never forget.
M[m]: Do any recordings of Louis Lingg still survive, and any thoughts about releasing these?
Richard: I don't have any recordings of Louis Lingg or photos. It was just a one-off show and not the true incarnation of ST. So, all of that is lost.
M[m]: Recently Eight Tower Records have reissued Schloss Tegal's 1991 debut album Musick From Madness- please could discuss when/ how this album was originally recorded?
Richard: It was recorded on a home 4 track Tascam cassette tape machine which was state of the art at the time. Music from Madness was really the first cassette released on the Tegal Records cassette label. It was recorded at many different times and locations then put together from the tapes. I was put together from many different sessions. We were only doing a few cassette compilations at that time. Officially the first album is The Soul Extinguished which was limited to 300 copies. It was reissued on CD, and It is still available. It came after the release of our first 7 inch "procession of the Dead".
M[m]: Musick From Madness is often quoted as one of the key/ first albums in the dark ambient genre- how do you feel about this, and what were your influences when recording the album?
Richard: At the time we were not thinking about dark ambient. I never heard the term until someone reviewed Black Static Transmission did, I hear the term dark ambient. But I thought, nice dark ambient. I like it. Nothing is intended to be dark ambient; it just was labelled that. I just happen to be called a dark ambient. I think it has become a catchphrase for everything these days. That is why I prefer my own term psychogenic music. Even the term industrial music is overstated sometimes.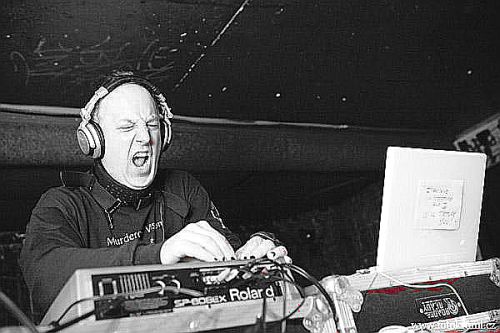 M[m]: You described your music as psychogenic music- could you discuss what this term means to you?
Richard: Schloss Tegal has always wanted to create intrinsic hyper-realism with our sound and subject matter. Like a film shot on location, I try to use sampling realism to add a psychic realism to the sound. Sound as fantasy, dream visuals and hallucination. Fantastic psychogenic worlds to be realized like a surrealist painting. The term psychogenic came from psychics being able to hold an object in their hands and read its hidden recorded history. I use the term as a sense of visual sound hyperrealism.
M[m]: Please talk about how you got in contact with Eight Tower Records, and how the reissue of Musick From Madness came about?
Richard: Fans had been asking me to release it, so I put it on our bandcamp as a digital download. Eight Tower Records saw it and asked to release it on CD, and I agreed.
M[m]: As part of the recent cd reissue there are three bonus/ unreleased tracks added into the reissue- please discuss the origins of these, and why did you decide to spread them throughout the release instead of just putting them at the end?
Richard: These tracks were recorded at different times and locations, and I dug them out of the ST cassette archives. The tracks were placed throughout the CD for aesthetic reasons and to make the tracks flow better. My Schloss Tegal Bandcamp page has the original track order and original skull cover. The Eight Tower Bandcamp page has the new track order and a different skull cover.
M[m]: Have the tracks on the reissue been remastered/ remixed in any way?
Richard: It was not remixed because it was taken from a cassette. but it was restored and remastered at my studio in Prague. The original recordings were cleaned and restored, and the result is amazing.
M[m]: What's the origin of the skull picture from the album's front cover?
Richard: The skull of Lazarus on a velvet pillow. The skull on the Eight Tower release is a different skull because we did not have the original photo and the resolution was too low. It distinguishes the two versions apart.
M[m]: I know Schloss Tegal has gone on to do live performances in recent years- but did you ever play live with the material from Musick From Madness, and if so, do any recordings still exist?
Richard: No, all of that material is from years ago; there are no other cassette recordings from that time that have still survived. But there are aspects of the early sound in my performances if you watch closely. Lately, I have been going back to the earlier recordings to review my ideas. Playing live is a mixture of new and older material.
M[m]:Musick From Madness, and much of your work with Schloss Tegal focuses on creeping out/ unsettling the listener. When was the last time you were truly creeped out?
Richard: I went to a place in Czechia in a small village called Becov to see the famous Executioners Hill from the 16th to 18th century. It was a place wherein baroque times they would execute you by hanging then leave your body there to rot under armed guard. Of course, only after some violent agonizing torture on the way up the hill to the gallows. What is left there now is just ruins from the gallows, but it is a very dark place in the forest at the very top of a long trail. We hiked there on the dark trail and then arrived at the gallows. I stepped into the centre of the gallows ruins and suddenly got a rush of anxiety and paranoia. I assume residual energy from the executions there. I do a private service called Weird Czechia for people coming to Prague to strange places. I have been to almost every scary creepy place in Czechia but this place was the scariest body experience for me. I felt choked and frightened from the residual energy there. We left pretty fast down the hill from that place. And on the way up and down the trail, you must pass the old executioner's house where he lived. I was creeped out. Great place for ghost hunting though.
M[m]: Do you still have any of the kit you used on Musick From Madness, and how has the way you create your sound changed/ altered over the years?
Richard: The only thing I have from that time is my 70s ARP odyssey synthesizer that I still use at home. everything else was sold over the years. The way I work though has not changed. I can do whatever I want now with home studio recording and the options are limitless. I take advantage of any technology where I can. I consider myself a futurist.
M[m]: Any plans for any other reissues of Schloss Tegal work, and any new work on the horizon?
Richard: I am working on a new release called Terminated by Script. It will be released on Tegal Records. We just recently released a new CD compilation called Kollektiv Music from the Sanatorium, a collection of mail art and home recordings from the 80s. It was originally distributed on cassette very limited to about 20 copies. It has some really great material on it, so we decided to make it available again on CD. I'm planning another collection of ST tracks from compilations and remixes. And a reissue of the cult classic Black Static Transmission.
M[m]: When are you hoping to get the Black Static Transmission reissue out, who's put it out, and what can we expect from it? I.e., remastering, unreleased tracks, etc.
Richard: I am planning a remastered reissue of this classic dark ambient album. Back in the 90s, we were not able to make it the way we wished due to CDs being a new technology we had coding issues. This remaster will be redone in the manner in which it was intended under new standards. It will have unreleased bonus tracks and remastered audio quality with new artwork in a nice digipack. It will be a completely remastered work for cult collectors who missed it the first time. It will be released on my own Tegal Records Label sometime in 2022.
M[m]: Do you still take notice of the dark ambient/ industrial scenes today? And if so, are there any releases that have stood out to you in the last year or so?
Richard: Yes, I am always checking out new acts and interested in all kinds of musicians and artists. I'm interacting a lot with fans and artists on social media worldwide. I'm not biased toward anyone's style. I like to experience all kinds of things. All CDs and vinyl are shipped directly and personally from me so I can be in close touch with my fan base. I've made a lot of great friends this way.

Thanks to Richard for his time & efforts with my questions. The projects Bandcamp can be found here, and Musick for Madness can be brought directly from here
Pic credits- sadly there are no pictures from the projects early days- so menu photo MS Stubnitz 1999, Club Mullenbrunnen Dresden 1997, 007 club 2008, and Musick for Madness cover.
Roger Batty