Purveyors of gorily wonky SOV, & wacky z-budget horror [2021-09-28]

Since the early 90's SRS Cinema has been releasing all manner of underground horror, be it gory SOV, general z-budget horror, or low-fi creature features. They started off releasing VHS, but in more recent years have gone on to put out films in both DVD and Blu Ray formats. I first became aware of the company due to their releasing of classic '80s / 90's SOV fare from the likes of the Polonia Brother and Tim Ritter- since becoming a big fan of pretty much all they put out. I decided to track the main man behind SRS Ron Bonk, who as well as running the company is a film producer, and directed a few SOV classics himself. Below you'll find an email with Ron, discussing all things SRS, and his own involvement in making/ producing low budget horror.

M[m]: When did you first become interested in low budget/ underground horror film? And what are some of your earliest experiences with these genres?

Ron It started some point in my youth, not sure exactly when, and I didn't even know the difference between indie and Hollywood movies at the time. Early experiences include movies like "Halloween", "Night of the Living Dead" and "A Bucket of Blood" (I could list a number of Corman movies here).


M[m]: What was so appealing to you as a youngster about Roger Corman films?

Ron Well as a kid, they were just fun... fun and scary at the same time. Taboo themes, unique stories, stuff I wasn't seeing anywhere else, certainly not mainstream movies, and somehow felt I was peeking into a world I wasn't supposed to be witnessing at such a tender, young age.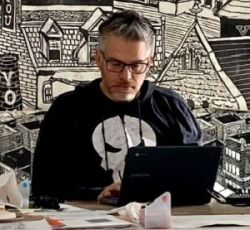 M[m]: Please tell us a little bit about how/ when SRS cinema first came about, and what does the SRS stand for?
Ron Well when I first incorporated, the company name was Sub Rosa Studios. Wanting to move into bigger productions and releases, I later established SRS Cinema. It was meant to be the "prestige" line, so to speak, but eventually became the dominant company and under its banner I've released and produced movies of all budget levels.

M[m]: I believe you've been connected with the underground horror film genre since the early 90's- how do you feel it's changed/ developed since then- both positively and negatively.
Ron The talent continues to grow, there are so many filmmakers, which is both a blessing and a curse. Thanks to better equipment, the productions look better and better, however, there is still a love for the low-budget, grainy sov movies of the 80s and 90s.

M[m]: Please tell us a little bit about how you decided what your going to releases on SRS, and are there any type of more extreme horror you wouldn't want to release?
Ron It's pretty easy, I have to like the movie first, otherwise, I think my lack of passion for it would show through to the fans. And first and foremost, I do want to please the SRS fans. And second, I have to believe we can sell it. Even if I love the movie, if I think it will not do well with SRS, I will not acquire it. I think it does a production an injustice to distribute it when you're not the best company for the job. There are too many small distributors out there, releasing good movies, but lacking the skills to promote them right. It's sad to see many excellent flicks just go under despite the good intentions of these pop-up distributors.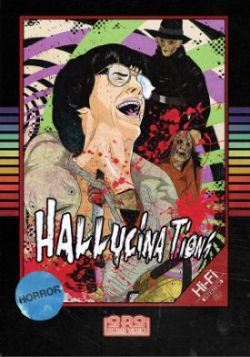 M[m]: A big part of SRS back catalogue and new releases are SOV pictures from the '80s and 90's- the interest in these films seems to have grown in leaps and bounds in the last few years, why do you think this is and what do you most enjoy about the genre?
Ron I think it is a combo of old fans re-discovering them, and new fans finding them for the first time. I think the heart put into these movies, despite the lack of funds and good equipment, really shows through and endears them to fans, new and old.
M[m]: Talking of SOV pictures- you've personally made a few yourself self- what do you see as the main pros and cons of the genre when it comes to making a film?
Ron Pros were definitely the freedom to make what we wanted. Plus the format, ie aspect ratio, graininess, etc., lent itself to capturing our visions in an all-new, unique style. The cons, well the quality was a con too, it limited sales and really affected the final look of the movie, usually far removed from what we were going for.

M[m]: Still on the subject of your own SOV films- what do you see as your favourite of those you helmed/ why? , and what was the most difficult/ stressful to make?
Ron "The Vicious Sweet" was definitely my favorite of the SOV movies I made. It was the first movie that came out close to what I envisioned, first movie I was proud of. "City of the Vampires" was definitely the hardest one, so stressful, I lost like 20 lbs making it, lost my main actor and lead villain halfway through, etc. A total nightmare, I wore too many hats on that one.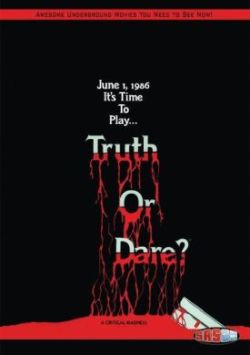 M[m]: What have been some of your favourite-though-lesser seen releases you've put out on SRS, and please discuss why they stand out to you?
Ron Sinistre was always a favorite, but despite trying with multiple releases of it, it just never took off. It was just a cool story, creepy, a nice mix of genres. "Darkest Soul" was another one, well-acted, dark and a slow-burn, that never really found an audience in my opinion.

M[m]: What stands as some of your bigger selling/most popular titles?
Ron Well my own movie "House Shark" has done great and opened a lot of doors. And I learned a lot from it. The kaiju movies we have been picking up in recent years are doing great and bringing SRS all new fans. And even the older SOV titles have been doing fantastic with us, like "Garden Tool Massacre" and "Night Feeder". I'm also especially proud of "Elliot", a SOV movie but made recent, that really had a lot stacked against it given it's budget and format. It easily could have gotten buried, maybe discovered twenty years down the line, but we did a limited blu-ray release and the fans really spread the word. And then fans contacted us, wanting to get a copy. That interest lead to us signing a new deal with the filmmaker and adding it to the Retro line-up - where it continues to find new fans every day.

M[m]: As well as running SRS you're also a filmmaker in your own right- with fifty-plus producer credits, twenty writer credits, thirteen director credits. This gives you a very good insight into all sides of low budget film production/ marketing- what do you see as the most/ least rewarding side of the whole thing?
Ron Hmm, I think I'm most pleased when a movie finds its audience. The filmmakers really love and appreciate it. I'm happy for their success, and I hope to see them move on above and beyond SRS.

M[m]: I'm guessing you have a personal collection of rare/ OOP VHS and film-related memorabilia- what are some of your most treasured of these?
Ron Not as many as you might expect, but I do have a few rarish ones outside my own, like "Red Eyes", several Something Weird, "Scrapbook", "Ravage", "Terror House", and some real obscure special interest ones.

M[m]: Who does the cover artwork for SRS release?- as the cover illustrations are great and largely fit the films within, really nodding back to the classic VHS days.
Ron We have a pretty big mix of artists we use. I choose among them by their style and which one I think will fit a particular movie best. They all do an amazing job, and their work helps sell the movies!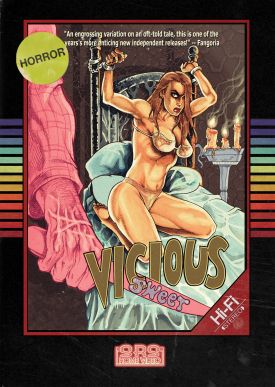 M[m]: do you think you'll go down the route of releasing UHD format on SRS, and what are your general feelings regard both DVD and Blu ray format- and which do you prefer?
Ron UHD really not sure, no immediate plans, but certainly possible should the demand be there. And I do prefer Blu-ray over DVD, more content, better quality, but as a go-to with no other options, DVD works just fine.

M[m]: have you ever considered release CD soundtracks on SRS, and are you a soundtrack fan in general? And what other genres of music do you enjoy?
Ron We have actually done a few, "Scrapboook", "Ice from the Sun", but they didn't do much business, not enough to keep doing them. And yes, I am a soundtrack fan, it is my favorite genre, I love listening to scores while I write scripts.

M[m]: Are there any golden grail titles you'd love to release?
Ron There are, but for now I must keep them under wraps. There are a few I think that have been forgotten, and I hope to secure a contract and give them a new, proper release.

M[m]: What's coming on release wise from SRS in the next few months?
Ron Well we have the rest of the Michael DiPaolo releases. He's a real transgressive NYC artist/filmmaker who has shot on video and film. And we have more kaiju/toku movies coming, most notably "The Great Buddha Arrival" and "Nezura". We also have some awesome productions in motion that I can't wait to reveal. I'm excited about all of these! we have "Amityville Shark House" all wrapped, and three more starting production this month - "Amittyville Karen", "Ouija Encounters of the Third Kind" and "Sister Krampus". Exclusive news here first lol!

A big thanks to Ron for his time and effort with the interview- to find out about all things SRS Cinema related head to here https://srscinemastore.com/

Picture credits: menu pic SRS logo, first in interview pic Ron, second in pic Hallucinations- a classic Polonia Brother film, third pic Truth Or Dare- classic SOV film from Tim Ritter, and lastly The Vicious Sweet- classic SOV film from Ron Bonk
Roger Batty