Into the Finnish Black Metal Death Spectrum [2021-03-17]One of the most respected & prolific names in Finnish black metal is guitarist & songwriter Shatraug. He has been highly active in the scene since the early 1990's- in 1993 he formed Horna, which quickly became one of the Connor stone bands of the Finnish BM scene. Then in 1999, he formed Sargeist- first as a solo project, then later as a band which for a time featured members of fellow long-running BM band Behexen- with the project creating a distinctive blend of grim & darkly harmonic elements. As well as these two key projects he's linked to a few others too such as Mortualia, Striges, Finnentum, Gand, Hoath, Necroslut & Sinisterite. I caught up with Shatraug for an email chat- discussing his influences, the recent 10th album from Horna Kuoleman Kirjo, last years surprise first full-length release from Striges Verum Veterum, and the future.

M[m]: Please discuss some of your early musical memories, when did you first hear music from the metal genre, and was there anyone song or album that got you wanting to create your own music?
Shatraug: I have no real idea when exactly I first heard metal, but I do know I got Maiden's Powerslave when I was 6 years old and the rest is history as they say. The spark to start my own band came in the early '90s but eventually got real in '94 when I met the co-founding member Moredhel who had the same idea back then, but the bands that lead to this were early Emperor, Impaled Nazarene and perhaps most importantly, Rotting Christ.

M[m]: You mentioned Powerslave been the first metal album you heard- what stands as your favourite Iron Maiden album? . Do you still follow the band today, and are they any other classic metal bands you enjoy?
Shatraug: It probably wasn't the first I heard but the first LP I've ever owned and as such, remains my favourite Maiden album as well. All Maiden's 80's albums are great, after that, they never quite had the same impact. I keep following just about all of my childhood firsts, some less, some more and traditional metal still remains close to my heart.

M[m]: You've now been involved in the Finnish Black Metal for twenty plus years- how do you feel the scene has changed develop? And what do you see as positive & negative developments in the wider BM scene?
Shatraug: All in all black metal has become something regarded as a mere musical genre while it never had anything specific in music itself to define. It was and still is the spiritual output and lyrical side of belief to it and nothing else. This has inevitably lead to the point we are now at, most bands are simply in it for the music and can just be overlined as being extreme music, but not BLACK metal. The Finnish scene seems a lot more serious in this matter, but we have the clowns and jokers just like every other country.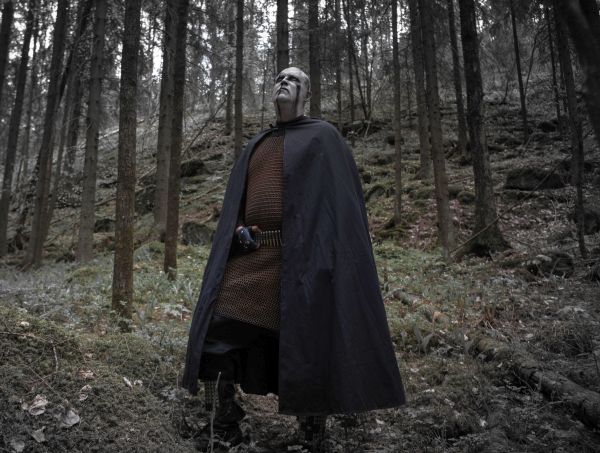 M[m]: since the early 1990's Horna has remained your main & constant focus- What is it about the project that remains so close to your heart over the years? And what do you see as your proudest moment in the projects long history?
Shatraug: Horna is the first and that alone keeps it my main focus. I don't expect it to last forever, everything has it's time and place but as long as I feel inspired Horna will certainly go on. The proudest moment was having our first album released, that was the only dream and goal I ever had and I've done it countless times since then.
M[m]: Many of the tracks on Horna's latest Kuoleman Kirjo seem to perfectly blend clamouring grimness, with malevolent at times prime evil harmonics. How difficult is it to balance grimness with harmony, and did you see this as one of the key things you wanted to do with this record?
Shatraug: Everything happens on its own pace. I have never looked upon or experienced writing music as a challenge, it keeps on happening and I intend to channel my inspirations as long as I live and breathe. That being said, to me Black Metal needs a sinister aura, otherwise, you may be doing any other form of music without such relevance.
M[m]: Please discuss the writing process for Kuoleman Kirjo- how long did it take, and did you do anything differently this time around?
Shatraug: I'm not even sure how long it's taken but I guess I had my first demo ideas in '17 or '18 and everything progressed naturally as time went by. The final work process involved creative freedom that as such I never gave before and that's the only real difference compared to anything Horna has done so far.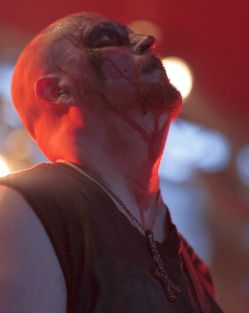 M[m]: For Kuoleman Kirjo Guitarist Infection has got joint songwriting credits with you. Please discuss what you feel he has brought to the songs on this album? And did you write together or separately?
Shatraug: I wrote all the foundations before he added his touch. Having him doing more than just the basics was an excellent choice, as it's obvious no two minds think alike in every aspect, and he is perfectly capable of conveying what Horna represents. No complaints.
M[m]: The album title translates to The Spectrum of Death, and with this and the graveyard album cover I'm guessing it's about the hereafter. Could you outline a bit more what you see as the themes of this record?
Shatraug: Death, reverence to death, myths, creatures and practices surrounding death in reality as well as lore. Death, both as physical and spiritual manifestation. Death, as the great equalizer.
M[m]: Talking of all things death- do you believe in the afterlife/ the supernatural- and if so have you had any experience with the unknown?
Shatraug: No, I don't believe there's an afterlife in some hell or paradise or whatever. I've been close enough to have seen nothing at that end but one thing is certain, there are countless energies all over the world to tap into, surprisingly less in some places you'd expect to find it and in abundance at others. History is not always the greatest pointer.
M[m] Seemingly out of the blue you recently put out the first full-length release from your Striges project Verum Veterum- please discuss how long you've been working on this? And how have you managed to record it with the recent Covid issues?
Shatraug:Verum Veterum was a work in progress for a few years and with always having had a long-distance member in it the current situation played no role in it. When everything is either way done in solitude and as time permits, the result comes no sooner than it's moment has arrived. This is something I keep consciously going instead of forcing anything to happen.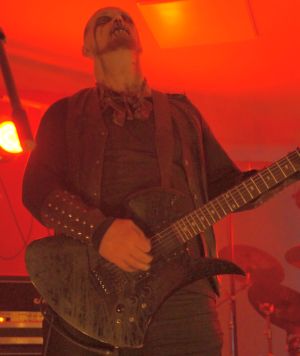 M[m]:Striges started as a solo project in 2007 with the release of the Hkaru Andte Ehrt Trhe Et Dnau Rakh demo- since then you've added to & altered the line-up. How do you feel the bands sound has changed/ developed since you first started it? And do you have any plans to reissue this first demo?
Shatraug: Yeah, I made a couple of private demos in 2007 and 2013, both with a different drummer and while I also did vocals on the first demo, the second had Blackheart doing both lyrics and vocals. The project has never been tied to one place or persons involved in it and just as well the outcome is quite unplanned. Both demos have in fact been reissued on one compilation CD, which I think was more limited than it should've been. The first demo can be listened to at my bandcamp pages for free, along with many other projects from the past.
M[m]: I really like the creepy cover artwork of Verum Veterum, with it's seven grim-looking ghouls covered in rags/ weeds- please talk about the meaning behind this?, and I'm guessing the track Seven Ghouls from the Mountains of Mashu relates to the cover?
Shatraug: That is correct. Sometimes things can be as simple as that and require no deeper meaning or function to it. In its simplicity, it is also a nod to the old school Necronomicon as a source of inspiration.
M[m]: One of the more surprising elements of Verum Veterum as an album is the moments when more doomed dark rock with grim crooning vocals appear. Did these elements come about organically, or were they more planned?
Shatraug: A fluke, nothing else. I had no plans, not even lyrical arrangements but left them all in the hands, or throat, of Vaedis.
M[m]: When the whole Covid thing is over do you plan to play live with Striges?
Shatraug: No, there isn't really any need to do so as Striges is best served with as little human interference as possible
M[m]: Last year Dissonance Productions released a CD boxset of all of Moribund Records Sargeist releases is this something you'd like to see with Horna's output on the label?
Shatraug: Considering I have not even received a personal copy for my own collection and that they completely ignored any input I gave about it, including the title of the set, I don't see it's such a great endeavour. However, releasing such a set or two is not out of question, making it a good introduction for any new fan. I could see for example a boxset of all the Nazgul-era recordings, and another of all the albums made with Corvus being made, but there's been no talks or plans to do either right now.
M[m]: The last Sargeist album appeared in 2018- any plans for new material? And will the line-up be still the same?
Shatraug:: Yes, we are currently working on new material, most likely to be released during 2021. Line-up remains the same, there's no need to fix something that isn't broken.
M[m]: You mention your working on a new Sargeist album- any hints on what to expect either sonically or theme-wise?
Shatraug: Continuation of what we've always done, that pretty much sums it up. There is no step away from devotion nor from the style Sargeist cemented through the years
M[m]: What else are you presently working at present?
Shatraug: Too many things to mention here. Everything that gets closer to being finished and published will eventually show up, otherwise, I'm going to keep a tight lid on it.
Thanks to Shatraug for his time & efforts with the interview. Kuoleman Kirjo is out on W.T.C. Productions, and Verum Veterum is on Blut & Eisen Prod.

Photo credits: first two Kammio Visuals, and the next two are Schorn & Delveaux

Roger Batty