Dark Elemental Ambience [2020-11-18]One of the more original & distinctive dark ambient projects to appearing in the last few years is Llyn Y Cwn. The project takes it's influences from the ragged, vast & often brooding landscapes of Wales- with a sound that blends together blacked & often deep drones, creepy ambient dwells, and moody-to- eerier field recordings captured from the landscape. We tracked down the mind behind Ben Powell for an email interview.

M[m]: Please tell us a little bit about how/ when you got into the more experimental side of music/sound?. And was there any particular track or album that influenced you to want to create your own work?
BP In my teens I was into thrash metal and playing guitar, The Orb's Live 93 and FSOL's Lifeforms introduced me to sounds from beyond my home village and got me experimenting with electronics. If I had to name one album that inspired the sound of Llyn Y Cwn it would be Stalker, the Robert Rich / Lustmord collaboration.


M[m]: You mention been into thrash metal and playing the guitar when you were younger- were involved in any bands at this point, if so, please discuss?
BP I played in a few covers bands when I was young, but quickly realised that while it was fun it wasn't going to go anywhere. A few years later I played in Micrographia, a Mogwai inspired post-rock band, I added the electronics and guitars, we had some national radio play but it fizzled out, we actually started working together during the lockdown so watch this space.
https://micrographia.bandcamp.com/album/micrographia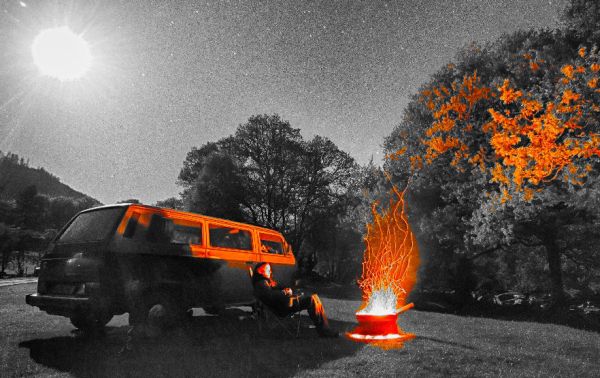 M[m]: What was it about the Stalker album that impressed you so?
BP It was probably the first dark ambient album that I got truly absorbed in, I liked the space between notes and the album's ability to put you somewhere - the zone! the album always manages to conjure images from the Tarkovsky film. Lustmord played a "homecoming" gig in Bangor a few years back, hugely inspirational.

M[m]: Seemingly your first project was Mank- which between 2005 & 2018 released ten self-released album- please discuss how & when this project started? Is the project still active?
BP I've been making music since I was about 18, I was making demo's for my friends and I needed a name to put on the cassette covers, so I came up with Mank. I often thought to drop the name as it is rubbish, but people knew it... so it stuck. (I discuss the early Mank recordings in question 5) Sometimes when I start playing around in Cubase Mank tracks happen, maybe one day I'll do another "beat-y" release - though I might put itout under a different name, I told myself that Argatha would be the last Mank album.

M[m]: What made you decide to set up the Llyn Y Cwn project in 2015, and sonically how did it differ from Mank?
BP There is a long track called Iad Uroboros at the end of the 2008 Mank album Isbjorn, I think that was the first Llyn Y Cwn track, though I didn't realise it at the time. The first LYC EP was recorded whilst on holiday in 2009 at the lake district, I made recordings whilst out walking and added sounds each evening imposing strict rules - the track is to be based on a field recording and no drums.
I've been making music for a long time and I guess my tastes have changed / I've mellowed, these days I'm just more interested in environments and sounds than programming complex drum patterns.

M[m]: one of the main themes of all of Llyn Y Cwn is welsh mountains & landscapes- please talk about these themes, and why you find them so fascinating?
BP How can you not be inspired by the landscape you live in?
I'm an outdoors person, I am at my happiest when I am sat outside my campervan surrounded by a dramatic landscape. I contemplate the time it took to carve out the mountains and the scale of the night sky. I find it very humbling - we are merely grains of sand on a beach compared to the vastness of space and time.
The field recordings really are the backbone of the music, the acoustic environment within them is the starting point, the synths and effects are painted on around them.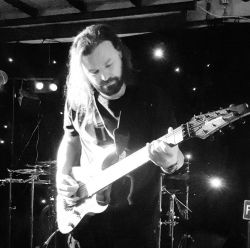 M[m]: How has your set-up/ equipment changed/ altered since you start Mank to now?
And has the way you compose changed over the years?
BP When I started making music around 1996 I had a tape 4 track and a guitar multi-fx, I used to record guitar, drown it in reverb, then turn the cassette over and add more reverb in reverse - the results were 20 min drone tracks that sounded quite like LYC. As time passed I got more toys, my first music computer was an Atari ST, then PC / VST technology came available - that changed everything, suddenly I could use software emulations of synth and drum hardware I could never afford, the recordings I made as Mank over the years was the sound of me exploring these tools.
These days the studio is just a laptop with headphones and a controller keyboard, I work offshore a lot and most of my music is made at sea so the set up has to be portable, I mainly use Native Instruments vsti's within Cubase.
When I go to sleep, I always have earbuds in playing something ambient at low volume, I think I started doing this while working on ships - to drown out the engine noise, then I found I couldn't sleep at home without some kind of noise. As such I listen to a lot of ambient music, even if a lot of it is only ever heard subconsciously. Llyn Y Cwn is my attempt to make music to sleep to, I want to transport the listener to the album's environment within their dreams. I'm not sure I consider LYC music in the conventional sense as I don't consider myself to be particularly musical, I'm a technician by trade and a computer sound geek by hobby.

M[m]: You talk about recording much of your work at sea- why is this? And have you ever considered doing sea-based dark ambient release?
BP I work for Bangor University as a seagoing technician, it is my job to make the scientific instrumentation work during research cruises, I'm on the ship right now!. I've been lucky enough to travel on many ships over the years, including several trips to the Arctic which were massively inspiring. The majority of my music is made at sea. When not on shift, I have time to focus on my music with few "life" distractions. A ship is a noisy environment, it is a bit like being on a plane, you can not escape the constant drone of the engines running, the sounds of the sea.....it feels strange to hear silence when you get off the ship after a few weeks, that is when I head to the mountains for contrast. I released an E.P. "Lost and Found at Sea, Volume 1" a while back which was compiled from field recordings made on the RV Prince Madog, I am currently working on Volume 2. For the past few years, I have been working on a project looking for shipwrecks from the First and Second World Wars, using multi-beam echo sounder technology. I can look at images from the seabed in centimetre resolution. I have been the first person to see images of ships that sank over 100 years ago, using technology to reveal detail like the torpedo holes in the hull, cigar-shaped U-boat wrecks surrounded by depth charge craters on the seabed and the way some ships snap in half, collapsing under their own weight as they sink. It got my mind wondering what it would have been like on a cargo ship torpedoed by a U boat, or in U boat being hunted by a warship - fertile sonic pastures.

M[m]: Please talk about how you utilize guitar in your sound now, and do you see any of your thrash origins left in your guitar work?
BP Any guitar used in Llyn y cwn is mostly unrecognisable, drowned in reverb and played with an ebow, I think there is a texture you can get from an actual instrument that it is impossible to achieve in software. My guitar playing will always have that metal "tritone" thing going on, I see a large crossover between metal and dark ambient / noise

M[m]: Part of Llyn Y Cwn sonic makeup are field records- please discuss how you go about capturing these?
BP I have a Zoom H2n which I keep in my camera bag/pocket whenever I go out walking. I also have a Sony phone which has noise-cancelling earbuds, I've found that the earbuds have microphones that are used for the noise cancelling and that I can record directly from them to create binaural recordings - which is very handy. If I hear an interesting sound I've always got something in my pocket to capture it with.
M[m]: Your most recent release with Llyn Y Cwn was Dinorwic- which takes its name from an abandoned village & slate mine in North Wales. Please discuss how you landed on this theme & how long did it take you to shape, build & finish the album?
BP Though Dinorwic feels remote and desolate it actually has quite easy road access which makes it a viable walk option even if the weather is terrible, as such I visit often and I'd built up a lot of fields recordings. The quarry is an interesting place acoustically with slate everywhere, you get strange echos and reverbs, sound travels a long way. When I'm working the initial skeleton of a track usually comes out quite quick, but I like to sit on a project and revisit it over a long time so that it can mature (like a good cheese), I think I had Dinorwic on the go for about 3 years.

M[m]: Have you ever played in a live setting with Llyn Y Cwn? And if so what has been your live set-up?. And if not is it something you'd like to do in the future?
BP I've played a handful of gigs as LYC over the past 10 years, the most recent was an interesting challenge as it was through a quadraphonic PA in the back room of a pub; I ran two instances of Cubase (front and rear) synchronized via virtual midi. I like to add a live element to a gig (it's not much of a gig otherwise is it?) so I play a reverb washed guitar to add texture, I'm a big Steve Hillage fan.

M[m]: What kind of music/ sound do you listen in downtime? And have you made any recent interesting discoveries?
BP My most recent favourite thing is Craven Faults, their music takes you on a journey. I've been listening to a lot of Cardiacs since the recent passing of Tim Smith, one of my hero's. I love the arrival of Bandcamp.com and the liberty it gives artists to release music off their own back, recent finds include: Music For Sleep, which does what it says on the tin, Sunken Grove has tapped into a folk synth ambient thing, and Bismuth makes a right royal noise. I've found I can listen to anything on the Stroboscopic Artifacts label.

M[m]: What are you working on at present?
BP I've got a nautical themed album that I've had on the go for a few years, I've also been collecting field recordings from stone circles / megalithic sites around the UK, so that will happen one day.

Thanks to Ben for his time & effort with the interview. The project's most recent album Dinorwic came out on Cold Spring records, and the projects Bandcamp can be found https://llynycwn.bandcamp.com/ , and their Facebook page is https://www.facebook.com/llynycwn/.

Roger Batty