Time To Get Racy - The Racy Reels Series Interview. [2020-08-25]As the interest and reassessment of sleazy celluloid from the past grow in leaps & bounds, so does the reissuing of both soft & hard-core porn on Blu Ray & DVD. One of the better-curated, nicely put together & consistent series of releases has been the Racy Reels series- this is a collaboration between Pop Cinema, and infamous exploitation reissue label Something Weird. So far the series has seen three release- and each has either brought together two-to-three films that are theme-related, or part of a series- so Vol 1 featured three obscure & bizarre examples of 70's Sci-fi themed sexploitation. Vol 2 brought together two 70's soft-core/sex comedies with women's liberation/ equality theme, and most recently Vol 3 took in two late 60's -to- early 70's erotic dramas/ thrillers from the popular Danish/ Swedish I, a Woman series of soft-core films. We tracked down Paige Davis & Michael Raso from Pop Video, and Lisa Petrucci from Something Weird to discuss how the series came about, the releases thus far, and the series future.

M[m]: In recent years both soft-core & hard-core films of the past have started to be thought off in a more serious and balanced critical manner, beyond their main titillation focus. Why do you think this has occurred & do you feel any particular film/films have helped this change? As clearly this outlook is why series like Racy Reels can now happen- where we find cult film expert commentary & write-up as part of the series.

Michael Raso & Paige Davis – Cultural shifts and technological advances have been the real drivers contributing to the critical appreciation of vintage erotica and adult films. Mainstream America's access to racy prestige programming like HBO's Game of Thrones, The Deuce and True Blood de-stigmatized nudity and sexual situations in episodic programming, while films with explicit sexual content like Blue is the Warmest Color now screen regularly at art-house and premiere film festivals. At the same time, independent film labels have historically sought out, restored, and released cult, erotic and adult films to consumers eager for something unusual and boundary-pushing. Something Weird Video was among the first media labels to unearth highly unusual and obscure films of all genres and market them as valuable contributions to cinema, with Blue Underground and Synapse Films (among others) showcasing rare and art-house Euro and International Horror and Erotica via superb restoration, bonus materials, and collectible packaging. And I should mention the stunning work Distribpix is doing with their releases of superior adult films like Barbara Broadcast and The Opening of Misty Beethoven as a contributor as well. Similarly, our Camp Motion Pictures label began as a celebration of 80s shot-on-video horror features by offering liner notes, extras and collectible packaging including defunct formats like VHS Big Box and clamshell issues for featured titles such as The Basement, Video Violence and Splatter Farm (to name just a few). But while currently, technology can deliver media instantaneously into our homes, most platforms confine their content to features and episodic series that while often racy are relatively mainstream. This creates an opportunity for quality, collectible physical products featuring obscure films of all genres – like Racy Reels from the Something Weird Vault.
M[m]: Please discuss how and when the idea for the Racy Reels first came about? And what do you see as the series focus? And do you feel this has changed developed over the three present releases in the series?
Michael Raso & Paige Davis - It was a perfect storm: we heard that SWV might divest itself of the film library as part of an interesting collaboration with other labels at the time we were seeking to expand the film section of Pop Cinema's library of genre content and acquire the means of scanning & restoring film ourselves (a goal that had been put off for over a decade). The possibility to develop a product from film assets all the way to market was exciting, as were SWV's available films. Lisa's knowledge of cult cinema and branding is staggering and following a series of conversations we moved forward acquiring many erotic and adult films from SWV.
M[m]: Who are the key people behind the Racy Reels series? And has the team behind the series remained fairly consistent through-out?
Lisa Petrucci - Pop Cinema approached SWV about doing the Racy Reels series. They acquired a collection of late sixties and early seventies softcore smut films from the Something Weird Video archive and are restoring and releasing the films for Blu-ray. The films they picked fit in well with their existing video catalog and are giving a new life to titles that may have been overlooked on the SWV website. Michael and Paige are great partners to work with.
Michael Raso & Paige Davis – The series wouldn't exist without the assets, groundwork, and awareness of the SWV brand, hence the SWV and Pop Cinema co-branding. Restoration of the elements, physical goods production, design, and misc. associated with bringing a media product to the market all take place at Pop's NJ headquarters. While the team behind the series remains the same, the series benefits greatly from ancillary materials and detailed essays contributed by noted film critics like Tim Lucas, Heather Drain, Jeremy Richey, and Robin Bougie (to name a few).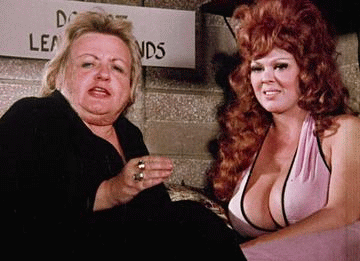 M[m]: The first two Volumes of the series where very much theme focused- with Vol 1 taking in two sci-fi focused films, and vol 2 taking in two women libs parodies. With the most recent & third vol, you step away from this theme slight for parts two and three of Danish/ Swedish erotic drama/ thriller Series I, a Women. Do you plan to return to the more formal themes of the first vol, and if so what might these themes be?
Michael Raso & Paige Davis- The plan is for the series to continue as double-feature Blu-ray or DVD/ blu-ray combo releases with some thematic link between the two films. In some cases, the connection may be that the films follow each other in a series – as with Volume 3: I, a Woman part II and III - and with others, it may be genre and cinematic style (two 70s erotic films with similar jump-cut edits and art-house flourishes, for example), and others will share the same director. Regardless, we hope to continue to improve on each volume in the series with the next.
M[m]: I'm aware the Something Weird vault has a lot of titles in it- could you give us an idea of the scope & size of it?. And is it laid out in genre form, date, or slightly more random fashion?
Lisa Petrucci - The SWV 35mm film archive had a very eclectic collection of films and genres. SWV founder Mike Vraney (1957-2014) unearthed thousands of obscure films that hadn't had home video releases before him finding them. Over the years, he managed to fill three big warehouses full of random original film elements. Since Mike's death in 2014, SWV has been liquidating the film archive and placing the films with just the right custodians. Pop Cinema ended up with the films of Joe Sarno, Barry Mahon, and some of the best sexploitation titles from the archive. I am pleased that they are now the stewards of these films and will take good care of them.
Michael Raso & Paige Davis– to confirm and elaborate on Lisa's answer, we are one of a very few lucky individuals/companies to acquire a portion of the vast SWV library for release.
M[m]: Please could discuss what has been your process for processing & get ready the film prints for release- and have certain films been more problematic than others?
Michael Raso & Paige Davis –Since initiating the Racy Reels from the Something Weird Vault series our consortium of media labels (Pop Cinema, Camp Motion Pictures, Alternative Cinema et al) has evolved into a full-fledged analog-to-digital conversion facility with an Ultra Sonic film cleaner, a state-of-the-art Lasergraphics Scan Station, DaVinci Blackmagic Resolve Color Grading System, dedicated film prep room and tape conversion department. We have always stored film assets in a climate-controlled section of our facility and continue to do so. So, where we previously outsourced our processing, scanning, and restoration of film assets we now manage all aspects of converting film to high-quality digital assets through design and product development in house. This has been so successful we have branched out to helping other labels achieve the quality they're seeking in a 4K scan, color grade, or other post-production services via Film Media, the newest addition to our film preservation mission.
Vintage film assets vary greatly in condition and restoring them to a marketable condition can be time-consuming, no matter how superb the equipment. I think most media label Directors and owners would tell you it's a labor of love, requiring a serious financial commitment bringing niche, vintage films to consumers as collectible items.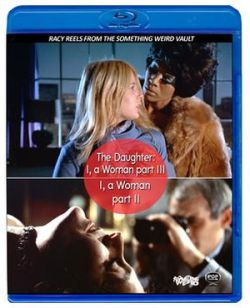 M[m]: So far the series has largely stayed in the soft-core side of things- are there any plans to add more hardcore titles to the series?. And if not, please discuss why?
Michael Raso & Paige Davis - We have discussed launching a distinct but related series of adult films under the Racier Reels from the Something Weird Vault moniker but have taken no steps at this time.
M[m]: What have you got lined up for the next few release in the racy reel series?
Michael Raso & Paige Davis– I hate to miss an opportunity to promote our upcoming volumes, but we've several more at various stages of development and continue to fine-tune the projected volumes…more news soon, stay tuned!
M[m]: Have you ever thought of expanding the racy reel series into stand-alone soundtrack releases or compilation, because of course some of the 70's softcore films had some great scores?
Lisa Petrucci - There are often rights issues with the music from these genre films. SWV works with the record label Modern Harmonic on movie soundtrack albums and the challenge is identifying the music and looking into the rights. When the music is owned by someone, sometimes the licensing fees are too cost-prohibitive to do pursue doing a soundtrack album. However, Something Weird has released several LP records with Modern Harmonic and we plan to do many more in the future with some of our most popular titles.
Michael Raso & Paige Davis – Everything Lisa said regarding the rights to the music/soundtracks is true for us, too. And, with SWV and Modern Harmonic doing such a fantastic job in this field, Pop will stick with feature film releases on digital and physical formats for the foreseeable future.
Thanks for this opportunity to speak with you about Racy Reels from the Something Weird Vault!
--------------------------------------------------------------------------------------------------------------
Michael Raso is a photographer, producer, and filmmaker and founder of the analog film preservation organization the Film Photography Project as well as media labels Pop Cinema, Camp Motion Pictures, and Alternative Cinema.
Paige Davis is the Director of motion picture film preservation organization Film Media and media labels Pop Cinema, Camp Motion Pictures, and Alternative Cinema. You can contact her via LinkedIn.com / Paige Davis.
-----------------------
Thanks to Paige, Michael, and Lisa for doing the interview possible, and thanks for Paige for making it all possible. Picture credits- still from I, a Woman 2 from Racy Reels Vol 3, still from Female Chauvinists from Racy Reels Vol 2.

Roger Batty