First glimpse of Terria [2001-06-15]Terria is the name of Devin "how many projects" Townsend's latest baby. Of course, it's always impossible to say which child you love the most, but the father seemed very enthusiastic about this one.Today (14/06/2001) we can finally take a peek at the final product by listening to two tracks that were made available to the public. "Mountain" and "Canada" are respectively 5.31 and 6.53 minutes long and are available at mp3.com. Now let's get to the juicy part, the actual music! Being the good little Devy fan that I am, I downloaded both tracks as soon as they were available and listened to them around 40 times in a row with the 'repeat' function of my good ol' winamp. I'll go ahead and reassure the skeptics: this is still Devy, this is still high quality original music, you're gonna love it! I've actually heard it described as "Oceanity" but I must disagree (sorry to whoever said that); it has the openness and grandeur of Ocean Machine, the layering, cool vocal melodies and wackiness of Infinity, but the feeling that those songs convey is different. If Ocean Machine sounds like water, than this sound like earth, plains, mountains, wild animals and wind in branches; organic is the word! I know that it's a pretentious description, but here's an exemple to make it clearer: if one of these two tracks had been on Ocean Machine, it would've sounded out of place even if it's in the same vein musically (the same way I think "Things Beyond Things" (the bonus track on Ocean Machine) sounds out of place because it doesn't have that 'Oceanesque' feel) because of the different underlying theme."Mountain" opens, surprisingly enough, with a growl and a meaty riff. At first I thought "Hey, wait a minute! This is way heavier than what I expected" and I was partly right. The song goes through various more or less heavy phases which creates a very dynamic and 'organic' flow and some nice buildups and climaxes (well, it's not Godspeed You Black Emperor yet but it doesn't try to be either). Part of these dynamics are due to Devin's use of his whole palette of vocal styles: the growl (just at the begining of "Mountain"), some harmonized "oooh" & "aaah", his cool screams (like the one at the end of "Christeen") and his normal clean vocals that reminds mostly of Infinity and Physicist. The guitar work is very cool (Devy bought a Stratocaster for this album) and goes from heavy distortion to slightly fuzzy playful guitar lines (like the begining of "Canada") to clean ambient noodling. The bass, curtesy of Craig McFarland (MiRV, Jerry Cantrell) is also excellent and, even if I know that Devy wrote the bass-lines, I find them well executed and fitting as they swirl around the music (is that a fretless bass? I think so) and give it an extra layer of detail. The always excellent drum work of Gene "god's backup drummer" Hoglan is, as with many other of Devin's projects, the cherry on top! Something interesting, Devin didn't confiscate Gene's double bass drums this time (like he did on Infinity) so you can hear those feet do what they do best! I won't comment too much on the production since I think that these 128kbps mp3s don't do it justice (since there is so many things going on and different layers of sound; probably too much for a mp3 to handle), but even with that little problem I'd say that it's probably the best production any D.T. album has got yet (until his next?).Now, if you'll excuse me, I must stop writing and go back to listening to those songs. Yes, you can now officially call me "fanboy" and steal my lunch money, but before you do that I must remind everybody that this is an article about TWO songs only, not the whole album (which is not yet available), so don't ask me where I got it or if you can have a copy (to which the answer would be "no!" anyway).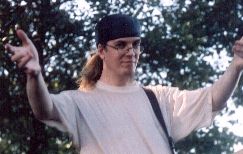 First glimpse of Terria
Terria is the name of Devin "how many projects" Townsend's latest baby. Of course, it's always impossible to say which child you love the most, but the fathe...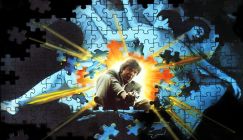 Primal Scream - Primal Scream( Bl...
Primal Scream is a decidedly haphazard & at times conventionally bad cinematic stew of noir tipped sci-fi, horror melt action, and fairly standard cop th...