Hand-made Nihilism [2020-06-30]There has always been a close connection between the walled noise scene, and various themes/ obsessions- be it nihilism, giallo/ cult films, true crime, grim nature, etc. Sometimes the low-fi/ nihilistic artiness of the walled noise genre has been expressed through releases packaging, and one of the more recently label to focus in on the more arty presentation is Bangkok based Perpetual Abjection- the label started in 2017, and has so far put out eighteen releases- each of which features a distinctive, & at times lo-fi elaborately presentation. We tracked down the label's owner Polwach Beokhaimook- who kindly gave us an email interview discussing the label, and his own wall noise project Unsignified Death that creates an often crude & industrialized take on the genre.

M[m]: Please talk about how/when you got into more extreme music-then- sound? And when did you first become aware of the walled noise genre, and was there anyone release that really got you into the form?
Polwach It was around 18-19 years ago when I was like 12-13 when my friends introduced nu-metal bands like Limp Bizkit and Slipknot. I got hooked and been fascinated with the heavier side of music. I had then been searching for heavier sound since then to a point I discovered melodic death metal like Children of Bodom and then death metal Cannibal Corpse. I then found more extreme genres and sub-genres. Gradually perceiving and understanding the concepts of extreme/metal music, I ended up being obsessed with brutal death metal, grindcore, goregrind, death metal, and black metal.


Speaking of noise and experimental music, I got into noise and experimental music through gorenoise which is a mix between noise and goregrind. I found projects like Urinefestival, Biocyst, Tumour, Vomitoma, Black Mold Phallanx, Omphalectoicxanthopsia, Urinary Tract Infection from Severe Pus Clots, Black Putrefaction, and Sexchange. Also, through noisecore bands like Deche-Charge, Seven Minutes of Nausea, Penis Enlargement, and Zombie Militia. I was amazed by how ugly and improvisational they were. Thanks to the label Splatterfuck Tapes and MySpace. I then found harsh noise through bands like Torturing Nurse, Napalmed, Masonna, Merzbow, and Hanatarash. At first, I couldnít enjoy it at all but for some reason, I became more interested in it and more obsessed with it. I remember watching a live performance by Torturing Nurse and that Napalmed live at Obscene Extreme Festival videos on YouTube and falling in love with them.


Then finally I found Vomir. Same goes with harsh noise, I didnít understand it at first but then I became more and more absorbed in it and it went downhill from there. I canít remember exactly when but Iíd say around 2011-2012. Old acts like Placenta Lyposuction, The Cherry Point, Dead Body Collection, Fukte, A View from Nihil, The Rita, and Werewolf Jerusalem, and also The HNW Graveyard Blogger had me searching for more walls. There were many releases that got me into the form. Night of The Bloody Tapes by The Cherry Point and Proanomie by Vomir were some that really impressed me.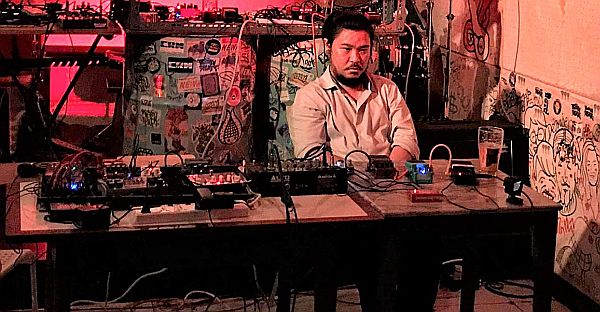 M[m]: In 2017 you set up Perpetual Abjection - your label that focuses limited run arty packaged walled-noise release. How & when did the idea of the label come about, and how did you select the label's name?
Polwach In 2017, I was like ďitís time to combine 2 things I love together (harsh noise wall and special packaging and release them.Ē I created its Facebook page, but didnít release anything under it within the year yet (I still donít know why. Maybe too busy with other projects and personal stuff. Maybe too lazy haha.)

About the name, Iíd always been intrigued by the psychoanalyrical theory/concept/philosophy of abjection created by Julia Kristeva. Found it in a cinema course when I was doing my bachelor's degree, analyzing the abjection of Regan in the film Exorcist. I wanted the label name to be unique and bizarre so I came up with it.
M[m]: You mentioned doing a bachelor's degree-what was this in?
Polwach Bachelor of Arts. I took a major in Cinema Studies and a minor in Media and Communication. The major focused on theories and the history of films. In a course, horror film was a part of it and abjection was one of the academic theories analyzed. I like it so much, even chose it as the main subject on my thesis when I did my masterís degree. Applied it on some lyrics of my bands as well
M[m]: What made you want to focus on the more arty look to your releases? And why so far have you only released CDR? ...and what do you like about this format?
Polwach Through noise and experimental music, I discovered some releases with unique/special packaging. To me, special packaging adds charm and is a part of the overall aesthetic of the releases. I remember discovering the labels Toxic Industries and Auris Apothecary and was totally stunned by the packaging. They have since then been my main influences. Splatterfuck Tapes and Degenerate Slime Distributions were also very inspiring. Prior to Perpetual Abjection, I did special packaging inspired by the aforementioned labels, applying it on my gorenoise project Gonococcus and dark ambient project Komootra.

To me, CDRs are the most convenient way concerning the production (I know Iím a lazy ass) and the best way concerning the sound quality when it comes to walls and textures. But donít get me wrong, I also love analog formats. In the future, I also plan to do some lathe cut releases and maybe some tape releases as well.
M[m]: So far youíve put out coming on for twenty releases on Perpetual Abjection - please pick five of your stand out releases so far, and explain why they stand out to you?
Polwach This is an extremely hard one as I only release what I really enjoy. I always choose to release what I love so there are no specific ones sound-wise. I will then choose 5 releases with standout packaging.
PA004 - Train Cemetery - Drowning in the Wall and PA012 - Vomir - Repudiation: came up with an idea to put CDRs on the back of canvases. This way the copies can pretty much be considered fine art objects. They are both paintings and physical albums. Sold out almost suddenly after both were released.
PA005 - James Shearman - A Place Among Pebbles: James had an idea to make this release special by incorporating his DIY magazine into it. The result came out very satisfying. I was also satisfied with the minimal artwork on the front cover.
PA016 - Tissa Mawartyassari Ė Red Ghost: I loved Monicaís paintings so much so I had an idea to include some of her original paintings in it. I asked her if she could paint some of her abstract, unique, and beautiful images one by one and she agreed with that. Very proud of this release.
PA017 - Unsignified Death - Towards the Real: almost broke my laminating machine making this. I bought dried worms from a per food shop and laminated them as a part of the packaging. The worms were crushed and bits of them spread throughout the machine.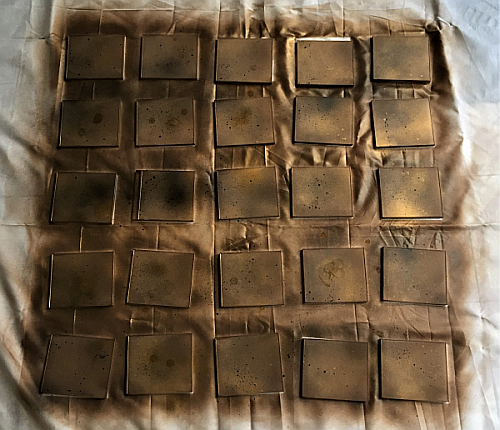 M[m]: What have been some of the more difficult releases to put together? And have there been any release packaging youíve had to change/alter due to not be able to get hold of elements to make the release?
Polwach I always spend time to come up with the concepts and art direction for each release. Trying to be as creative as possible. So it takes time. But the one that I was struggling hard through was that Unsignified Death - Towards the Real aforementioned. Fucked up.
But Iíd say I never had to change or alter the packaging before. Most of the time I could find the materials I wanted and sometimes it went ďimprovisational,Ē utilizing the things I found by chance. Like that PA015 - Light Collapse - untitled, I roamed through a material shop, and by chance, I found some scraps of cedarwood and I went ďletís put these in.Ē
M[m]: Please discuss how you go about selecting what to put out on the label?
Polwach I release what I like. Sound-wise most of the time. Conceptual aspect is what to discuss after that. Just like other labels, I guess.
M[m]: Early in 2019, you started your own wall noise project Unsignified Death - please talk about why you started making your own walls? And what do you see as sonic & theme influences on the project?
Polwach I had always had an urge to make my own wall project(s) after listening to many wall acts. In 2019 I had enough gears and knowledge to contribute to a wall so I made one under the project title. Simple as that. Thanks, heaps to Nemanja (Dosis Letalis), Ken (Hana Haruna), and Visarute (Impermanence) for the suggestion on how to start! As far as the theme influence go, like the name of the label itself, it mainly focuses on the theory of abjection, but you will see other theories related to it in the track and album titles as well. For the sonic influence, this project is heavily inspired by those with multi-layer oriented and crackling walls like Train Cemetery and those of Sergey Pakhomov and Dirac Sea, along with old-school ones like Vomir (of course), Fukte, The Rita, The Cherry Point, and so on.

M[m]: With Unsignified Death you create a very dense, layer active & industrial-tinged walled noise- could you discuss your set up & what you use of source material for your work?
Polwach My main boys are merely a DigiTech Grunge, a Behringer Ultra Shifter, and a cheap second hand Arion equalizer. Occasionally a reverb pedal, an echo pedal, or a DOD Death Metal play a role. I donít even have a mixer so I mix my walls in a DAW. My set up is super minimal as for now so I always try to be creative with the sound sources. Most of the time my RMA Crustacean gets in. Along with that I usually use sounds I field record by myself and also nature sounds from MyNoise application. Sometimes I pre-edit the sources in the DAW. Sorry analog guys.
M[m]: How has your set-up changed since you started Unsignified Death, and are there any pieces of kit you still use from when you started?
Polwach In case I remember that I created my first wall (ended up being a split with Damien De Coene) using an old fan glued with a contact mic through a DOD Death Metal. Then I collected more pedals so it has increased in amount. Nevertheless, Iíve been going slow so some releases shared the same setup. As said, I try to be creative with the sound sources. To me, they play a big role in what makes walls sound different.
M[m]: I believe you play drums in a few extreme metal bands - which one are they, and do you think your drum playing influences your wall work at all?
Polwach Thatís correct. You can see the list of my projects and what I play in them here: https://www.metal-archives.com/artists/Polwach/535051
Well, I canít think much about how my drumming influences it but I love highly treble snare and kick sounds so maybe I could say my walls go the same.
M[m]: Your listing on metal archives mentions two non-metal projects - Chamber of Tapeworms, and Komootra, could you discuss each of these?
Polwach Chamber of Tapeworms is a duo project. We used to play a mix between noisecore and gorenoise but now itís a harsh noise wall project. We focus on the harsh side of harsh noise wall on this one. Komootra (read Ko-Mood) is a dark ambient/field recording project but this has been on hiatus for a long time. I need to get this active again some time in the future.
M[m]: Iíve seen pictures of you performing live as Unsignified Death - how many times have you played now? And what was each set like/ did it consist of?
Polwach Only one time under Unsignified Death but I performed some walls prior to that under Chamber of Tapeworms which is a wall project with Visarute (Impermanence). That Unsignified Death first live performance was a part of Void/Wall which is a series of harsh noise wall gigs I co-organized with the venue. That set up consisted of a sound source from MyNoise through my main pedals I talked about. I plan to sound different for each set in the future but I will have to see.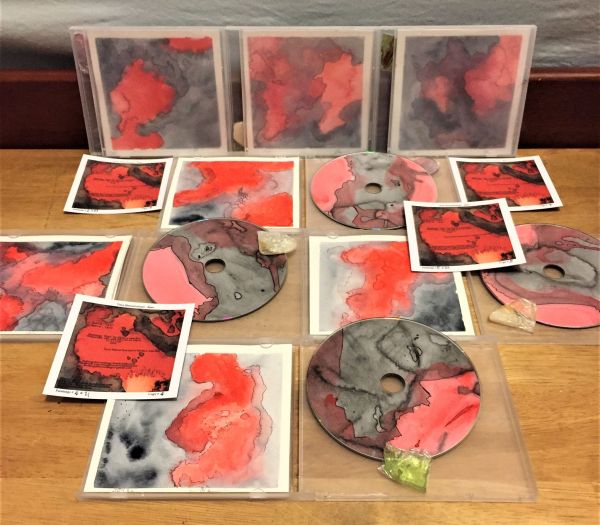 M[m]: Are there any more walled noise projects in Thailand? And whatís the general extreme noise/ metal scene like in the country?
Polwach There are a few of them but from the same people. Only 4 of us as far as I know. Me, Visarute (Impermanence: https://impermanence.bandcamp.com, Chamber of Tapeworms: https://chamberoftapeworms.bandcamp.com), Paponpat (Painflux: https://fisjustaletter.bandcamp.com), Arkat (Acidwall: https://acidwall.bandcamp.com). Visarute and Paponpat also have more wall projects. You can contact me https://unsignifieddeath.bandcamp.com for more details about them.
The noise and the underground metal scenes here share the same aspects: small but everyone knows each other, the same venues we are familiar with. As far as I can see many people here support artists, joining gigs, buying stuff. Overseas bands/projects come to play here and there. Itís great.
M[m]: What have you got lined-up next for both the label & Unsignified Death?
Polwach Whatís confirmed on Perpetual Abjection is Sergey Pakhomov, Chamber of Tapeworms, Exquise Esquisse / Dosis Letalis split, and Mai12 releases. Unsignified Death will have a split CDR with Train Cemetery to be out on a new label from the USA Obsessive Need. Also, a cassette release Menses Asphyxiation Pregnancy I+II, which is two EPs combined as one, to be out on Deathbed Tapes. I also took part in the HNW Harsh Noise Wall Facebook groupís 4000 member compilation to be out digitally on the netlabel HNW.

Thanks to Polwach for his time/ effort with the interview. Perpetual Abjection Bandcamp can be found here https://perpetualabjection.bandcamp.com/
Roger Batty