Years Inside These Walls [2020-04-07]Paul Dever is one of the longest-running & respected names in the Harsh Noise wall - heís been active in the scene since 2005, with his most known project been Griz+zlor which ran between 2006 and 2012- and offered up dense & dark monolithic wall craft. His most recent/ active project is Blood Eagle- this stared in 2015, and has so far put out around seven release- the last of these been the double C90 set All Out War on respected Swedish noise label Ominous Recordings- it was another uncompromising set from Deverís highlighting his skill for creating dense and atmospheric wall matter. Weíve already interviewed Paul twice on M[m]- once in 2010, and once in 2012- so it now felt like a prime time to re-interview this important figure in the worldwide wall noise scene once again- and the interview was contacted by email.

M[m]: your previous & infamous HNW project ended in 2012 Griz+zlor, but you didnít return to the genre in 2015 starting the project Blood Eagle- where you still creating Ďwallí in these three years or had you become jaded by the scene?
Paul most of that time away was because of real-life situations and had nothing to do with the state of the scene. I, unfortunately, was not producing many walls during that time, and anything that I did do was undoubtedly lost in a hard drive failure or sent to a label that disappeared (more than one of them). I typically aim to have at least 1 release a year. it just happened that a few years slipped by without one.

M[m]: You mention walls you sent off to labels that never got released- have you ever thought of trying to release these as say a boxset/ similar?
Paul No, Iím a very of the moment type guy. If I record for a specific reason/person/label it is meant for them. If it never comes out, then it was meant for the ears of that one person. And quite honestly if I were to record a boxset I would prefer if the tracks were related and not a mix of different recording processes.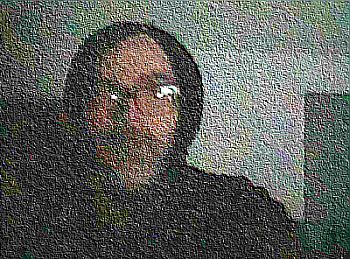 M[m]: Your most recent/ active project is Blood Eagle- tell us a little about how/ why you picked the name? And what it means to you?
Paul I had the new project name decided as the GRIZ+ZLOR grave was still fresh. it can come across as pretty straight forward but itís also multifaceted at the same time. I wanted to pay homage to the Cherry Point so BLOOD had to be in there. At the time it felt like there was a grassroots movement to (pardon the phrase) ďmake American noise harsh againĒ. a new class of noise kids who worshipped Macronympha and that era American harsh noise. and I identified with that. I wanted to tie being American (EAGLE) into my project as well as well as telling (without actually saying) everyone HNW is brutal again. The Blood Eagle (as itís translated into English) is a pretty harsh form of ritual torture (allegedly) practiced by the Vikings. It just fit
M[m]: How has your set-up changed & altered since the Griz+zlor days? And are there any bits of equipment you still use from when you started creating walled noise?
Paul my equipment is an always evolving creature. I still have a particular big muff I still use from time to time. when I started I leaned heavier on the high gain distortions, but Iíve moved into fuzz over the last few years, almost exclusively. Gear has always been a bit of an obsession for me, so some stuff always comes and goes...
M[m]: Do you have a special place/ area you creating noise, or do you just set up where ever?
Paul These days it is definitely wherever/whenever I can.
M[m]: Do you feel the way you create walls- be its source material, type of set up or way you compose, or record Ďwallsí changed?
Paul oh definitely, I donít like to always do things the same way, I sometimes like the challenge of making walls a different way, but still hitting that traditional wall sound...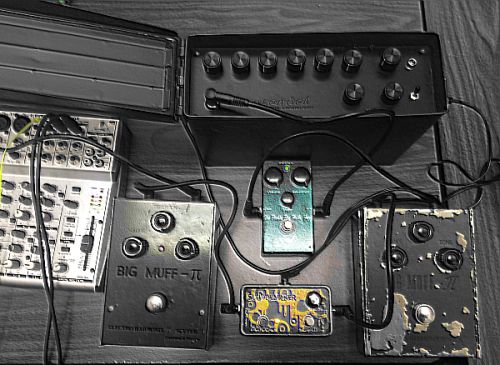 M[m]: Please discuss what youíve used a source material over the years- and what have been some of your favorite sources?
Paul Iíve tried many things over the years, countless numbers of different oscillators and white noise generators, my favorite of which is the RMA crustacean, I have 2 different models and contemplate hitting Curtis up for a newer custom build.
Iíve tried many other processes though, ambient noise from an empty room digitally recorded, recorded direct to reel to reel, and recorded to cassettes. Pre-recorded walls to both reel to reel and cassette. Iíve tried a turntable like Cannibal Ritual. I work in the printing industry and have had quite a few times I recorded using the equipment available to me, using contact mics and regular microphones inside copiers while they run. We have a machine called a paper jogger, that Iíve used to automate a shaker box. Probably many motes that just escape my memory now...
While I tend to lean on the crustaceans and cassettes these days, I love to experiment, even when they fail.
M[m]: Since you started Blood Eagle the project has put out around seven release- please select two, or three you feel you're most proud of?
Paul Thatís a bit tough to nail just a couple. they all are special to me for one reason or another. The 2 I produced (Monolith, and Savages which was an HNW tape swap entry that is misattributed to GRIZ+ZLOR in Discogs) should get a bit more love from me because I labored on the entire process. that should be a valid response, but I donít feel they are any different than say my newest All Out War or my split with Dosis Letalis.
I feel very lucky and grateful to have worked with all the labels and projects I have, past, present, and future...
M[m]: Could you please discuss what you see as the themes behind Blood Eagle?
Paul Surprisingly I haven't been force-feeding a particular agenda or theme to fit. I keep it pretty vague and sometimes tongue in cheek (for example, for a while I was tossing blood in the title of every track). I try to keep the focus on the wall and not an agenda or obsession. kind of making me the Manowar of HNW. I'm just not at the point of naming tracks with hnw in them....YET.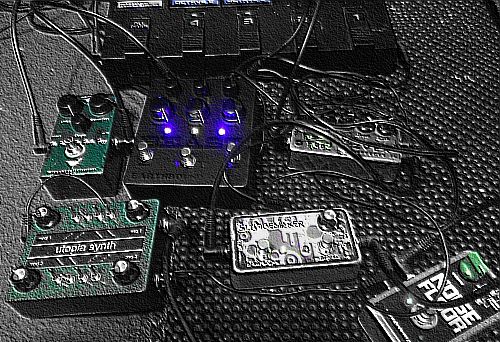 M[m]: All Out War was Blood Eagle's most recent release- please discuss over what period the material was recorded/ worked on for this release?
Paul It was recorded a few years ago, I borrowed a laptop to record and took quite a few ďordersĒ for releases, some of these orders materialized, some did not. Johan was backlogged at the time but still asked, I told him it comes out when it comes out, I donít need to rush, Iím not compelled to have a new release every week, or every month. When he was ready to release it, I was out of communication. so it took even longer to come out.
M[m]: All Out War features obscured pictures of bone cage showing humanoid figure- can you tell us a bit about who created this & what itís meaning?
Paul One of the things Iíve done differently in Blood Eagle than GRIZ+ZLOR, is giving the labels who work with me more control over the art. (which is why GRIZ+ZLOR releases were barely ever on other peopleís label). This is the case for this release, Johan sourced all the art, and he deserves the credit for how that release looked. He did an awesome job!
M[m]: Do you still closely follow the wall noise today- and if so are there any projects/ release youíve particularly enjoyed?
Paul one of my big life changes in the last several years was drastically cutting the amount of stuff I own. I pick up an occasional release here and there, but most of my listening is digitally through Bandcamp. I drift between being active to inactive on social media, so I typically just follow the tags on Bandcamp or Soundcloud. sometimes I win, sometimes I lose. not to sound elitist, but I find it amazing what some people think is HNW. so ultimately I don't follow super closely but I lurk at the usual places.
M[m]: During 2015 you released a huge body of work on Bandcamp- could you discuss these? And any thoughts of every put them out in a physical form?
Paul In a time when it felt like HNW kept escalating like an arms race, I challenged myself to release a track at least 30 mins long, for an entire year. Most of those tracks bumped up against that hour mark I was typically able to hit (58 mins to be exact). I entitled it the 2015 HNW apocalypse.
Some of the tracks are incredible and feel fresh to me even to this day, others, however, were certainly rushed and are sub-par. But that is part of the challenge for the most part. To record when you donít feel like it, to create when your mind is elsewhere. They exist on Bandcamp, that is where they were intended to live.
Also practically speaking, that is an insane amount of audio, that I donít have original files to. So in the aftermath of the 2020 HNWgate, if/when they get taken down, they are gone

M[m]: whatís next for you- any more plans for new Blood Eagle release, or new projects?
Paul I have a few new projects out in aether, already, purposely hidden. a bit of a social experiment to see how long it takes people to find if they ever do.
I also have a collaboration with Chefkirk coming out at some point on Glossolalia Records based upon a mutual love of Daikaiju (Godzilla, Gamera, etc.) movies. Super psyched for people to hear it, the best thing I can say is I do what I do, he does what he does... together it is magical. I have a few other things floating around.
Thanks to Paul for his time & effort with the interview- you can check out Paulís Bandcamp here for Blood Eagle & his other projects.
Roger Batty