A Bestial Fukkin Warmachine for our time [2020-03-29]I don't think you'd find any argument that the golden age for Thrash and Speed Metal was the 1980s, and whilst a host of great bands have followed very few of them have ever managed to capture the raw unadulterated power of the albums recorded during that period. As much as I like bands like Havok, Gamma Bomb, Vektor and Toxik Holocaust they have never quite managed to rival the likes Kreator, Slayer or Exodus at their pinnacle, Bütcher may well be the exception to that rule. With the release of their second album 666 Goats Carry My Chariot they have taken huge steps towards filling the shoes of those aforementioned bands, if we add Iron Maiden, Celtic Frost, Sodom, Destruction and Mercyful Fate to the list of influences you know exactly the sort of thing I'm talking about. The thing is Bütcher are not some tribute act, you can hear their influences, but they have their own sound. We here at Musique Machine were lucky enough to catch up with band leaders R Hellshrieker and KK Ripper to discuss their new album, the band's history and their future plans.

M[m]: I believe the band was originally formed as far as back as 2000, can you tell our readers a little bit about your history? How you guys came together in the first place and why you split the first time around and what led to you getting back together?
R HELLSHRIEKER Hey guys. Well, the band originated from a certain desire to play some vintage '80s metal. When we were at gigs in the early 2000's it was only black and death metal (and mostly the annoying variants that popped up back then) and people seemed to forget to simply enjoy and evening out, bang their heads, scream to choruses… you know, have a general awesome hard-rocking time. A few of us just decided to throw some 80's sounding riffs together and act as a project, kind of a counterweight, to that particular scene. And we had fun, and in our local area, we made a name for ourselves. But there was a lack of vision, of ambition as well, we never cooked up the ideas to put more into it. It was more a reaction to a trend I suppose. So we split up in 2007. Fast forward to 2014 and it was just a cool night out, talking and drinking let to some reminiscing about those days… More importantly, though, KK Ripper was playing there with his old band Bones (killer Belgian death metal btw), and him teaming up with a few of the old Bütcher members led to the rebirth of the band. His input and visionary songwriting was the turning point towards the band we have today.

M[m]: Despite all that history, you guys seem to have appeared from nowhere, your debut album Bestial Fȕkkin' Warmachine has barely received a review anywhere online and it is really difficult to track down a copy, as I found after being completely blown away by 666 Goats Carry My Chariot. Would you like to tell us a little bit about that album and how it came about?
R HELLSHRIEKER Well, visionary and skillful songwriting won't mean anything if people can't listen to your band, go out and see it or buy/order a copy. But we only started actively promoting ourselves during 2017, using social media etc. We were not aware of peoples interest, how to generate interest from labels etc. So more or less in the same vein, the first album was done on a small local label, Babylon Doom Cult Records. And yes: the first press of that vinyl is long sold out, a second press is still available (cd's are sold out, maybe there will be a rerun?). We sold almost all on our shows, people watching us live wanting to buy a copy. The former label probably got some wholesale copies out worldwide, some got to Japan and the US for instance, but it's all very small time.
R HELLSHRIEKER Now don't get me wrong, because Babylon Doom Cult put a lot of effort in, and helped make a serious impact. He got us out there, and while Osmose operates on another level, Jo from BDC went beyond the call of duty and supported the band, talked about it, promoted it. But it was our first full-length effort, us going to the Voodoosound Studios for the first time and work with all that analog equipment, and the album was KK Ripper first dabbling in his genre blending songwriting. It also features 2 old demo songs (completely reworked, but still) so the whole process and experience was new to us. The debut album sounds harsher because of our learning process in recording, a whole different kind of mastering than the second album, and actually a very loud vinyl cut. The material is Bütcher, without a doubt, but the album has a bit of different atmosphere than the latest one. On '666 Goats…', the least you can say, is that pure heavy metal is more prominent.

KK RIPPER Considering songwriting for "Bestial..." , we started writing after the first couple of reunion shows and as a guitarist I was looking all over the place for influences.. I was super proud when we pulled it off, but looking back at it now, I guess it was a bit "embryonic" in the sense that we were still looking for an identity or "formula" as a band which I think we really perfected with "666 Goats...". From me also, big shout out to Jo Versmissen of Babylon Doom Cult Records; even though his label is in a different league then Osmose, he believed in us from the beginning and did everything within his power to help us progress as a band, and I honestly don't think we'd be where we are now without his involvement!
M[m]: Do you have any plans to reissue the album to make it more widely available?
R HELLSHRIEKER As said, the repress of the vinyl is available via the band, via Babylon Doom Cult, the Osmose webshop and some select distros that still carry it. We are talking with BDC of re-releasing the first album on cd, but nothing concrete as of yet.
M[m]: Can you tell us a little bit about each member of the band, and how you all came to be involved in Bȕtcher?
R HELLSHRIEKER Well, I started the band back in the day with the old members. There were 3 of us former members, teaming with KK Ripper and (mostly) our friend DB Destroyer during the restart of band. Early 2019 though, before we hit the studio, KK Ripper and myself continued the band after the other guys had to leave. Both of us had a certain expectation level, and a beyond healthy dose of dedication, so we needed to part ways - we still get to drink beers and hang out together though! We approached LV Speedhämmer (who we saw drumming with his other band Schizophrenia and made quite an impact on us with that) and AH Wrathchylde, a very talented axemaster who we were friends with already anwyay … So that's how the band is shaped now… Maybe also a 5th member is imminent, will need to revisit that answer a bit later.
M[m]: Musically you wear your influences on your sleeve, when listening to 666 Goats Carry My Chariot I can hear a lot of my favourite bands from the 1980s, Iron Maiden, Venom, Bathory, Mercyful Fate, Celtic Frost and Kreator to name a few. Was it your intention to create an homage to those bands with your music, or are those bands just so ingrained in your DNA that their influence just naturally comes out in your music?
R HELLSHRIEKER We never set out to just copy one of those bands, that's a really important thing. But of course: they made the albums which made us fall in love with metal in the first place. So it's an homage, yes, but we still want to have an identity. Making very good songs with thoughtful structures, unexpected twists, taking small cues from different genres whilst still operating in the most traditional of 80's metal styles is the goal. But it's not a plan, or a marketing direction, or a selling point per se… it comes naturally. You can't play this kind of music, from the deepest of your veins, without having metal just flowing through it. We simply bleed liquid Steele, ha!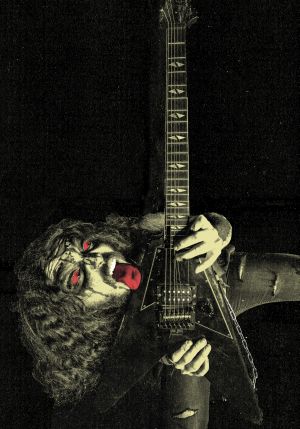 KK RIPPER This is a really cool question, so I want to give my view on it as well, which is 90% the same: actually it's a bit of both :-) It's logical that, if you're playing speed/thrash/black, these aforementioned bands are a "natural influence", because if they aren't, I think your band better picks a different genre, bro.
But yes, our influences are sometimes very "direct', I guess, haha :-) . Well, anyway, I sometimes think of it as a speed/black/thrash-version of TURBONEGRO, where there are very literal homages to our influences, while still being ourselves with it and trying to be "fresh". I'm not too concerned with being very original, I'm just concerned with having a strong identity as a band. I think a lot of people can relate to it, because it's very sincere.

M[m]: Despite the prevalence of your influences in your music, the thing that stands out for me is the songcraft, you guys really know your way around a tune. The new album has some of the finest speed metal riffs I've heard in many a year. Can you tell us a little bit about your song writing process and how you come up with those amazing riffs?
KK RIPPER Thank you so much, man. Coming up with riffs really isn't something that I have a formula or a ritual for. Sometimes, especially under pressure, I just go into Riff-finder General-modus and it feels like I pull them out of thin air. A lot of leads, and the intro and outro, were literally written in the hotel when in the studio (while high off my balls of that amazing Dutch weed, tbh--- even tho I write mostly sober). As for the songwriting, again, thank you so much. I'm really really into 70's and early 80's hard rock, like Thin Lizzy, BÖC, Budgie,... and while those bands are not always a direct influence, they influence me heavily in song crafting. It's the maturity of the songwriting that made these band the cult legends they are. Also, Maiden and Priest are Godz when it comes to songwriting; there's a reason they are the biggest bands in metal - because they are the best! And Mercyful Fate too, man, so experimental and adventurous for heavy metal standards; and just fun to listen too!
M[m]: You seem to be bringing a little of the theatricality back into metal through your image and your stage show. Has the visual style always been a big part of the band's approach or has this developed over time?
R HELLSHRIEKER This is a great question, and actually has developed over time. We have always been fans of the theatrical side of things. Does it get any better than those huge Venom or Iron Maiden shows? Not to us, at least. But we used to just approach it rather standardly during our first iteration. We looked like thrashers on stage but to be fair, without a lot of identity. And when we got back together it was played rather safe as well, also because we were probably searching, finding ourself, finding confidence. It was when we noticed the gaining interest, and we started feeling so comfortable in what we were doing, we started to open up all the registers. Wear paint, blood, and leather, and use fire and smoke, wield an inverted cross and burning speed metal swirls… The stage presence resembles the music in that regard. It is a bit conventional and partly what you might expect, but it mixes genres. The candles and paint of black metal, but sometimes it's more an Alice Cooper or old Slayer take with the make up. Stage lights and smoke to resemble the heavy metal way, hard-rocking way, of things. Burning signs remind of Venom and over-the-top speed metal production… we do now what we can – taking into account logistics and what a venue will allow concerning fire safety – because a Bütcher show needs to be an experience, an all-out assault on the senses.
M[m]: 666 Goats Carry My Chariot really took me by surprise, it does something few modern metal records do for me. It makes me feel like a 16 year old thrash metal geek again. Everyone I've spoken to who has heard anything from the album seems to be having a similar response to it. Did you guys envision that this album could potentially catapult you into the metal mainstream?
R HELLSHRIEKER I don't know about mainstream, and that word has such a disgusting taste to it, if you define mainstream as most common denominator. We simply do not write music by a formula which is made up from a viewpoint of how many listens or shares it would generate. Nor what is popular in a certain demographic group or what can be hip or marketable. But catapult us anywhere and we will land on our feet. Andy yes, I think what do is relevant. I am sure that there are metal masses out there who crave for bands that continue the path laid out by what Judas Priest, Sodom or Bathory had to offer. If people want us to carry that torch, we will gladly do so. But there are a lot of "ifs", a certain amount of luck, and massive amounts of hard work in those few sentences. Let us continue to work hard, writing more and good metal songs, and keep performing.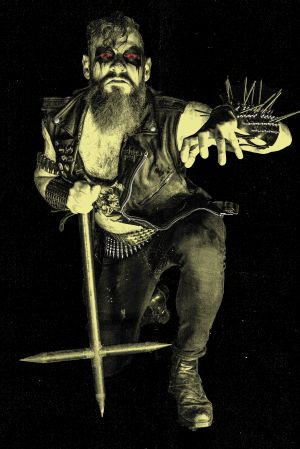 M[m]: One thing I guess a lot of people will be asking is, do you have any plans to tour across Europe? I am in the UK and we are screaming out for a band like you to come here and tear the place apart.
R HELLSHRIEKER Our booking agency works extremely hard to put us at great shows and festivals. We would love to tour and I am sure it will happen, but we will need to make smart choices. When all the stars are aligned, we go for it – no doubt! It would be great for us to do so and will help us grow further. In the meanwhile, let's see if we manage to get to the UK soon!
M[m]: What are your future plans for the band? I realize the album is only just due out this week but I would be interested to know where you guys would like to take this in the future?
R HELLSHRIEKER As I said, we keep working hard, playing a lot of live shows (we have very cool ones coming up, for instance at Party San Open Air this summer) and try to work on new material as well. We have always plans to expand on our live shows, ideas for better merch… so in general: continue to promote the band and the new record. I like it as well actually, haha, and want to savour it equally! Hope to see you soon. Cheers!

666 Goats Carry My Chariot is released via Osmose Productions and available from their website.
here
Debut album Bestial Fȕkkin' Warmachine is available on vinyl and in a digital format from the band's bandcamp page here
Pictures by Ann Kermans
Darren Charles