From Tools Of Torture-To-Flint Walling [2019-06-28]Norfolk Uk based noise maker Michael Ridge is one of the longer running denizens of the Uk wall-noise scene, been involved since around 2010. He may not be the most proflic in the worldwide scene, but he always puts a lot of time & thought into whatever he releases. His first project Acerbitas, run between 2010 to 2014- with all the projects fourteen releases been themed around tools of torture. After a few years away from HNW( though still active within the wider noise scene)- he returned in 2017 to the scene with his most recent project Norfolk Trotter- which sees him creating densely raging & subtle shifting wall making, with flint been used as the projects source material. I caught up with Michael for an email interview- discussing his wall career in general, and of course his most recent project.

M[m]: When & how did you first come across the HNW scene? And were there any particular release that triggers you want to create your own walls?

Micheal Late 2009 a few other labels/artists/friends I was in contact with at the time were discussing The Rita/Vomir, so I decided to check it out. I picked up a copy of Bodies Bear Traces Of Carnal Violence by The Rita and of course Proanomie by Vomir, both totally blew me away. I can say with confidence this is what primarily motivated to explore crafting my own walls.

M[m]: Your first wall noise was Acerbitas- which run between 2010- 2014. Please discuss what you saw as the themes behind this project, what was your set up for this project, and why you decided to end the project?

Micheal Overall themes of Acerbitas leaned towards torture, punishment, and nihilism (Thumbscrew and Crocodile Shears being prime examples). Being a tour guide for the dungeons at Norwich Castle Museum meant I had access to an excellent crime & punishment collection, this provided a plethora of inspiration and material for this project!

In terms of set up, I remember using a gutted Robert's radio hooked up to a myriad of pedals, favourites included a modified Boss Metal Zone, Behringer Heavy Distortion and Death Metal pedal.

Artistically there wasn't anything further I wanted to explore with Acerbitas and thought it was the right time to end it.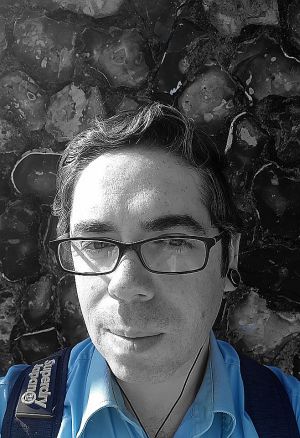 M[m]: Is there any unreleased Acerbitas material, and have you ever considered putting out a box set with all the projects work?
Micheal Sadly three years ago all unreleased Acerbitas material (as well other recordings) were lost when our old Windows PC they were stored on died, foolishly at the time I didn't back these files up. Yes, I'm contemplating a box set covering all released material – keep a look out on Quagga Curious Sounds…!
M[m]: Between Acerbitas ending and starting Norfolk Trotter in 2017- did you create any walled noise? Or had you become disillusioned with the sound/ genre- and if what got you back into creating wall noise again?
Micheal Yes, I experimented a little recording walls once Acerbitas had ended, nothing worthy of release or sharing but it kept me interested in the genre as a whole.
M[m]: How does your set-up, theme & focus vary between Acerbitas & Norfolk Trotter? And do you have any bits of kit you've used from when you started creating noise?
Micheal The theme and focus of Norfolk Trotter is where it really differs from Acerbitas. Lately, I've been interested in Norfolk flint, either worked or found naturally it's an undeniable and enduring part of history and landscape in the Eastern region. Knapped and Paramoudra both explore this theme, particularly Paramoudra which utilised nodules of flint as a sound source for the wall. For those that don't know a Norfolk Trotter is an extinct horse breed once native to East Anglia and Norfolk. The modified Boss Metal Zone and smashed up Tascam 4 Track Cassette Recorder are two bits of kit I've used for 10+ years.
M[m]: You mention the origin of the Norfolk Trotter name- why did you decide on this as a name?
Micheal Norfolk Trotter, Zebra Mu, and Quagga Curious Sounds all reference a mammal of the horse family (Equidae). Also, I wanted a name to reflect my interest in local history, materials, and the environment.
M[m]: How do you go about capturing flint as a sound source? And are they any other local related things you'd like to utilize in 'wall' creation?
Micheal To date I've experimented hitting/scraping/rubbing several flint nodules together, utilizing a combination of contact microphones and cassette/digital recorders to capture the sound. It's still very much in the exploratory stages but I'm satisfied with how it is helping craft walls. I'm considering the possibility of using hydrophones in the creation of walls, we live nearby a local nature reserve with an abundance of rivers and marshland to investigate. In the future, I'd also like to test locally made horseshoes as a sound source.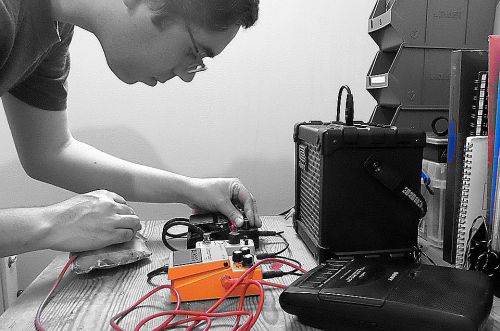 M[m]: Since you started Norfolk Trotter- you've put out eight releases- have you any favorites? And if so please explain why?
Micheal Paramoudra released on Perpetual Abjection is a personal favourite, Polwach who runs the label did a superb job with the art and packaging. Conceptually this is my most fully realized and focused HNW release, one which I hope to continue with.
M[m]: As for a lot of noise releases- your HNW release was very Ltd- have you ever thought of doing reissues? Or making them available in digital form?
Micheal I've considered doing a reissue Tip and Gone, only a handful of each were made. Though perhaps conceptually lacking focus (in my opinion), I do like the walls recorded on both tapes.
M[m]: You've been involved in the wall noise scene for coming on for ten years now- what do see has high & low points in the wider scene?
Micheal Haha, it's been nearly ten years already?! The general high points nowadays is the ease of access and variety of wall noise now available, I view the public group on Facebook as great resource to see what's going on in the scene as a whole. I recall the days of Myspace when only a scant few wall noise tracks/artists were accessible. Low points? - Somewhat tricky to answer as I don't tend to linger or bother with the negatives facets of the scene.
M[m]: What are your thoughts on the slow by the steady increase in interest in wall noise scene? And what are your thoughts on the sub-genres of the wall-noise scene like ANW, DNW, lower case NW, etc?
Micheal This is a positive thing, whatever people may say about wall noise in all its forms it's a worthy genre of music and one I hope will gain more listeners. The various sub-genres show a willingness by artists to push wall noise into different and inventive directions. I especially enjoy ambient wall noise (I'm already a fan of ambient/drone music in general), putting ANW on mid-low volume on a rainy day is bliss.
M[m]: I know you've done a few live shows- where any of these wall-based?
Micheal Unfortunately, none of the shows were wall based, a majority of the live shows were under my experimental noise project Zebra Mu. I would certainly like to do a wall noise set if anyone is willing to put me on the bill…….
M[m]: I know like me you're a Guinea pig lover, and have a few yourself- have you ever thought of sampling the pigs many sounds to create walls or noise?
Micheal The thought has crossed my mind, a guinea pig wall noise side-project would be hilarious, the racket our four make would create some of the harshest walls of noise ever!
M[m]: What's next for Norfolk Trotter?
Micheal Hopefully an experimental ¼" reel-to-reel loop a little later this year and a CDr/tape to follow!
Thanks to Michael for his time & efforts with the interview. Paramoudr, Norfolk Trotters most recent release appeared on Bangkok art edition wall noise label- and as of this interview the label still has a few copies left- so head here to find out more. Michael also has his own label Quagga Curious which focuses in on both his harsh noise & walled noise output- head here to find out more
Roger Batty