Who are you, Midori? An interview with She Spread Sorrow [2019-03-29]Since 2015's Rumspringa, She Spread Sorrow - the solo project of Italian artist Alice Kundalini - has become something of an unstoppable force in the industrial and power electronics scenes. With Mine (2017) and Midori (2018), both on Cold Spring Records, She Spread Sorrow takes a measured- even delicate- approach to sound, but is no less brutal and unrelenting for it. Musique Machine spoke to Alice to find out more about the project.

M[m]: Hi Alice, how's 2019 been for you so far?
AK Positive and intense so far. I'm working on the new record and I'm focusing on producing new material. For the rest, I would say very intense rhythms, on all fronts.


M[m]: Growing up amidst the Italian power electronics scene must have been a formative influence on you-what were the projects that shaped your outlook and preferred style? What's the landscape like in Italy at the moment, in terms of gigs and projects?
AK Italian PE is the genre that most fascinated and enveloped me. I came to listen to projects in this genre when I was about twenty years old and since then my way of conceiving the sound has radically changed. Italian PE, more than any other type of music, is the true sound of the darkest parts of the soul, at least for me. The very few, minimal, sounds repeated obsessively, the distorted vocals similar to the voices of the maniacs who make phone calls in 1970s Italian giallo films, and the low quality of the production gives some tapes from many years ago a particularly disturbing and obscure aura.

AK Atrax Morgue, Teatro Satanico (my stage name, Kundalini, is a tribute to Alberto Maria Kundalini, writer and member of that project, perhaps the person who has influenced me most in some works), Progetto Morte, Mauthausen Orchestra, The Sodality, and many others. At the moment, an Italian PE scene is quite difficult to detect, but there remains a very interesting industrial scene, full of more or less valid projects and labels.

AK For the live shows, you know, it is not as easy here as in many other countries, but there are still spaces and festivals dedicated to these sounds (Varvara Festival and Congresso Post Industriale above all, and Destination Morgue until last year, which was the last one).



M[m]: I saw you play at United Forces of Industrial in London in 2017 and the attitude of the audience was almost reverential- a hush fell and a friend stood next to me got a real telling-off for not quitting talking (rightly so). Has this been your general experience of audiences for your shows? Have you noticed any changes in audience behavior according to different places/venues/bills?
AK Sometimes this happens during my performances and those are the live shows where I feel that I really succeeded: those in which the sound manages to completely absorb the audience, who fall in some way into a very strong emotional atmosphere that is created by the frequencies and images. It doesn't always happen; it depends a lot on the context, the quality of the sound, the volume, the lights, the desire of the public to be transported. The behaviour of the public changes a lot depending on the premises; I've played in a lot of different contexts, but I must say that even with audiences very far from certain sounds, I have still often seen interesting reactions to my sound and a lot of curiosity.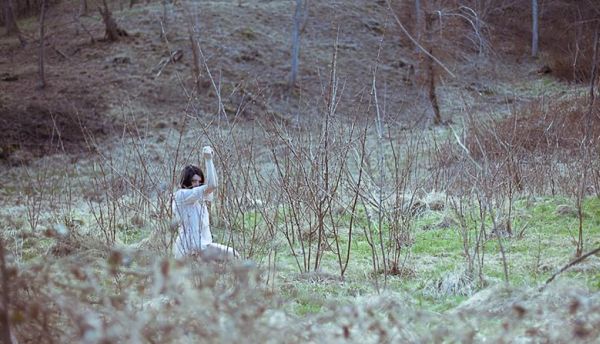 M[m]: Some of the most intense live experiences I've had have been when there's a discernible physical impact from the music. This seems evident with some of your material even away from the live experience-like that oddly nauseating cyclic droning on 'Spring of Regret'. How important is the physical experience of the music for you? Do you aim to invoke some kind of physical reaction?
AK This is very important. In fact, my way of composing remains extremely physical -the result of improvisation and a very physical relationship with the instruments. I use the low frequencies a lot, because they are the ones that, from a physical point of view, I feel more. The choice of sounds often resides in the vibrations and effects that certain frequencies have on my body.

M[m]: What's the process of making music like for you: where do you write, practice, and record?
AK In March last year I moved to an apartment where a room has become my studio (and also that of my husband, Luca Sigurt, who is also a musician) where we compose, write, and record. Mine is the only release so far that I recorded in a friend's studio (Cecco Testa of the project Cropcircle). The album I'm working on now will be recorded in the form of an album in a professional studio, but the first sessions of recording and all the compositions will be done in my house. It's very important to me to have a place just for me and my music, without anything else, like a little bubble far away from the rest of the world.

M[m]: Your artwork suggests a range of influences beyond music. There's often a filmic quality to your work, especially on Mine, and artwork is clearly an important part of all your releases. What else art, film, etc., have you found useful in informing your work, or inspiring you?
AK I can't say I'm an expert in cinema or a collector, but I'm definitely passionate and I think my passion has led me to the things that have more or less consciously influenced the aesthetic imagery I use. In terms of cinema, Italian crime and mystery films from the 70s, and directors like Lucio Fulci, Mario Bava, Sergio Martino, Pupi Avati. Outside Italy there are films and directors that for me are fundamental: Jӧrg Buttgereit, Gaspar No¨¦, Alejandro Jodorowsky, Jan Ŝvankmajer, Harmony Korine, Lars von Trier, Christopher Nolan, and Nicholas Winding Refn, to mention some of my favourites.
AK One of my favourite films is In A Glass Cage (Tras El Cristal, Agust¨¬ Villaronga), a film in which I find poetry and brutality at the same moment. Its aesthetic has influenced me a lot. It's a dark film, often turned to cold colour, with a perfect rhythm in its slowness that takes you into an even more morbid, sordid, dirty, dark, sick, and deviated universe.
AK Other artists not related to cinema, but for me influential, are Mark Ryden, Trevor Brown and Nicoletta Ceccoli. And then Suehiro Maruo, a Japanese manga artist (the name Midori is a name not randomly chosen but connected to the protagonist of his wonderful graphic novel, Sh¨­jo Tsubaki).


M[m]: A lot of noise and power electronics relies on strong thematic content for its power. She Spread Sorrow hasn't gone down the usual thematic routes, which I find really refreshing. There are still strong themes there (both in sound and artwork) but they're subtle such as personal ruin and a breakdown in 'normal' domestic life. Is that a theme that you often have in mind when you're constructing pieces?
AK Yes, that's right. The themes of my works have origins from very concrete stories that I feel are near me for different reasons. Maybe not just autobiographic, but something that I feel in some way inside me. Abuse, loneliness, madness, the fall-out of reality, the dark and hidden corners of the soul, one's image of oneself, the doubling of the self, suicide, fear, the sense of alienation. I can write and compose only when I feel that I really have something to express, so very often the issues start from very, very, close to home.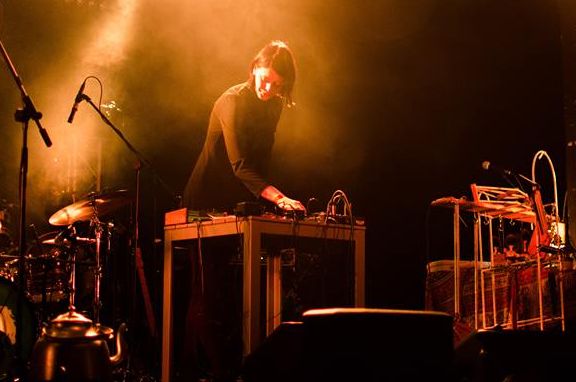 M[m]: Similarly, I often think I can discern religious elements within your sound: whispering that almost sounds like chanted prayers, bells¡­ Are those deliberately intended to evoke that comparison?
AK Sometimes yes, other times no. Rumspringa was born with a concept also linked to religion and Mine follows an aesthetic that preserves something religious. This is due to the fact that many of the themes listed above have in reality a strong connection with religion as understood as dogmas, rituals, rules, guilt, sin, shame... This derives more from the personal feeling that evokes religion more than the religion in itself, in its connection to spirituality and God. I am fascinated by the psychological aspects of religion.

M[m]: Your material seems to come from a very personal, inner, place- especially latest album Midori. And the converse of the 'ruin' theme is perhaps recovery. How far is music a place of working out, or playing through, things from your own life? How does it feel to then put all that out there for others to listen to?
AK Yes, Midori is an extremely personal album, but in which the narration is totally open. So the personal readings are extremely different from what my personal one can be. For me, playing has always been a form of communication, a way to go to those areas of my inner self where there is usually a lot of darkness and you are not well at all. Playing allows me to get in touch with those areas and it helps me to light them slowly. It is extremely therapeutic for me and sometimes it is painful at the same time, especially during live shows. There are images of my past, like photographs, which reappear. Sometimes they help me because they give me the right inspiration and the right involvement, but very often they sink and lead me into a sort of almost dissociated state.
AK Making others listen to this helps me a great deal and it's never something that worries me, partly because everyone has a personal and autobiographical reading of things. It's like a catharsis in which the emotional engagement of those who are hearing you brings a little light into your own dark room.
M[m]: There's something about the juxtaposition of harsh noises and whispered female vocals that's incredibly effective and it's something I've always loved- right from my teenage days of listening to Jessicka's little-girl vocals in Jack Off Jill! Was it a conscious choice to avoid shouted or overtly "aggressive" vocals?
AK Absolutely yes. I like to think that the things I'm telling are secrets that I whisper and not an angry rage. Maybe there will be things like that later, but I don't feel they are right for me at the moment. In this choice the influence of Italian PE is also strong: the vocals were often recited, sometimes difficult to understand, not shouted, but narrated, with a background of morbidity that I have always found more effective than other forms of voice use.


M[m]: I'm always hesitant to ask 'the gender question' because I don't like it to overshadow or define people's work, but I think there might also interesting things to be said. On the whole I've not personally encountered sexism or that kind of negativity within the power electronics/noise scene. But you said something interesting in an interview elsewhere, about encountering sexism from other women, which is also my experience! Why do you think this happens? How do you feel about the scene, as a whole, as a supportive space for artists (of any gender)?
AK Female misogyny is one of the biggest limits that we can pose. But alongside some cases of people like this more related to people who were close to me like 'friends' or similar-there are some completely different artistic examples. It was great for me to take part in the Madrid SHE MAKES NOISE festival, where I met some wonderful women. I am very happy to be participating in another women's festival in a few months, here in Italy in Acqui Terme, a small town in the north-west, not far from where I live (PhOEMina Festival).
AK The collaboration with Valentine Wiggin, who creates the images that I use during live shows, is another wonderful example of how female language is often similar and finds its own extremely personal and emotional way. For the rest, beyond the genre, I almost always found a lot of support from the artists with whom I shared the stage, even if on some occasions I would like to see more union between artists, promoters, labels, etc.
M[m]: What's next on the agenda for She Spread Sorrow?
AK As I mentioned, I'm working on a new solo record that I hope will come out later this year. I'm finishing the first record of a new project that I'm carrying out with my husband Luca Sigurta and a dear friend Daniele Delogu. The name of the project is Junkie Flamingos, the first album will be out soon on Helen Scarsdale Agency (I'm very happy about this) and it is called Lemegeton Party. In this project we combine more rhythmic electronics, my vocals and traditional esoteric instruments, giving life to a less obscure project than my solo work, where there is space to experiment with different sounds. I have some Italian live shows planned and have also scheduled some dates in Austria and Switzerland.
M[m]:And finally, what are you currently listening to, reading, or watching that you think we all need to check out?
AK I have just finished a great classic of literature, Of Mice and Men by John Steinbeck, which of course I strongly recommend, because of its incredible simplicity and sweetness. I am waiting to begin the book by Natascha Kampusch (3096 Days), a reading that I have postponed over the years and that I now feel ready to face up to.
AK I'm listening a lot to the album Plunge by Fever Ray, an artist that I adore, and something unlike the music I typically listen to. I'll also mention some Cold Spring releases from 2018 that I am listening to a lot: Maximum Implosion by Zeni Geva and Steve Albini, How To Destroy Angels by Coil + Zos Kia + Marc Almond, and Heathen Needles by Colossloth, a project I like very much. I am also listening a lot to the works of Cremation Lily, in particular In England Now, Underwater and The Processes And Instruments Of Normal People; Trying and Failing, Falling and Water Running.
AK As for movies, I recently reviewed Let the Right One In, a film from 2008 that I recommend, even if it seems to be just a black fable: for me it has a background that is much more disturbing as well as poetic (I recommend the book too). I recommend Climax by Gaspar Noé and The House That Jack Built by Lars von Trier. I have yet to see the remake of Suspiria, of which I have both high expectations and many fears at the same time.
Thank you very much for your questions and for the interest in my project, I love Musique Machine and it's a pleasure for me to do this interview!
Thanks for speaking to us, Alice! You can keep track of She Spread Sorrow activities over at https://shespreadsorrow.wordpress.com/
Photo credit: Front page pic & 1st in interview pic by Stefano Majno, live picture Jan Milkos

Jennifer Wallis