Netherlands, Noise And The Kim Dynasty [2019-03-01]Dutch HNW project Uitgeschakeld may not be one of the most active within the often highly prolific wall noise scene- releasing around twenty-three albums, including splits since it started in 2014. However, each new release by the project is greeted very warmly and with great interest by HNW fans. Casper Van Der Veen, the man behind Uitgeschakeld and several other projects, kindly agreed to talk to us about HNW, noise and some other things.

M[m]: What prompted you to work in the Noise, and more specifically focuses in on the sub-genre of HNW? Also, tell us a bit about how you first came across the noise genre?
Casper My first introduction to noise was in 2012 when I started listening to the likes of Merzbow and Prurient. The first encounter with walled noise came the same year with discovering Vomir's ProAnomie and The Rita's Sea Wolf Leviathan. Before this, I was listening to a lot of black metal as well as drone doom, like Sunn O))), The Angelic Process, Black Boned Angel, and Methadrone. I think these latter artists were a gateway drug towards noise, although I still listen to many of them today. Finally, I was totally obsessed with the music of Celer throughout most of 2012 (and many years after), some of the most serene and hauntingly beautiful drone music I have ever come across. This was the kind of music required love for immersion, which is something that I would later find and come to love in Harsh Noise Wall.

Casper A breakthrough moment was attending my first Harsh Noise concert in October 2012, in the basement of an abandoned publishing house. Odal, Svartvit, and Contagious Orgasm put on a mighty show and I was immediately impressed by the level of sheer energy that these concerts have and also evoke in the spectator. During that concert, I bought my first noise tapes and an obsession was born.

Casper I started diving into harsh noise and power electronics and discovered quite a lot of great artists that I still listen to. But quite quickly, most of my attention would shift towards the HNW scene. My first discoveries were Vomir, Dead Body Collection, The Rita, Werewolf Jerusalem, Sleep Column, The Cherry Point, and Phantom Cadaver.


M[m]: Your main and most famous project is Uitgeschakeld. Tell us about the project?
Casper I started experimenting with analogue noise back in 2013, but would only do my first release one year later. Uitgeschakeld is my HNW project and the name is Dutch for defeated or terminated. I chose this name because I started out with the intention of creating a loud yet layered/textured wall sound that would terminate the listener's conscious ego. The rich but all-overpowering sound would absorb the listener into the wall and cancel out everything else. This is connected to the focus on immersion that I discussed earlier.

Casper My first release was actually done in a very primitive manner. I did not have any pedals back then, so I used an old portable radio, kitchen utensils, a set of keys and a microphone for the input. I edited the sound after recording, but only a little. The album was released on the HNW Netlabel and got some response. I was quite proud of this debut back then.

Casper Over the next years, my sound has evolved, but I kept focusing on loud, textured sounds. 2015 was a good year for me, with splits with Antisocial Block and Dead Body Collection, my first solo tape coming out on Jan Warnke's great label Gerauschmanufaktur and another solo tape called Kapotí coming out on Yume's now-defunct label Tera-Antiqu. Around this time I started building up a collection of HNW tapes and CD's, which I actually displayed on a little shrine in my dorm room.

Casper Over the years, I kept focusing on loud and immersive walls. I am proud to have had releases on wonderful labels such as Altar of Waste (the best HNW label out there), Lurker Bias, Reason Art Records, Ominous, Craneal Fracture, and many more. But I also found a love for experimenting and created some softer ANW sounds and more experimental work, which will soon be released came by the tireless guys of KV GR.
M[m]: Besides Uitgeschakeld, you have a few other projects. Please Describe them and their history.
Casper My very first musical project was actually called Eternal Recurrence, which also started in 2015. It was named after a concept by philosopher Friedrich Nietzsche (1844-1900), who used this as a thought experiment. Nietzsche uses the example of a demon who appears in front of a person and states: this life that you are leading will repeat itself countless times, in the exact same manner as you are living it now. If you curse the demon instead of celebrating his epiphany, then you are living your life the wrong way.
Casper I wanted to make harsh noise and power electronics, although I did not really have an idea for the sound I wanted. What got me started was an open call by noise artist Marko Jovic, who runs the Xernex label (check it out for some diverse noise). He was doing a compilation by international noise artists and I wanted to be on it but had not had a single track out. By experimenting with samples, analogue noise, and some basic editing I cranked out the track Hammering Modernity. This was my first released track and the energy this gave me motivated to continue making music. Since then, I have done a power electronics split and some loose tracks as Eternal Recurrence, but not so much.
Casper In 2017, I did several releases as Cosmic Silence, a DNW project heavily inspired by Eugene Critchley and N0123NOISE. My aim was to create a bleak and hollow sound that reflected the indifference of the cosmos towards us puny human being. I was very glad to do a split with Cory Strand's amazing and hauntingly beautiful project Eugene Critchley as well as with Nemanja Nikolicís Nistavilo. The first Cosmic Silence release (6 hours long!) came out on Sergey Pakhomovís label Reason Arts Records. The description that I wrote for this release best described the idea that it behind the project:
Casper Cosmic Silence is the true embodiment of the attitude of the universe towards humans questions, fears, and desires. The cold and emotionless music is meant to reflect the utter indifference of the cosmos towards the Earth, mankind, and life itself. It could be interpreted as nihilistic, if it were not for the fact that the concept of meaning is a petty human invention which does not concern the all-encompassing cosmos in any way. The album features six one-hour tracks that are an expression of the grim, callous void that surrounds us. Even though the tracks feature sound, they embody a paramount and deafening silence.î
Casper In 2016, I launched my Japanoise-inspired project Radical Vitality. With this project, I wanted to create a sound in the vein of K2 and Incapacitants, two artists which I have always admired deeply. So far, I have only done a few compilation tracks and one live show, but there are two splits coming out soon with a highly chaotic sound. A full length is also nearly finished, though I have yet to find a label for this.
Casper Also, I did some field recordings under my own name. One track ended up on a Christmas compilation organised by Petar Stipits (the genius behind Fall Into Dry Lungs who also runs the great label Fall Into Void Recs). My favourite was done for Damien De Coene's Dark Field Recordings, a great netlabel that got me drawn more into the world of field recordings (thanks, Damien!). My work Kusturení was recorded at 32.6459033,-16.8998067 on 25/12/2017.

M[m]: What's the noise scene like in the Netherlands. And what place do you take on this scene?
Casper As in most countries, the noise scene is quite small, as noise music is an acquired taste. There are quite a lot of decent projects, like Odal, Svartvit, Offerbeest, and many more. A special shout out goes out to Kevin Svartvit, who is responsible for organising the bulk of noise concerts in the Netherlands. Without his tireless work, the live noise scene in the country would be nothing compared to what it is now. I've had the honour of doing a split tape with his HNW project Ratteknaeghen released through Johan's fine label Ominous Recordings. HNW-wise, I, of course, have to mention Sven Kay, who did countless excellent releases under several monikers, the most well-known one being Panic.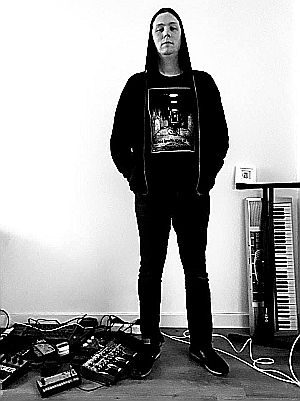 M[m]: Have you ever performed live, or maybe you have plans to do it?
Casper Just once, back in 2016, with my Japanoise-inspired act Radical Vitality. It was on an annual noise/speedcore/ experimental music festival called The Noise of Holland. I am grateful to Bart Hard for granting me the privilege of having my very first noise concert there. I had 15 minutes to play but was done in five, haha. It wasn't bad for the first time and it left me longing for more! So I hope to do more live performances in the future! Apart from that, I did several live shows for a select group of friends, in a living room setting.

M[m]: I know that besides musical activities, your main occupation is journalism. You wrote a research book about North Korea. Tell us a bit about this book.
Casper Back in May last year, I published a book in Dutch on the history of North Korea (1945 to present) called The Kim Dynasty. I worked on the book for several years and was happy when it finally came out. In the book, I trace the history of North Korea from the foundation of the country in 1945, the installation of the ruling Kim family, and how the country would develop over the next decades until the nuclear-armed dictatorship, ruled by the third generation Kim, that it is today. In the book, I try to explain how this regime could remain in power and is, as of 2019, actually stronger than ever. By giving oversight of its history, I hope that people (but also policy makers and politicians) can understand North Korea better instead of incorrectly calling the country the country irrational or unpredictable..
Casper An important aspect of the book for me was also interviewing as many North Korean refugees as I could ñ and letting them describe the country they lived in from a first-person perspective. I had published many of these interviews earlier in newspapers and magazine because I think it is important that we speak with North Koreans and let them tell us what the country is like. Before, it would be very common to speak about them without them.
M[m]: Are there any plans to get the book translated to English or another language?
Casper Unfortunately not...I asked my publisher about this, but there are no plans and there probably wont be. Definitely not for English

M[m]: Do you get ideas for creativity in your journalistic work?
Casper Sometimes, yeah! A good example is my Uitgeschakeld release Cornelis Drijfhout, which was released through Big Pharma Europe. This was named after a special Dutch person who was interviewed by NRC, the newspaper I work for. Every summer when his family goes on holiday, Drijfhout locks himself up inside his home, which he stocks up on food and which he isolates from outside sunlight. He then spends several weeks in complete isolation. People always say: the world is beautiful. I disagree, Drijfhout states. About his ascetic weeks in darkness: It's so quiet, so calm, so peaceful. Everything is as it is supposed to be. Cornelis Drijfhout should be an inspiration to all. In my opinion, he embodies the spirit that drives HNW.
Apart from this, there are several things happening in the world and in my life that influence my work ñ as I am sure is the case with every artist. But I do try to release records that can be enjoyed in their own right, without any knowledge about a concept or anything. Immersion remains the sole purpose.

M[m]: Tell us about the set-up that you use. And has it changed over the years?
Casper Well, I already described my primitive beginnings. Over the years, I have added a lot of gear to my collection. Some of my trusted friends include a Big Muff Pi, Digitech Death Metal & Reverb, a Boss MT-2 Metal Zone, Korg Volga Keys, a Boss ME-50 multipedal, and a Virus synth. But I still often come up with new combinations and ways of creating noise when recording.
Still, I think there is a charm of creating noise with improvised or primitive sources. For my split with Ratteknaeghen, I used sweaters, T-shirts, and glassware for sound sources. For a tape released on Lurker Bias, I used my keyboard. A lot of times, I used the sound of my breath on a recording or weird noises from AM radio bordering on static.

M[m]: Traditional question. What projects in the noise genre would you like to highlight? Who and what are some of your favourite?
Casper This is a dangerous question because there are so many projects/people that I admire and that have inspired my own work, so I fear that I will forget someone important. The first people I would like to mention are Nemanja Nikolic (Dosis Letalis) and Sergey Pakhomov (Train Cemetery / SP / Bitum / Kara / many others). They are the two people I hold dearest in the HNW scene and by far the people I speak to the most. They are two of the most passionate HNW artists who really approach their sound with passion, which is clearly audible in their prolific output. What a huge difference from the huge amounts of HNW artists that emerge on Facebook every day, but who are merely in it to be featured on Discogs and Bandcamp and who do not put any passion into their sound. I am very glad that there is a small group of devoted HNW artists who refrain from this cheap hype and who instead spend a lot of time crafting a special and interesting sound. It is these artists I listen to on an almost-daily basis.
Some of the projects I want to highlight are Rien, JSH, Chier, Phantom Cadaver, Charles Razeur, N0123NOISE, Visitation, Condo Horro, Naughty, James Shearman, Natural Actors, The Rita, See Through Buildings, RRR, Sleep Column, Vomir, Necrotik Fissure, Dakota Snaketail, Werewolf Jerusalem, Big Hole, Uncle Misha ˇˆËˇ, Bruising Pattern, The Ebony Tower, and everything by Yume and Cory Strand. Also big respect for Ken and Tim over at KV GR, who have shown tireless passion in both releasing and recording noise music. You guys are doing great! Some others I have mentioned before. It is possible that I have forgotten one or more acts, apologies for this in advance.

M[m]: What musical genres and bands influenced you and your worldview?
Casper I have always been very passionate about music and over the years I have been listening to pretty much every genre there is, though I must admit having a bit of a blind spot for jazz. I like classical music, progressive rock/metal, various kinds of metal, stoner, dungeon synth, psychedelic, some hip-hop, post-rock, ambient/drone, and of course noise. Black metal and noise have probably been most influential to me. I remember being immensely impressed when seeing Gorgoroth perform live for the first time, this really drew me towards that genre in an obsessive manner.
But even though we are talking about all of this loud, gritty, and noisy music, I have to admit that my favourite artist in the world is Steven Wilson (and before he went solo, his band Porcupine Tree). I own pretty much all of his records and most of the times the special editions and have seen him perform live 25 times (either solo, with Porcupine Tree, or with Blackfield).
M[m]: Tell us about your future plans.
Casper In 2018 I did not make a lot of music due to personal difficulties. At the end of the year, I resumed activities, which was very nice. There are some Uitgeschakeld splits and a very special solo release coming out this year. This is my main project, which will definitely continue for the foreseeable future. I also have recorded a lot of Radical Vitality material, a project I want to focus more on in 2019, and some Cosmic Silence. Other than that, I hope to do some very minimal wall releases in the style of PTRKLLR, Yume Hayashi, Dirac Sea, E. F. Stoermer, and Dosis Letalisí more crackly releases. Apart from that, there are so many things I still want to do: more field recordings, music in the style of early power electronics, experimental piano music, dark ambient, musique concrete... We will see what will be realised in 2019.
Most of all, I would like to experiment more, cross boundaries, and be truly free in my sound in the future. I always learned that noise does not have rules and that you are as free as your imagination can reach. I am proud of a lot of the work that I have done over the years, but I do not feel it was very adventurous, innovative, or original. I hope to attain that more in the future.
I always have a lot of plans and ideas, which I then fail to execute, but I hope that most of the aforementioned ideas will be realised in 2019.
M[m]: You have already mentioned a large number of new projects emerging in the HNW genre and in the noise in general. What would you like to say to these novice noisemakers? Any advice or parting word?
Casper I see a lot of new names appearing all the time in the HNW Facebook group. Yet, very few of these names manage to create a sound that is appealing or interesting to those already into HNW. This is not a bad thing per se, it takes time, experience, and perseverance to develop yourself as a musician. When I listen to my first output, I feel that I have come a long way since then. So I would say, keep at it until you get it right. HNW is a scene full of very passionate people, whose names I have mentioned a lot. If you continue to develop your sound, you will find support from these kind-hearted folks.
However, I have observed that there are a LOT of people who think they can easily crank out a simple wall merely with the egotistic goal of being featured on Bandcamp. This is reflected IMO by the fact that the HNW Facebook group features over 3.000 members, yet an edition of 15 cassettes by established HNW acts do not even get sold out. If you are a beginning artist and your first releases aren't that good, that's okay, there are a lot of people willing to give you feedback. But if you're just posting music to be featured on Discogs or Bandcamp, please spare us your lazy output. This does not benefit anyone. With that being said, I would like to conclude by saying that I hope there WILL be a lot of new, great, and inspiring HNW artists in the coming years. Many of the projects I like were already around when I started getting into HNW years ago. It would be good to have some fresh names, so get in there!
Many thanks to Casper for such detailed answers. We hope to hear in the future many good albums from all his projects. Bandcamp link https://eternalrecurrence.bandcamp.com/
photo Credit:Marloes Bontje

Sergey Pakhomov