A Sanity And Limb Ripping Exorcism [2019-02-11]Last years The Song Of Solomon not only blended in extreme gore into the possession/ exorcism movie in an original & effective manner. It also featured one of the most starling actress transformation in recent memory- seeing glamorous scream queen Jessica Cameron near unrecognisable as the lead role of troubled young women Mary- who goes through a frightful and at times brutal grotesque transformation. Jessica kindly took time out of her busy schedule to give us an email interview- discussing how she got involved with the film & Unearthered films- who released it. Her transformation in the film, as well as her favourite roles thus far & upcoming parts.

M[m]: When did you first become aware of Stephen Biro, and Unearthed films? And what was the first film you saw from the company?
JC - Iíve been a fan of unearthed films for years, I love the extreme independent scene. I first met Biro at a horror convention, he was the last to join me and others on stage for directors of horror panel. There was no room left on the sofas so he sat next to me on the metal horse that was in between the two sofas ( and I donít think it was meant to be sat on, lol). He was drinking something straight from a bottle and after a few mins he looked over and offered me some, and thatís when we became friends :) I would hang out with him and some other friends for the entire convention. He told me about his newest script, Song of Solomon, and I knew I wanted to read it and the rest is history.
Iím honestly not sure the first Unearthed film I saw was.... I love extreme cinema so Iíve seen so many from them!


M[m]: Tell us a little bit about how did you got the part in The Song Of Salomon? And what attached you to the role?
JC - I loved the character he wrote and knew even before reading the script ( after speaking to him) that I wanted to do it. After I read the script I was impressed with all the real-life details that were included, that combined with how intensely written my character was made me want to do it. Then when I found out that Jerami Cruise was going to do the effects, I knew it would be amazing. Biro was definitely hesitant to let me audition, the character is a small town girl with brown hair home from college and Iím obviously not that lol. But I assured him that our friendship would not be affected either way ( whether I got the roe or not), and asked to audition. I assured him I was comfortable in all the fx to make up, that I didnít care if I looked hideous ( I donít when itís for a role) and that I could dye my hair to match his vision. I read for him over Skype with no makeup on wearing black contact lenses and he seemed impressed.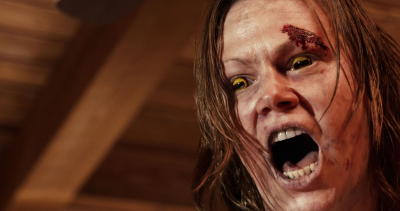 M[m]: You went through quite a transformation for the role- please discuss what you had to do for this?
JC - As mentioned above I dyed my hair brown and had to wear contacts, two of the three sets fully covered my eyes. I was in make up every day to look at varying degrees of possessed. Some days for hours. But I loved every minute of it. Well almost;) there were a few times where the sawdust in the air ( from building the prop bed) made the contacts sting, but I loved the process of changing to become Mary.
M[m]: Part of the role includes you performing complicated texts relating to both exorcism & demons- how did go about remember these? Are where there any particular passages you had issues with?
JC - So Iím not great with any language other than English. So memorizing all the text, many days 10/12 pages was hard with the Latin and bible phrases. For me, it was just a matter of locking myself in my room and running the lines over and over again for hours upon hours. A paragraph of Latin took me about 8 hours to memorize enough that my delivery was organic and natural. It was definitely a process. But one that I think made me a better actress.
M[m]: I know youíve been in more than a few horror pictures in the past, but are you a fan of the genre yourself? And in particularly do you like exorcism films?- if so what are some of your favs?
JC - I live for the genre. Itís my absolute favourite. Ever since I was a little kid, itís been my favourite to watch. I love exorcism films when they are done well. I do think too often itís the same story with a different cast told over and over again, which is something I really lived about Biroís script, it was so different. From anything, I had ever seen. I also love the true exorcism stories and historical references, itís a fascinating part of religion.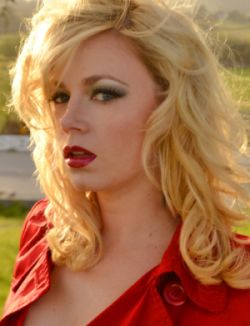 M[m]: In the later part of The Song Of Salomon you are wearing some quite awkward & unconformable practical effects- how long did the processes take to make, then fit these? And do you have any special tricks to deal with having to wear cumbersome/ uncomfortable effects?
JC - the process some days took hours, and then more time throughout the shooting day. As far as prior to shooting I think I spent 3/4 days getting my body and head cast on various positions. I honestly donít think there are any tricks so to speak, but when your working with such a talented team I just focus on that and use the discomfort to push my performance. I channel it into my character and in this case her desire to manipulate those around her. The demon possessing Mary does not feel pain, so it was important for me that it didnít come through the performance but it was solely minded over matter. I do think working with such an exception key is helpful, also Jerami and Marcus were so nice and constantly making sure I was as comfortable as possible.

M[m]: according to IMDB you have nearing 80 acting credits to your name- please select say five or so of these that stand out as memorable roles to you?
JC - first thanks for checking out my IMDB!
Letís see, the first that comes to mind is Truth or Dare. That film was my directorial debut and it was such a great experience in so many ways, including juggling being in front and behind the camera. The character was also unlike any I had played, and it was fun portraying this trouble victim of circumstance who got overnight fame.
I play this tv show host in the film The Tombs. Itís currently in post-production and shot in London, England in the London tombs which are below the London Bridge. Filming in such an amazing, iconic and creepy location was a blast, the team involved was so talented and I made some dear friends on that shoot. Add to that my character is this fabulous cunty tv show host whose very far from me in life so really fun to portray.
In The Sleeper. I play sorority leader Cindy, whose a very self-centred and mean college girl. It was on this film that I finally worked with Tiffany Arnold and where I met Ali Ferda ( both of whom I would go into work with later in my career). The director, Justin Russel, was so young and he did such a great job on this film. I really canít wait to see what he does next.
Intrusive Behavior is a film which will always hold a special place in my heart because on it I met Heather Dorff. A woman who I had known prior online but who in person should become my best friend and sister. So while the film is not perfect, and the experience making it was far from perfect, meeting my best friend was a highlight of my life and career.
In An Ending ( currently in post) I play a distressed mother trying to find her daughter who happens to have a dark past. I directed this film and Iím very proud of it.
The acting overall in the film is incredibly strong, Ali Ferda, Heather Dorff, Johanna McGinley, Jim Foreman, Dylan Cinti, Bella Mortensen and the rest of the cast blew me away: I canít wait for the world to see what Iím certain will be the most emotionally driven film of my directing career.

M[m]: I read before you took up acting you where a fashion designer- are you still interested in the fashion industry, and do you think you could ever see your self-going back to it again?
JC - I love fashion and I would never say never. But at this time my focus is on film. That said I love doing the wardrobe for my films and my characters, and I love putting together fashion looks for photos and such. Iíll always be passionate about fashion, but I donít think itíll be a career focus of mine anytime soon.

M[m]: Please discuss some of your up-coming roles?
JC - I mentioned The Tombs and An Ending above ( so please stay tuned for more info on those).
Lilith is coming out this year, in it, I play half of a vacationing couple who wind up going through hell.
Kill the Pa is a document reality series about making Mania and Lilith - we are currently shopping it trying to find it a home.
Rest Stop is this phenomenally written Stephen King short directed by Paul Mortsolf which will start screening festivals this year.
Mania is my second directorial adventure and will be avail to watch later this year, itís a fucked up lesbian love story.
Red Eye came out later last year and is avail to watch and buy now.
Also please keep an eye on my IMDB for my upcoming projects.
Also, join me on my social media pages!
Thanks to Jessica for her time & efforts with the interview. Jessica website is here, her Facebook is here , her twitter is here . And The Song Of Solomon is still available from Unearthed in either Blu Ray, DVD or digital form- the labels site can be found here
Roger Batty