A 20 Year Sonic Journey To The Stars [2018-12-21]Since 1998 My Cat Is An Alien have been creating a distinctive & interstellar bound blend of shimmering ambience, deep-space guitar scaping, and star-licked improvising. Behind the project are Italian brothers Maurizio and Roberto Opalio- who have released so far around one hundred & fifty releases under the project banner, as well as a host of splits & shorter releases. we contacted the brothers for an email, where they discuss the projects 20 years existence, stand-out moments in their discography, and the future.

M[m]:2018 is the 20th anniversary of My Cat Is An Alien- how do you feel it has changed & developed over your existence?
Roberto My Cat Is An Alien (MCIAA) initially started as a strong, personal urgency to express ourselves through music. Since the beginning, we realized it was much more, our proper existentialist mission. It's the meaning of our lives. MCIAA is not only a musical matter. MCIAA is primarily a concept. Like a spiral of cosmic energy, it engages us in every kind of visual form of artistic expression too. Actually, MCIAA is our "choice" with no way out. During the past 20 years, nothing really changed about this consciousness, but the fact that it has been–and still is–expanding beyond our initial idea and imagination.

M[m]: How has your set-up changed since you first started, and are there any pieces of kit you are still using from the beginning?
Maurizio When we first started we would mainly play electric guitars, with Roberto's vast array of space toy guns shaping his sound, sometimes alongside few percussion; most of the music was instrumental, with sporadic spoken words, since my brother began developing his wordless vocals from 2004-2005 only, around the period when MCIAA's HQs moved from the early "Space Room" studio in Torino to the secret location called "Alien Zone" up in the Western Alps. Then at one point we suddenly felt the need to challenge ourselves with a brand new set-up made of self-made string instruments, primitive and often modified electronic devices, and Roberto's wordless vocalizations fully integrated as a further instrument, still avoiding any use of computer or laptop, yet privileging simple pedal effects as we always did from the very beginning. Through this radical change of instrumentation we aimed at keeping the shape and style of MCIAA's sound well recognizable, yet going on pushing it further beyond... and we made it. It became clear that whatever instrument we would play could not affect MCIAA's sound. Introducing MCIAA before a live performance in a museum, renowned Italian critic and mail artist Vittore Baroni once said he could handle MCIAA a nutcracker without nuts and we would make it sound as "outer space".




M[m]: Since your begins you've put out over one hundred & fifty full-length releases- I know it's difficult but could you select five favourite releases, and explain why they are?
- Landscapes Of An Electric City / Hypnotic Spaces 3-sided LP (2002, Ecstatic Peace!, USA)
Roberto We can't of course but begin with what we consider MCIAA's proper debut album, 'cause it's the first one recorded as a duo (the very first one was the 's/t' CD-R recorded entirely by Maurizio alone). It's dedicated to our hometown Torino, with improvisations featuring field recordings of the industrial landscape; it went out in 1999 and then re-issued as expanded version on vinyl by Thurston Moore on his Ecstatic Peace! label.
- The Rest Is Silence 2LP (2004, Eclipse Records, USA)


Maurizio This is the first chapter in a trilogy of albums released by Ed Hardy's legendary Eclipse Records. It was recorded during the winter that took our grandmother away and, along with its Shakespearian title, it's dedicated to her memory. In the last track I whisper "Silence Will Come To Last Forever": when my time will come, my personal copy of this record will be with me.


- PSYCHO-SYSTEM 6CD Box/DL (2013, Elliptical Noise, CAN)
[Roberto] This is one of the most radical works MCIAA ever did, it spans across 6 discs which explore and affect the deepest meanders of the human brain, its discs titles reading: Hallucination / Catatonia / Delirium / Catharsis / Bipolarism / Enlightenment. It's one of the many stunning CD box sets released by Canadian label Elliptical Noise, set up by Andrew "X"–a fantastic person and a huge MCIAA's music lover–appositely to spread our music around the world.
- The Dance Of Oneirism 2LP+Artbook (2015, Backwards, IT)
[Roberto] This is a work highly characterized by deviated and hypnotic electronic beats. The title comes from the personal experience of a fan afflicted with a rare psychic dysfunction called "oneirism" (an abnormal state of consciousness in which dreamlike, often disturbing illusions are experienced while awake), who finds himself listening to MCIAA's music on his Ipod anytime he wakes up from this sort of trance-like state. In David Keenan's foreword to the album, he quotes Conrad Schnitzler words "future, future, future".
- "RE-SI-STEN-ZA!" LP/DL (2016, Opax Records)
[Roberto] Previewing 20 years of MCIAA, this record is a poetic and existential howl during one of the most tragic moments of our lives, indeed dedicated to the memory of our Mom who just left. So, again, the crossroads: to disappear or to "resist"!... The cover shows an old photograph of our grandparents up in the Western Alps during the historical "Resistenza".. The two sides well represent the dualism of MCIAA's music, always suspended between "noise" and "silence".
M[m]: The projects most recent release is The Sky With Broken Arms, and this utilizes more crackle 'n' pop based subtle noise elements in its make-up. Are you a fan of the noise genre at all?
Roberto In our latest album 'The Sky With Broken Arms' (2018, Elliptical Noise) the omnipresent noise elements you hear comes from crackles and hiss obtained looping in real-time the blank grooves of part of my vinyl collection that got inexplicably damaged by an oxidation process–which was luckily temporary. This horrible experience inspired me the whole concept of the album, as I explain in my foreword. Anyway, "noise" in a broader sense has always been a fundamental element in MCIAA's music, sometimes equalling "silence", as well as other sonic elements which stand in between the common definition of "music". We prefer to identify the term "noise" more like an attitude, an aesthetic, philosophical statement. In that sense, it fits MCIAA. Thus, of course, this differs a lot from what is more commonly considered "noise" as a genre: as all genres, and when used for the sake of it, it is just meaningless and boring.

Maurizio We adopted the use of "noise elements" –in this case, intended as "musique concrete" –in our series of artists' books which we started publishing through our brand new Divinités Irritées private press imprint. Every art book, completely handmade by ourselves, is accompanied by a 3" CD and DL featuring our music mixed with loops of field recordings of the actual process of handcrafting the books themselves, such as paper and cardboard being cut, bent, stapled, creased, ripped, glued, taped, stamped etc…. the sounds of creation.
M[m]: All your work has a very space-bound, how do you feel this has influence has changed over the years & are you still inspired by the same things?
Roberto Our concept of "space" is still and will always be the basic concept in MCIAA's whole artistic aesthetics. Take the Alien icon featured in several of my own paintings and record artworks, that stretched human-like figure with a sole, big elliptical eye wide open towards the universe: only keeping an otherworldly, "alien" point of view on what is happening around you can give you a clearer and sharper perspective of reality. Furthermore, the space-time parameters are the playground for MCIAA to find and explore new paths in art, music and poetry. MCIAA is prevalently a musical project, but so strictly interconnected with the most diverse artistic disciplines – painting and drawing, photography, "cinematic poetry" films and videos, installation, writing and poetry – as to result from a single intermedia entity. MCIAA is a non-finished universe in the neverending expansion which includes the most advanced and radical forms of still-totally-unknown artistic expression – a totally "alien" form of art indeed!
On the other hand, since the beginning our fascination for space-bound has always met our vast interest in literature and poetry, philosophy, visual art—see titles tributing William Blake ("…Ascends The Sky"), Henry Miller ('The Cosmological Eye Trilogy')… some other titles slightly revised, as we did for MCIAA's albums 'Il Suono Venuto Dallo Spazio' (from H.P.Lovecraft 'The Color Out Of Space'), 'Alien, All Too Alien' (from Friederich Nietzsche 'Human, All Too Human').

M[m]: Over the years you've done a fair few collaborations- what have been some of your most memorable collaborations?
Maurizio Years ago we launched two series of collaborative releases on our own Opax Records ('From the earth to the Spheres' and 'Cosmic Debris'), inviting some of the artists we thought were pushing music ahead to share a multimedia platform where each vinyl, limited to only 100 exemplars—almost all later reissued on CD—was accompanied by a proper mixed-media painting by Roberto on 12" canvas or wooden boards. Among others, Christian Marclay, Thurston Moore, Keiji Haino, Mats Gustafsson, Loren Connors, Text of Light (Lee Ranaldo, Alan Licht, Tim Barnes, Ulrich Krieger); Jim O'Rourke gave us what was at the time his earliest recording issued that far. These series led the way to further collaborative projects: with Tom Greenwood (Jackie-O Motherfucker) we set up the project Black Magic Disco (Important), releasing material recorded during a long European tour during which MCIAA performed as line-up of JOMF, thus creating something definitely "other". We also had the incredible chance to collaborate with Enore Zaffiri, Italian pioneer of computer music and video art, founding father of structuralism, who at 80 took a challenge improvising with us; Atavistic released it on CD/DVD set ('Through The Magnifying Glass Of Tomorrow', 2009), also the only document presenting a work of Zaffiri's "video pittura" ("video painting"), alongside Roberto's dual film 'Light_Earth_Blue_Silver'. And we have other still-unissued, very precious audio material made with him…

Roberto In more recent times we recorded some of MCIAA's highlights in collaboration with Belgian talented musician Cédric Stevens, for which we immediately obtained funds from the French Community of Belgium to release the whole session as a triple LP entitled 'Abstract Expressionism For The Ears' (2014). We set up and produced our brand new trio project with French "queen of grunt" Joëlle Vinciarelli (Talweg, La Morte Young) called > ETERNAL BEYOND >; the first album came out last year, and we have new material ready to go. We had a magic encounter with French legendary guitarist Jean-Marc Montera (who founded GRIM in Marseille in 1978), with whom we released 'Union Of The Supreme Light' (Starlight Furniture Co., 2017) and are planning many things as a trio.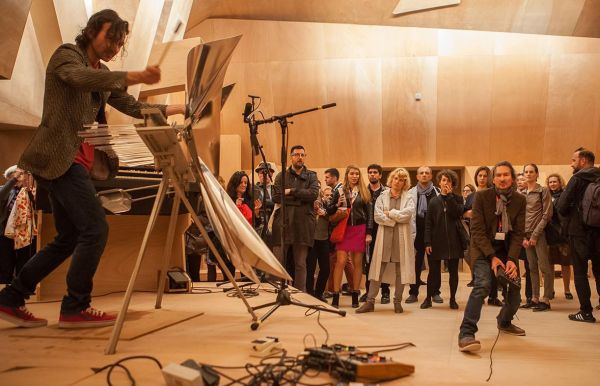 M[m]: what you did do for your 20 year anniversary this year, and is there anything you do for remaining of the year?
Roberto This summer we pressed a 7" flexi-disc entitled 'PoesiaSonorAlienica', a fluxus-like, "alien" sound poetry collaborative piece with Thurston Moore: most of the recording took place in the dressing room after one of his shows last year, when Thurston started making his voice ping-poing from our respective mobile phones repeating "My Cat Is An Alien" alongside crazy feedbacks; we joined him with voices and sounds, creating one of the most wonderful and craziest tracks we ever made. This was our gift for his 60th birthday, and since Thurston has been MCIAA's first fan it was right to celebrate our two anniversaries with such a special release—officially out in October.

Maurizio We also made a very special MCIAA 20th live event last September 12 in our hometown Torino, inviting Lee Ranaldo and Jean-Marc Montera—two of our greatest friend musicians—to premiere a quartet of totally improvised music. We all had been performing with each other on stage and on records before, but never the four of us together, and what came out overpassed our highest expectations! Getting out of stage, Lee and Jean-Marc were already thinking of a record to be done, so expect it soon. In the theatre, some of Roberto's "cinematic poetry" films were projected on multiple screens, and he also premiered his brand new dual-film 'The Call Of The Great Void' which offered a multimedia experience.
Soon after, again in Torino, Tom and Christina Carter aka Charlambides joined MCIAA for an amazing, first-time collaborative live act.

Roberto Actually, we generally spent most of the year working on new ideas and thrilling projects that are now in the pipeline for 2019—we can't but always look ahead! Following the still fresh first art catalogue focused on 20 years of MCIAA's multimedia activity, 'My Cat Is An Alien. The other sound of art' (Kappabit), the first documentary-film on MCIAA is in production. Now we're focused on doing the mix of the three entire days of recordings we made during the opening of 57th Venice Art Biennal 2017 when MCIAA activated French Pavilion's "Studio Venezia" project invited by visual artist Xavier Veilhan and co-curator Christian Marclay. This will be a real monster release!

Maurizio Anyway, 2018 is not over yet: in December Feeding Tube Records (USA) is going to put out the long-awaited LP release of MCIAA's live performance at ATP Nightmare Before Christmas 2006 curated by Thurston Moore—a precious document of MCIAA's wildest live act ever! …Alien Power!

LINKS:
http://mycatisanalien.com/
https://ellipticalnoise.bandcamp.com/
https://divinitesirritees.bandcamp.com/
https://www.facebook.com/mycatisanalien/
https://www.instagram.com/mycatisanalien.official/

photo credits- live in 2018,western Alps, live in 2017 at Studio Venezai by Diane Arquest

Roger Batty