live report-Friday 23rd November, The Old Police, Gateshead [2018-12-04]Last month, on Friday 23rd November, I made the trek up from London to Newcastle to go to a noise event put on at The Old Police House in Gateshead (also known as Workspace Gallery) where Vomir, Maginot, Red Hook Grain Terminal, Kenosist, Shurayuki-hime and Monocrete were all performing that evening.

This was my very first time visiting Newcastle so I have to say I felt like I came up with an open mind and few preconceptions. The event was put on by Thomas Tyler who even messaged me prior to the event offering to meet up and go for a pint which I thought was very accommodating and friendly, an aura which was established early and came to define the entire event. Before coming I was unaware of all of the artistic projects on the bill except for Vomir and Shurayuki-hime and rather than spoil the surprise by doing a bit of digging before the show I decided to go in blind hoping for the best - suffice to say I was pleasantly surprised all around.

For those reading who might not be aware, Vomir is the HNW alias of French artist Romain Perrot. From as early as 2005 (and perhaps earlier) he has been producing staunch, minimal noise and in that time he has amassed over two hundred releases, many making their home at some of the most well-known and regarded noise labels. It was one of his earlier releases, a self-released split with the UK HNW artist Clive Henry, that caught my attention at a time when I had yet to fully understand the meaning of the term 'HNW' or learn anything about its history and the small group of noise artists who had come together under its umbrella. To this day I count that release among a select few that have inspired me in a way that is hard to define and yet feels utterly defining when it comes to how I see my own noise progressing over the years. Many noise artists cite Vomir as a large influence on their decision to diverge into HNW and yet many others still are heavy with criticism towards the project, insisting it has become an overrated and self-parodying 'gimmick' that casts all of HNW in a bad light by comparison. I tend to lean towards the former viewpoint, although I will be the first to admit I have come to prefer walls with some variation and characteristic changes (albeit slow and gradual ones) over the bleak, minimal monotony that Vomir is well known for. With this said - the event was my very first time getting to see this project live and was undoubtedly one of the main things I was keen to experience and see how it lived up to my expectations.

The other project I was aware of, Shurayuki-hime, is the HNW alias of Erika 'Yume' Hayashi who is from Newcastle and has been producing similarly staunch slabs of HNW from 2015 to present. The project initially began as Erika's HNW contribution to the 'Noisevember' initiative of that year, contributions that would later come to form the gigantic release known as 'Rite of Love And Death'. Noisevember is an initiative similar to that of NaNoWriMo (National Novel Writing Month) that seeks to engage and enthuse noise artists by suggesting the creative task of attempting to make one noise track a day for the entire month of November. It was started by our mutual friend Lydia Musonic who also came up from London for the show. The project has come to be known for its focus on large sets - double and triple cassette, as well as six and ten CDr-set releases, make up a large portion of the catalogue to date.

We arrived early when the artists were still in the soundchecking stages which were great as it meant I got to catch everyone. First orders of the night was from Monocrete - a large stand filled up with LED pads, a mixer and some dimmer switches - crawling out of this sculptural set-up was a stunning medley of caustic drone swathes and glitched out hardcore-paced thumping that zigged and zagged sporadically and in a totally unpredictable manner. I couldn't find out much about the artist behind the project online besides that he is based in Berlin and has been performing with this alias since 2014 - but I did have a chat with him in person about his set-up and how much I liked the set. For all its size and 'contraption', the set-up and the manner it was used in didn't end up stealing the spotlight and instead the sounds that were produced themselves were what kept me enthralled. I couldn't have asked for a better opener.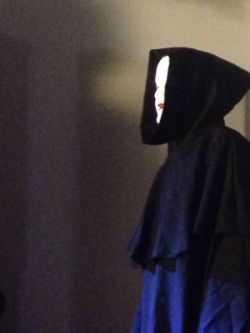 Following the opening set, we had Shurayuki-hime provide us with a giant slab of cascading static rumble. Erika stood, motionless, cloaked and masked, as the gear on the table behind her gave flatlining birth to a mountainous wall - full of dread and serenity all at once. I noticed a lot of the audience taking time to sit down and close their eyes as the walls submerged everyone, or to pay specific attention to Erika's performative role - as while she remained motionless for most of the set there was a brief moment of action where she enacted what seemed to be some kind of slow 'wall dance'. The sound was perfect for the HNW here - something I have noticed is routinely hard to get right for artists (and their venues) - and this certainly bodes well for the eventual headline Vomir set coming up.
Kenosist was up next and I have to say took me quite by surprise. I was in the 'outdoors smoking area' when the set started, which happened to be directly in the middle of the two rooms that performances were taking place in and sound travelled very easily from either. Kenosist is also from Newcastle and to me was something of an outsider on the line-up as his set comprised the 'danciest' music we'd get all night - that is, there was still heaps of distortion and plenty of noise to warrant the project joining it - although, I've been one to go for more out-there genre-clash in the past anyway. Much of the set reminded me of the grittier, more visceral side you can find to Breakcore if you look hard enough just fed through a level of amplification that you generally never ever see. The results were a monstrous amalgam that kept me in awe throughout its brief run-time (brief, that is, when compared to the lengthy HNW sets it surrounded itself with).
Next up was Maginot - this was an alias I had never heard before but turned out to be the collaborative performance of Romain and Paul Hegarty. I had seen through noise groups in the past that the two had a history for touring and collaborating together. Paul runs the label dotdotdotmusic and has been making experimental music and noise since 2001, he has also written the infamous "Noise/Music: A History", a book that I saw being cited a lot when I first witnessed threads online asking contemporary noise artists about whether there was much-written work dedicated to noise. With that said, in spite of seeing the book recommended and criticised a lot I have never sought out a copy for myself so I won't dwell on it here. Romain and Paul had an interesting stage chemistry - the set was perfectly noisy, not as loud as previous sets but also not too quiet. Paul engaged in a lot of tape manipulation by the looks of things, whilst also issuing blurred vocal incantations that were instantly buried in the cacophony. About half-way into the set, Romain began screaming so that his voice just broke above the waves of the noise - and then, further along, circus music offered a light refrain from the tumultuous chaos. Altogether, it was an enjoyable set where it felt like we got to see a playful side to Romain that can never shine through with Vomir.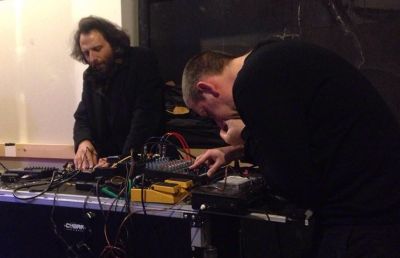 Next up we had Red Hook Grain Terminal - and the room was so rammed that I had to linger around the doorway like a ghost attempting to slowly phase inward. This is the project of Jordan Edge, who I was told recently moved to London. In spite of my tricky angle and total lack of any visual element the performance might have had, the sounds were very interesting on their own. A whole plethora of weird and abstract sampling created a luscious noise haze over which Jordan applied distorted rhythmic sections and vocals - of all the sets it felt like this one had the richest sound palette, there were so many textures and timbres and a really lurching pace to how they were meted out to us. Alongside Monocrete and Kenosist, this set served as a nice cushion of super-dynamic experiments between the thick slabs of dense wall they surrounded.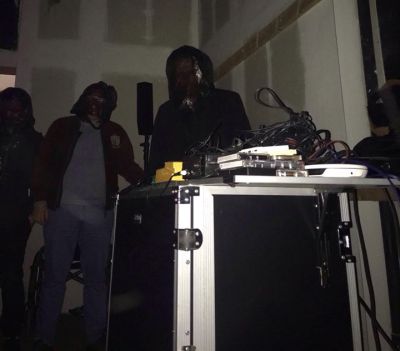 Finally, and most formidable, Vomir was up - once again I missed the beginning 'surge' and so felt very much like a lingering ghost by the doorway, worming my way inwards. I immediately noticed everyone had their black bags out or on - something I wasn't sure would be happening. Personally, space was very darkly lit and it felt a little redundant to me, as closing my eyes produced almost the exact same effect. It didn't help that the black bags in question turned out to be near-transparent (although they were harder to see out of than the ease of seeing in let on). Ultimately, with or without the bag, Vomir provided a perfectly crushing slab of wall that was perfect for completely zoning out to. I had been worried he might end up being the loudest of the night and it might feel as though others had been intentionally quiet so as not to encroach on "his thing" of "being very loud" but this wasn't the case, actually the wall seemed almost perfectly at the intense volume of the prior wall of Shurayuki-hime.
All in all, it was a great night that inspired me to look into all of the artists whose work I hadn't known, I also picked up some stunning merch from both Romain and Paul. I'll be keeping an eye out for future tours and related events taking place!
Photo Credits: menu pic Shurayuki-hime, 1st in review pic Shurayuki-hime, 2nd in review pic Maginot, last in review pic Vomir- all pics except Vomir taken by J Shearman, the Vomir pic was by Erika 'Yume' Hayashi
Links:
Monocrete - https://www.facebook.com/monocretemusic
Shurayuki-hime - https://shurayuki-hime.bandcamp.com/
Kenosist - https://swarmusick.bandcamp.com/
Maginot - https://vimeo.com/82449371
Red Hook Grain Terminal - https://panatype.bandcamp.com/album/inorganic
Vomir - https://decimationsociale.bandcamp.com/

James Shearman