Brick-By-Brick [2018-11-30]Set-up in early 2018 Void Singularity Recordings is a Uk based label specializing in walled noise/ HNW/ ANW, with the odd dabblings in more noise-bound experimental waters. The label has been CDR based thus far, and to date has released an impressive 28 releases thus far this year- taking in CDR's from both more known wall-noise projects such as Vomir, Chier, & Dosis Letalis. As well as lesser known, yet equally worthy wall projects- all making it one of the labels to watch with-in the worldwide walled-noise scene. We got in contact with the man behind the label Tom Rushton for an email interview discussing both the label & his own personally HNW project E.E.E.E.

M[m]:What was your first introduction to the walled-noise form?. Was there anyone track, album or artists that really had an impact on you to start the label, and start making your own walls?
Tom I was into the harsh noise scene for quite a few years before finding HNW. First HNW track I discovered was Vomir's Claustration on Youtube back in 2013. At first I didn't get it, it seemed like noise but with none of the dynamics, which is what appealed to me in noise before. After seeing this was not noise, but 'harsh noise wall' it got me curious and I searched then came across Vomir's, and later The Rita's manifestos on it as well as buying and listening to their stuff, at which point I got to understand it better. I'm a nihilist too so Vomir's manifesto spoke deeply to me. I found myself being absorbed by the noise, it clearing my head; going into a trance state and it blocking the outside world out. As for releases that really got me into it I would say it was Vomir's Proanomie; the rare 2CD edition. IMO still the best walls he ever did both in theme and sound. The Rita's Thousands of Dead Gods and various Richard Ramirez wall projects also influenced me a lot.

M[m]:You mention Vomir's Proanomie as one of your favourite releases- why did this stand out to you most?
Tom The sound of this album, being one of Vomir's earlier releases is very unique compared to most others and especially his later sound. The layers of static are very crisp and flow well and blend with the low bass in the background, and feel like they're grazing against your ears. There's just something about it I just love, and considering his huge discography it's definitely a stand out for me.

M[m]:Tell us a little bit about how & when Void Singularity Recordings? And what made you chose the name?
Tom Void Singularity Recordings was born from a previously now-defunct label I ran in 2015 (which in the end only had 1 physical release ) called Synesthetic Perception Recordings, where I intended to release just my own noise recordings. I had wanted to call it Synesthesia Recordings but found this was already taken. Synesthesia is the perceptual phenomenon in which the stimulation of one of the senses leads to involuntary or automatic experiences in a secondary sense. I felt this could be very true for noise's assault on the senses. But I felt the name in the end was not what I had envisioned. VSR came into being in late 2017 from me wanting to release more than my own work, but also in a diverse array of genres. Not just HNW, but its sisters ANW and DNW, and also regular Harsh Noise, Drone, Ambient etc. and the name 'Void Singularity' to me is just as it says, being engulfed in the singularity of a void of sound. That's the best way I can describe it haha.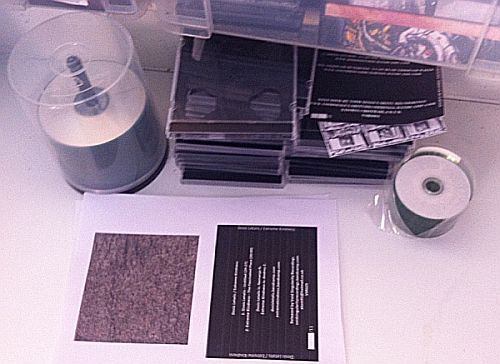 M[m]:So far you've decided to put out all of your physical releases on CDR- please explain why you landed on this format of release?
Tom I chose CDrs as the main release format because they speak to me on a very trashy, DIY and easy to do level. Noise is a cult, a small bunch of maniacs/enthusiasts just recording harsh sounds, having fun, and may even want to release their sounds to the world. A lot of 80's/90's industrial and noise also went by this way, enthusiasts who just threw some hand assembled stuff and printed art together on a small budget, traded with other like-minded individuals and called it a day. This inspires me greatly. Growing up in the internet era which made noise much more know internationally and in general; sure, now anyone can just release their stuff for free on Bandcamp and anyone can listen, but where's the fun in that? (I don't have anything against net labels but I wanted to invoke the nostalgia of DIY in the pre-internet era with my label and net-only was not the primary vision) I haven't done tapes as I find they are a much bigger investment, lots more time and money has to be spent, which for the most part I do not have. Not ruling them out, but for now, I'm happy with just releasing CDrs.

M[m]: Within a year you've released coming on for thirty releases on the label- please section ten of your favourite releases, and explain why they stand out to you?
Tom 1: Dosis Letalis / See Through Buildings split. Two ace crushing walls from 2 masters.
2: Mademoiselle Bistouri - Saudade. Great dynamic Italian harsh noise.
3: The Dead Yesterdays - Happiness is an Illusion. Bleak, hopeless walls of despair.
4: Chier - Abraded. Chier is one of my fav HNW projects, and this just blew me away.
5: Uitgeschakeld / Damien De Coene split. Two newer Dutch artists, but two very engulfing walls.
6: N0123NOISE - The Irremediable. Very spooky HNW and DNW, the samples make it extra creepy.
7: Lost Graves - Cave Burial. I know you weren't a fan of this one, but the way the artist envisioned it a theme and sound wise I found very immersive.
8: Heksemote/Tibetan Funeral split. Occult dark walls; their depth is incredible.
9: Nightmare Park - Silent Hill. Really abrasive and head cleaning combo of HNW/Harsh Noise.
10: Charles Razeur / Vomir split. Vomir needs no intro, and I love the minimalism of CR.

M[m]: Tell us a little bit about your own wall-noise project E.E.E.E- when did it first start & please explain the name?
Tom E.E.E.E. is my main HNW project. Its name format came from the Japanese Noise act C.C.C.C. Apparently, there is an already famous classic project called E.E.E. but I never knew this at the time of creating it...
It was my first and now the main dive into making own walls. It started in early 2015.

M[m]: As a genre walled noise projects often have quite a set focus or theme- tell us about what you think E.E.E.E themes?
Tom E.E.E.E.'s primary themes are science and astronomy. I've been into these ever since I was a kid. The universe is a very mysterious and violent place, which I think HNW can show very well. Lots of science things begin with E; electricity, electron, energy, entropy, electromagnetism; you get the idea. The individual E's don't stand for anything in particular, but the aforementioned things would most likely be it if they were.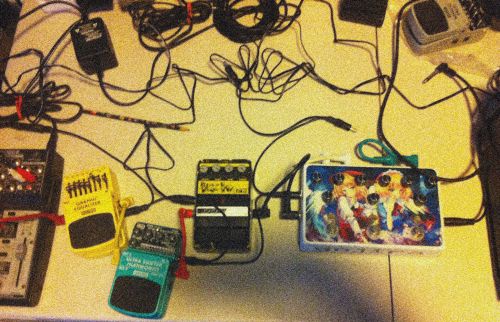 M[m]: In your wall making- what are some of your favourite bits of kit? And is there anything that you still use from when you first started creating HNW?
Tom Gear wise I've always been a fan of fuzz like the Big Muff, of which I bought a custom made one with 3 different models in one unit; US, Russian and another I've forgotten the name of. In the earlier days, I used primarily distortion boxes, Death Metal, Metal Zone, Bass Overdrive etc. I also use a pitch shifter, octaver and an EQ a lot; these are very useful for shaping the sound. For a sound source, I've used White/Pink noise, a synthesizer and field recordings. I see lots of HNW projects who use just the same sound source over and over again in their releases, and I find this to get a bit stale after a while. The source used for a wall is just as important as, if not more important than the gear you run it through. There's only so many textures you can get with white noise haha. Occasionally after recording, I will sometimes add digital touch-ups. I have nothing against digital walls; analogue elitists are just stupid. Use whatever you have at your disposal to make walls and just have fun; don't ever feel restricted/intimidated when seeing huge analogue setups.

M[m]: what's your favourite E.E.E.E release thus far?
Tom The 'Energy' release on the HNW netlabel is definitely my favourite. The Great Attractor on Earthwalker Recordings is a close second.
M[m]: Can you tell us any more about both Energy & Great Attractor releases you mentioned?
Tom The organic quality I achieved in 2 of the tracks of Energy and in The Great Attractor is one of the things I've aimed for a lot in my sound. Of course with each release I do I typically aim for a different texture/mood each time; organic and meditative, crushing and relentless, minimal and sparse, I love exploring many forms of wall craft, usually based on my mood at the time of recording. Unlike most wallers though, I'm not that prolific, nor release much of what I record. I've probably only released about 10 albums as E.E.E.E. in the span of about 3 years so far. First and foremost my walls are for my own therapy and relaxation/meditation, so I don't feel the need to release everything. For an actual release I'll choose something that is good quality, I feel stands out etc. Of course, there is always room for releasing more frequently in the future as the project develops, but we'll see.

M[m]: I believe moving forward with Void Singularity Recordings releases you're going more down the pro-CDR route- can you tell us a little bit about what to expect?
Tom Yes, I've been in contact with Kars from Modern Decadence to make future VSR releases with more professional printouts, art on the CDr's etc. I was having troubles with home printing, but also wanted to advance with the label, evolve; sort of how the universe does. This means releases will be less frequent, but it will pay off. They will look more presentable.
M[m]: What have you got lined-up next for both the label & your project?
Tom Releases planned in the next few months on VSR so far are a split between Vomir and Shumoizolyatsiya , a double split between my E.E.E.E. and Necrotik Fissure, a release by Segment Aura, a release by Danshoku Dino, a split between Transgresia and Massive Panic Attack, and a N0123NOISE release. Those last 2 are actually going to be released digital only at their request. I've also been working on and off on a 6CDr E.E.E.E. boxset, which I hope to put out sometime soon. I may to see if I can do a tape or two of one of my projects; at first just to see if I can, and if that goes well that might open the door for future tape releases.

Thanks to Tom for his time & effort in doing the interview. To find out more about the label, and of course buy direct head over here
Roger Batty