A label without boundaries- 25 years of Klanggalerie [2018-11-23]Since 1993 Austrian experimental music label Klanggalerie have released a wide & varied back catalogue of releases- going from early post-industrial & noise tape releases. Onto reissuing rarer/ classic albums from all manner of experimental artists such as avant pop artists The Residents & the Renaldo & The Loaf, ethnic ambient innovator Rapoon, and respected ambient sound artist Asmus Tietchens . Through to more recently new albums from ex Resident songwriter Hardy Fox, & former Coil Synth wizard & multi-instrumentalist Thighpaulsandra. Below is an email interview with the label's owner Walter Robotka discussing the labels twenty-five years of existence.

M[m]: What was your first introduction to more experimental forms of music & sound? And how/ when did this develop into you launching Klanggalerie?
Walter When I was a child, I somehow really got into Roxy Music. I must have been 6 or 7 at the time. I asked my parents to buy me their albums, one after the other and listened to them endlessly. I seemed to always prefer the weirder songs. They are still my favourites and I know the lyrics by heart. Then, cable TV was introduced. Sky Channel used to show all kinds of strange music. I remember seeing Sensoria by Cabaret Voltaire, Close To The Edit by The Art of Noise or Language by 23 Skidoo. Whenever I saw a video I liked, I tried to find that band's album in a record shop. By discovering cool record shops possibilities grew and I met other fans, we exchanged ideas and it took off from there. I was a collector for many years, and some stuff that came out got me very interested in the people behind the music, like when Dogs Blood Rising came out, I studied that photocopied insert and tried to find out more. So I started writing to people. This was all long before e-mails, so we all exchanged hand-written letters. Actually, I should have kept them. Anyway, I soon met people, I remember when I was staying with David Tibet in London he phoned David Jackman of Organum and asked if I could come round. Many musicians soon became good friends, and in 1990 I started promoting concerts In Vienna. My first event was a little festival called Ohrenschrauben. I invited Zoviet France and Nocturnal Emissions. This was followed by Current 93. At some point, I got tired of just collecting and wanted to do something more active myself. With the help of a German friend, I started doing small runs of one-sided 7" singles and Syntactic was born. This was 1993. I decided the covers for these singles should be made of all kinds of materials and we used felt, paper, wood, cloth etc. I guess I was very inspired by Zoviet France's special packagings.

M[m]: You mention staying with David Tibet in London- when was this, and what are some of the memories from that visit?
Walter This must have been in 1991 or 1992, not long after I put on a Current 93 show in Vienna. I stayed at David's flat in East London for a week. Steve Stapleton was also there, I remember we watched The Wicker Man and Robocop. Much of my memory is blurred, this is 25 years ago, but I remember a Bar Maldoror sign hanging in the kitchen.


M[m]: How did you come about with the name for the label? and were there any alternative names you almost called the label?
Walter The first few years the label was called Syntactic, named after a Clock DVA song. When I changed the concept, doing standard editions instead of limited editions, the name had to change, too. I worked with an artist who made all the cover designs for the early releases. We wanted the covers to be artworks by themselves, not just something to cover the records in a functional way. Thus, the idea of a gallery came about. A gallery with sounds which basically translates as Klanggalerie. I also liked the similarity to Kling Klang (Kraftwerk's label), and that people not speaking German were somehow aware of the word, too.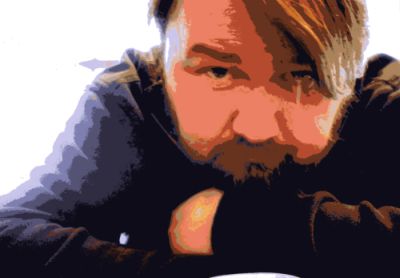 M[m]: The first sixteen or so releases on the label where vinyl & cassette format- what made you decided to switch over to CD as your main format? And would you ever consider going back to tape/ vinyl releasing?
Walter It was a very personal decision. I got tired of vinyl. CDs were so much more convenient to use. At that time, I also had a lot of problems with vinyl pressing plants. They started becoming very expensive while at the same time the quality went down. Basically, I produced vinyl when CDs were hip and now produce CDs when vinyl is hip. I strongly believe though that the vinyl return will be short lived. It's funny what heated discussions people can have about the pros and cons of vinyl versus CD. For me, the CD is definitely the medium. In a digital world, where most music is recorded digitally, it makes zero sense to "down-master" it to analogue. This is, of course, different with music originally recorded for an analogue medium. People are just massively into everything retro at the moment. Bands try to sound like bands in 1983. People romanticize vinyl to be cool. I remember how I hated it when there was some hiss or crackle when I played an LP. With a CD, you don't have these problems. Tapes were a funny medium. They were of course very inferior in sound, but funnily the ones made in the 80s still play today. Tapes were great for bands who couldn't find a record label or afford to press an LP themselves. "Big" bands released cassettes, too, but usually, these were rather minor works. Amusingly, there is also a tape revival and bands release their albums on cassette, too. But honestly, this is only a fetish. It makes no sense whatsoever, the sound is worse and they aren't even that cheap anymore. So to answer your question, no, I won't go back to releasing vinyl and cassette. I seem to enjoy striving against the stream

M[m]: since the label started in 1993 you've released nearing 300 hundred releases- how do you feel what you release has changed over the years?
Walter My only criterion ever was to release music that I like. Klanggalerie does not think in commercial terms much. But of course, my personal taste keeps evolving. At the moment I enjoy working with people from the improv and jazz scene a lot. I also still love the classic Industrial from the 1980s as it had an enormous influence on me in my youth. So I guess what I do is a mix of all kinds of stuff, including new albums by bands or individuals whom I've followed for 30 years or more.

M[m]: Please select ten of your favourite releases from the discography so far, and please explain why you've chosen them?
Walter O dear, that is a very difficult one. Before I choose anything I have to say I love all my releases. I put them all out because I want them to exist. But I will try to select ten that have a special meaning to me, for various reasons:
1. Rapoon - Fallen Gods. This was the first item I ever put out and boy, was I excited when the boxes with the records came. It was also an especially beautiful item as the covers were handmade by Robin Storey and a special edition came with a signed print.
Now, in 2018 I still work with Robin and we are still very close friends.
2. Roedelius - Evermore. Achim Roedelius lives in Lower Austria, like myself, and we have been good friends for a long time. I was excited when we chose the songs for the first CD we released together. I remember we went through his archive and listened to tons of music from which I chose the tracks for this CD.
3. Zea - Crimes Against Pop. I saw Zea, who is also the singer in Dutch avantgarde punk band The Ex, supporting an African band, and totally fell in love with his music. I approached him and we started talking about doing an album together. For this, I chose all my favourite songs off all his albums and made a compilation album that I could listen to endlessly.
4. Bass Communion - Vajrayana. Steven Wilson is one of the most genius musicians ever and it is an honour to have worked with him a couple of times. I was never so much into Porcupine Tree, but since Steve went solo, I think his music is simply phenomenal. To this day, we meet up every year when Steve is in Vienna.
5. Nurse With Wound - The Little Dipper Minus Two. In 2005, I organized the first ever NWW live show since the one gig in Holland in the 1980s. The event took place in an anatomical-pathological museum and the band, consisting of Steve Stapleton, Colin Potter, Andrew Liles (who joined the band at that event), Matt Waldron and Diana Rogerson, was wearing white doctors' coats. An album was recorded at these shows, Soundpooling, and The Little Dipper CD was given away for free to the people attending the shows.
6. Mushroom's Patience - Dicer's Oath. An Italian band with the main person being Raffaele Cerroni. For many years, we were very close and spent a lot of time together. I think Raffaele is a musical genius. Unfortunately, we don't see each other any more. But this album, and Jellyfish, which we worked on together, are all-time favourites of mine.
7. Peter Hope & The Jonathan S. Podmore Method - Dry Hip Rotation. What a weird record, all recorded without any musical instruments. A Sheffield classic, I was trying to contact Peter Hope for years. Of course, when you google Peter Hope, you get millions of results. Eventually, I tracked Pete down on the Outer Hebrides (Scotland) which resulted in a visit there, an unforgettable week. Pete later even lived in Vienna but has now moved on to New Zealand.
8. The Residents and Renaldo & The Loaf - Title in Limbo. Part of a reissue programme of RATL albums and the first time I worked with The Residents. Two of my favourite bands on one album. It's a great privilege to work with them all and be friends.
9. Roma Amor- On The Wire. An Italian duo from Ravenna. Again, lovely people, and I think On The Wire is one of the most beautiful albums of all time.
10. Hardy Fox & Fred Frith - A Day Hanging Dead Between Heaven And Earth. A project that was originally intended to become a Frith/Residents collaboration. Completed by Fred and Hardy 28 years later. Two of the best working together. What could go wrong.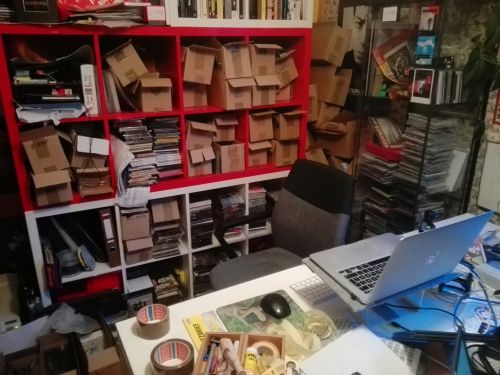 M[m]: In the last three/ four years you've become one of the main labels releasing work from long-term US avant pop collective The Residents, and their connected projects. Please discuss how this occurred?
Walter It started with Title In Limbo which was due in our Renaldo & The Loaf re-issue programme. Luckily, The Residents agreed to us doing that album and I guess they liked the result. We continued working together and have met up several times. It is a very special privilege to work with living legends like them.
M[m]: In the last month or so it was announced that Hardy Fox( former Resident) was sadly critical ill, and sadly he passed away on the 30th of October. Could you please talk about some of your fond memories of Mr Fox, and how it was working as his producer on his solo albums?
Walter Working with Hardy Fox was a great privilege. We chatted every day, on some days we exchanged 20 or more e-mails, I have thousands of e-mails from him. I miss communicating with him immensely. Hardy involved me in creating his music. For the first solo album, "Hardy Fox" or "Heart", we decided that the new name should result in a new style of music. I suggested he strip down his music to very basic which he did so much that in the end music had to be added again. I still think this album is a masterpiece. Hardy was so full of creativity, he worked so incredibly fast. He would finish an album in less than a week. The most intense time we spent together was when Hardy was visiting in Vienna and we talked about his transition from Charles Bobuck to Hardy Fox. This was an incredibly important process for him. We spent days discussing what should be done, what name should be used. When Hardy was diagnosed with a brain tumour, it felt so unfair. He'd just undergone very serious heart surgery which luckily went very well. The last I heard from him was the day before his death. He'll be missed every single day. Hardy was one of my closest friends.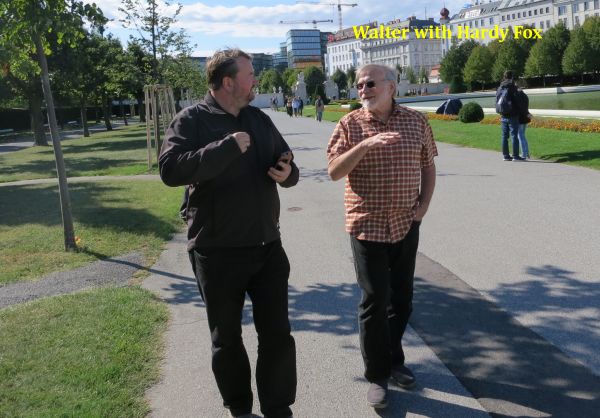 M[m]: You mention that you got to started in releasing Resident work via the Renaldo & The Loaf reissue- tell us a little bit about how & when you came to start reissues their work?
Walter When we did the RATL re-issues we came to a point where Title In Limbo, their collaborative album with The Residents, was next. The band approached The Residents about permission, and they immediately agreed. Luckily The Residents seemed to like our re-issue version as when I approached them afterwards to see if they were interested in doing more re-issues with Klang, they agreed to that, too. Needless to say, I was very excited. The first concert I ever went to was their 13th Anniversary Show in 1987, I think. So to release that album as a special edition some 40 years later was a great privilege

M[m]: Talking of Renaldo & The Loaf reissues- how did these come about?
Walter I was selling a friend's record collection and Brian Poole bought an LP off me. We started talking and at some point I asked him if they'd be interested in re-issuing their albums on CD. I guess I was lucky and just asked at the right moment. They agreed and we started with Struve & Sneff. Been good friends ever since.
M[m]: Tell us a little bit about how you came to release Gurdy Hurding- the 1st new Renaldo & The Loaf album in many years?
Walter At some point during the re-issue series we started talking about new Renaldo & The Loaf material. Brian and Dave enjoyed working together and so Gurdy Hurding came into existence. One nice little story I remember is that I was driving Brian Poole to the airport in Vienna. On the way, we passed a huge orange building. I told him it was where all of Vienna's rubbish went, and that street cleaners here wear orange uniforms. When they are sweeping the streets and standing around in a circle, we used to call them the carrot ballet. That's what inspired the song of the same name.
M[m]: I've noticed you've been involved in producing some of the labels original/ non-reissue releases- how did you get into this side of things? And what have been some of your favourite production jobs?
Walter It happens when you work on new albums. I see myself not in a classic producer role, but I do get involved when artists ask me my opinion. I appreciate being involved, of course, it's wonderful to work closely with great artists.
M[m]: Early on this year you celebrated the albums 25 years of operation with a two day Festival in Vienna- how did this go? And what did you feel was some of the highlights?
Walter The whole festival was a highlight. I financed the event myself so I had no idea if I might end up with a big loss. Luckily, I didn't. I had a small team of 5 people who helped me, and 11 phenomenal artists who agreed to play: John Avery of Hula, Simon Crab of Bourbonese Qualk, Zahgurim, Tabor Radosti, Ron Wright of Hula, Thighpaulsandra, Zea, Rapoon, Renaldo & The Loaf, Non Toxique Lost and Eric Random. Everybody was super professional and kind and the social aspect of the whole thing was by far the most outstanding feature. The audience came from all over the world, people flew in from the States, the UK, Egypt, Norway, Switzerland, Belgium, Germany, Poland, Italy, Czechia, Canada etc etc, you name it. Many of the artists knew each other but hadn't seen each other in ages. Some never met before but became friends. Every afternoon, many of us met up for a drink or coffee, many evenings we went out together. Luckily, several artists turned this event into a short holiday so we had time to spend together. As I said, everything about it was perfect, but I guess the first-ever concert by Renaldo & The Loaf was for many the main reason to come. I still can't believe myself that this really happened, but it did, and will even come out on CD in October. Zahgurim hadn't played in nearly 20 years so I was honoured they agreed to play the anniversary event. But every single artist was amazing and so was the crowd. People appreciated a lot of different kinds of music - that's not self-evident.
M[m]: Talking of the labels anniversary have you got any more concerts or special releases lined-up this year?
Walter No more concerts, Klang 25 was a dream come true, enough for this year.
M[m]: What's lined-up for the next few months review wise?
Walter Release wise there's a new Hardy Fox album coming out, two albums by Rabbit Rabbit Radio (Carla Kihlstedt & Matthias Bossi), more Un Drame Musical Instantane (and related), a new Rapoon, RATL and Zahgurim live albums, a Biota side project called Sorry For Laughing (another band I've admired for ages), Officer!, more Hula and related, ex-Current 93's Michael Cashmore with an electronic album and lots more. We're doing around 25-30 releases a year now.
Thanks To Walter for his time & effort with the interview. To find out more about the label, and to order titles direct head here: http://klanggalerie.com/
Roger Batty