Abra-Cadabra: The Magic of Cadabra Records [2018-11-13]With its first release in 2015, Cadabra Records blasted onto the world stage with one mission in mind: release the best-spoken arts records on the planet. Focusing on classics of the horror genre, Cadabra has been on a relentless clip of recording and releasing gorgeous records in both aural and visual design. At M[m], we've reviewed most of the label's output, thus far- so it seemed a prime time to do an interview- so we tracked down one of the key minds behind the label Jonathan Dennison for an email interview.

By pairing up top voice actors with engaging experimental and orchestral musical acts, Cadabra raised the bar of what modern spoken arts should consist. Add to this the stunning and detailed packaging, and each Cadabra release stands on its own as a work of art equal in importance to the original work from which it was inspired.
However, there is one warning, though, caveat emptor. Once one of their fabulous releases is acquired, the doorway is opened, and there is no going back. Fortunately, Cadabra also offers a subscription service to ensure that the newest gem they put out will be part of one's collection. With a hot and heavy release schedule and an unyielding commitment to quality, Cadabra Records is a name that will be on everyone's tongues for years to come.

M[m]: The quality of Cadabra's catalogue is impeccable, and it's obvious a lot of work goes into each release. Generally, how long does the process take, starting at conception all the way through to final release?


JD Many thanks! It can take anywhere between 6 months to a year depending on the speed of the artists. There's a 4 month average wait time at the pressing plant that's factored into this as well.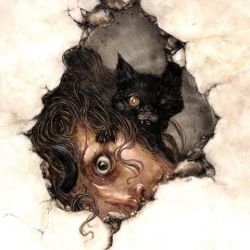 M[m]: With the varied amount of vocal artists and musicians working on these projects, what is the process to determine which will work on each project? Do the artists have any interaction during the recording process?

JD First off the artists have to fit the tone of the story, I usually choose the team based on this. I interact with all the artists in varying degrees. I work with a few veterans which need little to no direction, while there may be a bit of guiding with others.
M[m]: When an artist gets started (either vocally or musically), do you provide a general direction or leave the entire creation up to the artist?

JD Sometimes I work with a story with a direction in mind, while others are free rein. The voice actor is usually chosen by their character, so there's usually very little direction there.
M[m]: Between the wonderfully theatrical quality of the recordings and Fabio Frizzi playing parts of his score live in Philadelphia, one gets the feeling that these releases could exist outside of vinyl. Does Cadabra have any intentions of ever putting together a stage performance of any tales?

JD Absolutely! Sooner or later there will be a label showcase that will bring these records to life.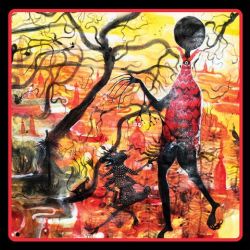 M[m]: Having scores done by Fabio Frizzi and Maurizio Guarini, the love for Italian horror is apparent, and it must have been surreal to work with these legends. Any fun anecdotes? Also, what are your favourite moments in Italian horror cinema?

JD I love these composers. The two you mentioned are classically taught which is shown in their work. Working with Fabio Frizzi is a dream and his work is on fire, The Picture in the House and The Black Cat are absolute masterpieces. Maurizio Guarini really did wonders for an upcoming release of Poe's Masque of the Red Death and Berenice. Berenice is audio perfection, it makes me think of what "gothic" would sound like. On Italian film, Suspiria and The Beyond are two masterpieces of horror cinema.

M[m]: You have worked with Theologian from the beginning, and his work is frequently covered on this website. Who are your favourite artists? Are there any that would make a dream collaboration for Cadabra?

JD There are only a couple other composers I would like to eventually work with. As Cadabra grows, so will the list of artists. We'll see what the future holds.
Thanks to Jonathan for his time & effort with the interview. The label's website can be found here http://www.cadabrarecords.com/
Paul Casey