Breeding Puzzlement & Uneasy [2018-08-24]For the last twenty-five years or so Chicago based Andy Ortmann has been creating all manner of audio surrealism and noisy unsettlement- under his own name, with collaborators, and under the banner of Panicsville, with fellow sonic un-settlers Jeremiah Fisher & Anthony Janas . Recently he released three vinyl album set Pataphysical Electronics- which stands as one of his varied & unbalancing works of his career thus far. Andy kindly agreed to do an email interview with M[m]- where he discusses his career thus far, the new releases, and future work

M[m]: You've now been involved with creating experimental sounds for over twenty-five years now- What do you see as some of the high points in your discography( solo or otherwise), and are there any releases you particularly disappointed by?
AO- It's been a while since I've thought about a lot of these releases, let's see... The first few Panicsville albums still feel pretty solid to me. My LP pn PAN turned out nicely, with it being my first proper solo album, not to mention Bill did a great job with the presentation. I was happy with "Inconsequential" cassette (packaged in deer hide, tar & twine) on 3rd sex, sadly only about 30 copies were ever made. Though I am now elated with how Pataphysical Electronics turned out.

AO-As far as disappointments go, I was never happy with the first Nihilist release, the Pound of Flesh 7". The people that cut the record drastically reduced the low and high end and it sounds rather weak to me. I should've rejected the test pressing, but was naive as it was my first record. The Panicsville LP covers for Imperfection of the Organism always looked very sloppy. I had asked the label owner to have them redone, but they told me they had been paid for, and he paid for an unacceptable final product in my opinion. The art for Panicsville Sterile CD was botched and never looked as sharp as it should have. Am planning on printing a corrected Digipack style art and re-housing the discs for its 15th anniversary.


M[m]: Talking of your past work I was always a big fan Recorder Out Of Tune- the 2006 collab you did with John Wiese- any thoughts on doing more work with John? AO- I feel that one still holds up over the years. We have not talked recently about collaborations. Nevertheless, I am currently waist-deep working on the new Panicsville album with a wave of current collaborators (e.g., Diana Rogerson Chrystal Belle Scrodd, Daniel Menche, Christoph Heemann H.N.A.S., M.S. Waldron irr.app.(ext.) / NWW, Rudolf Eb.er Runzelstirn & Gurgelstock / Schimpfluch Commune & Michael Esposito.

M[m]: On the subject of collab's – is there anyone you'd like to work with?
AO- - There's surely a long list to ensue, but to name a few... Beatriz Ferreyra, Diamanda Galas, Richard Rupenus, David Jackman, S. Stapleton, Julie Cruise, Laurie Spiegel, this could go on & on...


M[m]: Please discuss how the way you create sound over the years has changed? And have you recently picked up any new bits of Kit?
AO-It would be like watching a time-lapse video of an embryo evolving into an adult stage life form. In the early 90's I was using a Tascam 4-track.
While working on the first three Panicsville albums, fellow bandmate Drew St.Ivany (who was also doing Laddio Bolocko at the time), strongly urged me to upgrade my recording gear. We were sending material back and forth cross-country, and their equipment was vastly superior compared to what I was using, so I needed to up my game. As fate would have it, I graduated to a digital 4 track and shortly thereafter, my first computer in 2001, have never looked back.
When Panicsville first formed we were doing live jams thru a shoddy mixer live to tape, using consumer electronics, cassette players for the blind and fx boxes.
In 1994 I found my Korg MS-20 in a store under a pile of junk. That synth became a core element to the Panicsville sound in years to come.
I picked up some nice microphones along the way, making life recordings also helped sculpt our sound. I enjoyed combining organic sounds with the electronic sounds.
For the new album we're working on, we just went into the studio to capture new acoustic moments (sawing metal pipes, a hurdy-gurdy, ripping apart large sheets of fiberglass, etc.).
As far as the acquiring of new bits, the last six years I have spent obsessively building my current modular system. I converted close to 30 vintage synthesizers and drum machines to the new modular system. With this new level of technology, many new doors and possibilities have opened up, allowing me/us to create work that I previously would simply not have previously been able to achieve. It's really amazing how you can master every parameter of sound with some of these modules.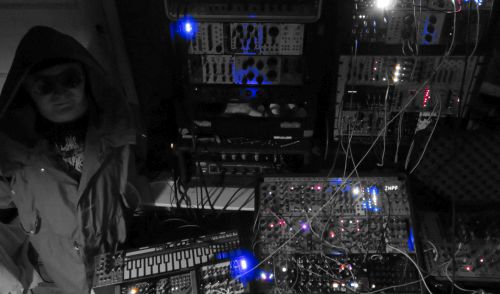 M[m]: You most recent release is Pataphysical Electronics- a three vinyl release or digital release which sees you covering a huge amount of different sound & approaches. Over what period did you record the release?
AO- Incidentally, all the material from Pataphysical was composed/recorded in 2017. I go through these hibernation periods where I just brainstorm new ideas and strategies, which I was just coming out of at the end of 2016, so I had a great deal of culminated energy, motivation & material. I also owed several labels masters at this time, so I was working on several different releases simultaneously. My grand plan was for all these pieces to be ultimately be presented together as a whole body,
hence... Pataphysical. This would debut my accumulated efforts exemplifying my output from the five years of me building my hybrid modular system.
"She Who" and "The Gong Song" comprised side 2 of a limited cassette from Tabs Out label, (an edition of 75 copies with screened metal j-cards). I used these two tracks to bookend Pataphysical, as I felt these were strong Alpha/Omega points. Both of these pieces being abstract narratives, She Who shows where I've been going using new rhythm techniques as well as ambient drones. The Gong Song was an exercise in minimalism, a tactic I had been meaning to explore. Using only a gong and a 1978 Korg Vocoder (both borrowed) as sound sources, I wanted to create an immersive environment where one can be absorbed and drift away.
The next two tracks appear in chronological order as they did on the cassette titled Pataphysical Electronics (Fag Tapes). Maelstrom In X Minor is a concrète cacophony, which went through a considerable edit for the vinyl version. Most of the sound sources here were me clanging metal and scraping junk, which was electronically treated through a number of filters and processors. The full side track Four Constructions With Interruptions traverses a range of acoustic instruments swimming through granular synthesis, staccato electronics peppering more vocoder ramblings, then into stereophonic stone singing bowls to end up around a campfire with a heavy breather (or was it all just a hallucination?)
Subliminal Shapeshifting Scenario appeared as side one of the "Paranormal Panorama" cassette (Perfect Law). More of a long-form collage with this piece, as the title implies, it goes a lot of places. Starting out with "Duet for Geiger Counters" we move along to Creak Orchestra + monotony of machinery. I later go into the ambient cave for an unnameable ritual, but end up in a beatnik club. This track climaxes with the militant march of mechanisms coupled with majestic string pads that stretch the horizon.
Side Four seemed to flow out of the previous side with more hyper edit collage work. The Morosopher's Lament was a reworking of discarded sessions while Eating a Dead Horse appearing as a solo track I composed for the "Panicsville plays Panicsville" cassette. Paranormal Precipitation was a new track specifically created for this 3LP set, one where I could explore deeper combinations of speech synthesis and filters in an electronic environment.
Side Five was recorded for a split cassette with David Moré, though I don't believe he ever finished his side. The opening track First House On Dead End Street was another experiment in rhythm & drone. The drone here being a Harmonium (courtesy of Justin Borer) and constructing the "beats" out of scraping rocks and frapping electricity. Decay the Day Away is another duet for electronic voice and modular system, while The Animal Vegetable Mineral Confessional is less lighthearted. I wanted to contrast a darker tone against the energy of the final fiesta anthem MaMa! (lifted and poured into a granular sampler for maximum manipulation).
The last piece to address is Extended Hammered String Environment VI, another exercise in Minimalism. I usually use so many sound sources within a track, it was challenging and informative to try an opposite approach. The raw material was recorded during the Panicsville USA tour of 2017. The guts of a Piano were mounted onto a wall of the house we played in Washington DC where I and Anthony Janas performed a private recording, yielding the material for this track. In addition, I loaded several segments of this session into said granular sampler for further processing. The results were fascinating, generating many mechanical effects when microseconds of this Piano improvisation were dissected and isolated. I enjoy coaxing unheard or hidden sounds from ordinary objects or events.

M[m]: What made you go down the vinyl route with this release instead of a CD set?
AO- I had always envisioned this material to ultimately exist in vinyl format. Much of the material from Pataphysical was released on several different cassettes in 2017, they were arranged with LP length in mind from the beginning. In addition to this, I got an arts grant for this album which allowed me the budget to cover mastering, printing and the vinyl. CDs certainly would've been cheaper and less brutal on international shipping though.
M[m]: Any plans to do any live performances with Pataphysical Electronics?
AO-I did do a record release show here in Chicago recently. I would like to tour Europe presenting material from this album. It may be looking closer to Spring 2019 for this to happen.

M[m]: You mention doing a launch show for Pataphysical Electronics- what did you do for this?, and did you record it?
AO- I did play a show in Chicago with fellow collaborator Ka Baird and Taralie Petersona (aka Lousie Bock), both of Spires That In The Sunset Rise. I played a handful of tracks from the album, not front to back, as time wouldn't have allowed for such a thing. Though I am planning on doing a European tour where I can showcase the material in depth.

M[m]: One of the most known & notorious projects you're connected with is Panicsville- have you had any thoughts about put out some sort box set from the project, as quite a lot of the releases are out of print, and of course last year was the projects 25-year anniversary?
AO-There was some talk of this, to do vinyl reissues of the several of the Panicsville albums. I would love to see those CDs reissued on vinyl format, with respective metal, wood & plexiglass covers. I would like to also include the debut Four Notes In Search Of A Tune anti-record in this dream box. Though I would need a much bigger Grant or this would be a job for Vinyl On Demand ( laughs out loud )...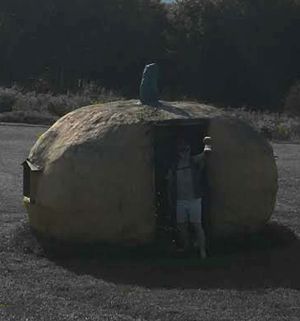 M[m]: Please discuss some of you more recent & interesting sonic discoveries?
AO-Been absorbing quite a lot of new sounds lately, at least new to me anyway... The Galaxy Of Terror soundtrack was just released for the first time since it's 1981 release. Masterful Buchla synthesizer compositions from Barry Schrader (I'd also highly recommend his 1982 book Introduction to Electro-Acoustic Music). A record I listen to almost every morning is Alain Kremski's Musiques rituelles pour cloches et gongs. It's like simmering in a gong bath. The latest batch of records from camp Kommissar Hjuler & Frau are bewildering as expected (including splits with Amor Fati and Lieutenant Caramel). Also just released is a fantastic reissue of Phillip Werren's Electronic Music criminally rare 4LP box. Originally an edition of 100 copies, Werren weaves a complex web of electronic strategies and tape manipulation. I stumbled upon The Super Tommy Spanos Show Vol. I & II, a 12 year old that plays organ and Arp synthesizer. Been going down youtube rabbit holes looking at early Russian synth videos. I don't know the language, so I can't list any of the titles, but always find something interesting/entertaining there. Other recent acquisitions include S.B.O.T.H.I., Aeolian String Ensemble, Roland Kayn, various 80's industrial compilations, various 70's electronics and Thai compilations, etc

M[m]: What's lined up next for you label Nihilist records?
AO- The long overdue Panicsville split LP with Kommissar Hjuler Und Frau is at the pressing plant now, and should be out September 2018. The aforementioned Panicsville album, which looks like it will be a double LP should be out before the end of the year, a split LP betwixt Panicsville and The Broken Penis Orchestra should be ready early 2019. The new solo cassette by Anthony Janas "Lucifer, Scooby Doo, and Me" and a collaborative Menche / Ortmann album as well.
Thanks to Andy for his time & effort with the interview. Pataphysical Electronics is available on Nihilist Records- to check out samples, buy direct, or check out Mr Ortmann's other work head over here
Photo credits: menu pic by Nick Ciontea, equipment pic Anthony Jana, and all other pics by Nick Ciontea/Beau Wanzer.
Roger Batty