Leaving The Residents & New Paths [2018-05-16]Early on this year, Hardy Fox revealed himself as one of the key songwriters behind avant pop collective The Residents. He had left the project in 2015 due to ill health, going on to 18 release worth of solo material under the pseudonym of Charles Bobuck. Recently he's released the first album under his own name- Hardy Fox(or Heart) this offered up a selection of emotional & at times quite fraught electronica/ minimal synth pop; which are very much of a departure from the sound he did with The Residents. Hardy kindly agreed to do an email interview.

M[m]: What made you decide to come from out of the Charles Bobuck moniker, and use your own name?
Hardy How it happened had less to do with The Residents and more with the evolution of the music business.I have always been oriented toward composing/producing. That is where I get my satisfaction. With the shift to downloads, streaming, and music sharing, The Residents had to make a radical shift in operation in order to stay financially viable. That shift was away from recording albums and toward being a touring band as the primary operation. I tried touring for a while, but I wanted to make albums and used a pseudonym, Charles Bobuck, to not reflect on the collective work of The Residents.

Hardy I left the group once I was unable to participate in touring. Working as "Charles Bobuck" still tied me back to The Residents. I felt that I should stay out of the grey area that Charles Bobuck represented. So I went from composing as The Residents to composing as Hardy Fox (my actual name) and discontinued Charles Bobuck as no longer necessary, and perhaps even confusing.



M[m]: Were you worried about revealing that you where a Resident might destroy some of the mystery for fans of the band? And how have you personally found the impact of the reveal?
Hardy Wait, The Residents just came through here on tour and they are still mysterious. I am not in The Residents. I have no reason to pretend to be mysterious. I have 18 older albums as Charles Bobuck, composer for The Residents. Now I have one album as Hardy Fox, former composer. I could have stayed Charles Bobuck, certainly, but recording an album like Heart that is trying to be personal and revealing while using a fake name didn't seem like I was being as honest as the project deserved.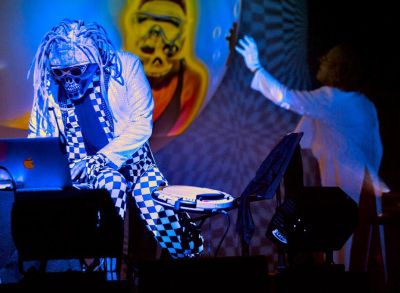 M[m]: Could you tell us what was the origin of the Charles Bobuck name, and how you came up with it?
Hardy Part of the evolution of The Residents touring band was to have member names with personalities like a band would have. Originally we thought of the touring band as a "Residents cover band." We were Randy, Chuck, and Bob and I was Chuck. As I developed the character's backstory for "Chuck" I decided he should prefer to be called, "Charles," and view the word "Chuck" as a bit plebeian. The name was devised rather randomly, but I knew that names were fairly unimportant having gone 40 years as only being The Residents.


M[m]: Hardy Fox( or Heart) was your first official solo album- the sound on the album is quite a departure from The Resident sound, and instead offering up a blend of electronica, synth pop, and sparse pop. How important was it for you to make a different sounding album, and how long did it take to write the album?
Hardy Continuing to write "Residents music" would have been easy. That would be the obvious thing to do. Also probably the most lucrative, but I really needed to break the pattern I had been in for so long, even if only temporary. I had to do an album The Residents could not record. Everything about the project was vaguely based on not falling into my previous style with the Residents. I wrote it over a 3 or 4-month period. It was important that it be recorded quickly so I would not obsess over details. I accepted it being a bit rough in exchange for being fresh.
Hardy Due to that approach, I recorded it with minimal equipment while sitting at my desk. Other than a little guitar overdub by my friend, Nolan Cook, it is computer generated, hence the sparse electronica quality. I am a terrible singer so the vocals are often controlled by electronics as well.
M[m]: Hardy Fox/ Heart sees you taking a much more personal lyrical outlook, discussing emotional, love & loss. What made you go down this route?
Hardy A big factor was that I had been diagnosed with Severe Aortic Stenosis. My heart valve was failing. I knew I was facing open heart surgery which at best would leave me in recovery for months and at worst would kill me. Hence the "HEART" reference. I was not in a frivolous mood. I kind of laid myself out there, and again it was far too personal in attitude to have been a Residents project. At this point, I can see that perhaps it is "too much information." Listeners probably are not interested in my youthful darker sexuality. I recorded it as a personal mirror and now it is done. I doubt I will have a reason to retrace those paths again.
M[m]: With future material do you think you'll continue with the stripped back the sonic sound of Heart, or do you think you'll do something different?
Hardy These things are not conscious decisions, I do what sounds right to me. Though I am aware that I simplified Heart in the final mix. That seemed appropriate for the rawer reality of the material. At one point my producer said I had gone too far. I had to add music back. Yes, I work with a co-producer for feedback, Walter Robotka.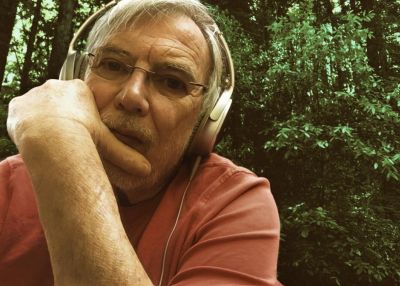 M[m]: You mention departing the more personal lyrical content of Heart- what lyrical subjects would you like to cover in the future?. And do you think you'd ever go down the concept album route?
Hardy All my albums are concept albums, some more obvious than others. Certainly, Nachtzug and Heart are. Right now I am not thinking about music since I am still in recovery from surgery. I think I will get back to it in the future. I had a dream where Sun Ra came to me and said I should record that space album I always wanted to make. Maybe I will.
M[m]: How has your set-up/ equipment changed since leaving The Residents?
Hardy I no longer have a studio. That is a huge difference. But these days there is a lot of power to be found in laptops, iPads, and phones. I work using headphones, often work outdoors at a picnic table. I guess it is important to explain that I see myself as retired, I am 73 and believe I deserve to make music for myself now without feeling like anyone is depending on me to make popular albums, even Residents level popular albums. I am now exploring my own voice, singing, and that is a major change in the way I worked with The Residents.
M[m]: Looking back over your long career with The Residents- what do you see as both your high & low points with the project?
Hardy The project meaning The Residents? That has been basically all high points, a fantastic way to spend a life. My most negative moments have been associated with touring. My normal life was created in the studio. But my touring life was restricted repetition, it was a holding pattern to make money until I could go back to being creative. Touring was work versus my normal world of being encouraged to play.

M[m]: Another recent release under your own name was A Day Hanging Dead between Heaven and Earth- which was a 1990 collaboration between respected avant guitarists Fred Frith. How/ why did this collab come about?
Hardy I love Fred Frith. Not just musically, but as a human. He was in San Francisco in the '90s and he came to the studio to add some tracks to The Commercial Album. I said that next time he should come with new material and I would work on his music. He later came in with "A Day Hanging." But his time was limited and we had to stop before it was finished. Then life happened for 25 years.

M[m]: Any other collab's in the vaults your thinking of putting out?
Hardy Nothing.

M[m]: your next lined up solo album is Nachtzug- can you tell us a little bit about what to expect?
Hardy I had time between the release of the Hardy Fox Heart album and my heart surgery, so I redid some old tracks from three years earlier and then wrote some new stuff. I did not want to think about surgery, so I kept busy.
Hardy Nachtzug is my death album. Were I to have died in surgery it would stand as my final comment on my life. It was like writing the last statement. The project is a metaphor for life. Trains run on tracks and you just go along with them until they have gone as far as they are going. I knew I didn't have much choice other than what train I got on to start with. I could die from my faulty heart valve, I could die in surgery, or I could die later from unknown problems if surgery was a success. The tracks all go to the same place but the routes vary.
Hardy Of course, I had the surgery and I didn't die, so the project loses a bit of the punch it would have if I had died. I'm okay with still being a live. So instead of being my final statement, I will now start recording something new once I am recovered. Hopefully, with my new valve pumping away in my chest, I can write something a bit cheerier next time.
M[m]: What have you been listening to of late? And are there any new recent discoveries you've enjoyed?
Hardy I listen to podcasts in the car. Otherwise, I don't listen to anything at all. I live in the country and I prefer the sound of nature. My iPhone doesn't have any music on it. I do occasionally check out a current pop star video on YouTube just to keep up a bit with what is current. Listening to music for pleasure is difficult.
Thanks to Hardy for all his time with the interview. Hardy Fox/ Heart is available on CD from Klanggalerie, and Nachtzug will be relased on the same label later this month. Also for all things Hardy Fox related head over to http://www.hardyfox.com
Picture credits: All but the live picture( which is unknown), taken by Steven Kloman
Roger Batty