The Peddlers Of Sleaze, Horror, And Exploitation [2018-03-07]Of all the genre film reissuing labels / film distribution Vinegar Syndrome is one of the most prolific, respected, and varied in its output. Since 2012 the label has released a host of rare/ thought- lost films, with often impressive scans/ re-mastering, and extras. Moving from hard-core & soft-core porn, horror, various types of exploitation, the odd comedy, and often quirky genre cross-blends. This year is the labels 5th anniversary, and they're still going as strong as ever with its release schedule. I tracked down co-founder Joe Rubin for an email interview- discussing the labels beginning, highlights over the label's existence, favorite films released, their forays into soundtrack releasing, and more

M[m]: How & when did Vinegar Syndrome first come about? And who's involved, and who does what in the label?
Joe Vinegar Syndrome was born in 2012 and my partner Ryan and myself had both relocated to the New York area from Chicago, to co-run a film restoration lab. The lab itself didn't work as intended, so he and I developed the concept of creating a home video label that would showcase our restoration skills. To a certain extent, we hoped that the video company would generate attention for the lab, but it didn't, so we basically developed it as its own thing and launched officially in January of 2013 with our HG Lewis collection. At this point, we have a five-person team, which includes Ryan (who oversees all of the digital restoration and color correction) and myself (who is in charge of most of licensing/rights acquisitions and film archiving duties), as well as James, Brandon, Chris who basically handle everything else, from actually scanning the films to shipping product.
M[m]: Vinegar Syndrome's is in it's 5th year of operation this year- what have been some of the high & low points of your existence?
Joe It's hard really to pinpoint specific high and low points, but in general, it's always really gratifying to finally get the rights to titles that, in some cases, take months or even years of negotiations before a final deal is reached. Getting LIQUID SKY was definitely huge, and also one of the lengthiest negotiation periods we've ever had, but totally worth it in the end. Personally speaking, being able to reconstruct the original director's cut of Marc Lawrence's brilliant PIGS is a major point of pride. As far as low points go, I think the lack of success (I hesitate to call it a failure) in our 'sister' label, Etiquette Pictures, has been eternally frustrating. The basic concept behind it was to bridge genre film and arthouse titles and I think that the releases we've done under EP have been some of our most interesting and eclectic, but sadly they just didn't take off.

M[m]: You mention your sister label Etiquette Pictures- what are some of the films people should check out on the label?
Joe THE AMERICAN DREAMER The American Dreamer is a multi-faceted document of the life and mind of one of the 20th century's great cinematic voices at the peak of his artistic and commercial success. Shifting between being an insightful document of a complex artist in the midst of his creative process and a self-reflective exploration and explosion of vérité filmmaking tropes, The American Dreamer is a mesmerizing journey into the private world of one of Hollywood's most hypnotic directors/stars. Fortuitously timed, fantastically made, and virtually unseen, The American Dreamer is the great '70s film documentary you always wished existed.
CATCH MY SOUL: Santa Fe, New Mexico. 1967. A hippie commune secluded in the desert. This is the backdrop for Jack Good's CATCH MY SOUL, the 1973 rock opera adaptation of Shakespeare's OTHELLO. Long thought lost, CATCH MY SOUL stars folk singer-songwriter Richie Havens as a traveling preacher who on his journey happens upon the commune of the sinister Iago (Lance LeGault). When Othello woos and takes Desdemona (Season Hubley) as his wife, Iago clandestinely conspires against the preacher to ruin their romance and run him out of town

M[m]: You've recently released two blu ray's compiling some of the DVD only releases you released in five years- one set featuring erotica/ hardcore & the other Horror/ exploitation. Please pick ten of your favorite releases from the label thus far, and explain why?...a mix of type of films is fine.
Joe Ten in release order:
THE TELEPHONE BOOK - This is one of the titles that I knew I absolutely needed to get when VS was conceived. It's one of my favorite films and is in that elite class of movies that is truly unlike anything else. It's a pop art/avant-garde/surreal/sexplo itation/mixed format masterpiece.
GOOD LUCK MISS WYCKOFF - I first heard about this film on a DVD maniacs thread titled 'What's the most mean-spirited film you've ever seen' and was blown away by the pedigrees of the people involved. This is a movie about hate, unlike any other I've seen.
RUNAWAY NIGHTMARE - Another jaw-dropping, one of a kind oddity of genre-bending madness that's part action, part thriller, part horror, and maybe part comedy. Describing the plot doesn't do it justice. It really must be seen to be believed.
LITTLE MISS INNOCENCE - A lot more people surely know this movie now than did even a couple years ago, because Eli Roth kinda remade it as 'Knock Knock,' although said remake is a remake of its unauthorized 1976 remake, 'Death Game.' Yes, it's complicated. But LMI is a brilliantly written and acted sexploitation drama that delves into themes that still pack a major punch.
LITTLE SISTERS - Alex deRenzy was one of the most talented directors working in hardcore features in the 1970s. His films are often intended to provoke and offend, but also tend to feature a lot of searing subtexts. This is an incredible hippy fairy tale that plays like George Kuchar and John Waters making a sex film.
FROZEN SCREAM - I really love vanity films and German-born producer/actress Renee Harmon was the queen of putting together bizarre, outsider art exploitation films for herself to star in. FROZEN SCREAM is easily my favorite thanks to the particularly surreal dubbing (her trademark), ludicrous plot, and absurd gore.
PIGS - As I mentioned above, reconstructing the original cut was a major point of satisfaction, but as a whole, PIGS is a remarkable piece of 70s horror cinema that I'd rank alongside gems like 'Let's Scare Jessica to Death.' It's beautifully written and acted and creates an almost hypnotic aura.
BLUE MONEY - I've long been fascinated by the inner workings of the 70s sex film industry and this unassuming character drama is the best and most thoughtful exploration of the early days of hardcore sex in feature films. This is another one that we were able to restore to its original version.
SEEDS - Andy Milligan is a polarizing figure and while I can't say that I'm a fan of all of his work, SEEDS is a mind blower. It's a nasty mix of melodrama and Giallo elements with some really dark turns. It was also a major coup to reconstruct Milligan's original version, which had been unseen in 50 years.
STAR TIME - This is one of our upcoming (March) titles. I've generally been down on a lot of 90s films, but Star Time is such an unclassifiable project that I fell in love as soon as I saw it. Basically, think of a slasher filtered art directed by David Lynch and that begins to explain it.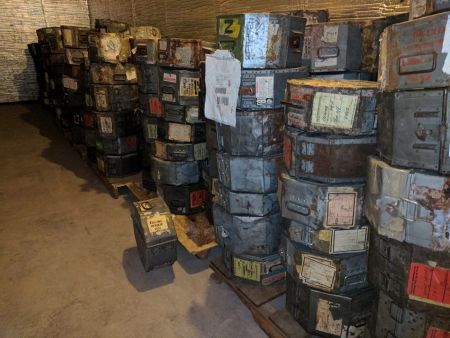 M[m]: Over the last year or so you've started putting out more & more exploitation/ horror titles. What made you decide to shift your focus?
Joe I don't think we've shifted focuses all that much, which is too say that we always focused on exploitation/horror films when it comes to Blu-ray. We actually release more hardcore titles than anything else, but these films are mostly DVD only, and this is purely a reflection of sales. To that extent, horror is the most requested type of film and as such, we've tried to be sure to have at least one horror Blu a month. However, our mission has always been to give equal representation to all sorts of genre films so, although horror probably has the largest market share, we've never swayed from that goal, and every month we try to cover at least a couple different types of films.

M[m]:Have you ever decided not to release a film due it's level of depravity? And is there any type of film you could never see yourselves releasing?
Joe Not yet, we wouldn't do anything that has illegal content in it.

M[m]: As a label Vinegar Syndrome has got a lot of respected & praise for its classy & often creative slipcovers. Tell us a little bit about who designs these? And what have been some of your favorite slip sleeves thus far?
Joe We work with a few different artists. We try to give each film that is going to have a slipcover to the artist we think will be most interested in working on it. In so far as my favorites, I really liked what Earl Kess did on our slip for PREY, as well as Jeremy Rumas' recreation of the original lenticular cover for DEMON WIND. Earl's dayglo cover for ORGY OF THE DEAD was a neat concept and I liked the matching minimalism of [artist] covers for our Memorial Day surprise Blu's of SWEET SUGAR and RED MOB.
M[m]: So far you've released three vinyl releases on the label, and first of these was a seven inch featuring two tracks from 1985 horror anthology film Night Train To Terror. How & why did this release come about?
Joe Basically, we just kept getting requests to do a record of some sort and NTTT was the easiest option at the time. It was an experiment but people liked it.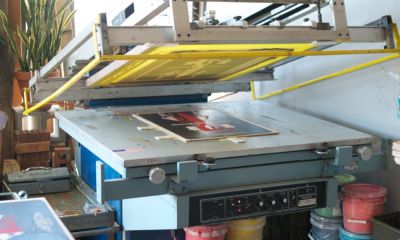 M[m]: The other vinyl releases have been two soundtracks for hardcore films Sensual Encounters of Every Kind & SexWorld- what made you decided to pick these two in particular?
Joe Like NTTT, it was very much based around ease of access. Plus both of those films have good soundtracks.
M[m]: Have you got plans for more vinyl releases?
Joe Not at the moment but we're certainly not opposed to the idea. Unfortunately, in most cases when you buy or license the rights to a movie, the soundtrack rights are not included, as most composers retained said rights. However, there are a few films that I personally would be into working on LPs for.

M[m]: You mention there a few films you'd like to release the soundtracks of? Can you discuss these?
Joe No, we don't want to spoil the surprise.
M[m]: Have you thought about release soundtracks on CD- either separately, or as part of a DVD or Blu Ray release?
Joe We actually did do that once, with GOOD LIUCK MISS WYCKOFF. It includes a separate soundtrack CD. We've also done plenty of releases with isolated score options. However, I don't foresee any bonus CD editions for any of our upcoming titles.
M[m]: what's in the pipeline release-wise for the next few months?
Joe March will have the final release in our unofficial series of Jamaa Fanaka discs, with his two earliest features, WELCOME HOME BROTHER CHARLES and EMMA MAE. Also, the above-mentioned STAR TIME by Alexander Cassini, and one of our more requested hardcore Blu's, Alex deRenzy's BABYFACE 2.
April is probably gonna be all horror Blus, including the uncut version of Norman Warren's TERROR, along with an undersign mid-80s regional slasher and a late 80s action/horror hybrid. May is gonna be pretty overwhelming in that we're once again going to be offering two surprise Memorial Day Blu's, possibly including a box set, though no guarantees, along with at least one horror Blu and one hardcore Blu. As for later in the year, I'm really excited about a basically forgotten early 70s regional action film that we licensed called SHOT!, which will be coming out probably late summer/early fall. But there's also plenty of additional horror and hardcore titles in the works.
Thanks to Joe for his time & efforts with the interview, and James for making it possible. Vinegar Syndrome website can be found here, their Facebook page here and their Twitter page here
Photo credits: main menu pic Vinegar Syndrome logo, first main picture Joe Rubin, second pic film cans, third VS stall set-up for this year Chiller, fourth pic screen printing of the ltd wooden cover for Massage Parlor Hookers.
Roger Batty