Back Down Into The Pit [2017-11-30]2017 saw the welcome return of Brazilian project Carrion Black Pit- one of the more creative & progressive projects with the worldwide HNW/static noise/ walled noise scene. The project's return came in the form of Cupio Dissolvi - a C60 release on Swedish noise label Ominous Records, and simply put it was one of this years scene highlights. I caught-up with Elias C- the man behind the project for an email interview- discussing this new release, the projects past work, and the future

M[m]: In early 2017 Cupio Dissolvi saw the welcome return of Carrion Black Pit to the HNW scene. It's your first release in three or so years from the project- tell us a little bit about how & why you decided you resurrect the project?
Elias Well, it was never really dead, just dormant in the depths, dreaming... I did release a couple of albums on netlabels, as uncool as it is, some splits too, and I am very grateful for the people behind these labels to ask me to do these releases, I really like them. Life always gets in the way I guess. I was planing some release all these years but nothing really came to form. I do have hours and hours of material sitting unreleased and the spark that set aflame my "return" to physical releases was Johan (from Ominous Records) invite and his patience with my sluggish pace.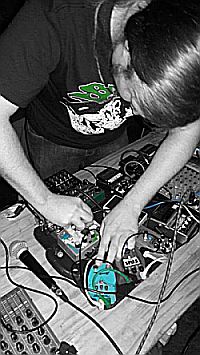 M[m]: When does the material on Cupio Dissolvi date from?
Elias It's all over the place but I don't think any of those walls used have less than one or two years. My albums are moldy before even the release.
M[m]:What do you see as the themes behind Cupio Dissolvi ?
Elias It bridges the "old CBP" and what I like to envision as a "new CBP", maybe not so new as it can be found in various releases from my discography, more like a focus on something that tries to shove aside the HNW cliches of random worship of passing interests and self imposed artificial rules/manifestos in favor of a more personal view and approach. So there's Lovercraft and the nihilism of old CBP filtered thru a narrative kind of wall making and ideas that are more close to where my heart is right now.


M[m]: I believe you did the rather creepy & effective drawing of a ghoulish monster for the release. Do you plan to do more cover work in the future
Elias Absolutely, if not drawing myself at least working with people to make something unique, outside of the realms of the lazy google search artwork that noise is so buried in (and I did so much).


M[m]: you mentioned early on hours & hours of unreleased CBP material- how are you planning on putting this out, as a boxset or in smaller clunks? And can you tell us anything about the sound of this unreleased work?
Elias I'm not planning at all, to be honest. I don't think releasing everything I record is a good option, I don't want to sound redundant and make, well, "art" that feels careless or just made just for the sake of it. I know when talking about noise these points can be rather blurred, but that's the way I see my own work. Also, my approach to wall making is using three, four or more walls on a single track, so it's good to have a "library" of sounds to pick from and sculpture the sound I am after. Using walls from years apart is something very rewarding in various aspects, and it fits better my view of the wall making process and of art in general.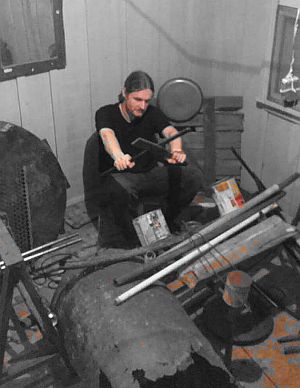 M[m]:How do you feel the way you create & approach Wall-making has changed since we last spoke in 2012?
Elias I guess I just gave up following the rules and embraced the weird and experimental in myself. I don't even think most people would categorize CBP as HNW most of the time, surely I am not of of the classic examples of HNW - not "true" enough, but I never felt part of something anyway. Nowadays I believe I am just as close to Black Noise, Drone and Death Industrial with my sounds.

M[m]:So how has your use of kit & set-up changed with CBP over the years?
Elias Changed a lot. For CBP I don't really have one setup, every recording session is singular, I don't write down what works or not, I like to experiment a lot with new and old equipment, gear that is not taken as best suited for walls and things like that. Also, there were so many CBP walls made amidst the recording of more straight harsh noise, PE or industrial sounds... Sometimes is just better to leave it to the gear to take you somewhere you didn't expect, as you try to control it and make sense of it at the same time. I am not a very disciplined person, so "messy" is my life modus operandi.

M[m]: Since you started Carrion Black Pit in 2011, the project has released around thirty release- please select ten of your favorites & explain why they stand out to you?
Elias That's a very unfair question, Roger!! Hahahaha.
Ok, in no particular order:
Cupio Dissolvi
Youngest son on an incredible label from a great dude.
If These Walls Could Talk
Because I used only my voice, without distortion on all the layers and it still felt like a wall. Claustrophilia Records also released beautifully.
They Live, We Sleep
Grand Guignol
My two longest exercises in narrative wall making, both just a single track with multiple walls mutating, engulfing, crumbling.
Architect of Ruins
Anatomy Studies
Both released by James Killick's Sweet Solitude, a label that was incredible in a time that felt like people where pushing HNW to all sides and trying to make unique sounds with its dark canvas. Anatomy Studies is very experimental wall making (spoken word wall, field recording, ANW...) and Architect of Ruins is my take on ANW, and it was part of the genius INFINITY PROJECT SERIES that is truly missed.
Necronomicon
Because Altar of Waste is one of the greatest noise labels and Cory Strand is crazy/genius. Two CDs of CBP material.
Mythos
Mark Ward and Bored Bear Records will always have a place in my heart for being the first to release my noise material, he is a great, caring and thoughtful person. I loved the result and received a lot of lot from Musique Machine on this one. Love love love.
The Iron Man
Uneven perhaps but it was a satisfying trip thru unknown territories trying to make walls related to one of my favorite movies ever, Tetsuo - The Iron Man. Muzikaal Kabaal was king.
KSMKWLLTZ
Released in 2016, very cosmic style of wall making on the HNW Netlabel where James Shearman is doing an incredible job.
I choose to not include splits and compilations on this list, painful as it is.


M[m]: Do you still follow the wall scene closely these days, and if so are there any acts/ release that has impressed you?
Elias Well, a little, but it all seem too focused on following genre rules to me, so I don't have much interest in 99% of it. Vomir, The Rita and Ramirez set the path, but I don't think we are supposed to be mere cosplay of them, they fed on what came before and made their own ways and we should at least try to do the same and, well, experiment for fuck sakes. I may be missing some very cool projects and I don't want to sound like an old grumpy man, but perhaps that's my condition right now.


M[m]:Have you plans for any release with your other projects?
Elias Sleep Of Ages has a lot of plans, there will be a recording of my last live show coming soon on Exhaust Valve Records and I have more material in line, some of which will be probably released on this label I am creating with two friends of mine, Fabiano Pimenta from A-Tros/P.M.N.T. and Filipe Pompeu from Pompeii Burning. It will be called Música Insólita and it will only release Brazilian projects, physically on DIY packages.
I have some material from EXU also and will work on a new album probably with the live formation of this project, with my brother Diego on the bass and friend Fernando on guitar, mashing some sludge metal to Power Electronics.
I will also work on a project with my brother called Filhos da Ira that does ambient noisecore, have some plans form a black noise project too, and ressurecting my noisecore act DEMONOMANIACO!!! and the old school industrial Crawling Creature.


M[m]: I know you're a huge horror fan- are there any recent releases you've enjoyed, or have discovered any older releases that have impacted you?
Elias Well, I try to keep myself updated and liked a lot some titles like The Green Room, Bone Tomahawk, Hush, The Conjuring 2, Don't Breathe, The Eyes of My Mother... I am trying to patch up some holes in my horror movie knowledge, and I've been really impressed by James Whale Frankenstein, Don't Torture a Ducking, Texas Chainsaw Massacre 2, but I have so much more to catch up. Will be focusing on it for a while, the Italians, Giallo, Universal monsters and more. Having my first daughter recently shifted some priorities in my life, tho.


M[m]: what's next for Carrion Black Pit? And do you think we could ever see you play in a live format with the project?
Elias Live probably not, the way I approach wall making... I record a lot, use multiple walls in a single track, do a lot of editing and mixing, I don't know if it would work live. And CBP doesn't get much love here in Brazil, as opposed to Sleep of Ages and EXU, so it's not like there's a demand for me to go out and play live. Also, I am living in the country now, far from the big cities and there is no scene here whatsoever.
I really wanna release some more CBP but I take forever to put something that I truly like on my on, usually with people bugging me (always tenderly) I make things happen faster, ha. I am feeling inclined to make HNW that comes close to Black Noise, Black Metal and bands like Portal, Grave Upheaval... So let's see if I can pull that out.

Thanks to Elias for his time & efforts with the interview. Carrion Black Pits band camp can be found here. And Cupio Dissolvi appeared on Ominous Records, and as of writing the label still has copies-head over here to hear samples & to pick up a copy
Roger Batty