Slave To The Wall [2017-10-16]Founded in April 2005 Ominous Recordings is a Stockholm, Sweden based tape label. When it first started it was releasing primarily harsh noise, but also dipped into other experimental genres such as free jazz, death ambient, drone, & noise rock. In the last few years, the label has started to focus in more & more on HNW releases, becoming one of the main labels releasing releases from the scene. I tracked down the label's owner Johan Strömvall Hammarsted for an email interview to discuss the label's history, as well as discussing his two walled noise projects Rien & Gamiani.

M[m]: What was your first introduction to more extreme experimental sound?
Johan It's an answer based on opinion, I guess. When I was 13 years old I heard Nick Cave's solo debut "From Her To Eternity" and that had a massive impact on me. I'd say it's my favorite album of all time, through the history of music. The feeling of the album, the darkness, the evil guitar play by Blixa Bargeld, Nick Cave's voice, the lyrics, the homage to musical roots, genre-pushing/genre-destroying, and a fair share of noise, makes it something incredible.


Johan But I was 15-16 when I was introduced to Whitehouse, Masonna, Merzbow, Mz.412, Folkstorm and discovering Cold Meat Industry with the help of an online acquaintance. I was also very much into extreme hard/grindcore and metal during this period of my life.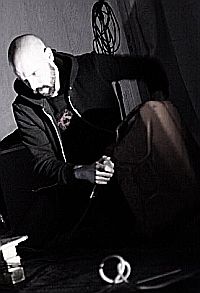 M[m]: And are there any particular tracks or albums that had a real impact on you?
Johan Apart from Nick Cave these really blew my mind in my mid-teens (since we're still on extreme experimental music)
Whitehouse - Mummy & Daddy
Merzbow - Music For Bondage Performance
Mz.412 - Satan Jugend (from Nordik Battle Signs)
Folkstorm - In The Name Of Culture (from For The Love Of Hate)

M[m]: have you enjoyed the rest of Mr. Caves output, or was it just his first solo release?
Johan Not at all! I love everything up until Murder Ballads. What came after is still good, but he got a bit softer, and I don't mean the music only. Things got a little less "ominous". And with time the music, for me, turned into something less interesting. But he lost both Blixa Bargeld and Mick Harvey, started Grinderman on the side, so I guess Bad Seeds turned more into something personal rather than the dark storytelling platform of his early albums. I think Dig Lazarus Dig was the last good one. What came after was not to my liking.

Johan I've seen Bad Seeds several times, Grinderman, read his books, and I got a lot of Cave in my collection.
And it was through Cave I discovered Einstürzende Neubauten, Foetus, Lydia Lunch, Anita Lane and Barry Adamson (former Bad Seed).
M[m]: And do you think his work has impacted the way you personally create noise?
Johan Maybe not the noise as much as the lyrics and vocals I've done in previous bands that haven't been noise. But some of the JSH tracks have had Caves vocals as an influence.

M[m]: Tell us a little bit about how & when Ominous Recordings first came about?
Johan I started it 2005 when I was 19. Around that time Black Metal labels were popping up everywhere in Sweden. A lot of people my age, give or take a year or two, started BM tape labels and all of them had this self-assertiveness that they were releasing the most extreme kind of music, and the band claimed they were the most extreme bands. And since I had more or less gotten tired of the whole scene (more the kind of people that was the scene, than the actual music) and gotten more passionate about noise, I knew they were wrong. I guess a part of me wanted to have the label with the most extreme music, haha.

Johan I wanted to have a label which released extreme, experimental music but wasn't bound to a specific genre, because I wasn't hooked on one (temporarily obsessions of course, but my taste is too broad to have a tape label with a narrow profile).
Ominous "profile" has always been my personal taste, which is why there are very different kinds of music who have been released through the years. From harsh noise, death/black metal, industrial, weird indie noise/math pop, free jazz, drone and harsh noise walls.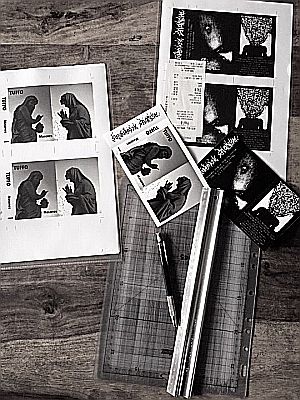 M[m]: Over the last few years you've been releasing more & more HNW/ walled noise releases- what prompted this?
Johan Like with so much else in Ominous history, it just happened. For some reason, if it was the artists, the stockings, or the cover art, I decided to order from Signora Ward Records and that The Rita/Power Monster collab and the comp "In Giallo, HNW Murder Collection" tape really blew my mind. I had listened to Vomir, The Rita, and several Ramirez projects before, but it was not what I wanted at that time, I wanted chaos, not static. But when hearing those Ward releases I really "hit the wall". I ordered more from Adriano as soon as I could afford and heard Anonymous Masturbaudioum, and I guess it was around that time that I also started speaking with Anto (AM, Le Bambole Di Velluto) and since I loved his material I decided I was gonna release a tape with him.

Johan I had been completely overtaken by the force of those static walls and found an increasing fascination with texture, nuances, barely audible shifts and changes within the walls. And I found the artists submission to obsessions, fetishes, and desires extremely liberating considering I had been situated in a national/local noise scene where we are "supposed to know better" than provoking anyone, grown into "serious artists", and make noise safe and inoffensive for everyone.

Johan Anto was also the one who encouraged me to try making walls myself. It was extremely hard because I had no real idea how to create the sound he managed to do. As a harsh noise artist, I had always worked with a lot of sound sources at the same time, and not making anything near being called static, quite the opposite. I was always going for abstract or harshness, the more violent and chaotic the better.
So, that's how I got into it. It's all Adrianos and Antos fault, haha.
M[m]: I know this will be difficult but please select ten of your favorite releases on the label thus far? And explain why?
Johan Yeah, this is tricky, to choose just 10, when I'm closing in on my 100th release. I love almost every single release I've done, for different reasons. Each tape kind of represents a moment in my, and Ominous, life. Not just life events, but also the artists I've worked with, and what we have done at that time, besides the tape on my label. I am a fan first, label second. I love to be blown away by a submission! I get so enthusiastic when I'm working with many of those I've worked with so far, and I can listen to some submissions for days and then some more when I'm dubbing the tapes because I just think it's so friggin great. I wouldn't release anything I didn't like.
Anyway, in no particular order other than chronological, here we go:
Johan- Fresh Weather Bomb Attack - The Bankrupt Tape Series / HQ Tape Series (OR010/OR030-03)
Obviously, this is a favorite, because I've released the same material twice, with three years apart.
This is a band that has no comparison to anything else Sweden has ever presented. It sounds technical, like math rock, but I'm not sure it's as complicated as it sounds. It's chaotic, brutal, it's noisy, it's catchy, it's passionate, sincere and they were probably the best noise rock band Sweden has ever spawned. I terrorized them for more material for years, but unfortunately, they called it quits 6-7 years ago.
- Rat Healer - S/T (OR014)
I regret not doing a tape of this, rather than a 3'' CDR. but it's still a release in the end. Another "blown away" moment when I heard the tracks previous to these on Myspace. Really gritty, BM/Post-hardcore infused punk/rock with distorted female vocals. I wish they hadn't put the band to rest; I would have loved to release more from them.
- Horst Quartet - HQ Tape Series Vol.7 (OR030-07)
I was contacted by Horst Quartet in 2011, asking me if I could host a show for them in Stockholm. I actually put on a show a Saturday, after lunch in a public library. Also, put Soviet Jazz on the bill. The senior citizens and the staff weren't too happy about it, but it was an extremely memorable event. I chose this one because it's, so far, the only Horst release I've done, but I've put on several shows for them in Stockholm, they are wonderful people all of them and amazing artists that never stops impressing the hell out of me.
- Soviet Jazz - The Beat Sessions 7'' (OR041)
I was in Soviet Jazz once upon a time, before Ominous. But I guess it took my departure for them to really find their sound. Soviet Jazz is probably the weirdest and most wonderful project I have ever seen or heard. I love everything coming out of their twisted minds. I love every release I've done with them and every live performance. Sometimes they're noisy as hell; sometimes it's this magnificent fucked-up, looped, free-jazz-mental-noise-chaos that they really took to the next level on this 7''. I've worked with them from the start and I set up shows for them at least twice a year during my years of organizing shows, and I'll work with them one way or another until Ominous, and I myself, is no more.
- Ragk - Gutted Earth (OR059)
This is an artist who gets better and better with each release. I chose the second one of the three tapes I've released so far because of the impact it had on me. I loved the first tape, and it impressed the hell out of me, but when I heard this I was even more amazed. It was so raw, unpolished, passionately angry, frustrated, but at the same time so very, very well done, and then to know that the artist was only 16-17 when this was recorded. It's an amazing tape and if you haven't checked out Ragk yet, do it!
- Moisture Discipline & The Rita / Anonymous Masturbaudioum - Split (OR066)
Ever since my HNW-awakening the fall of 2015 I became obsessed with The Rita. I read everything, I listened to as much as I could find, and I listened to some releases to death really. I bought everything Sam had available through his site and offered him a tape on Ominous some time during the fall of 2016.
He replied that he had some things in the pipeline already, but he had a collab with a project called Moisture Discipline which was some total Macronympha worship harsh noise and asked if I would be interested in that. Of course, I was.
And Anonymous Masturbaudioums contribution to this split is some of the absolute best work from the project. The sound source manipulation on these tracks are beyond amazing.
- Masturbatory Dysfunction / Acid Enema - The Ultimate Beat Off (OR069)
Acid Enema was a band I listened to 13-14 years ago when I was nearing the end of my Black Metal phase that had been going for years. I guess AE was my "guilty pleasure" band because most of the people I had around me thought it was too electronic, not "true" enough. But I really liked it. MD was another artist I found through Signora Ward and I was head over heels in love with the material the second I heard it. It's so nasty!
It was some kind of completion of the circle, Acid Enema was significant when I left the metal scene and started Ominous, and here a noise project brought me back.
- Eugene Critchley - Forever Lonely (OR072)
I love this one. Cory managed to tap into parts of me without us even discussing things. The cover turned out so beautiful, and I'm so glad I decided to do the large-scale, double-sided, almost A5 in zip lock bag for this release because it looks so much better than if we would have tried to put it on a regular J-card. The cover art reeks of Black Metal, and those of you who have listened to the complete tracks know what's hidden in the tracks. It's a monumental release.
- S. Pakhomov - Cousteau (OR087)
I could take any of Sergey's releases really, but I consider this to be a true piece of art. Sergey's is well-known for impeccable sound and amazing textural work, and I am always impressed when I hear something he's done.
Cousteau combines amazing crackling and soothing ambience, this is a release to get completely lost in.
- Anonymous Masturbaudioum - Nylon Encasement (OR092)
This might be my absolute favorite Ominous release so far. Anto is an amazing wall-noise artist. His ear for details, texture, sound manipulation, dynamics, frequencies, it's all just high art for me. I love that he has always done what he has wanted to do. His releases are different from each other, its rarely similar to the last one, and he's always trying to find new sounds, pushing himself and the project further all the time.
I mean, just listen to the force and brutality of the first track on this release.
Johan And then there are honorable mention like Mademoiselle Bistouri (who I think is one of my absolute favourite Harsh Noise artists in the world), Dödsapparaten, Female Pedophile, Wehrmacht Lombardo, Chier, Naughty, She Walks Crooked. It's killing me that I have to exclude both artists and releases that I really love. And I have so many more fantastic releases coming in the future.
But these releases above are special.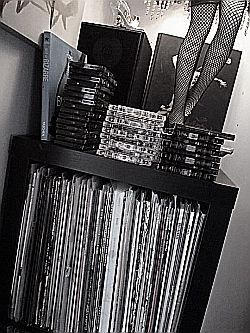 M[m]: Tell us a little bit about how you go about selecting what to release on the label?
Johan Ominous "profile" or what to call it has always been my personal taste, in combination with what I expect Ominous to have come to represent. I am open to basically any kind of music, but I am extremely picky. If I like your stuff, I'll release it, if I don't like the submitted material, I won't.
I don't release anything I don't like, I don't give a shit if someone is "famous", or if someone is released on every other noise label on the same level as Ominous.
But a refusal is rarely an absolute refusal, it's more about the submitted material than the artist. Everyone is welcome to send me something else unless I refuse to release it based on something else.
I don't like artists that don't take things seriously. I hate shitty project names, bad album/track titles and ugly covers, I don't want to have a tape out with my label logo on it by a project called "Horse Vagina Fart", with track titles like "Sjuhgyroty687" and "55566677782098uhg" and an ugly inverted colour cover done in paint. That's not what noise is for me and I don't want to be associated with that.
Take your art seriously, because I won't even give you 60 seconds of my life to listen to your project if I'm just annoyed with your project name.
M[m]: Do have a set work-place or office to run the label from?
Johan I would love to have an office. But I don't have space enough to occupy a room or even half a room for Ominous in my apartment.
I have spread out all over the place instead.
I have boxes of blanks, cases, all finished and available releases, as well as the CD/LP distro down in the basement.
I have blanks, stacks of master CDs and packing material in my closet, stacks of blanks in cupboards in the living room waiting to be dubbed, and stacks of finished tapes on top, so my kids can't reach them.
I cut/fold and finalize tapes as well as pack them for shipping in the kitchen or in the living room.
I use my oldest daughter's room as a recording studio when she's at her mom's, setting up on the floor.
It would be amazing to have an office where I could leave a mess while I was working on stuff, but since I have an 18 months old daughter, I have to hide everything as soon as she's around.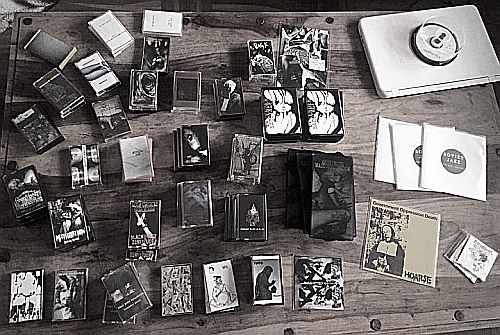 M[m]:You have two walled noise projects of your own Rien & Gamiani- please discuss each project in turn, and explain what you see as the sonic focus & themes running through each?
Johan I started Gamiani around Christmas of 2015/2016. Like I mentioned above it was Anto who spurred me to try it and I did.
I decided upon center the theme on erotic literature, which is a great passion of mine. I've read Réage, Bataille, de Sade, de Musset, de Rhodes, Apollinaire and many more with great amusement and pleasure for years, and that felt like a fitting theme for me because it also tapped into the vein of obsessions, the female body and fetishes, but with a little intellectual touch.
The first 3 recordings weren't all that good. You weren't that impressed with my debut tape, haha.
And, also written above, I had no idea how to do anything. I was experimenting, layering, re-recording manipulated samples and just tried to make it as harsh and distorted as possible. But I didn't really want that sound. I wanted less full-force, smack in the teeth, ultra harsh walls and more crackling, space and texture. Which I think I really succeeded with on the fourth release, the self-released digital "Les Prospérités du Vice". It was a minimalist sound that I explored for some releases to follow. With time this sound was given over to Rien, and Gamiani became a thicker, sometimes denser, and a little harsher project, which is where it's at right now.
Johan Rien came about just as a different outlet, I wanted to return to the minimalist sound on some of the early Gamiani recordings ("Les Prospérités..." and also the "Les Onze Milles Verge" tape on Marbre Negre), and have a different theme. But it quickly turned into an even more artistic project, me setting creative limitations for it and deciding upon not having any theme at all.
I set creative rules for it as a way of pushing myself further as an artist. Minimizing my gear and methods to see if I was still able to create what I meant to when the equipment was constantly reduced to a minimum.
I am only allowed to use 3 pedals, and only a white noise generator as a sound source, or, preferably, no input at all, no samples or contact mics. I recently released a 4-CD box on Altar Of Waste documenting an experiment where I'm reducing my equipment with one object for each disc. I am very fond of getting rid of the distortion/fuzz pedal first for a recording, trying to bring out a harsh element in other ways than that effect. I use eq's, octaves and mixer feedback to make it crackle instead.
But since I feel comfortable with this set up now and gotten some great feedback from a lot of other artists, maybe it's time to set some new limitations and see where it goes.
M[m]: Have you, or do you have plans to play live with either of your walled noise projects?
Johan I would love to perform live, and see how my sound would work in a live setting. But chances are pretty slim that I will get booked for a gig here in Sweden (I think we are two who actually do this here, and no one here cares) unless I host something myself and put my name on the bill. But I would gladly travel anywhere to perform, as long as I could get the travel expenses covered. I'm a former punk who've been on tour, so I'm no stranger to play for travel costs and housing.
M[m]: I've noticed via Facebook you've personally become quite a collector of HNW in physical format- what are some of your most treasured items?
Johan Yes, haha, I've been pretty manic for a while. I've always collected since I was 14, but HNW made it even worse. I had decades of static noise to discover and fall in love with. And so much great stuff was/is still available!
I could probably list 50 releases, but here's a short list of some of my most precious HNW tape releases:
The Rita - The Nylons Of Laura Antonelli (Utmarken)
Insurgent - A Call To Arms (Harshfuckedforlife)
Anonymous (but actually Griz+zlor) - Muff Obsession II (Desiccated Husk)
The Rita - Headless With Leopard Skin (Definitive Circumstances)
Concrete Threat - Harsh Noise Death (Harshfuckedforlife)
Nurse Unit - Detox (Phage Tapes)
Missing Boys - Untitled (Harshfuckedforlife)
Ugh, I have so much more great stuff, but these are at the top of my list.
M[m]: In recent years the label has turned a purely cassette based label- what attracts & appeals to you about this format? And would you ever release in other formats?
Johan I love the format. I love the small compression the tape does to the master recording. The humming sound when the strip plays through before the recording starts. It's something special, enjoyable and beautiful.
I sometimes wish I would order dubbed tapes though, so I wouldn't have to spend every second of my time at home dubbing tapes and actually be able to listen to other tapes. But I guess I wouldn't really change it either, it's part of who I am these days. My youngest daughter have heard every tape I've released for the last 13-14 months at least three-four times, ha-ha.
Johan I have also done a 7'', and I have plans to do a co-release for another 7'' with a few other labels, and I would be happy to do more vinyl releases in the future, but it's too expensive. I hope to be able to someday. But I won't go into CD/CD-R, there are already others who do it better than I will ever do. And I prefer the tapes.


M[m]: So far you've released a couple of larger wall noise set on Ominous- have you plans for any more in the near future?
Johan Absolutely! I've already planned for another 3xCassette box for the beginning of next year. The artist has his deadline at the end of January.
Thanks to Johan for his time & effort with the interview. The labels website is here, and it's bandcamp is here
Roger Batty